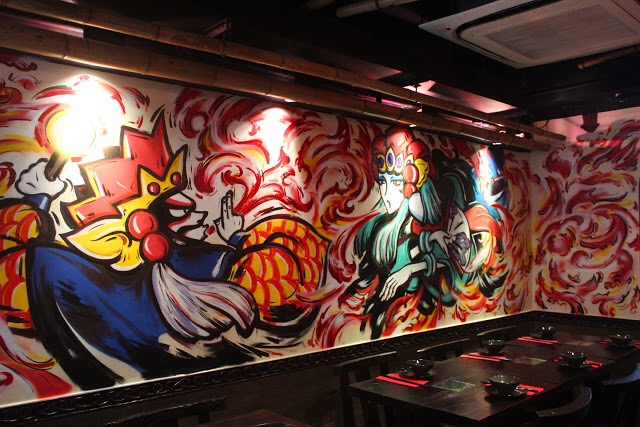 FLAMED BY CHILLI FAGARA
SUBDUING FIVE DRAGONS
CHILLI PRAWNS
TIGER PRAWNS, TAUBAN CHILLI SAUCE, CHINESE FERMENTED RICE WINE, LYCHEE WINE
 .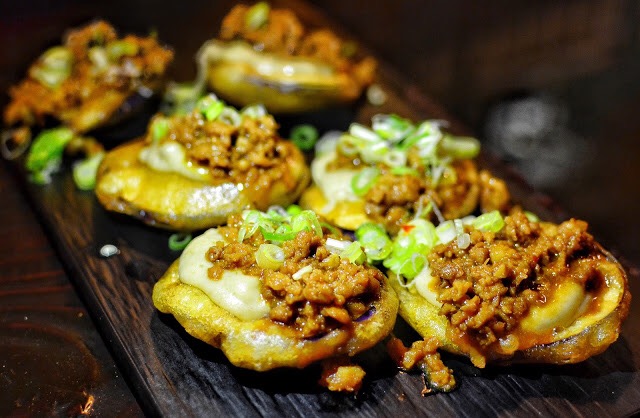 A GENTLE COMPANION
TEMPURA-STYLE EGGPLANT MEDALLIONS WITH PORK
GOLDEN PEAK
BANG BANG SHREDDED CHICKEN
SOUS VIDE ORGANIC CHICKEN, SPICY PEANUT BUTTER, CHILI OIL, PEANUT COOKIE CRUMBS, CUCUMBER
.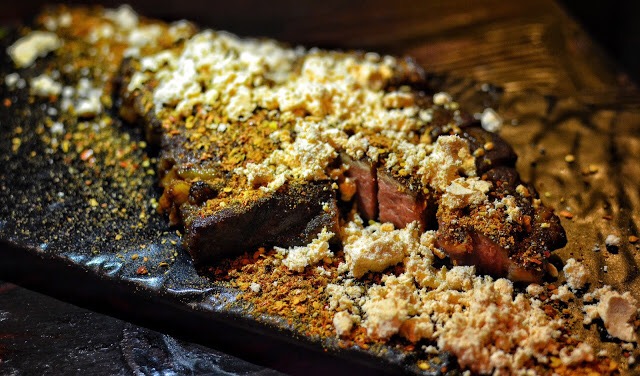 UP TO THE HEAVENLY TERRACE
CHAR SIU BBQ PORK
58 HOURS SOUS VIDE AND TORCHED PORK SHOULDER, CHAR SIU SAUCE MARINADE
.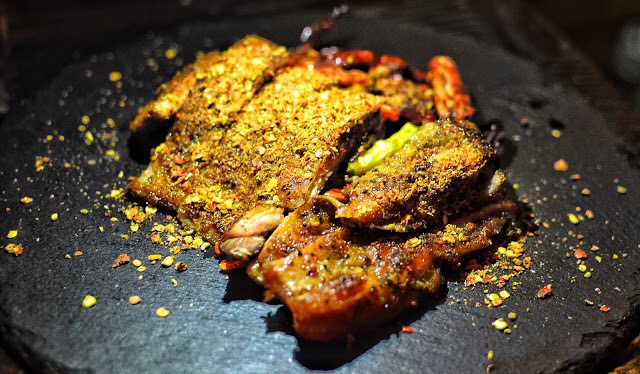 THE UNICORN PURSE
SMOKED LAMB BELLY WITH CUMIN RUB AND DRIED CHILLIS
SOUS VIDE MILK-FED LAMB BELLY, CUMIN RUB, SERVED SMOKED IN JAR WITH APPLE WOOD CHIPS
.
HEROINE IN GREEN CLOTHS
GREEN BEAN SALAD
OIL-BLISTERED GREEN BEANS, CHINKIANG VINAIGRETTE
.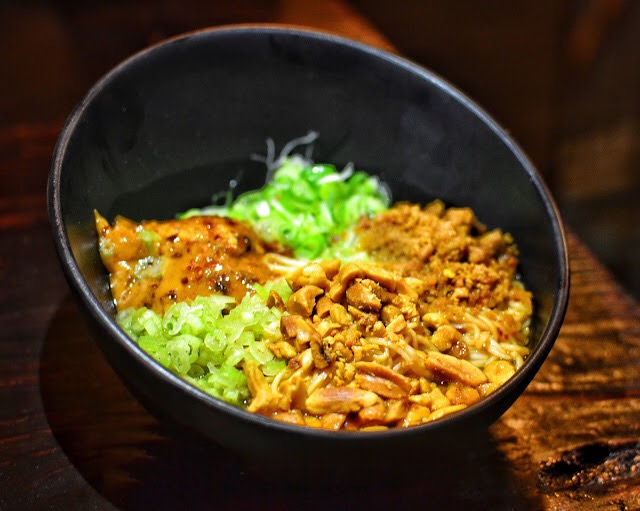 GOLDEN AGE OF SPRING AND AUTUMN
DAN DAN STYLE NOODLES
RICE NOODLES, PEANUT SAUCE, BURNT SPRING ONION POWDER
.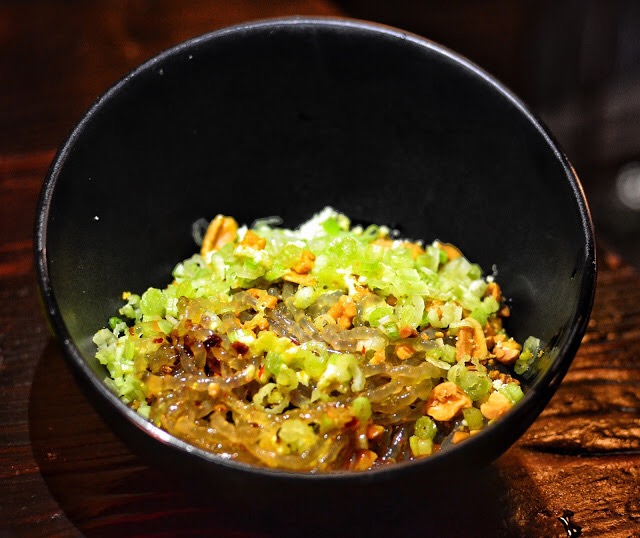 WEEDY RIVER
SICHUAN-STYLY COLD NOODLES
BLANCHED WHEAT STARCH NOODLES, CRUSHED PEANUTS, VINEGAR, SPRING ONION
.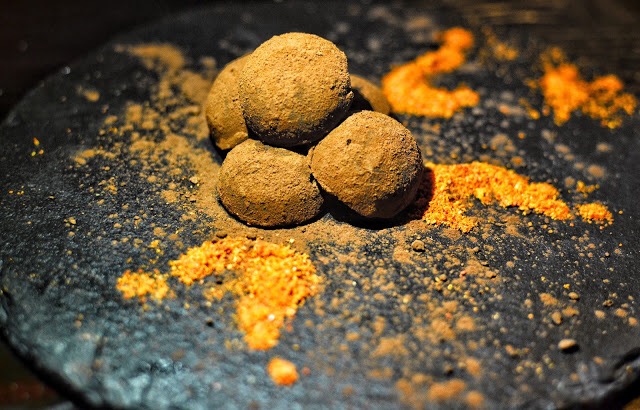 HAVOC IN HEAVEN
6 pcs 75% CACAO DARK CHOCOLATE GANACHE, CHILI COCOA POWDER
SERVED RUSSIAN ROULETTE STYLE WITH 5 pcs PLAIN AND 1 HIDDEN pc FILLED WITH SPICY CHILLI JAM
 .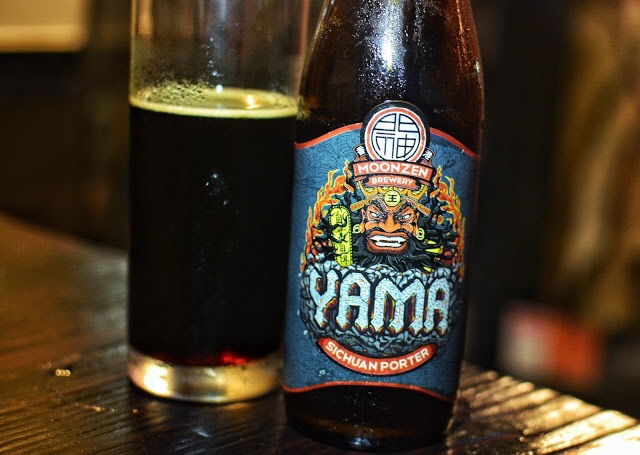 MOONZEN BREWERY YAMA SICHUAN PORTER
SMOKY AND SPICY, PAIRS WELL WITH HOT AND SMOKY FLAVOURS
.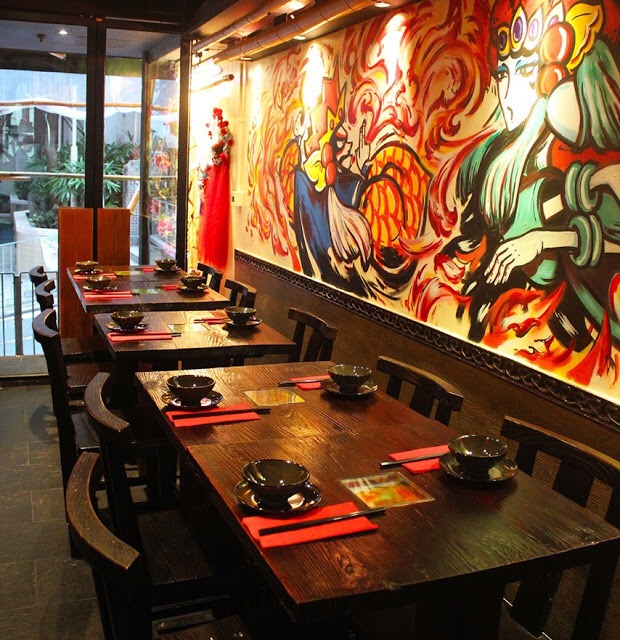 Flamed by Chilli Fagara presents their much loved spicy Sichuan cuisine but with a modern casual twist. Created by consultant Chef Chew Thean Yau, Flamed is taking its inspiration from the fire breathers of Szechuan Chinese opera bringing a menu of  distinctive ma la tang flavors of Szechuan cuisine enhanced by non-traditional ingredients, such as truffles and espresso. We highly recommend the fresh and perfectly cooked "Subduing Five Dragons" Chilli Prawns, the tangy and numbing "Heroine In Green Cloths" Green Bean Salad, the unique and very spicy "Fire Bull Attack" Sous Vide and Flamed Australian Rib-Eye, the tender and flavourful "Up To The Heavenly Terrace" 58 Hour Sous Vide and Torched Pork Shoulder with Char Siu Marinade, and the indulgent "The Unicorn Purse" Smoked Lamb Belly with Cumin Rub and Dried Chillis. The mixture of fire, numbing peppercorns, and unique textures and flavours makes for a truly delicious and unique foodie experience and the casual atmosphere is ideal for a relaxed weeknight dinner. A must visit if you love Sichuan cuisine and are looking for a modern take on the traditional fare.
 .
.
Flamed by Chilli Fagara, Shop E, G/F, 51A Graham Street, Central
2893 3320