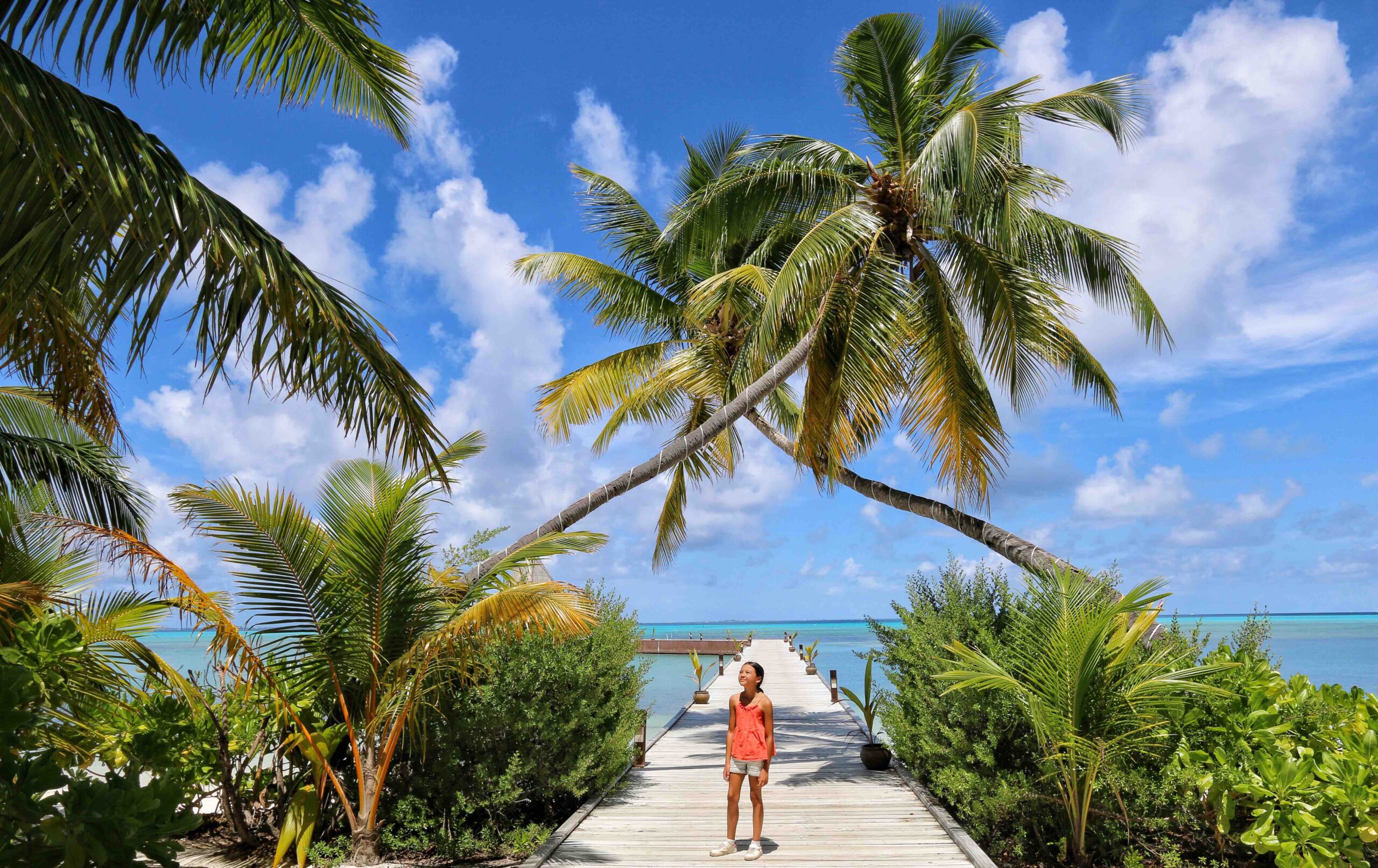 Arriving at Canareef Resort Maldives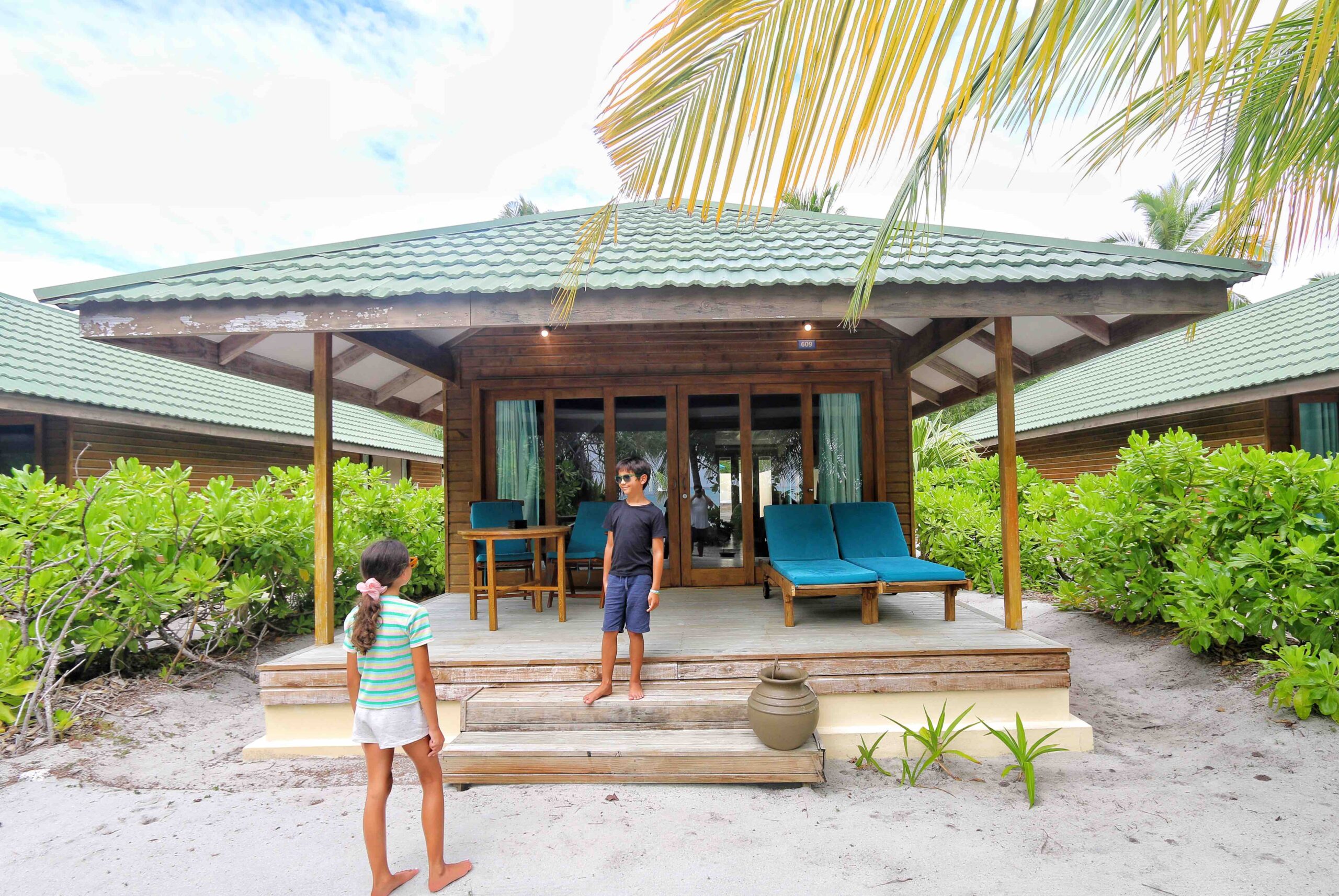 Jacuzzi Villa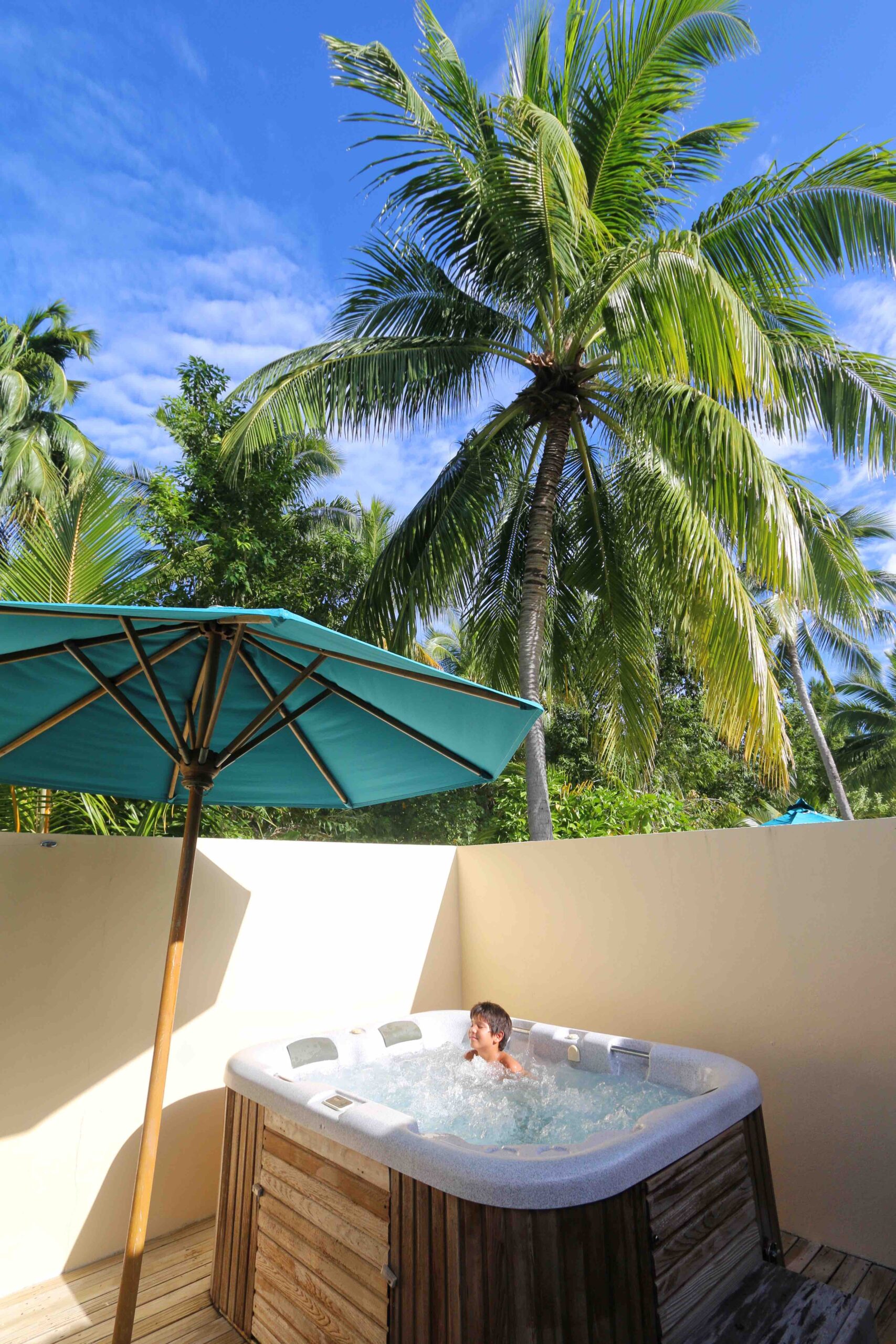 Jacuzzi Tub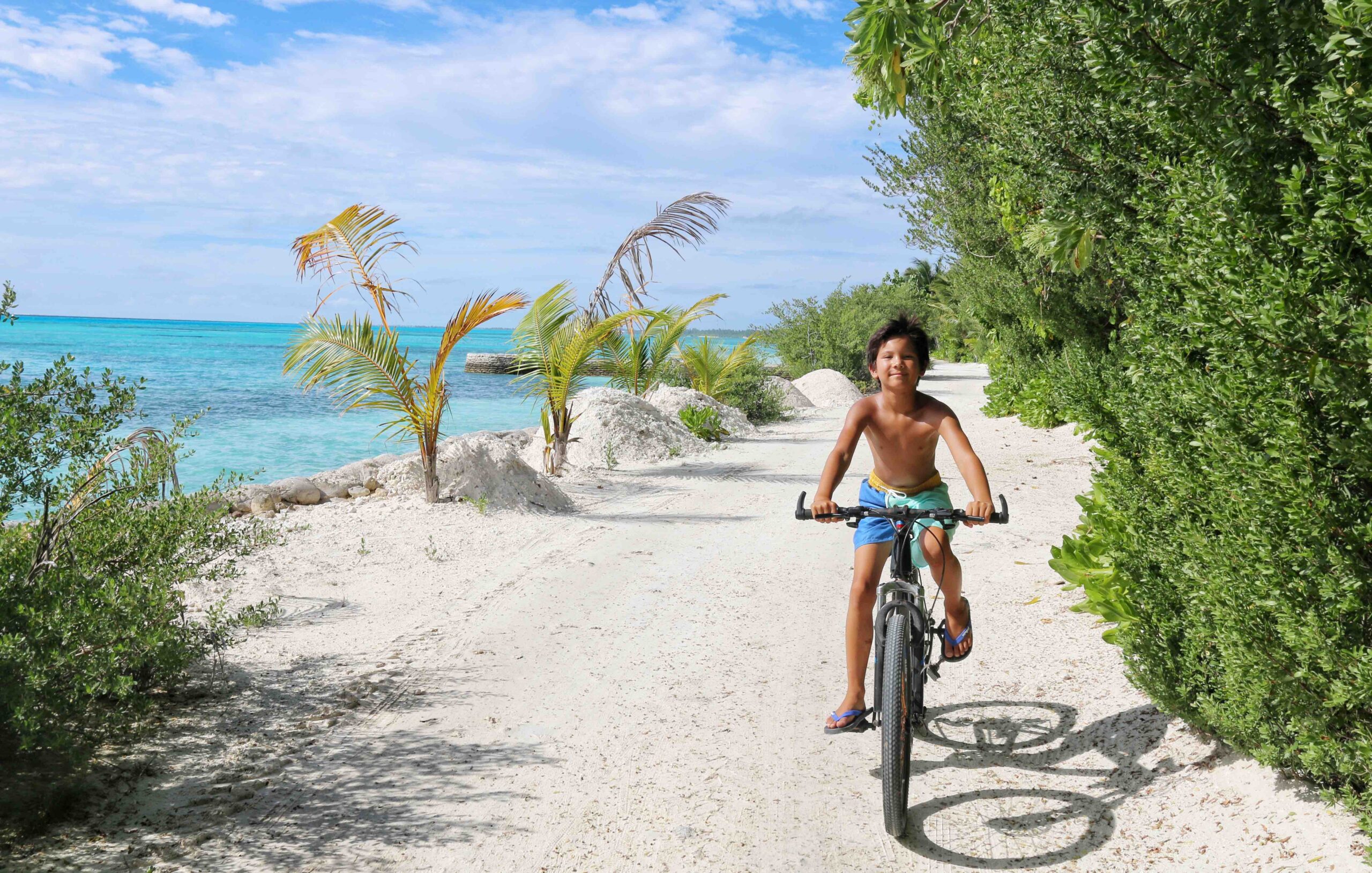 Biking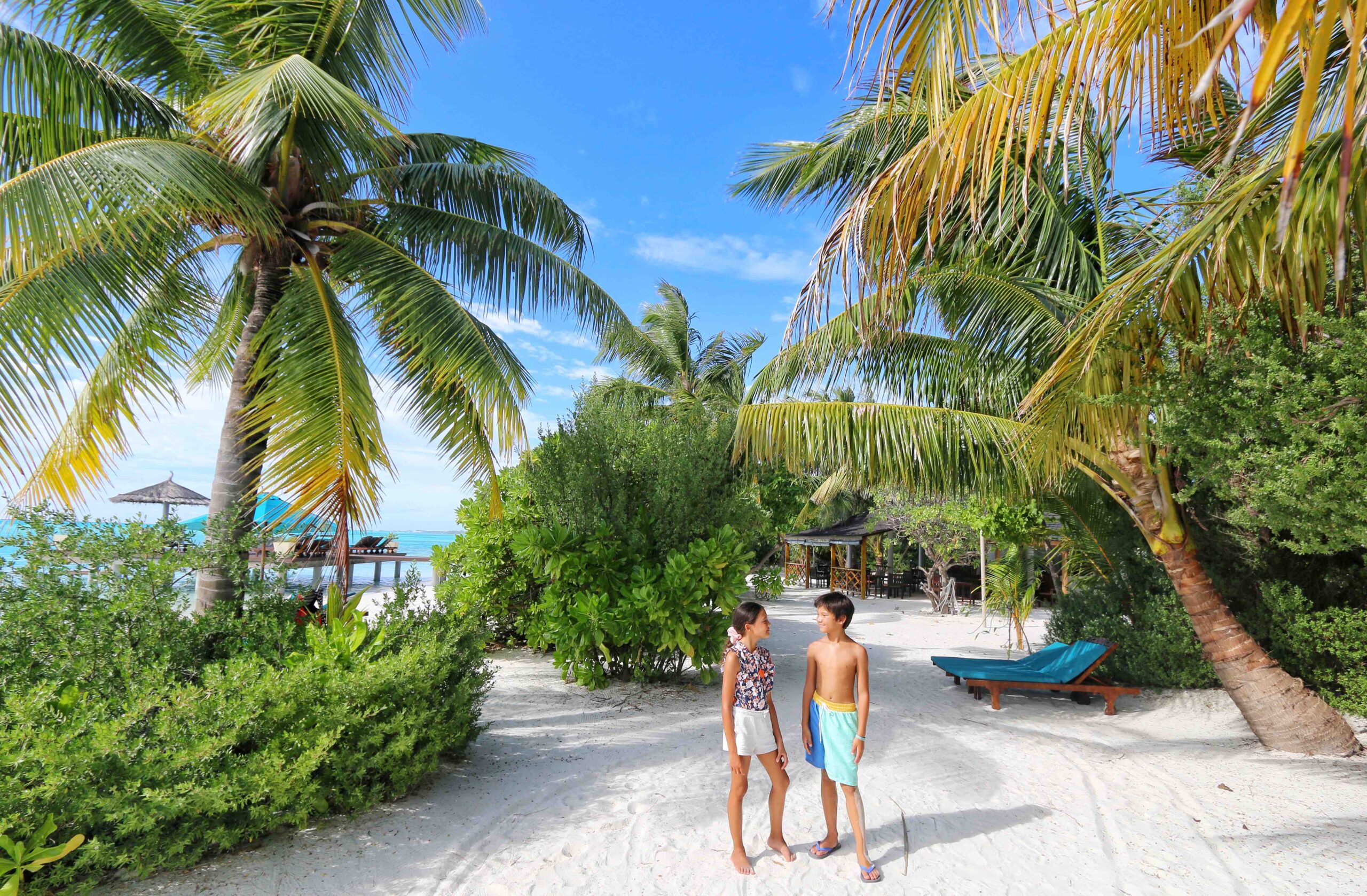 Beach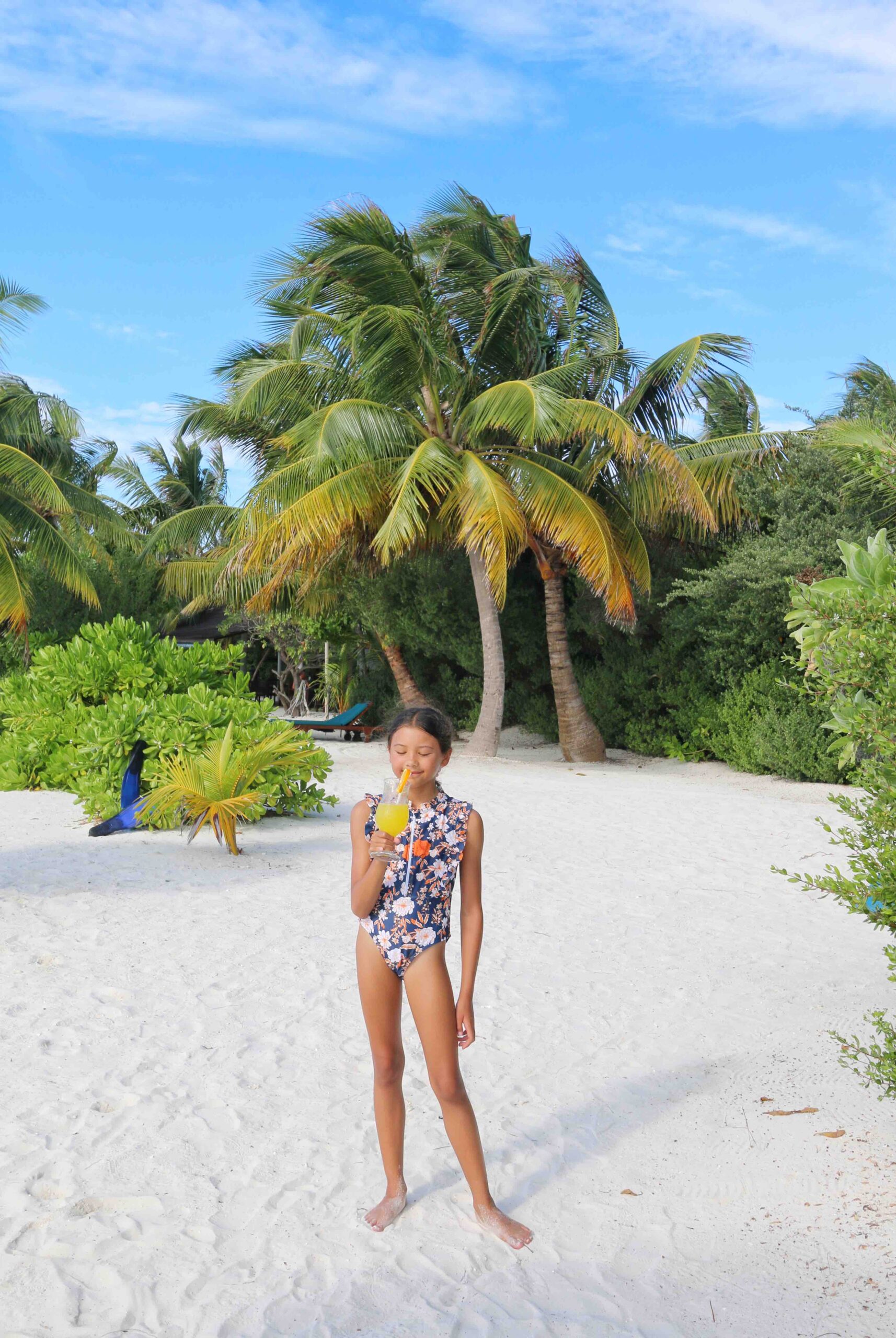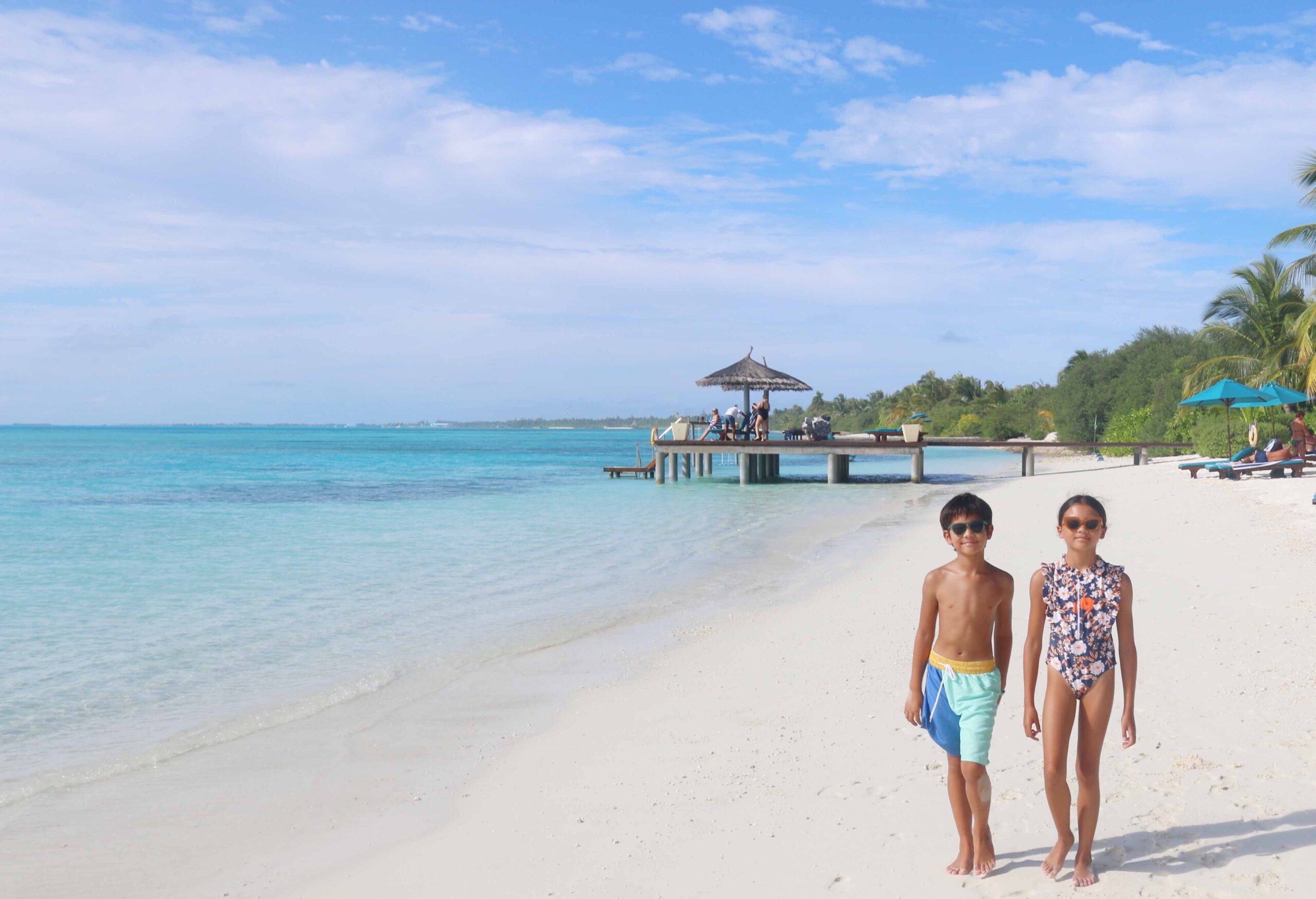 White Soft Sand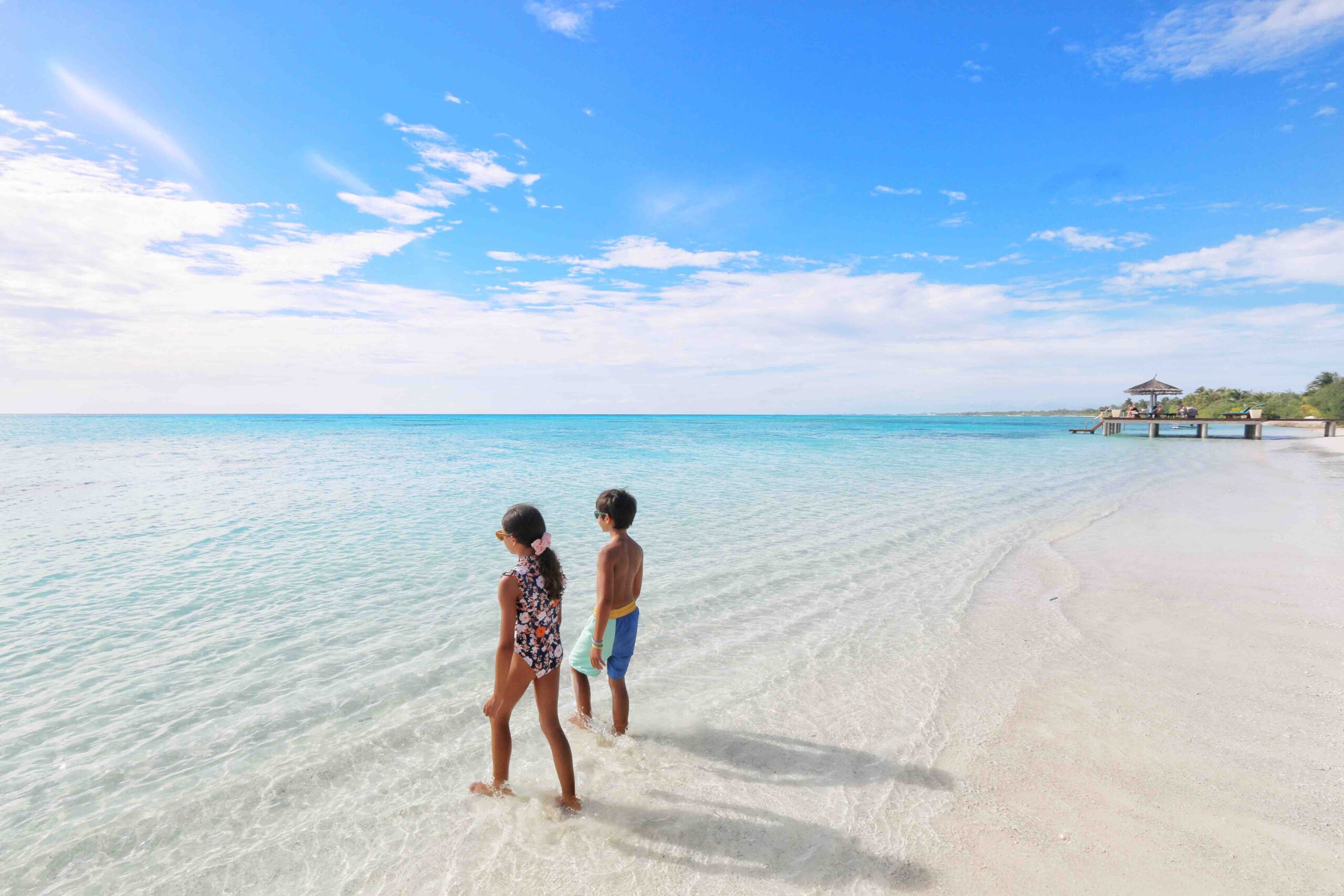 Clear Water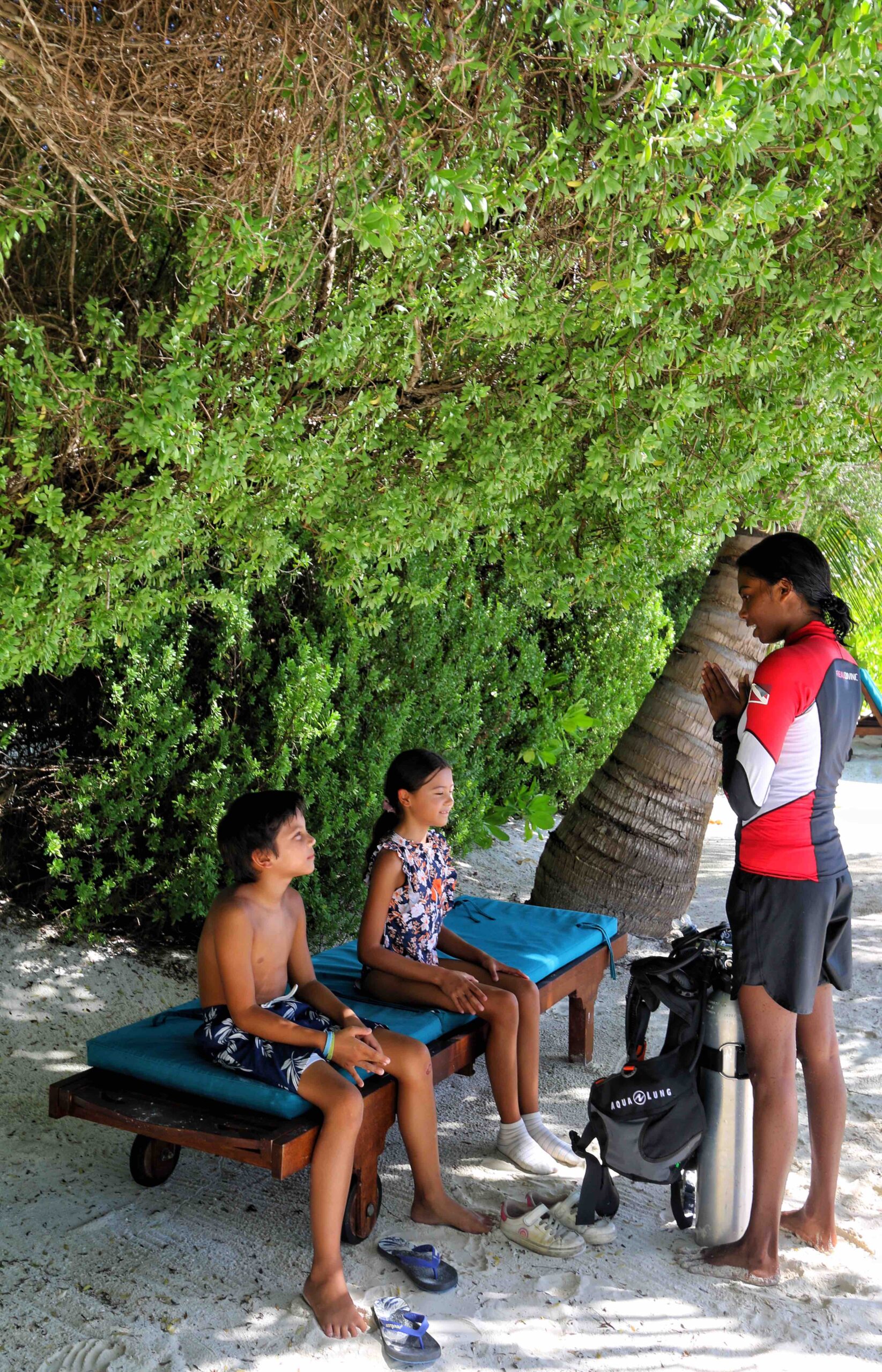 Bubble Maker for Kids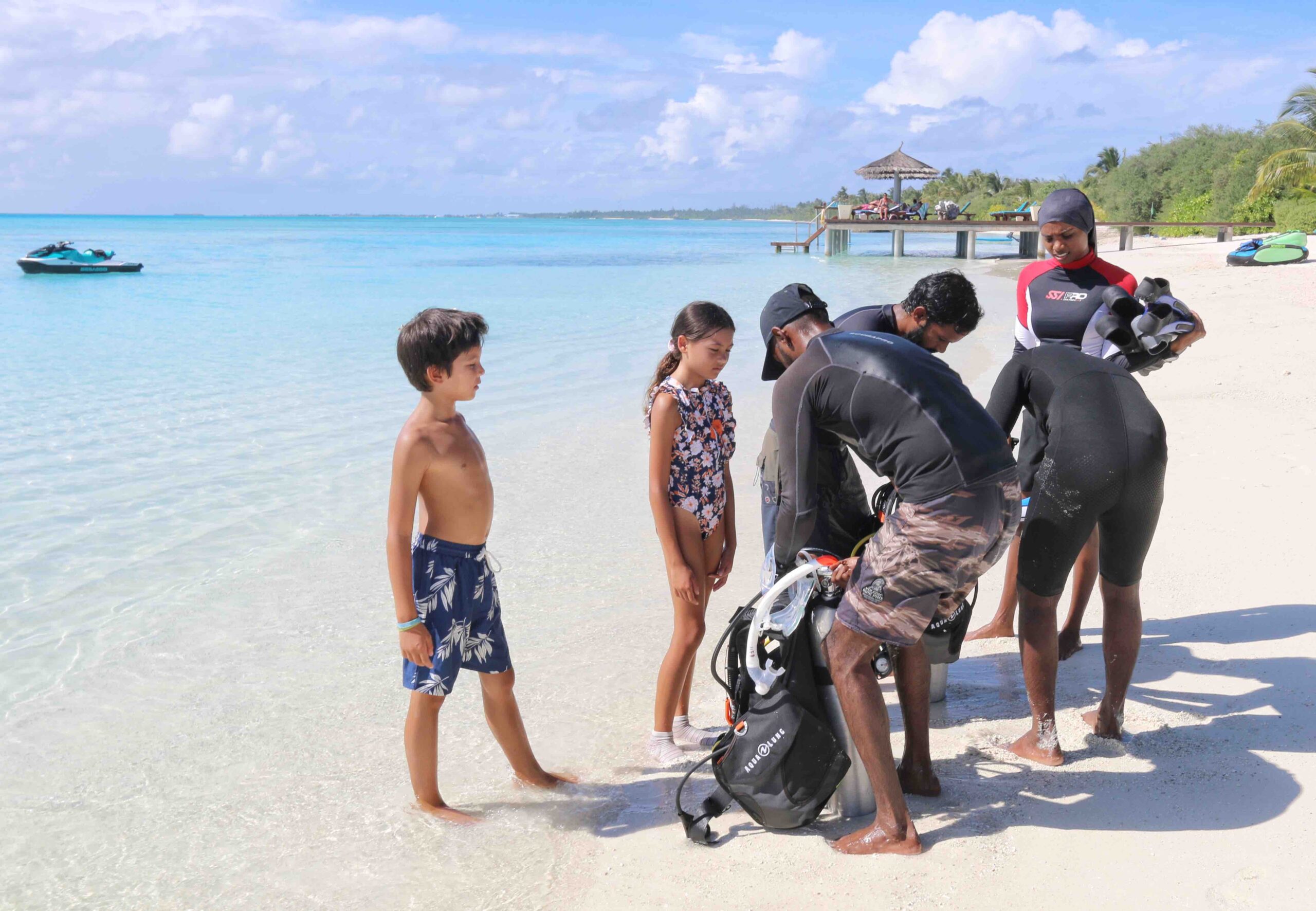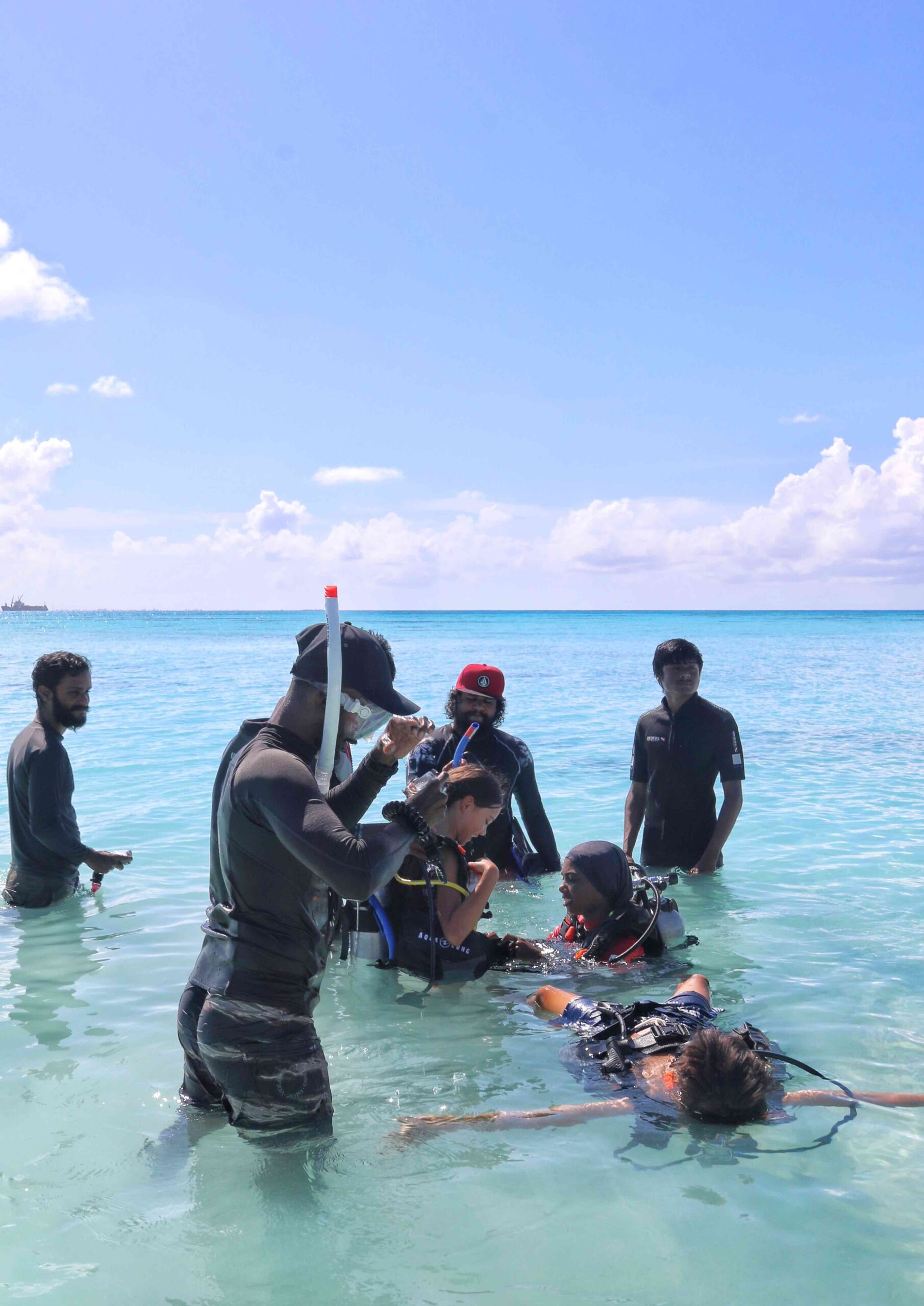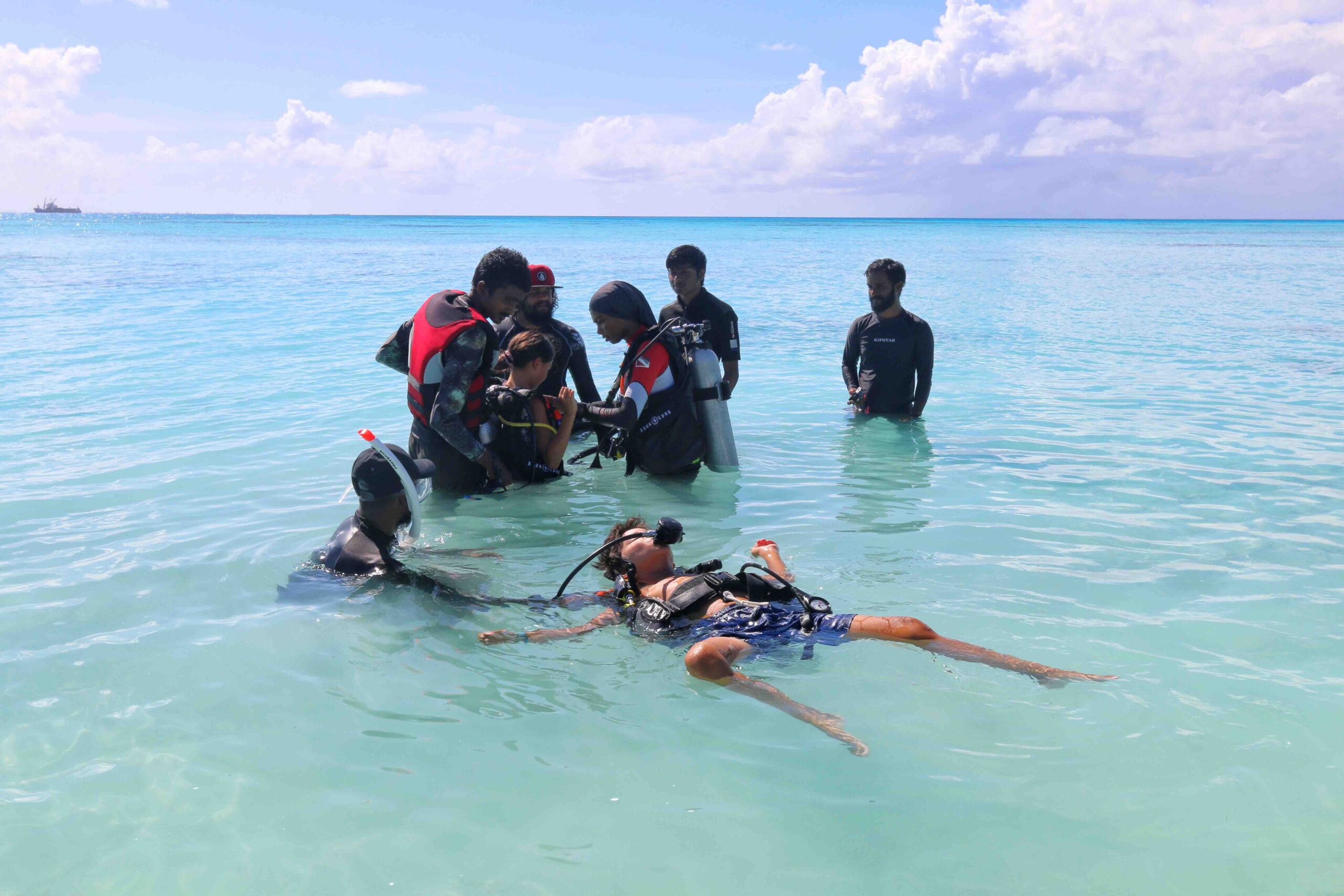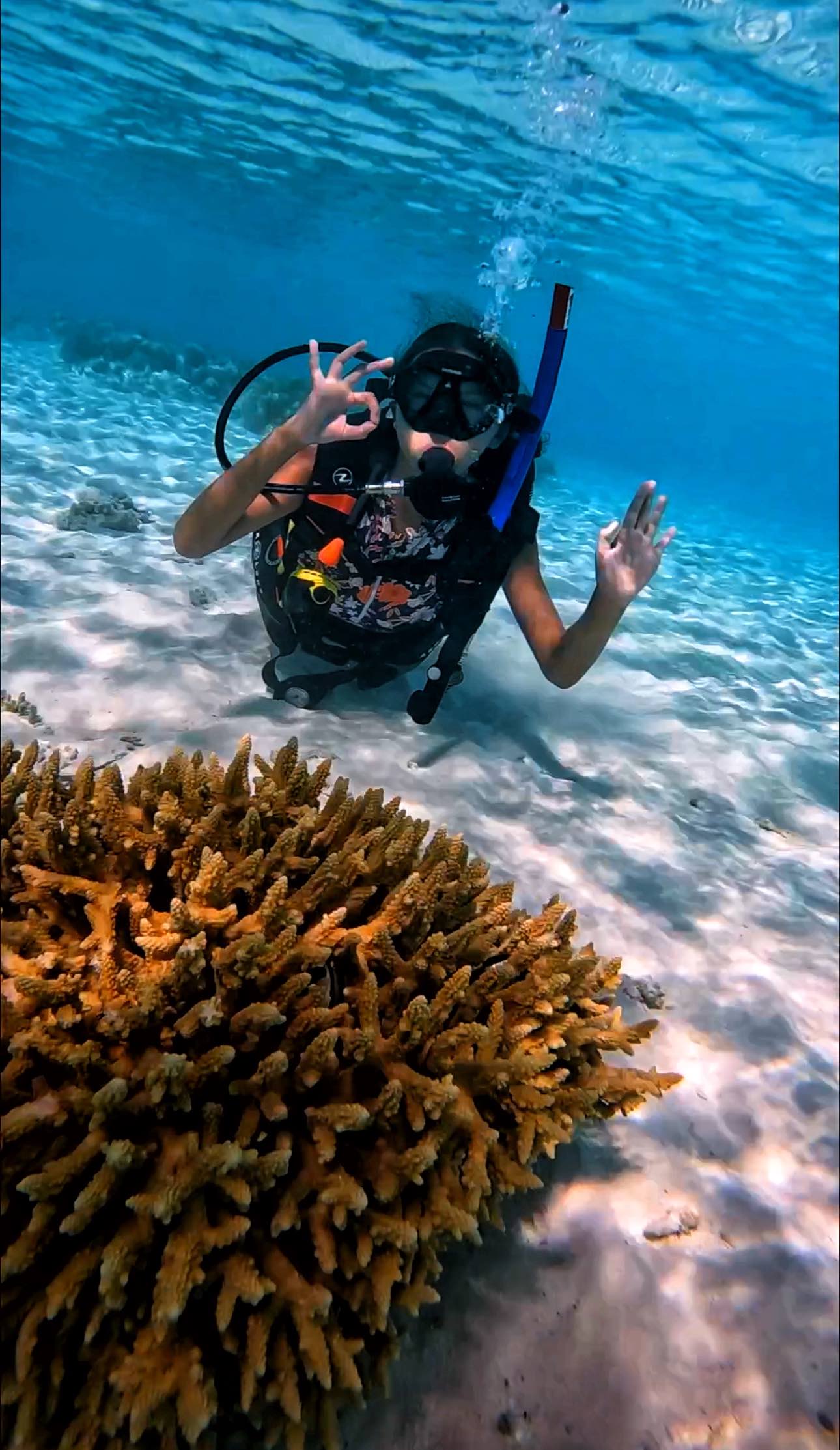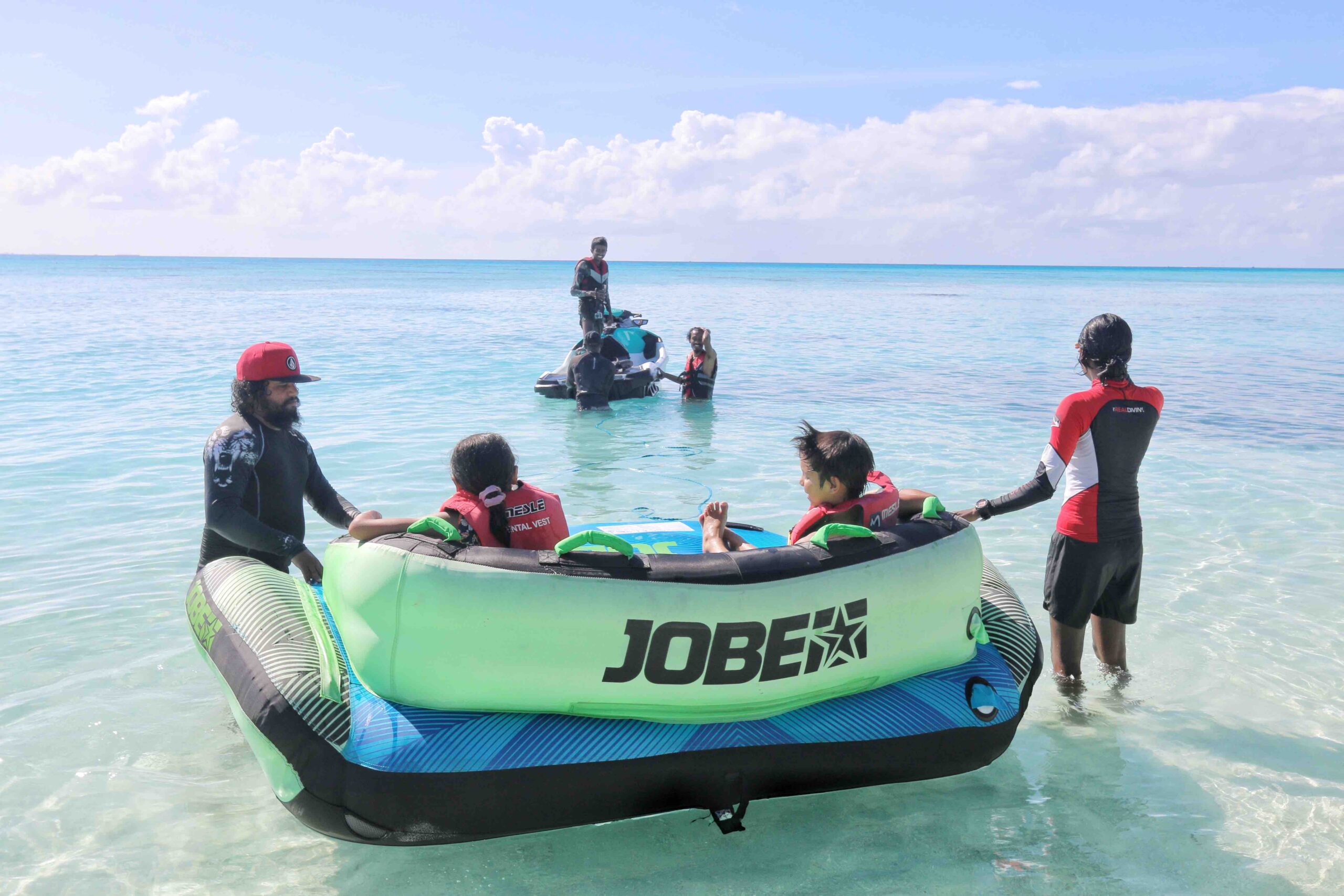 Water Tubing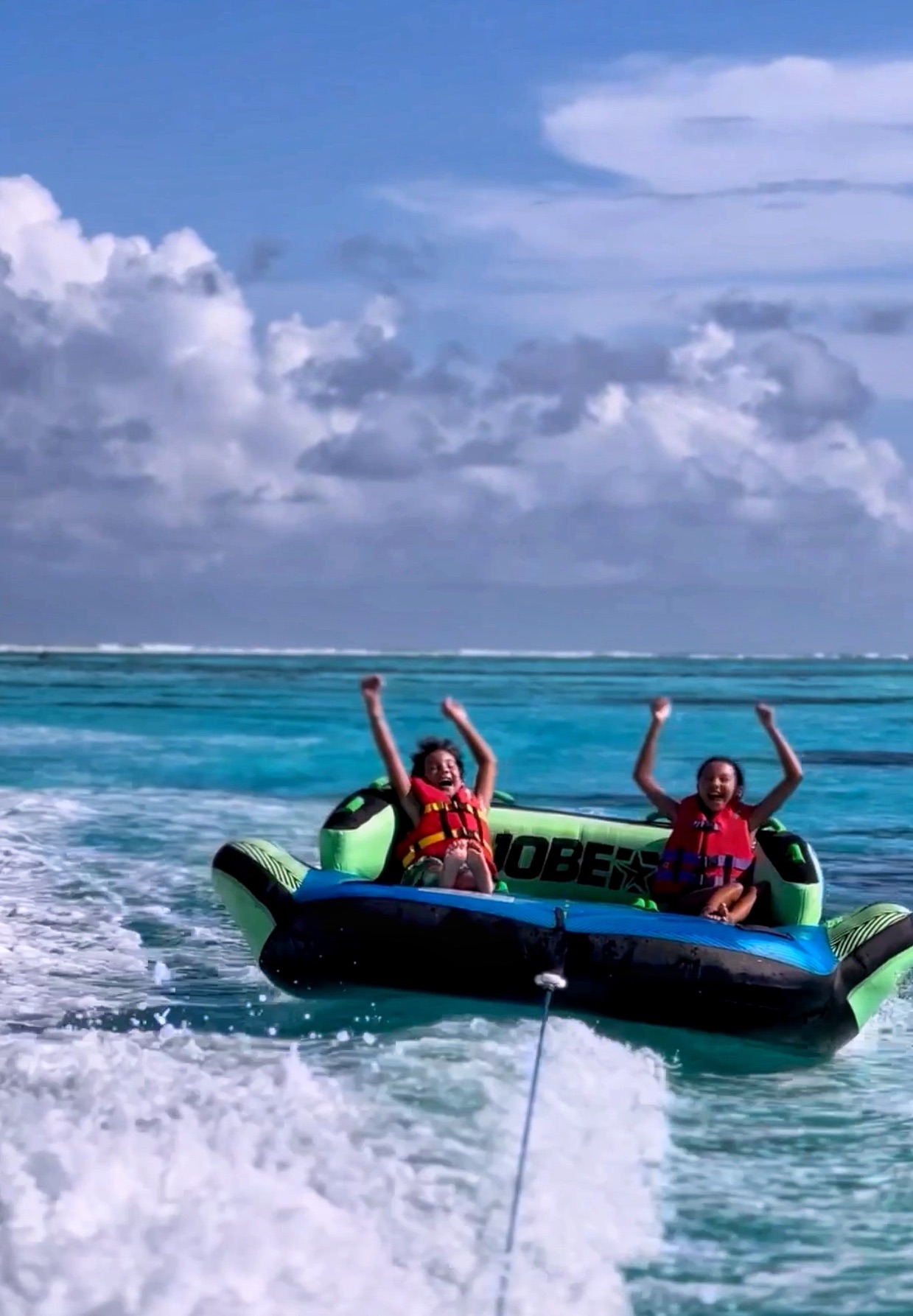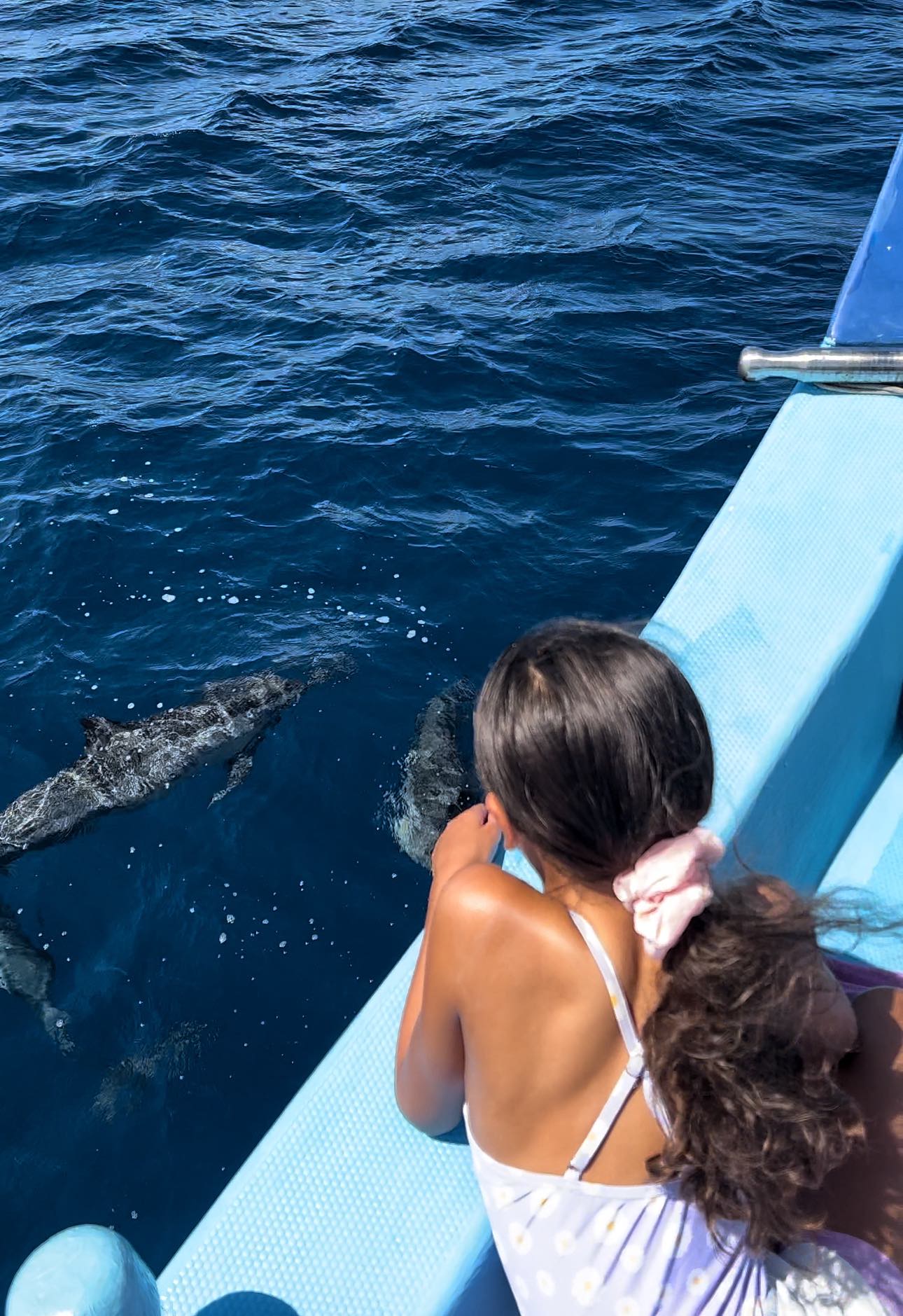 Dolphin Cruise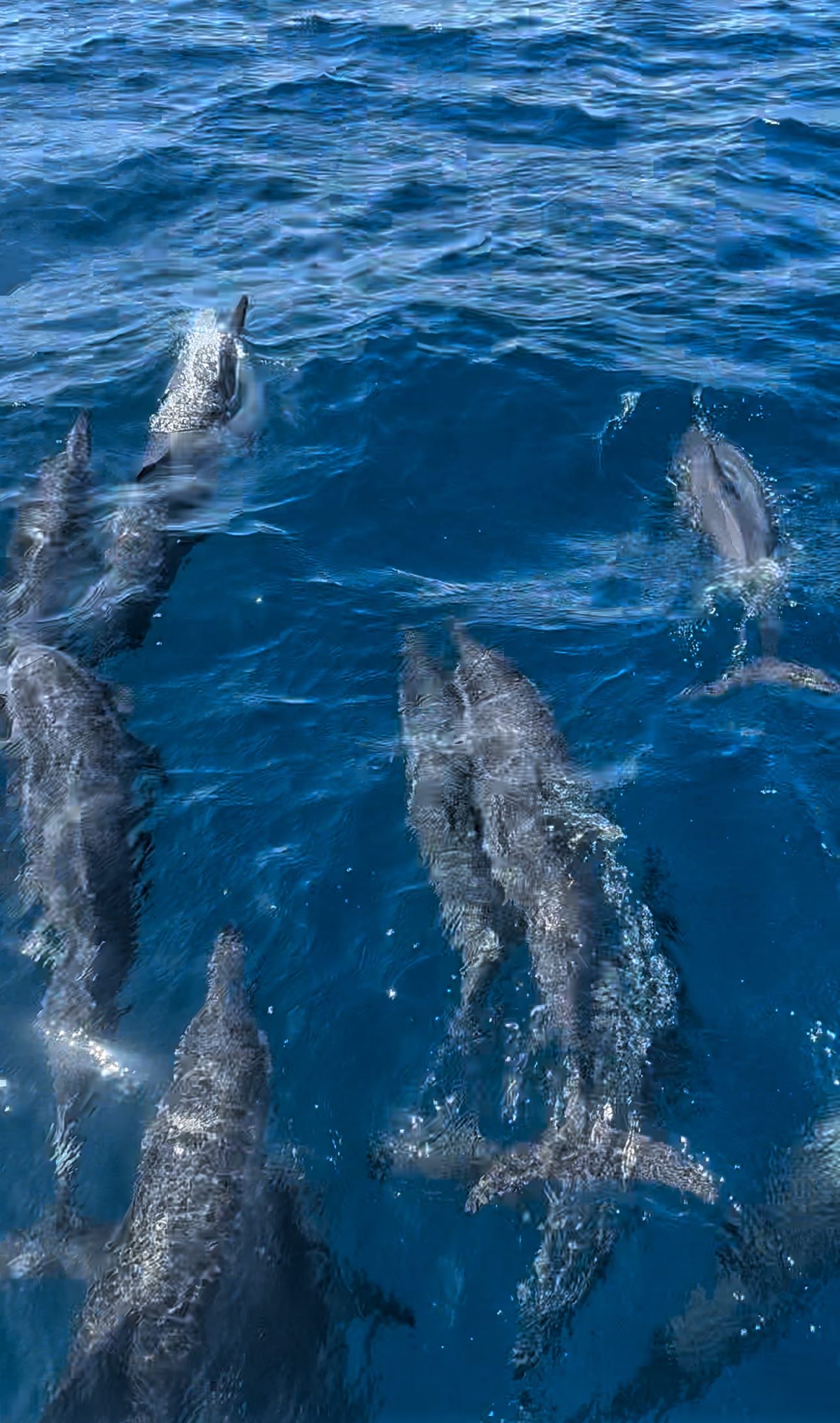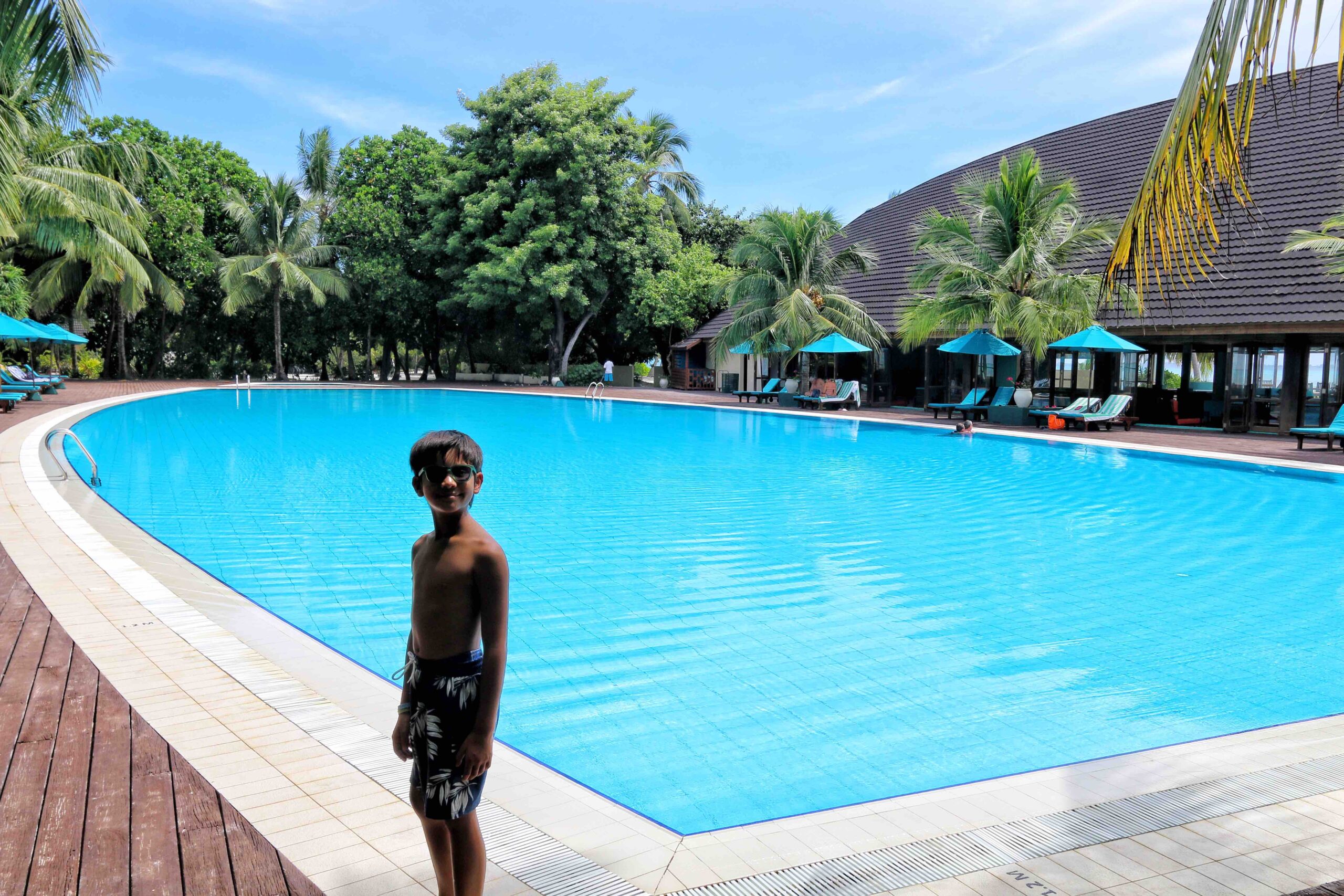 Main Pool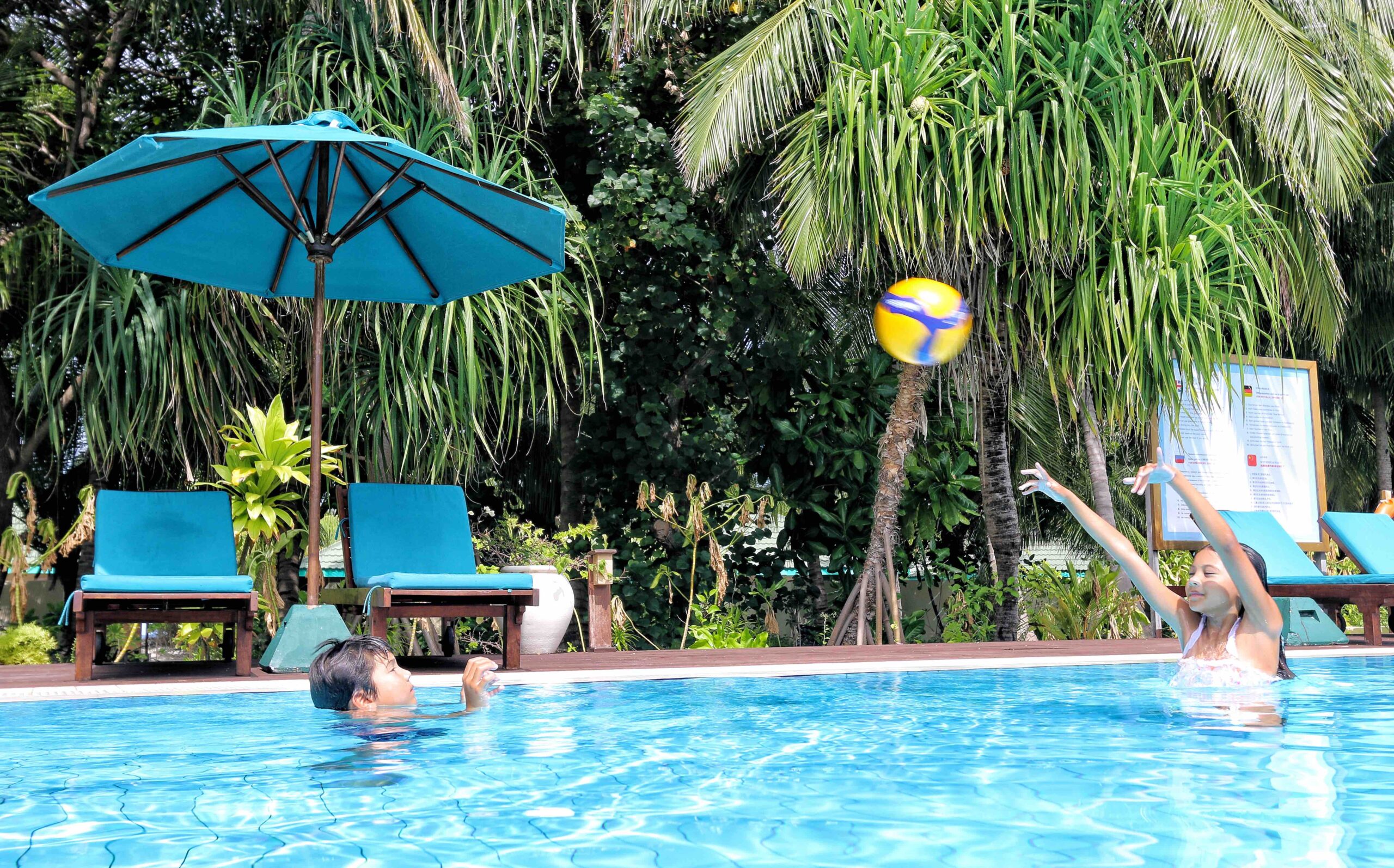 Ball Games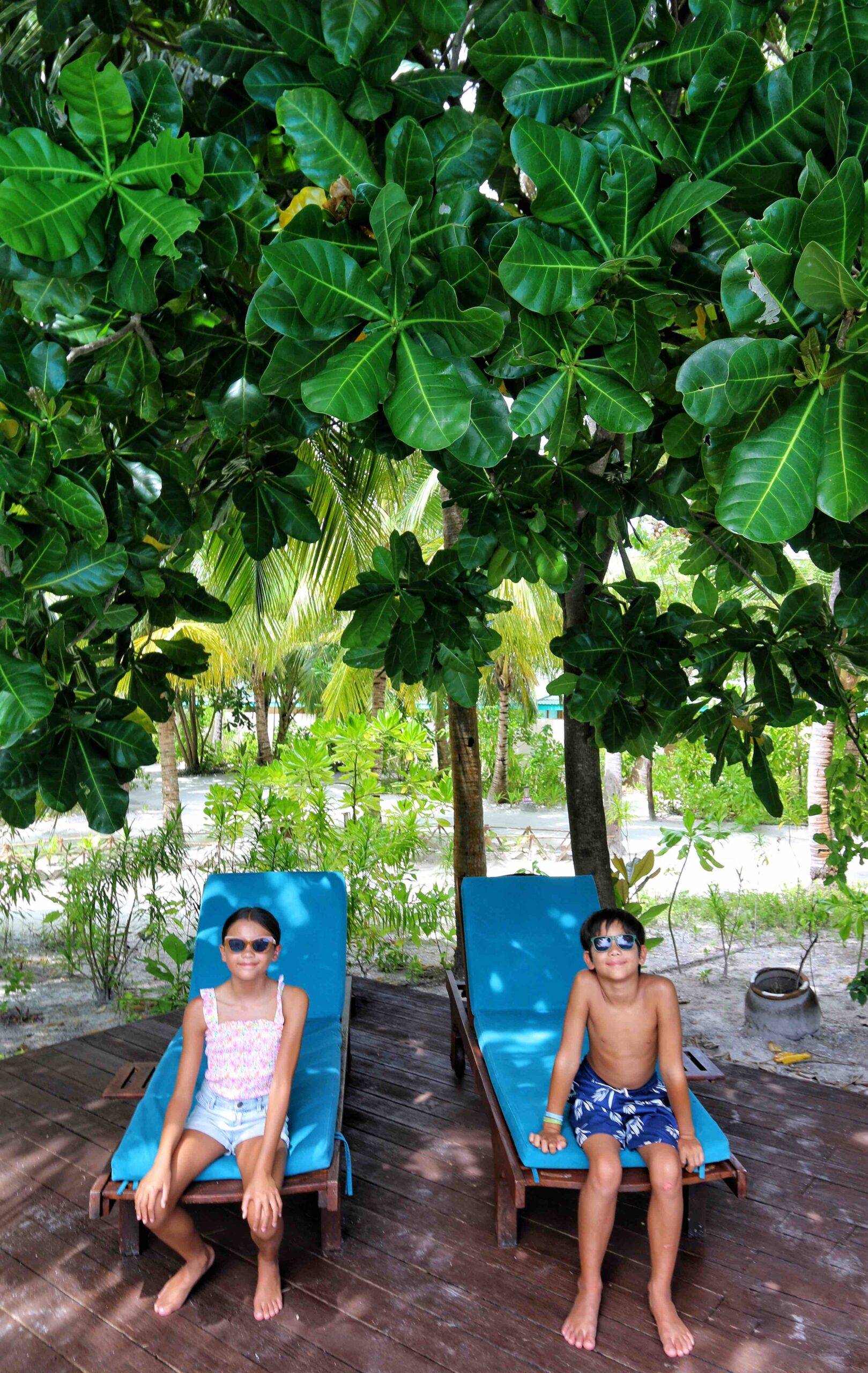 Sun Loungers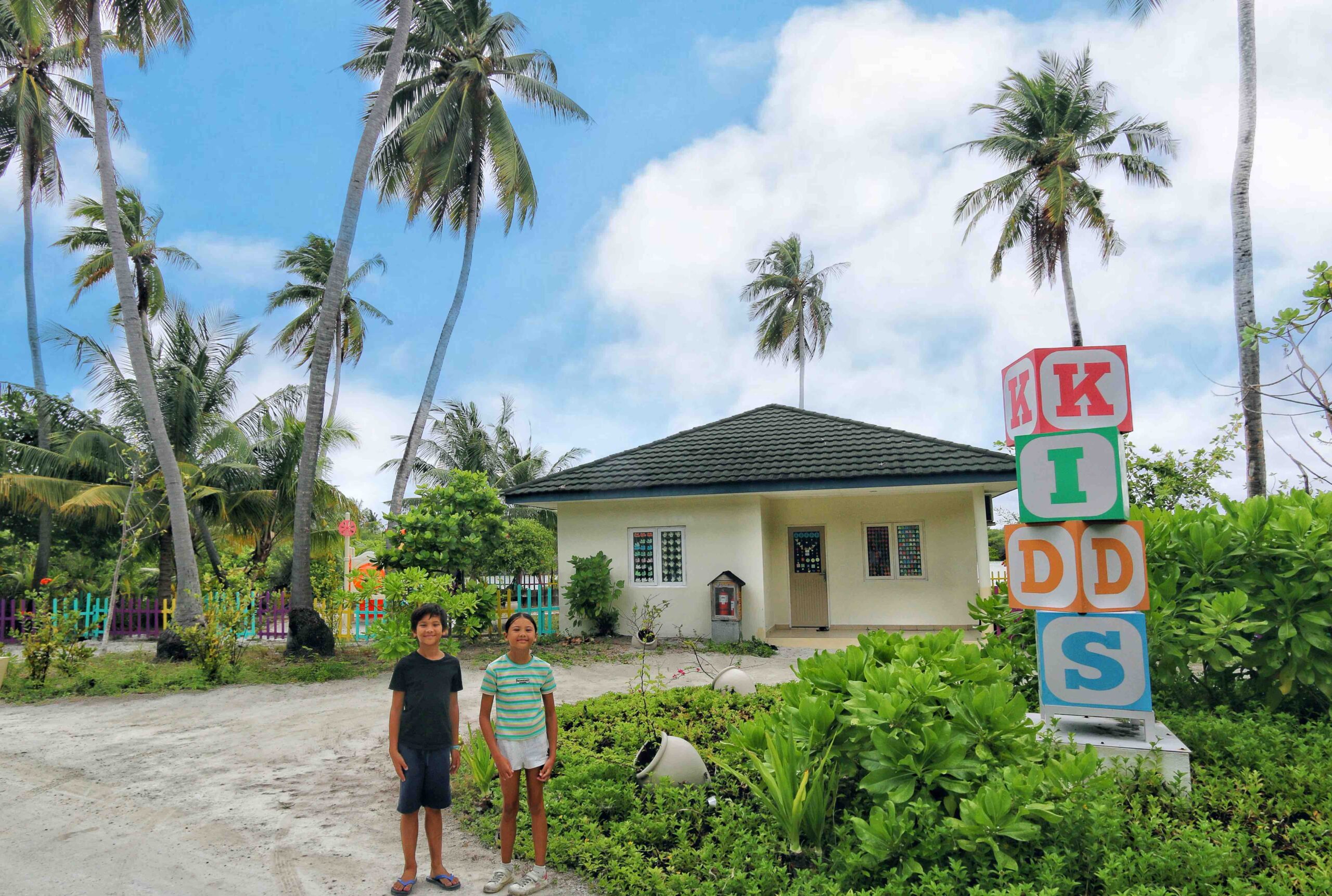 Kids Club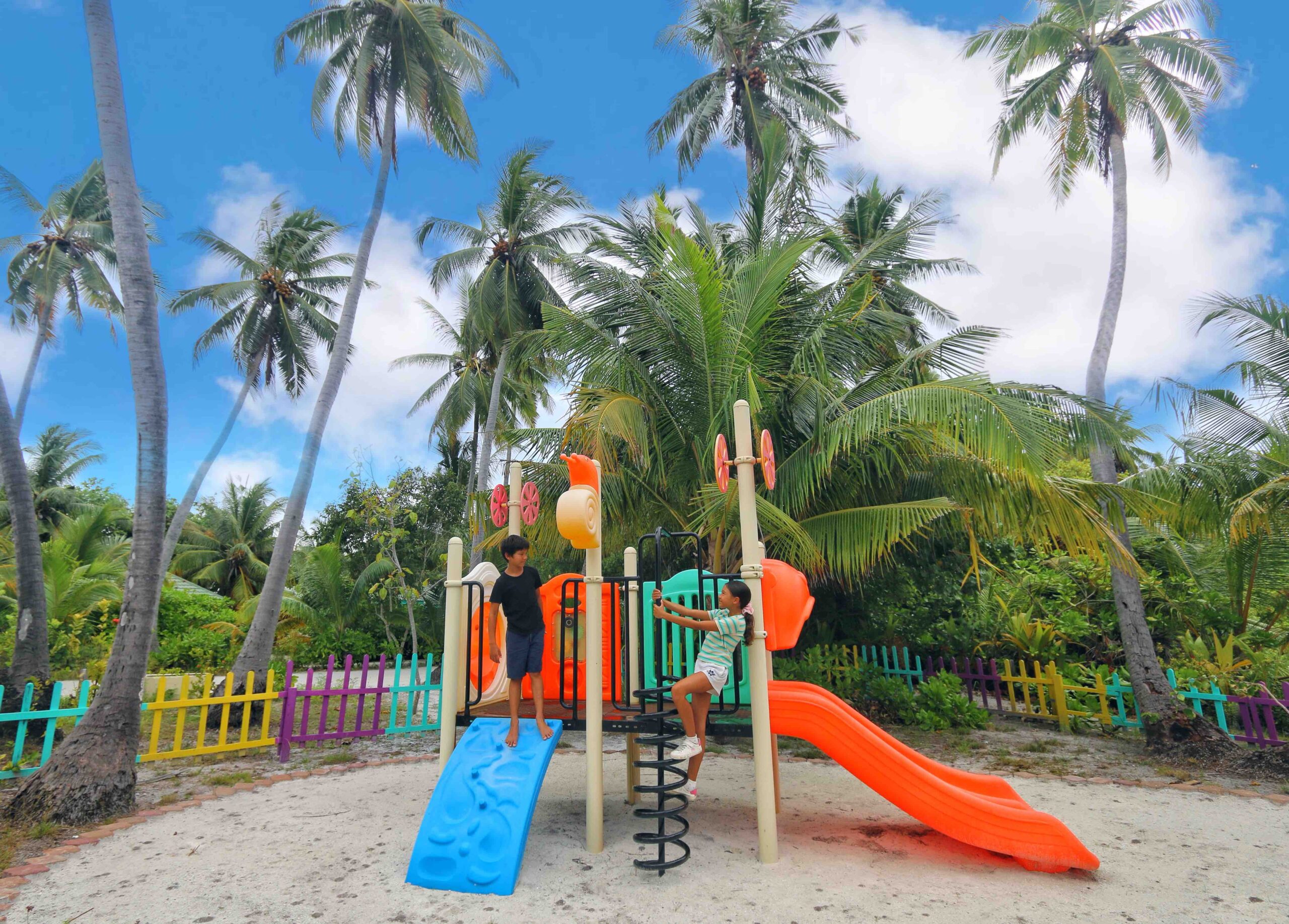 Outdoor Playground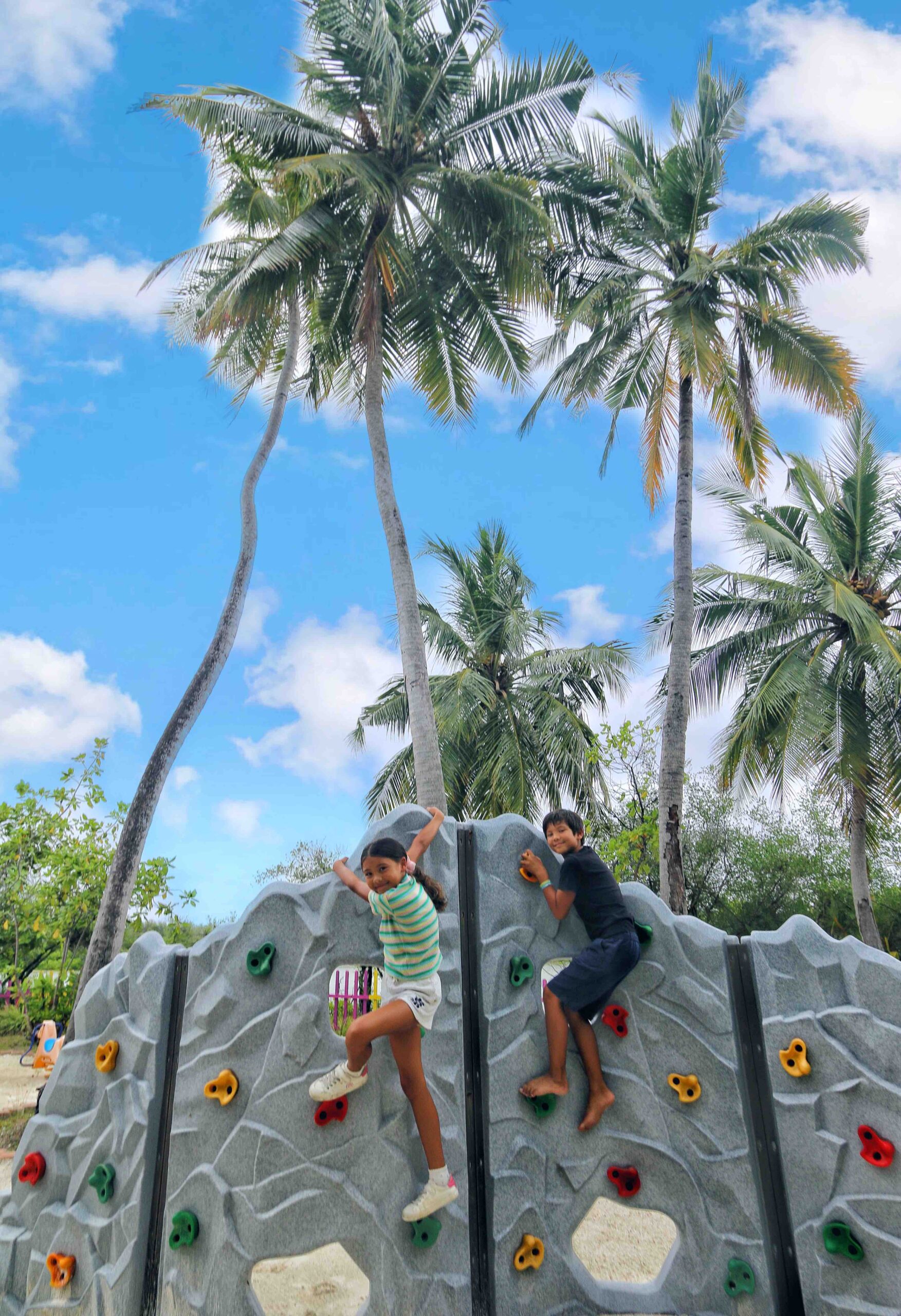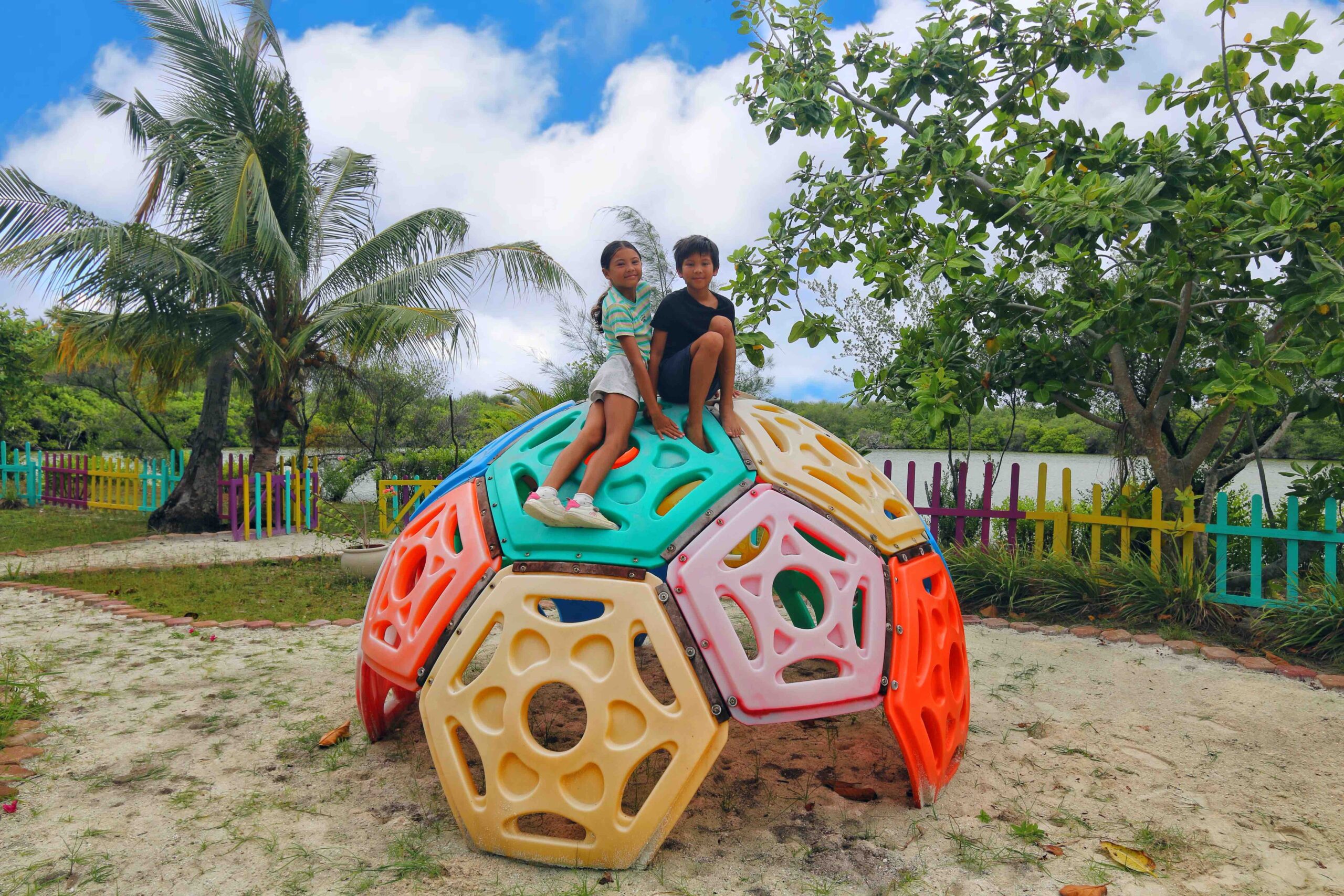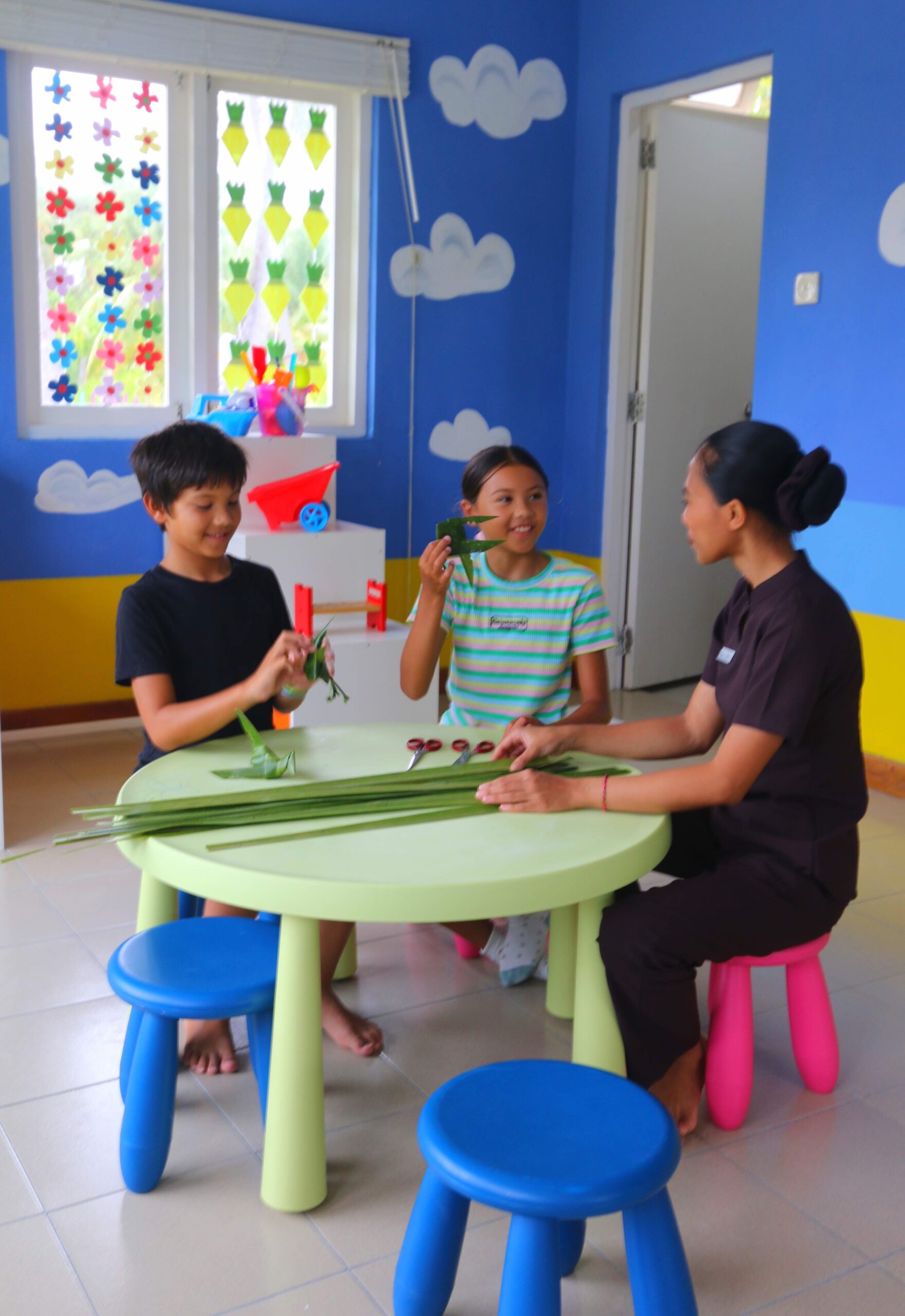 Activities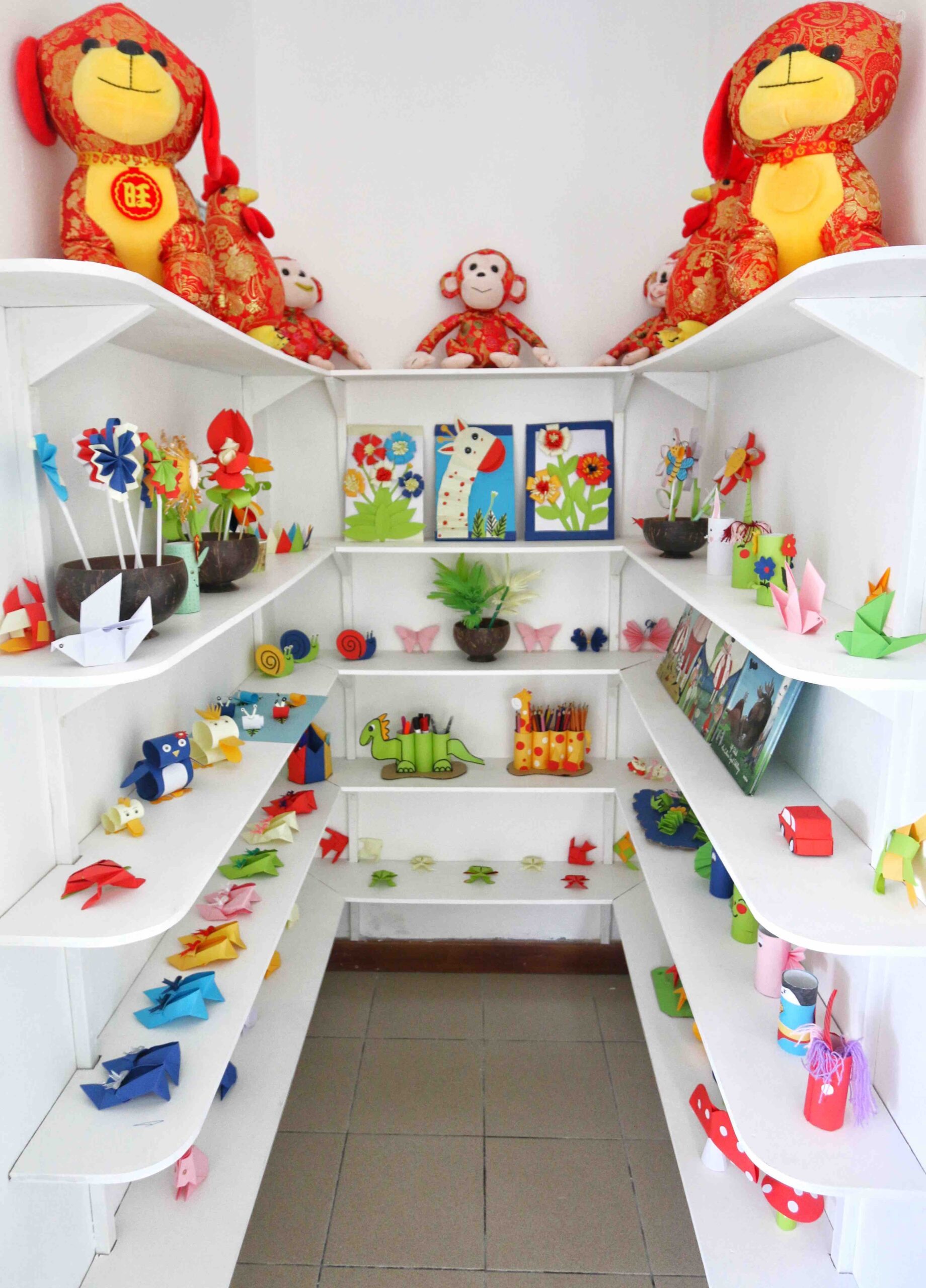 Arts & Craft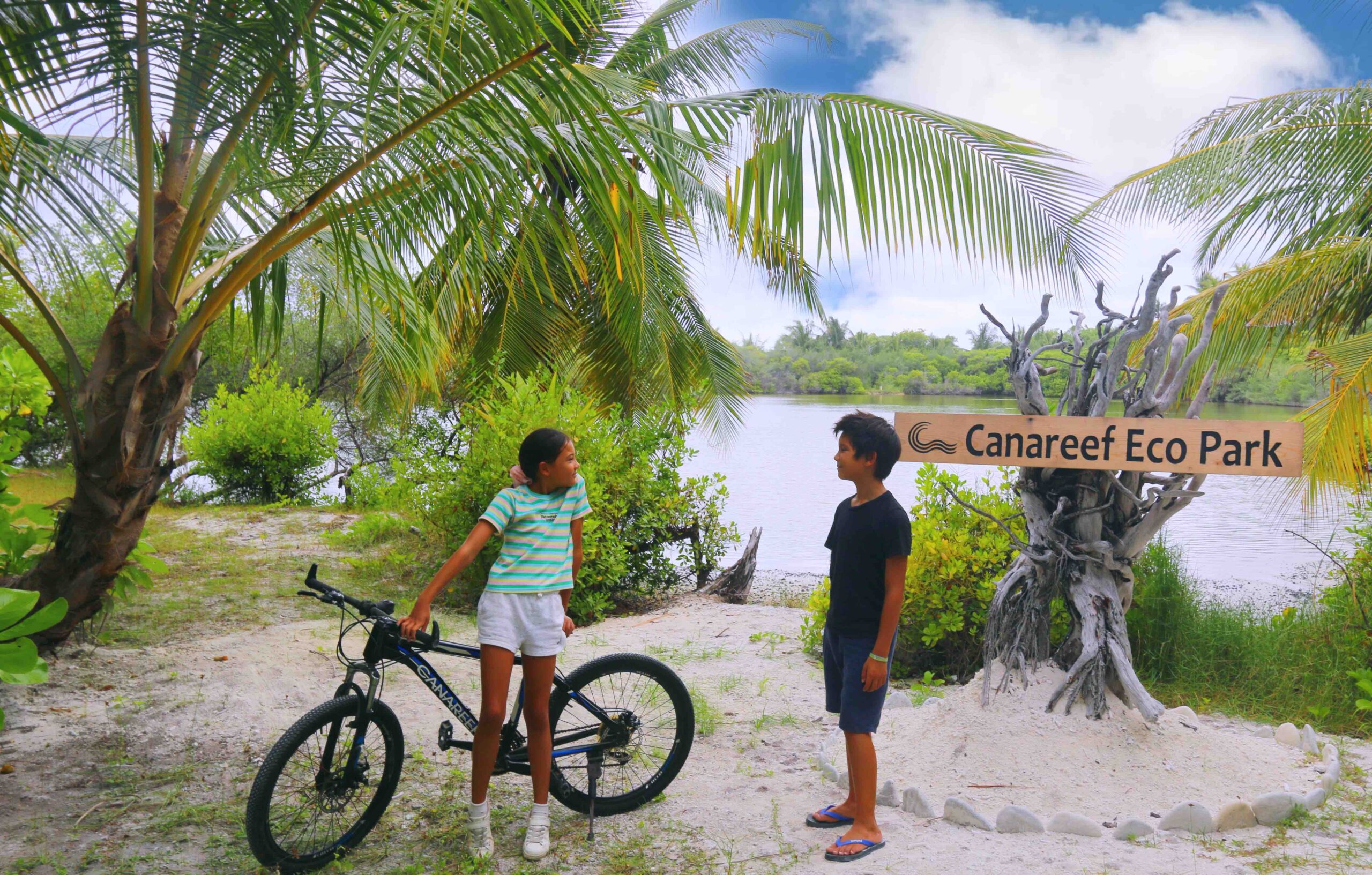 Canareef Eco Park
Duck Pond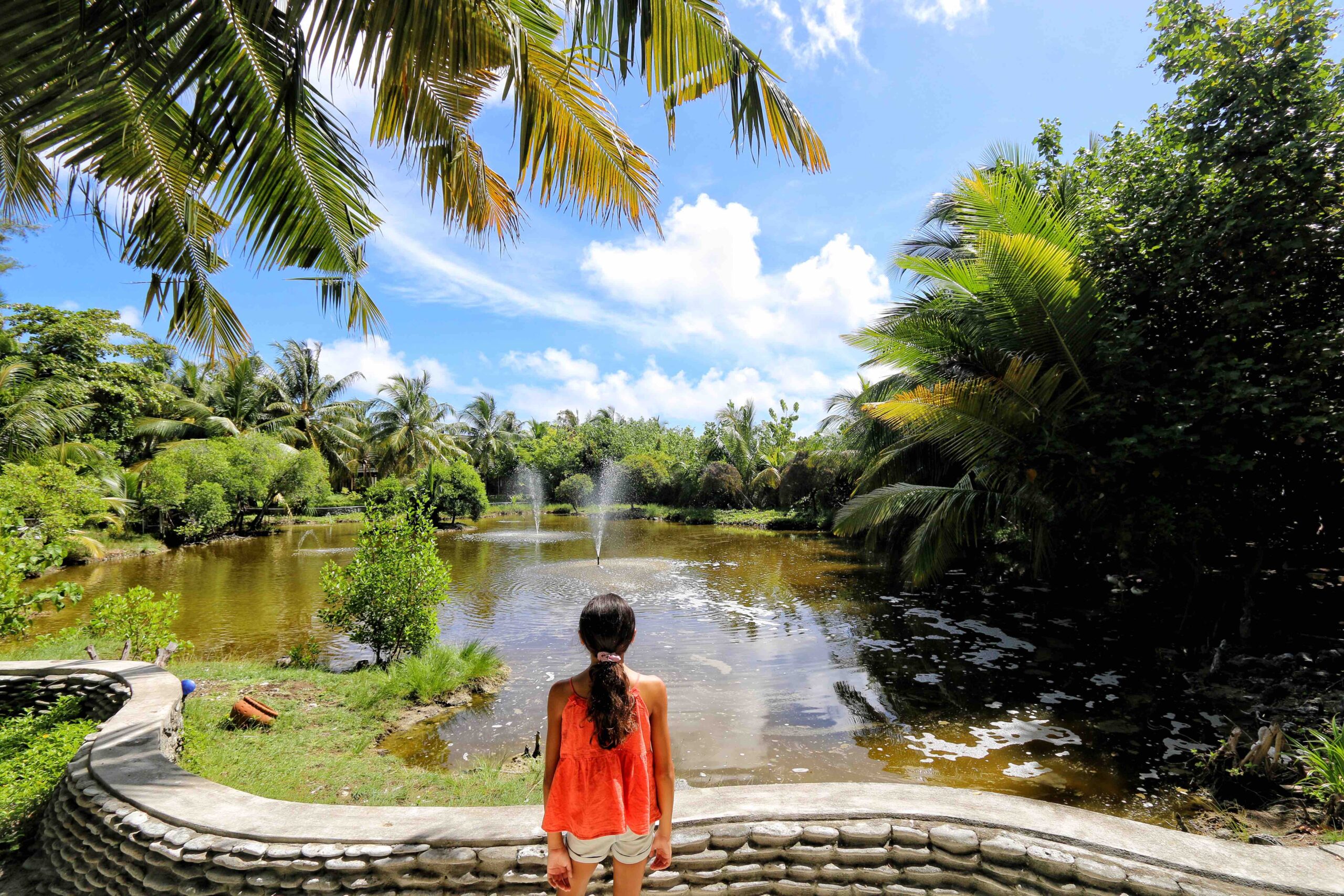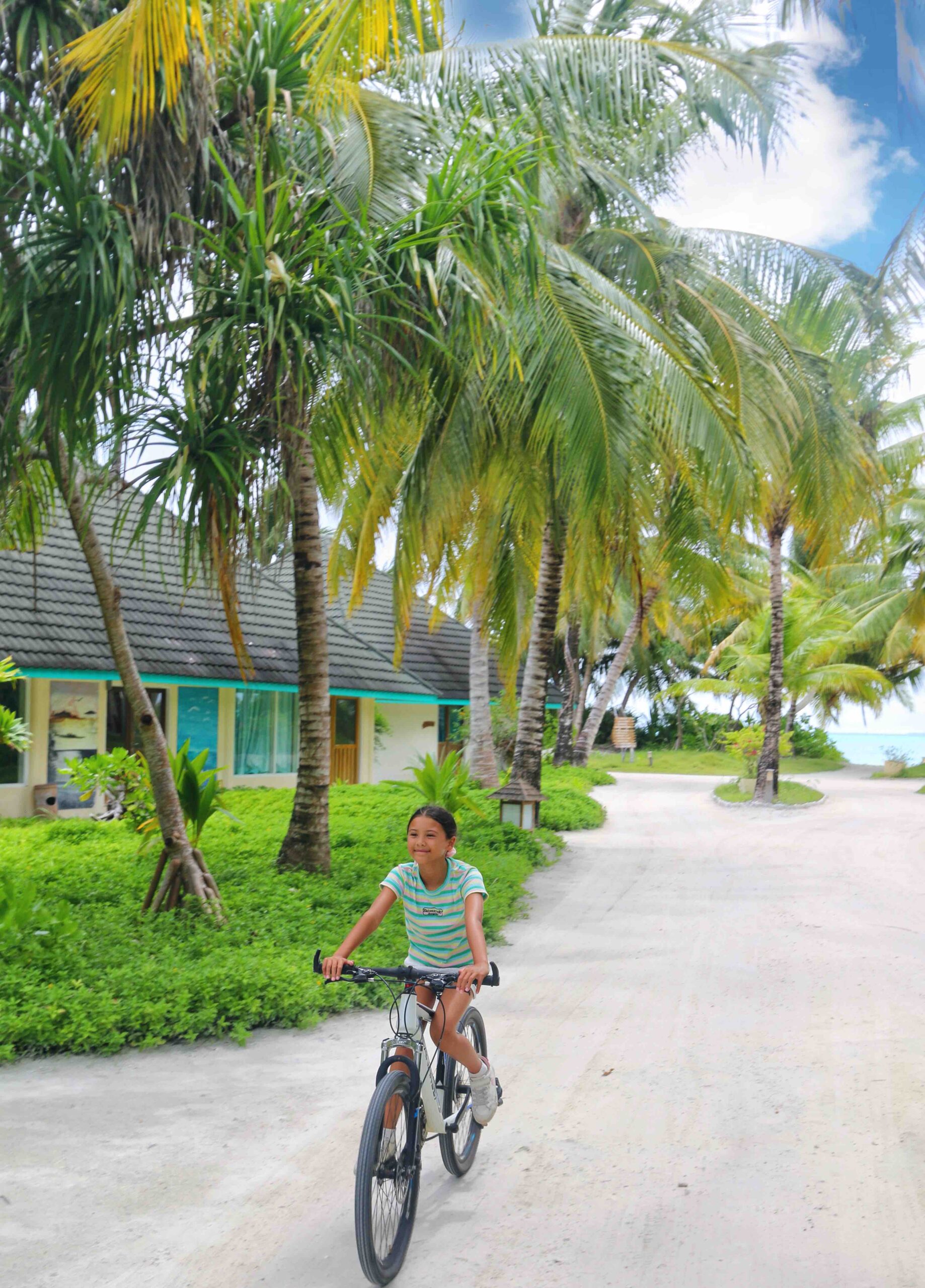 Cycling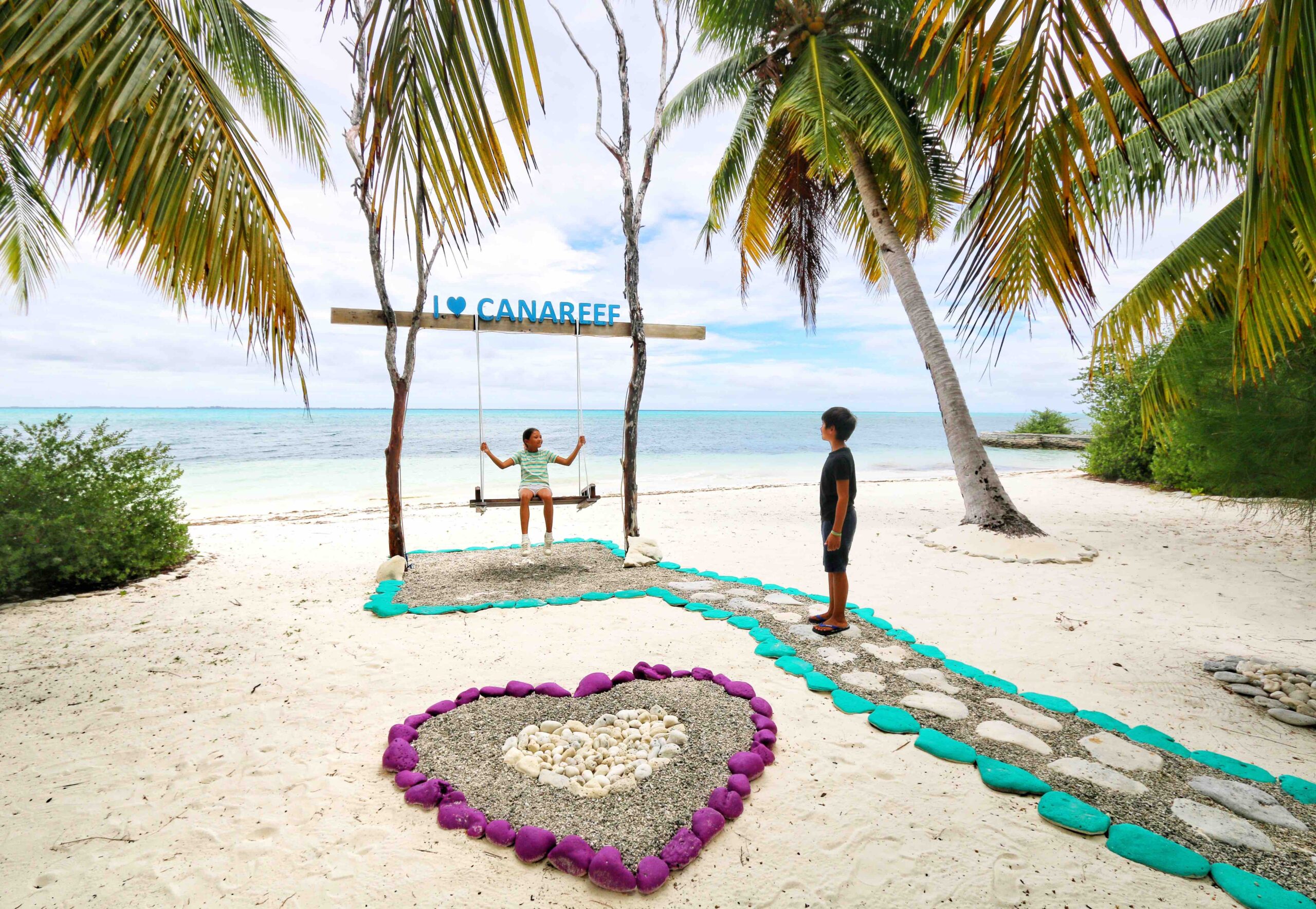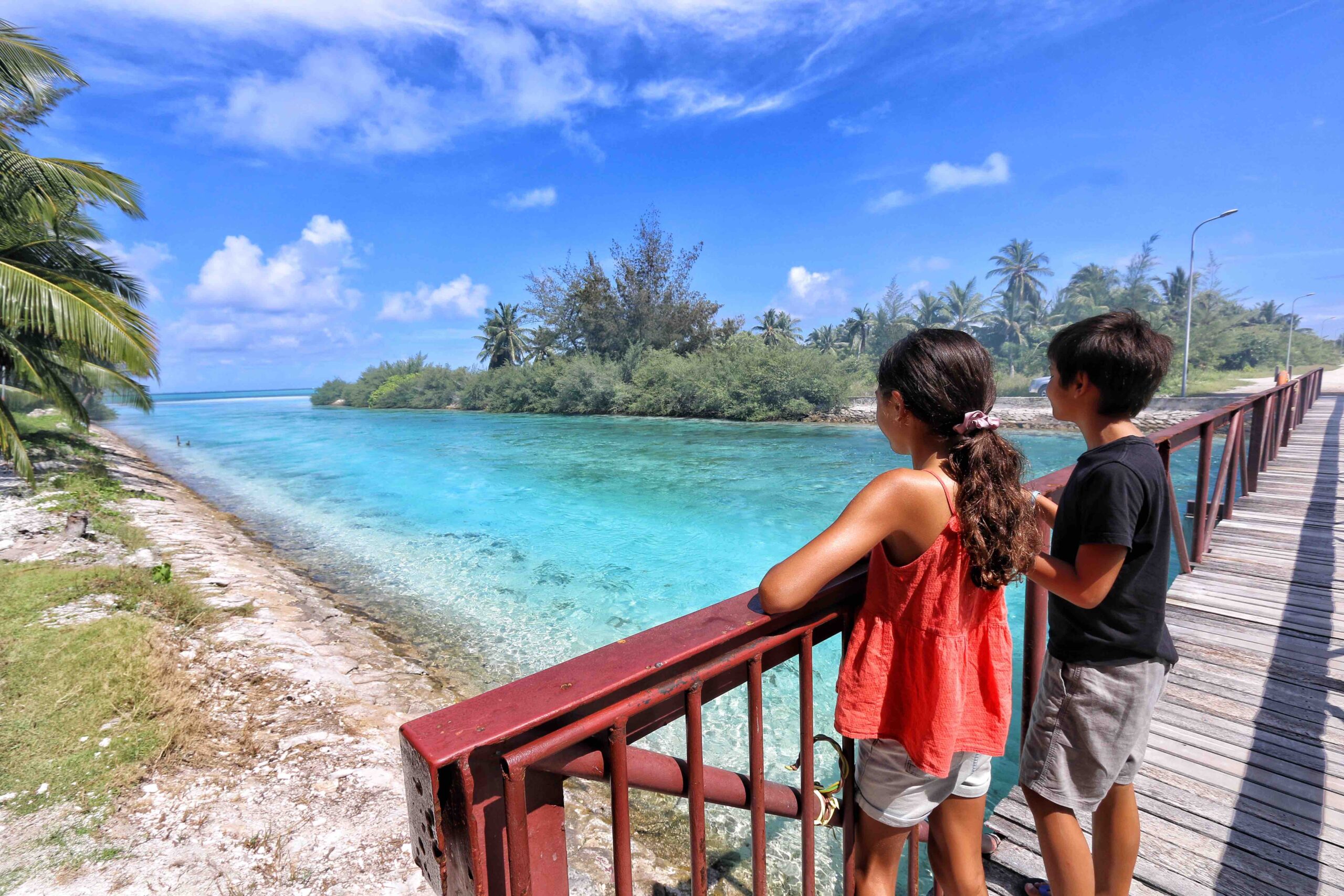 Bridge that crossed to the Inhabited Island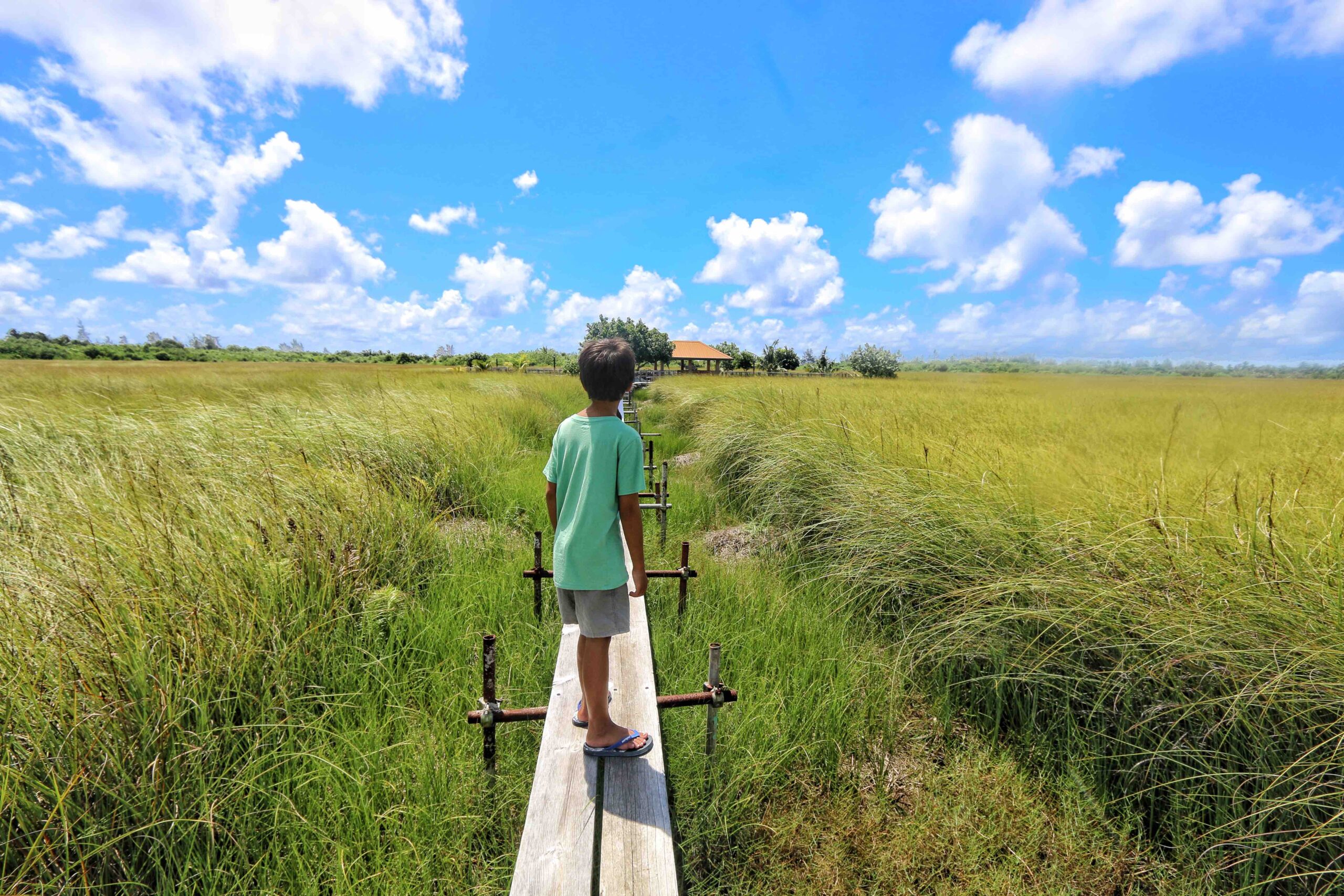 Local Island Tour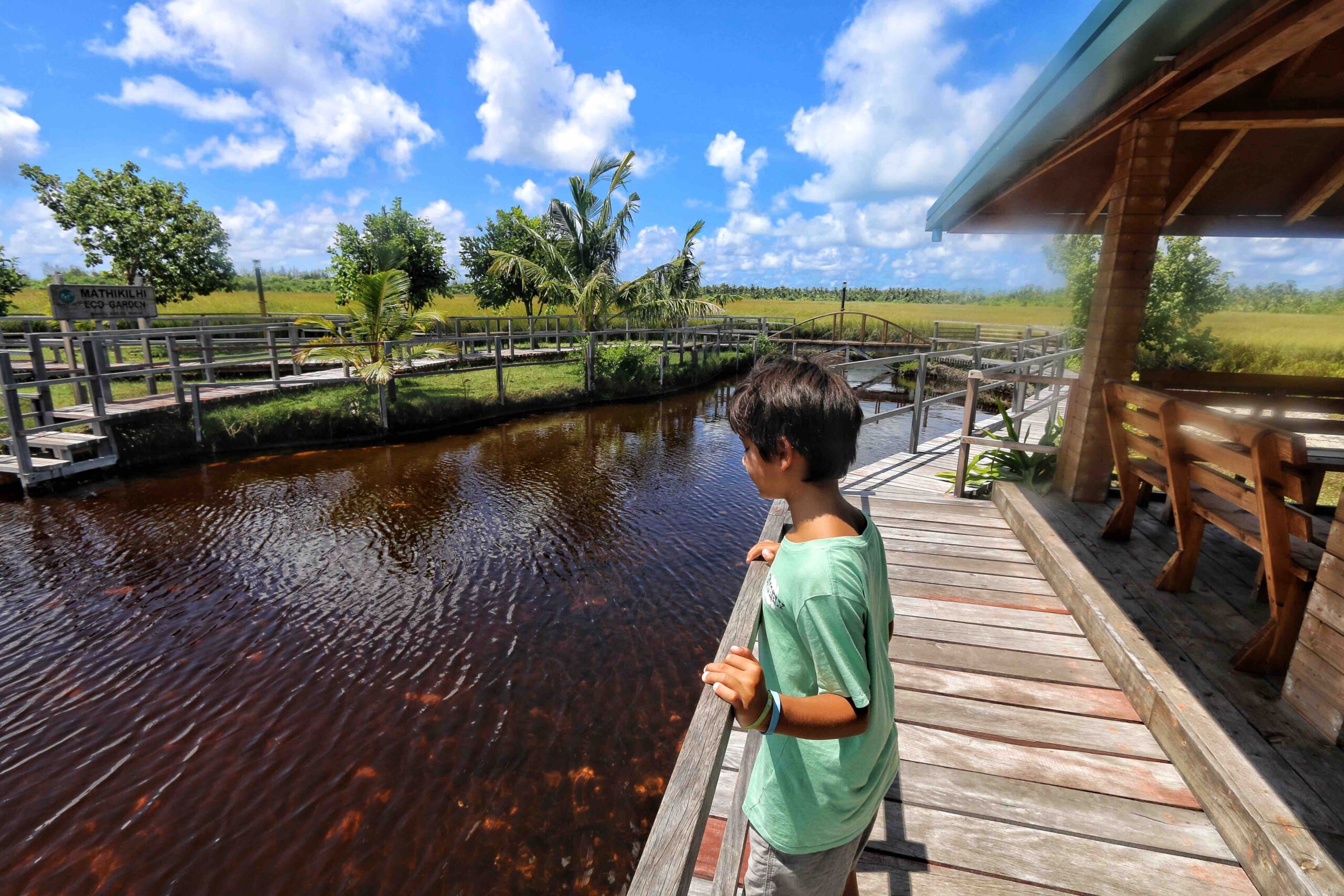 Mathikilhi Eco Garden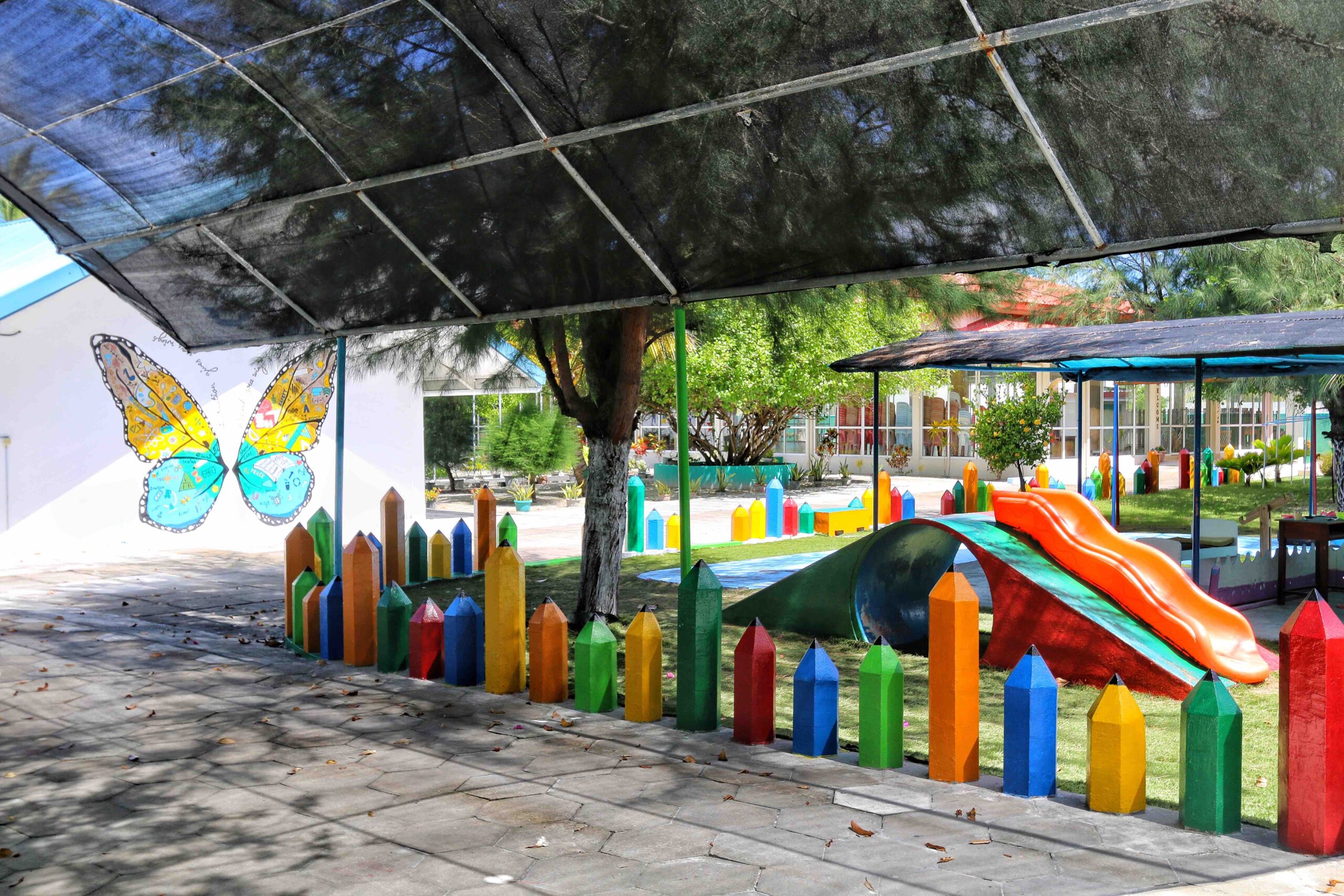 Local School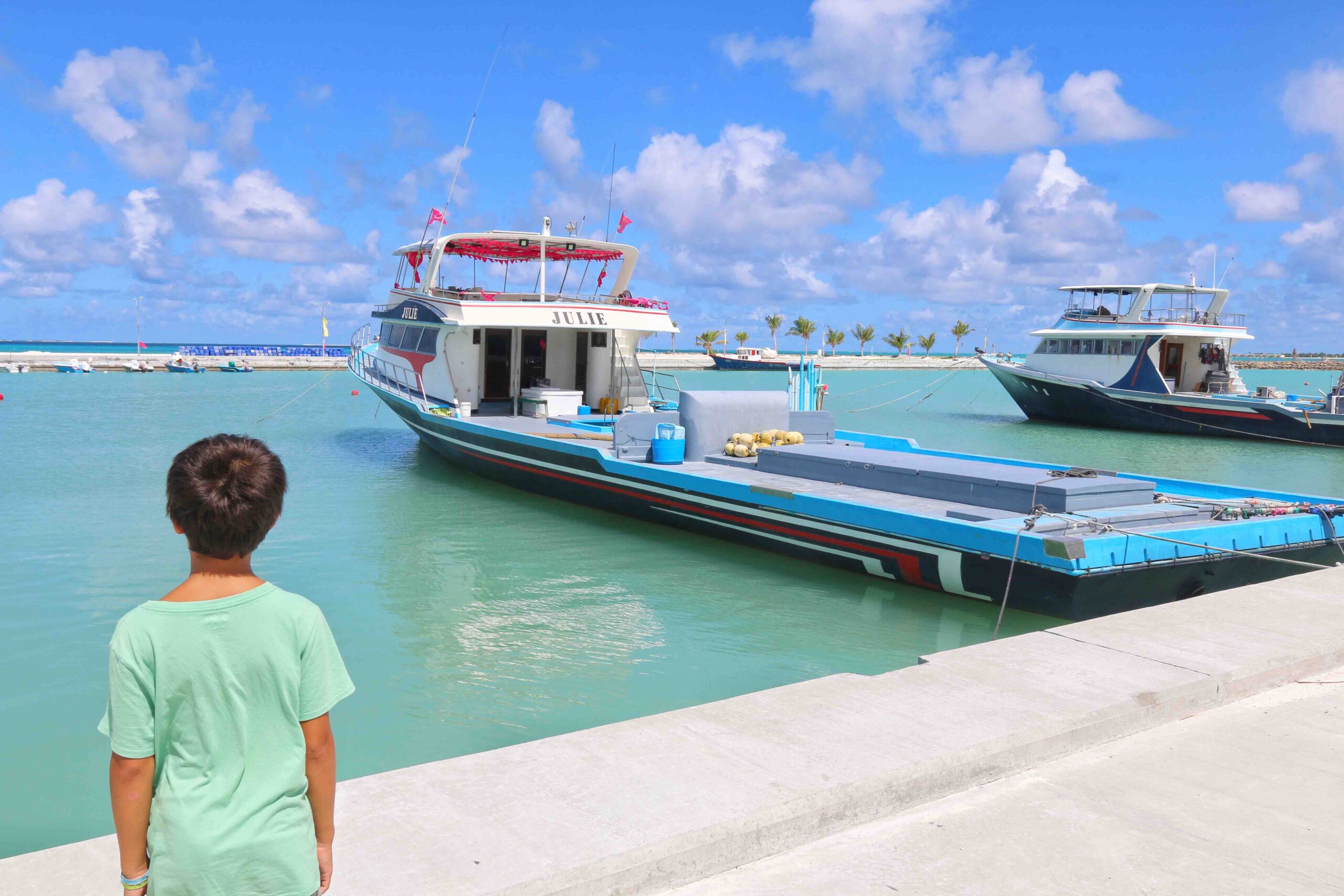 Local Fishing Port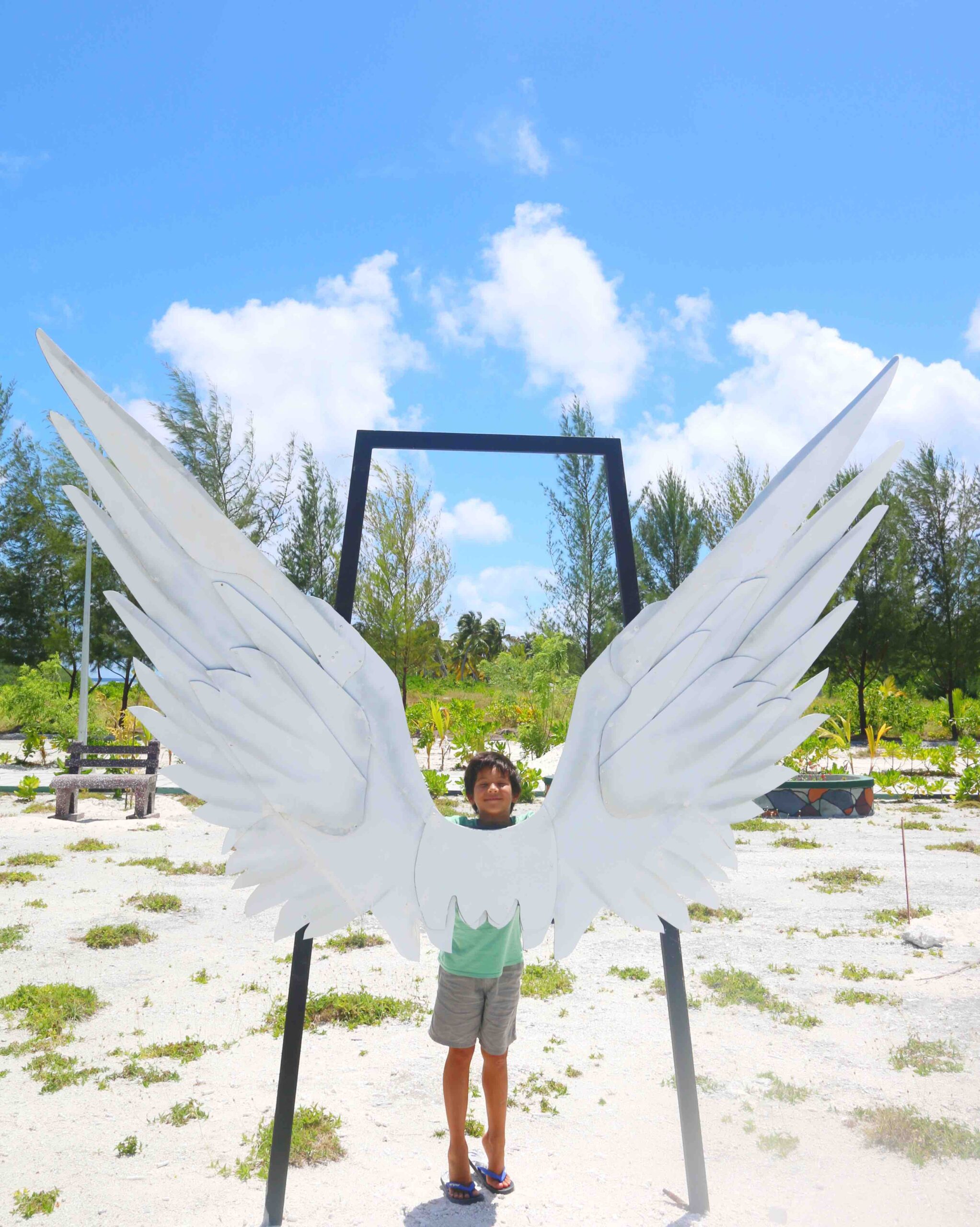 Local Park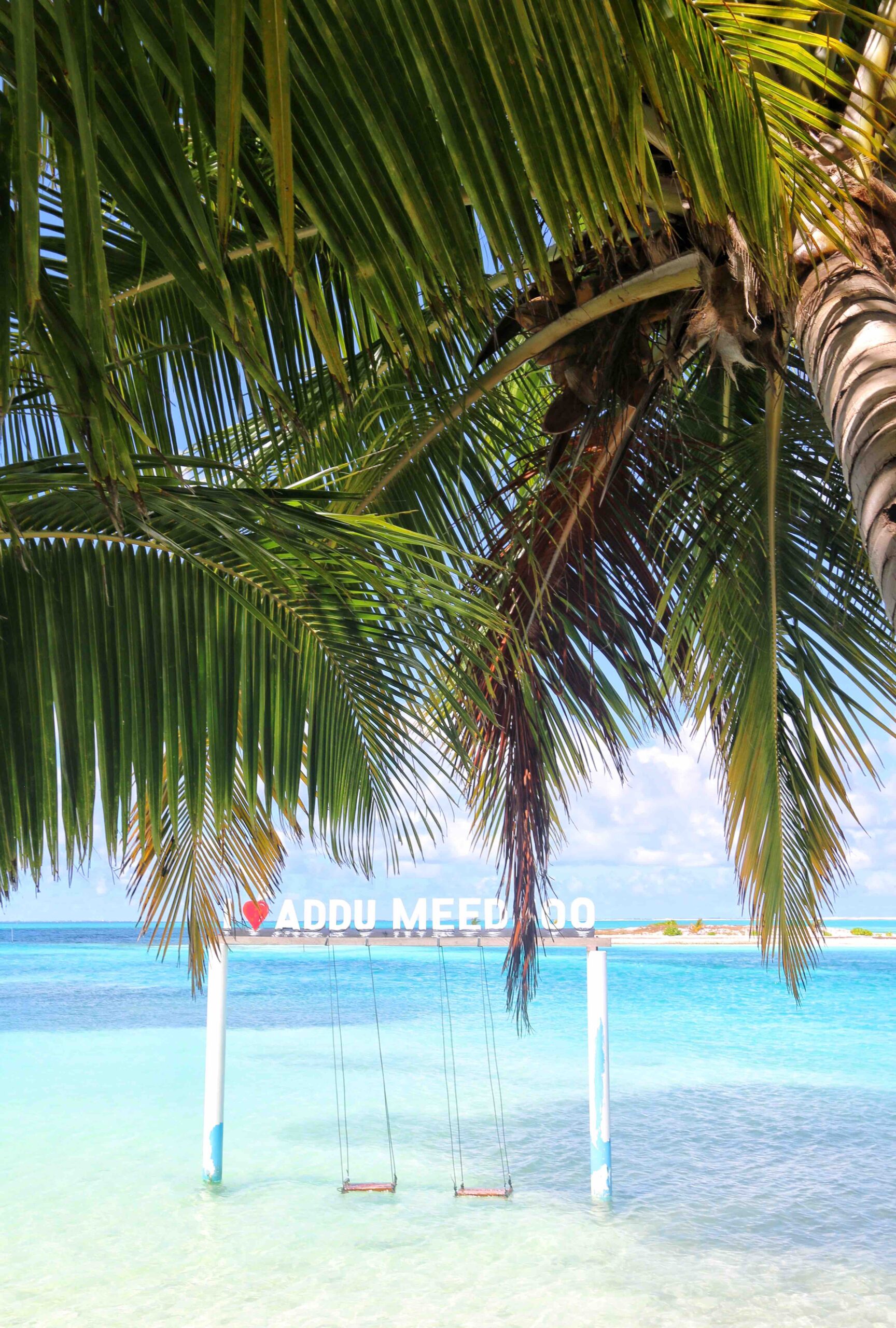 Local Beach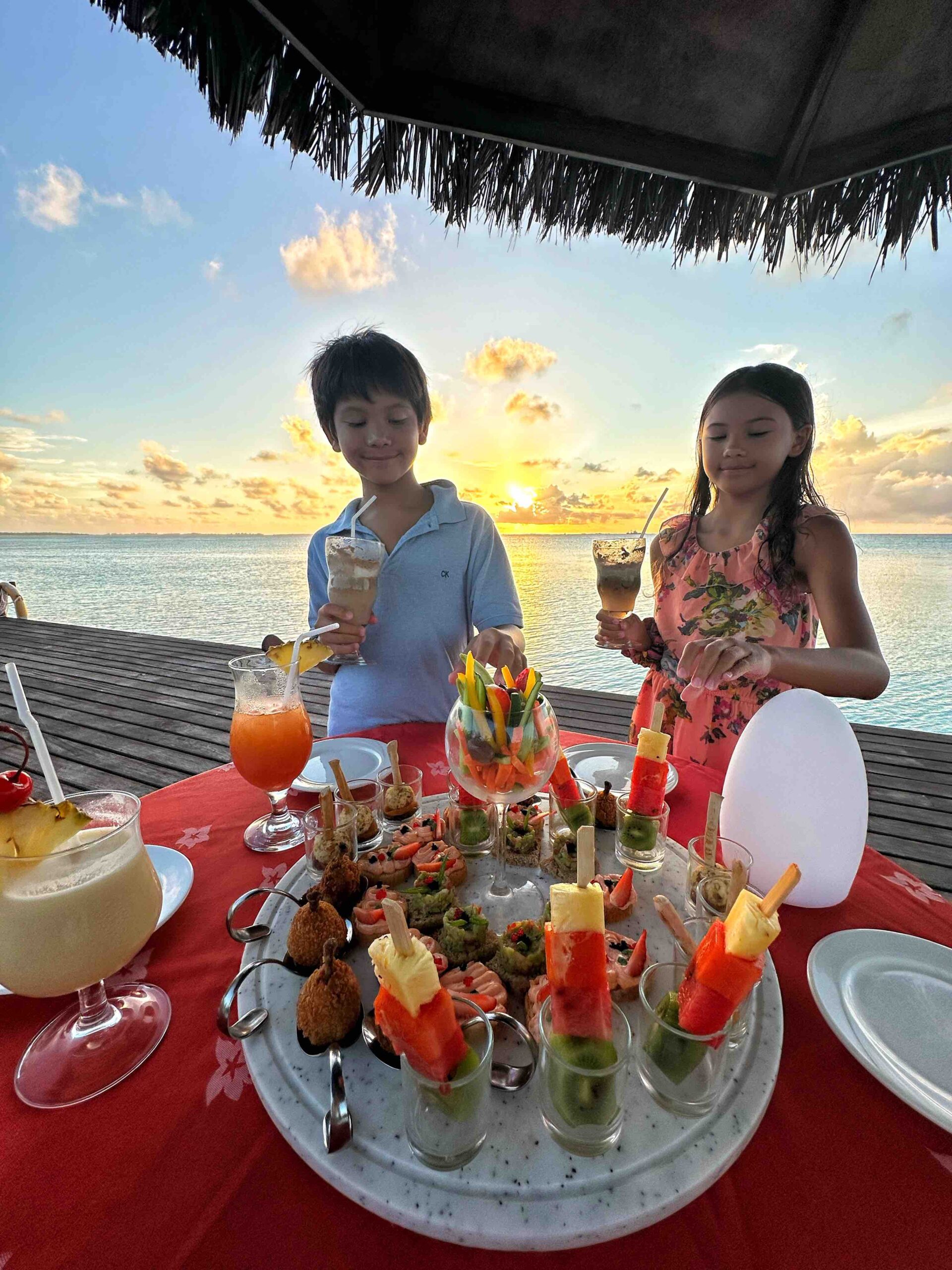 Sunset Canapes at Cocktails at Canareef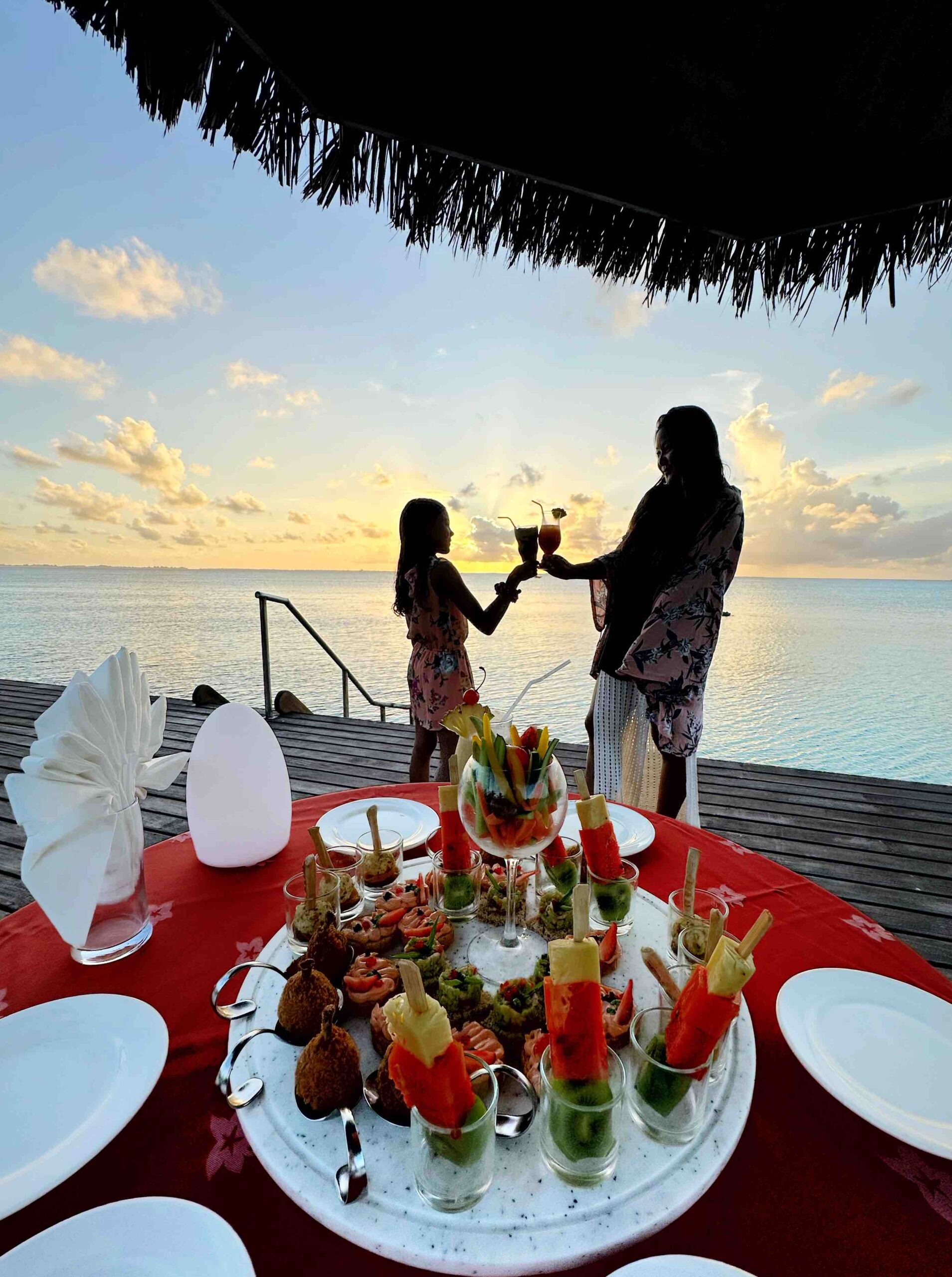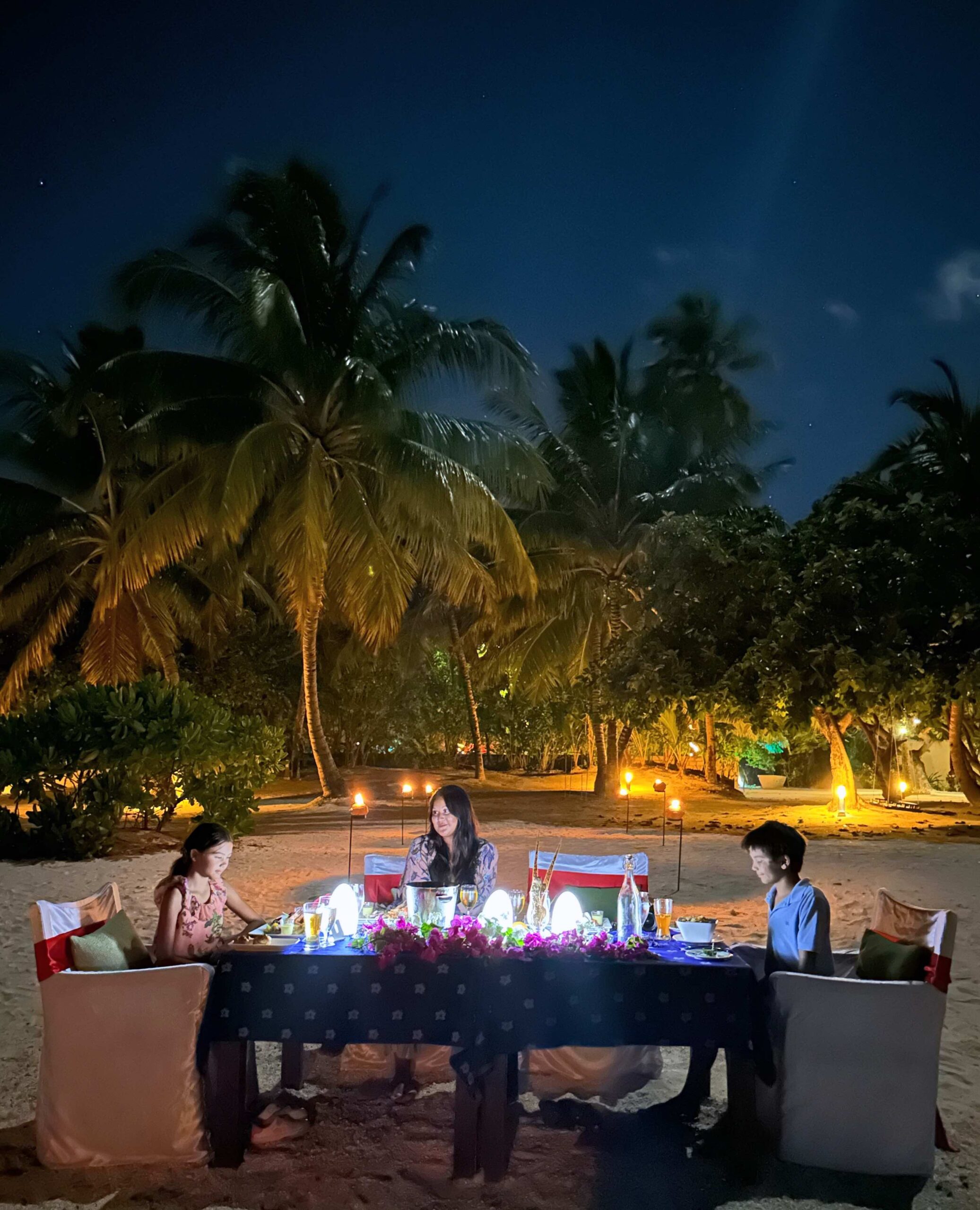 Private Beach Dinner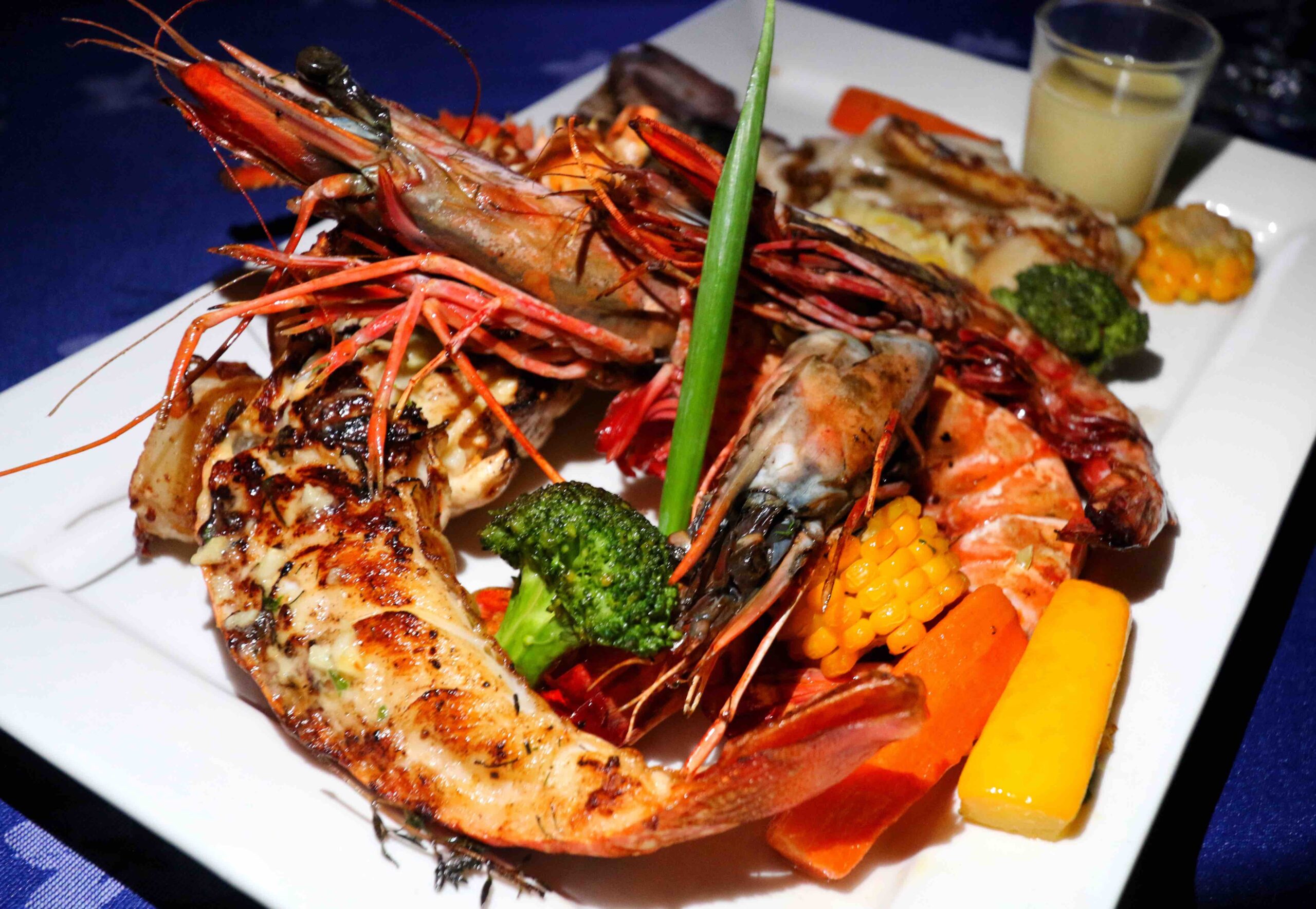 See our full feature on the Private Beach Dinner HERE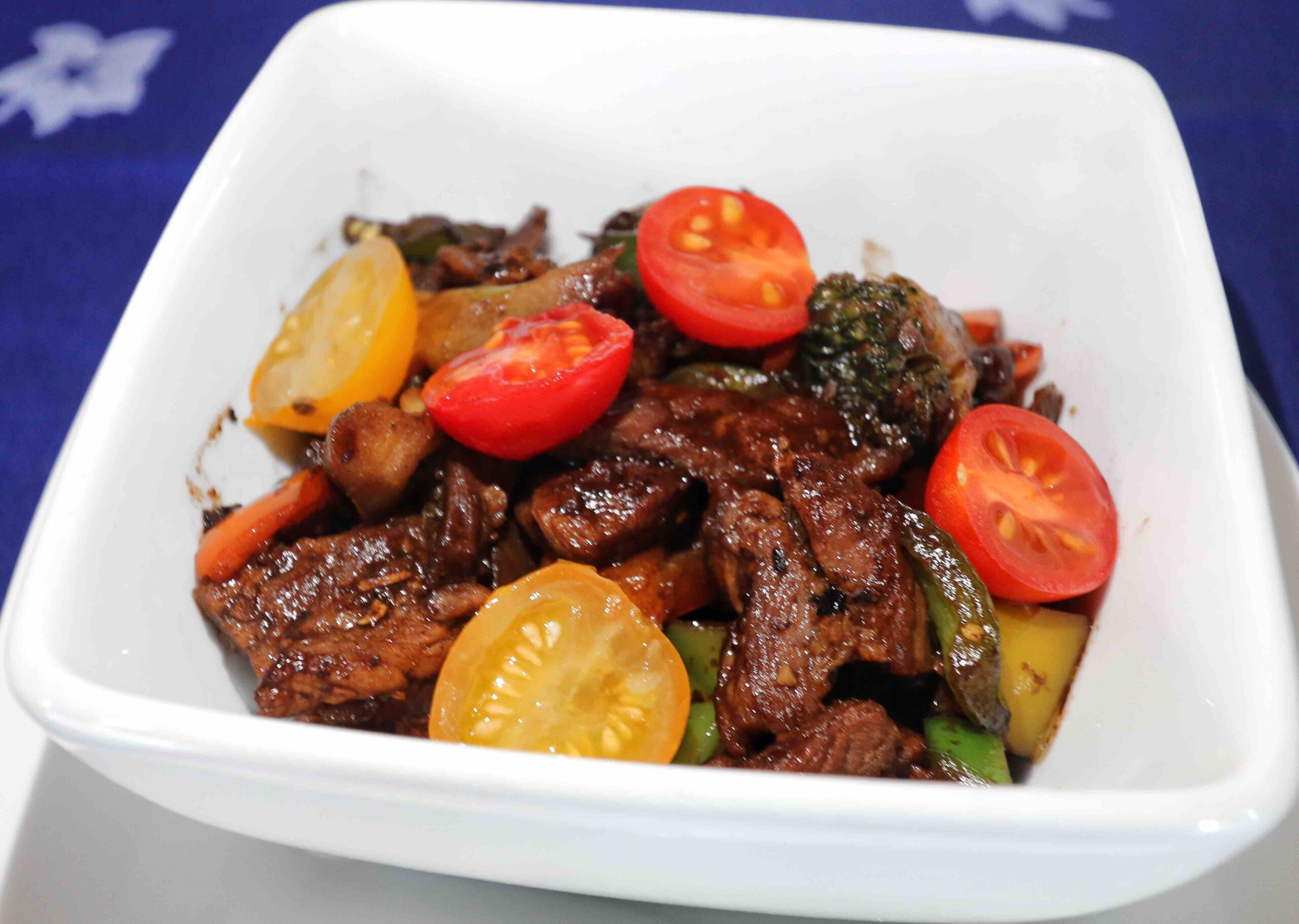 See our full feature on MEERA Bar HERE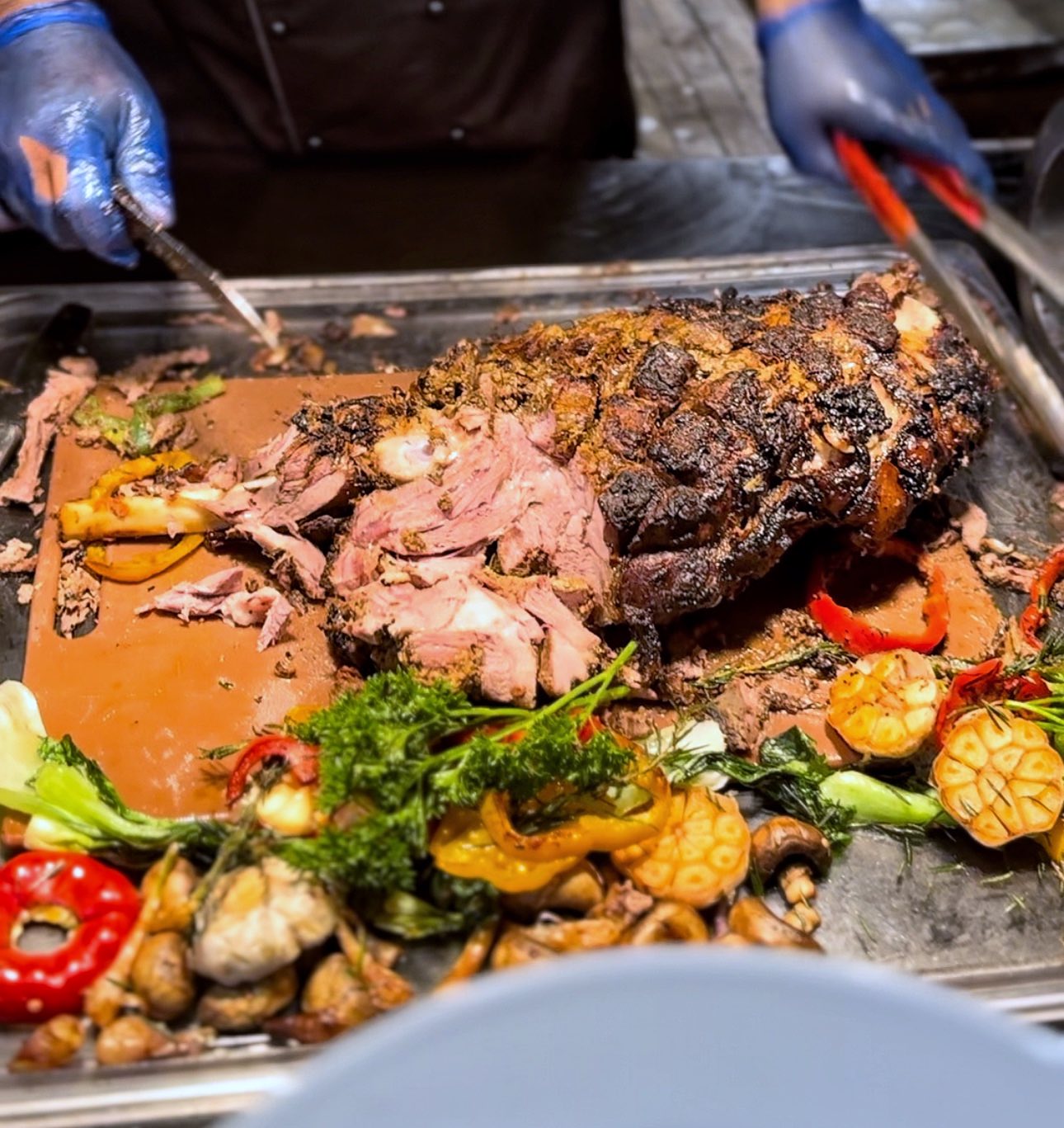 See our full feature on KILHI Restaurant HERE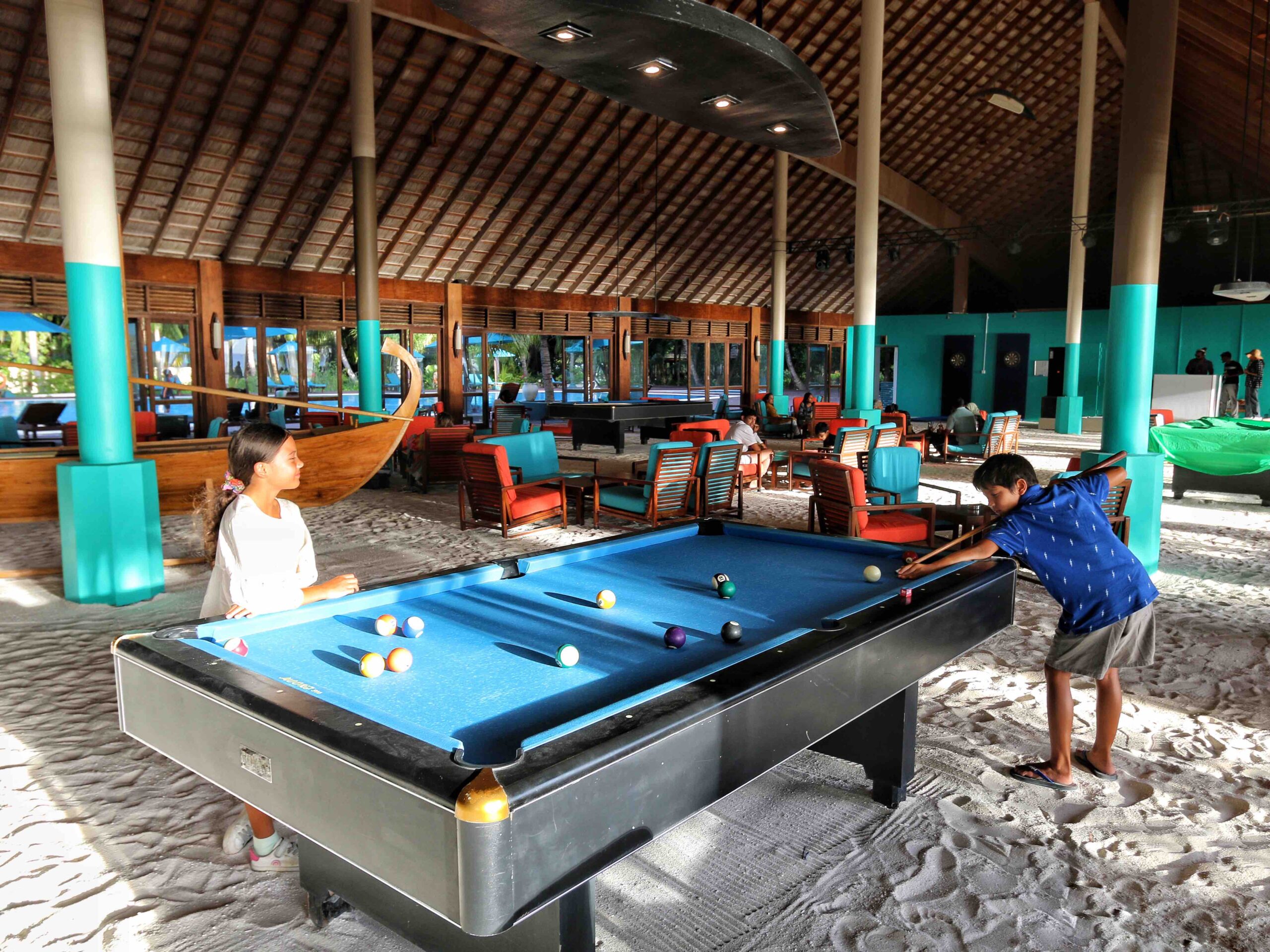 Pool at Dhoni Bar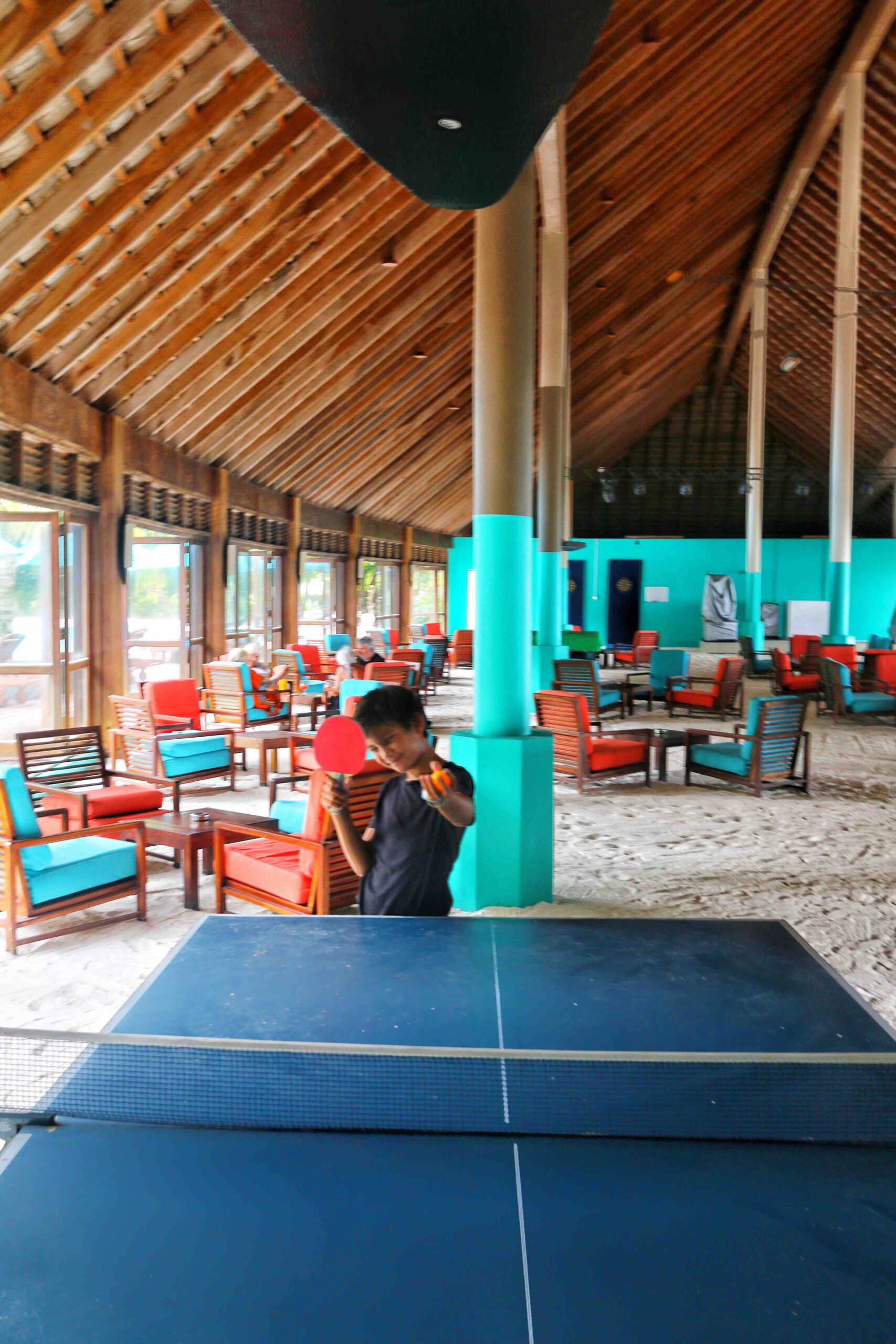 Table Tennis at Dhoni Bar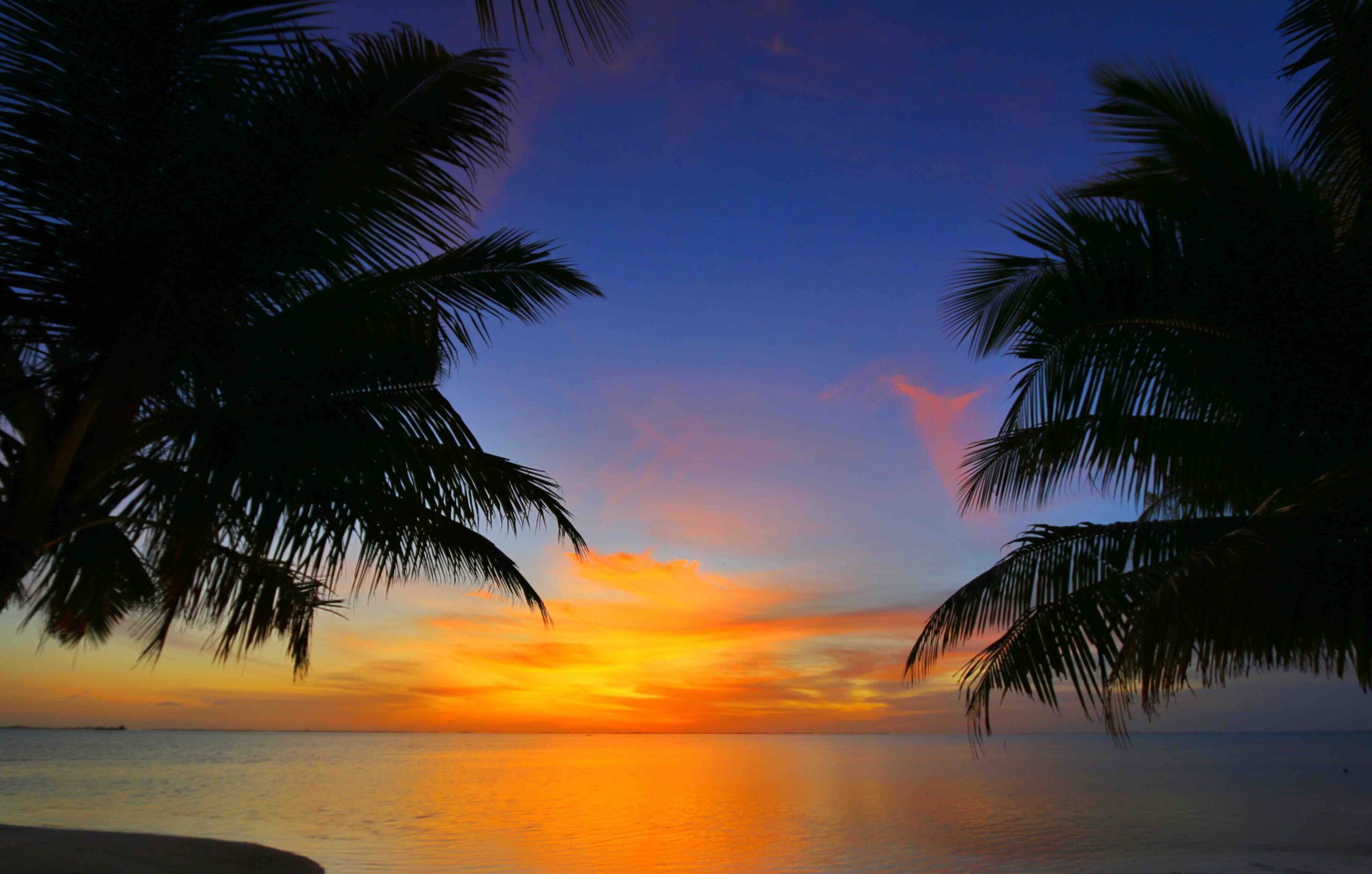 Sunsets at Dhoni Bar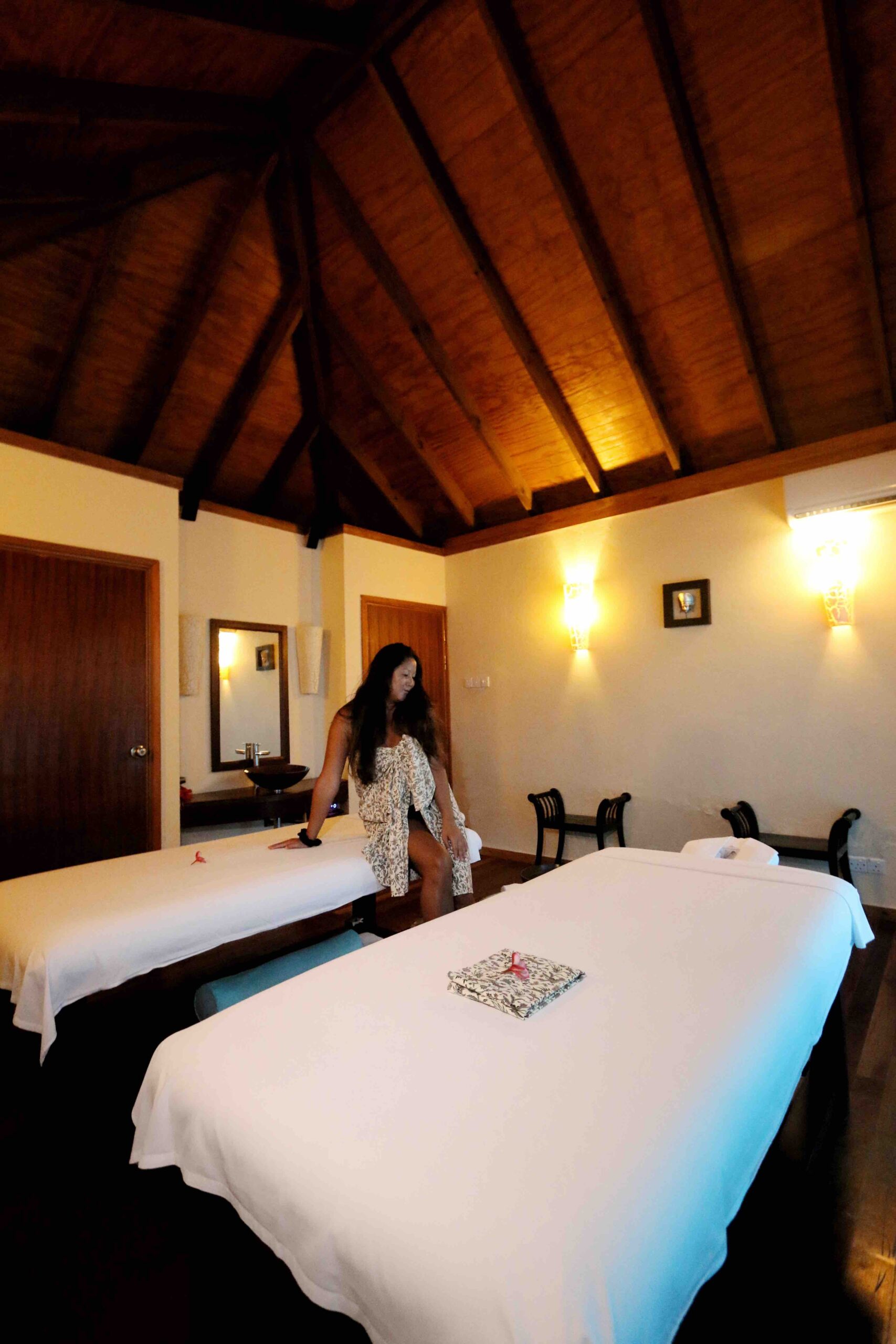 Canareef, located on a long and picturesque island is the southernmost Maldives Atoll, is a stunning tropical paradise perfect for the whole family. We were warmly greeted by the friendly team and served refreshing coconuts upon arrival. The 4.5 km island is surrounded by turquoise ocean and abundant marine life as well as pristine white sand beaches and an abundance of facilities. Our Jacuzzi Villa was spacious and cozy, perfect for a family of four, and featured a modern outdoor bathroom complete with sundeck and private Jacuzzi. We loved our ocean facing outdoor patio and being just steps from the Indian Ocean. The best way to explore the island is by bike and we enjoyed cycling as a family and sampling all the resort has to offer.
The Beach Bar boasts a stunning stretch of sand and is the perfect place to snorkel, partake in waters ports, or just enjoy the beach with a cocktail in hand. Our children had the opportunity to do a BubbleMaker course with the in house scuba team and had an amazing afternoon exploring the ocean. The on site kids club boasts indoor and outdoor play areas and fun local arts and crafts for creative children. The Eco Park is a great opportunity to birdwatch or just enjoy the serene views and we highly recommend a Balinese massage at the serene and calming spa.
The Olympic sized pool set a the centre of the island is an idyllic space to swim and lounge under the palms, or grab a poolside Pina Colada for a lazy afternoon. Canareef also offers a variety of excursions from exciting dolphin cruises to snorkelling expeditions, and even the opportunity to tour a local island which is connected the the resort via bridge. Whether you're looking for culture, adventure, active sports, or just relaxation you'll find it on the tropical resort.
Canareef offers a variety of dining options from delicious all day dining at the beachfront buffet KILHI to delicious Asian fare at MEERA Bar. We loved enjoying tapas and cocktails at The Beach Bar at sunset and playing pool and enjoying the disco at Dhoni Bar. Make sure to book a Private Beach Dinner for a memorable evening under the stars and try the all inclusive package which offers a variety of cocktails, wines and spirits throughout your stay.
We highly recommend Canareef as an affordable and picturesque option for families, groups, and couples travelling to the Maldives. The resort offers coempeteive room rates and packages, a plethora of facilities, and some of the friendlies staff we've met.  ou're sure to feel right at home on the natural postcard worthy island.
Addu City 19060, Maldives
+960 689-6677