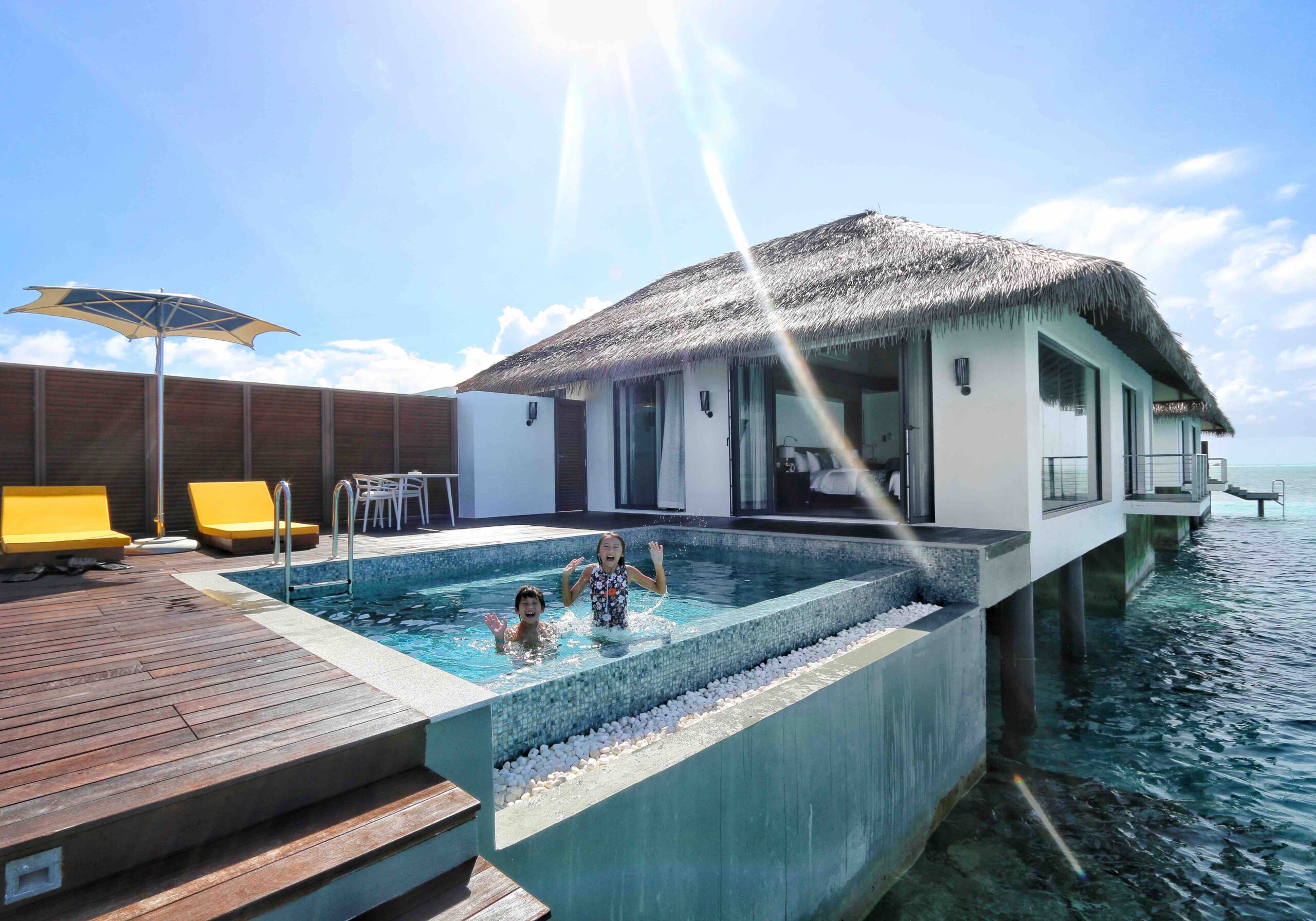 Aqua Villa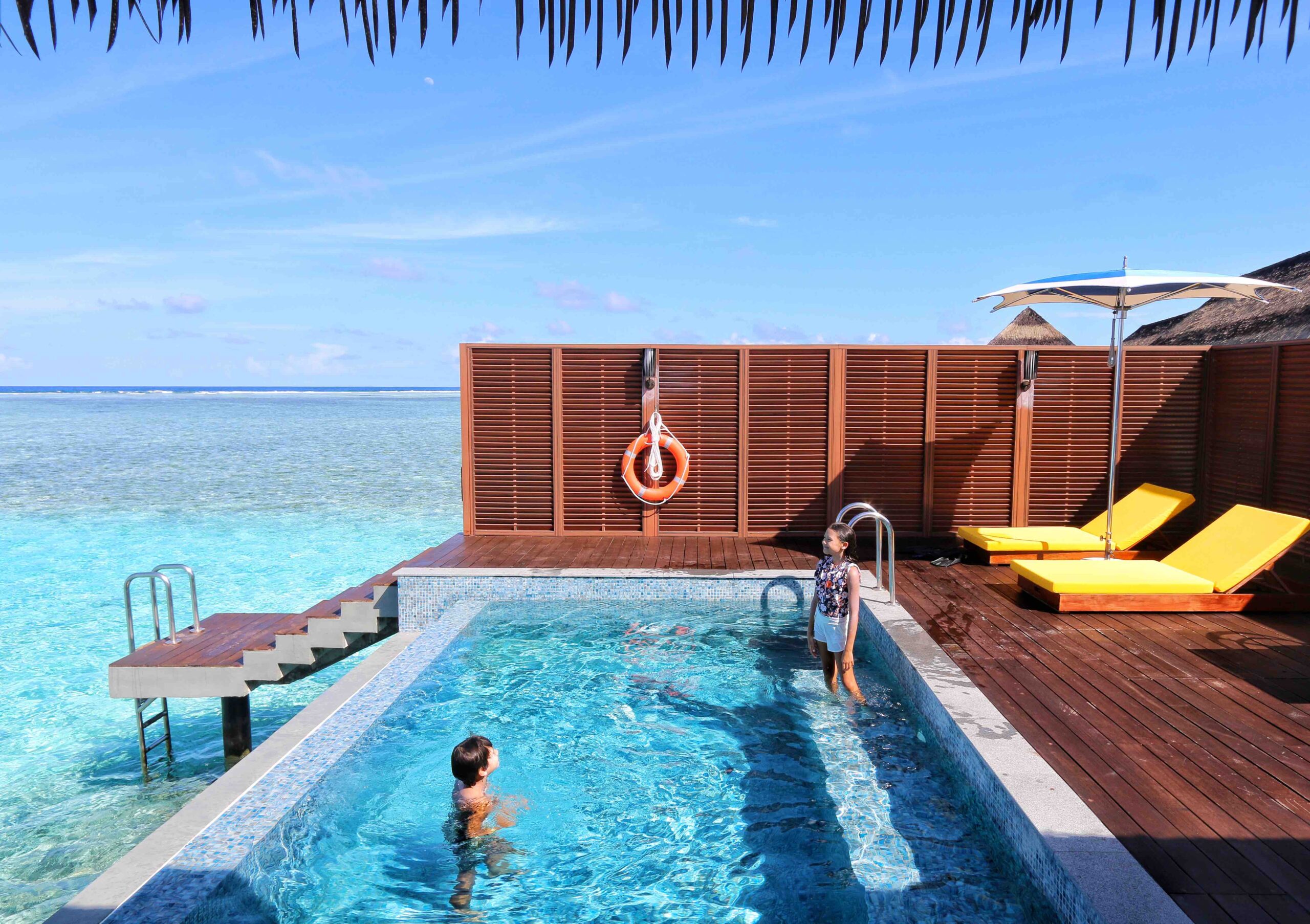 Private Pool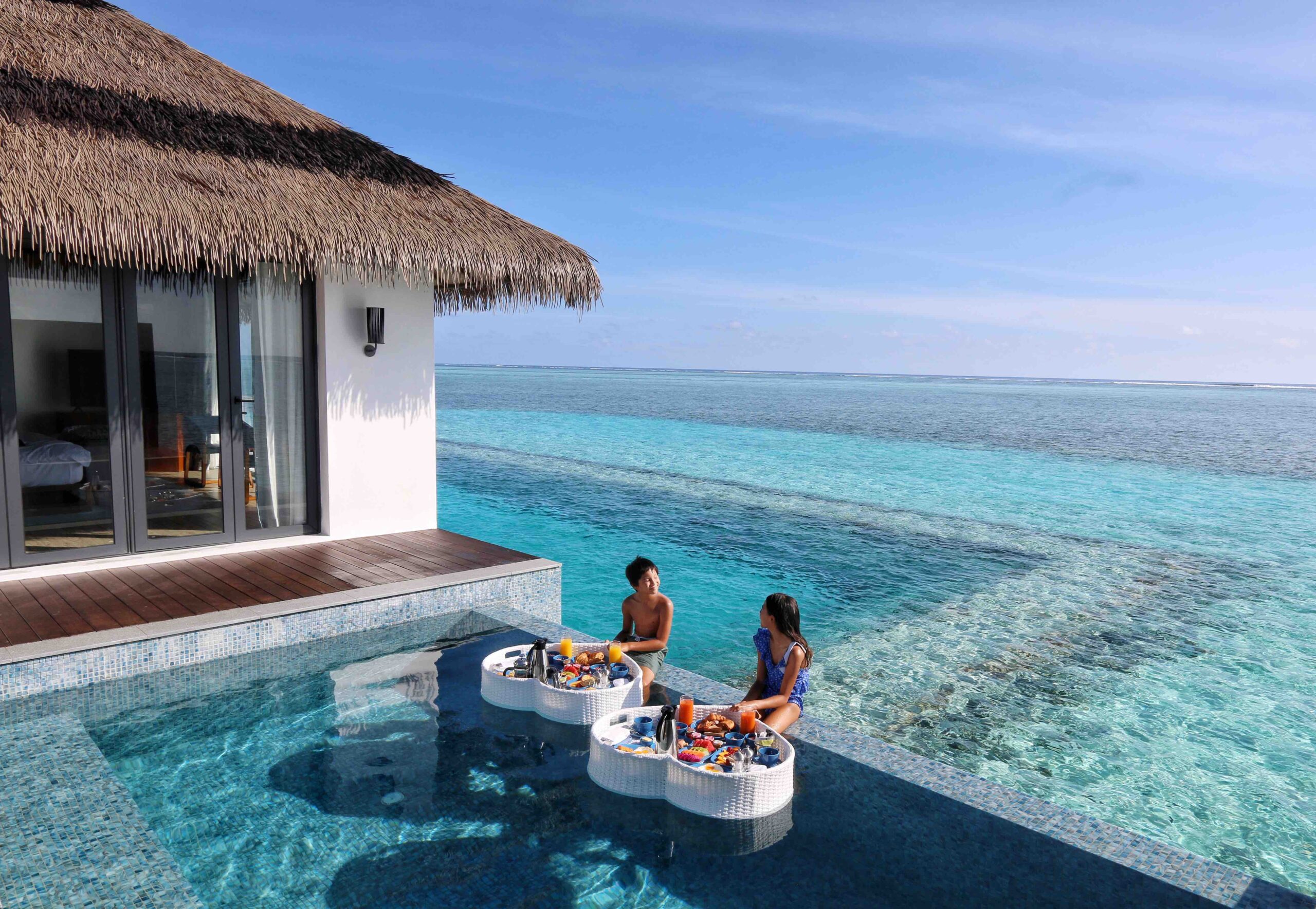 Floating Breakfast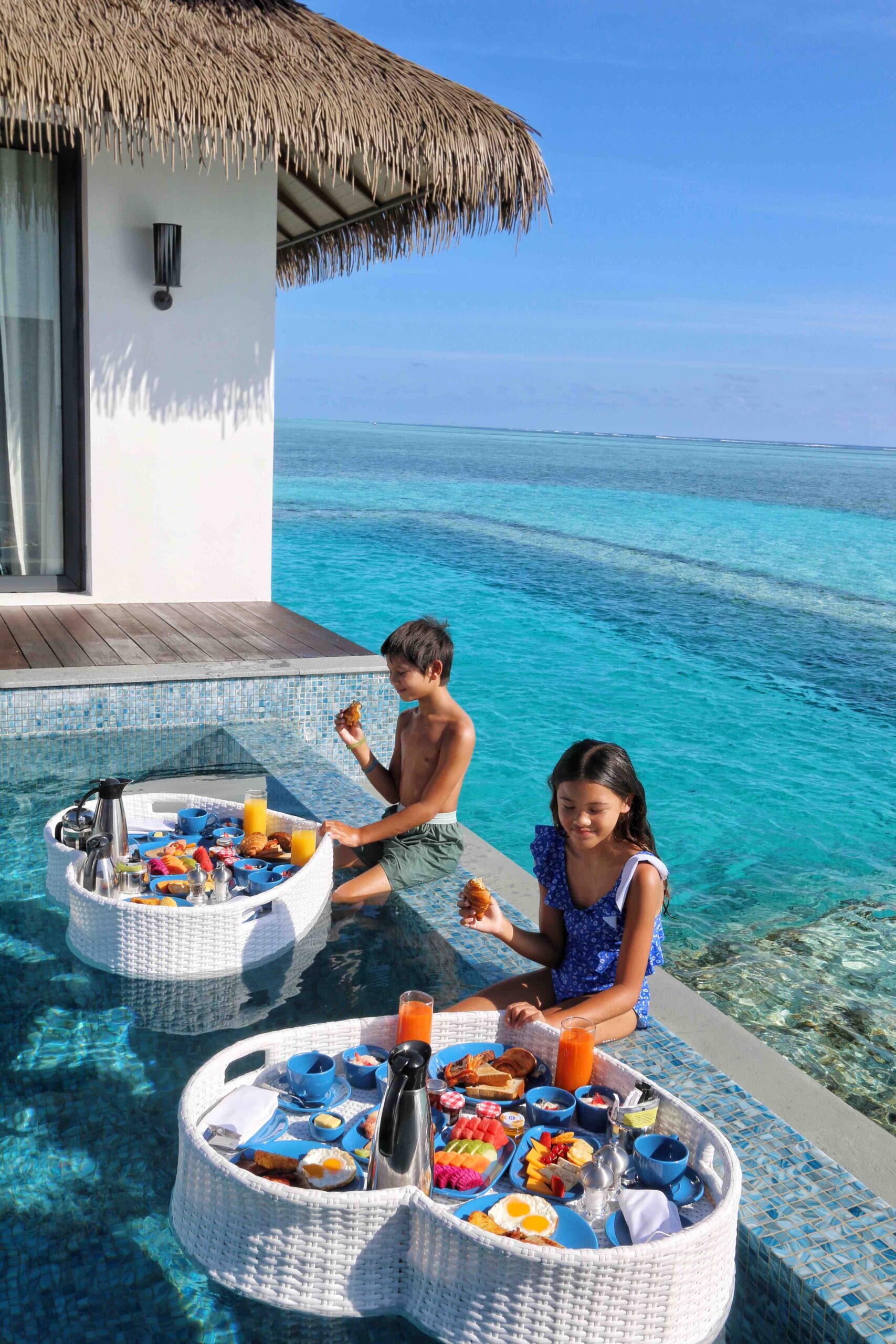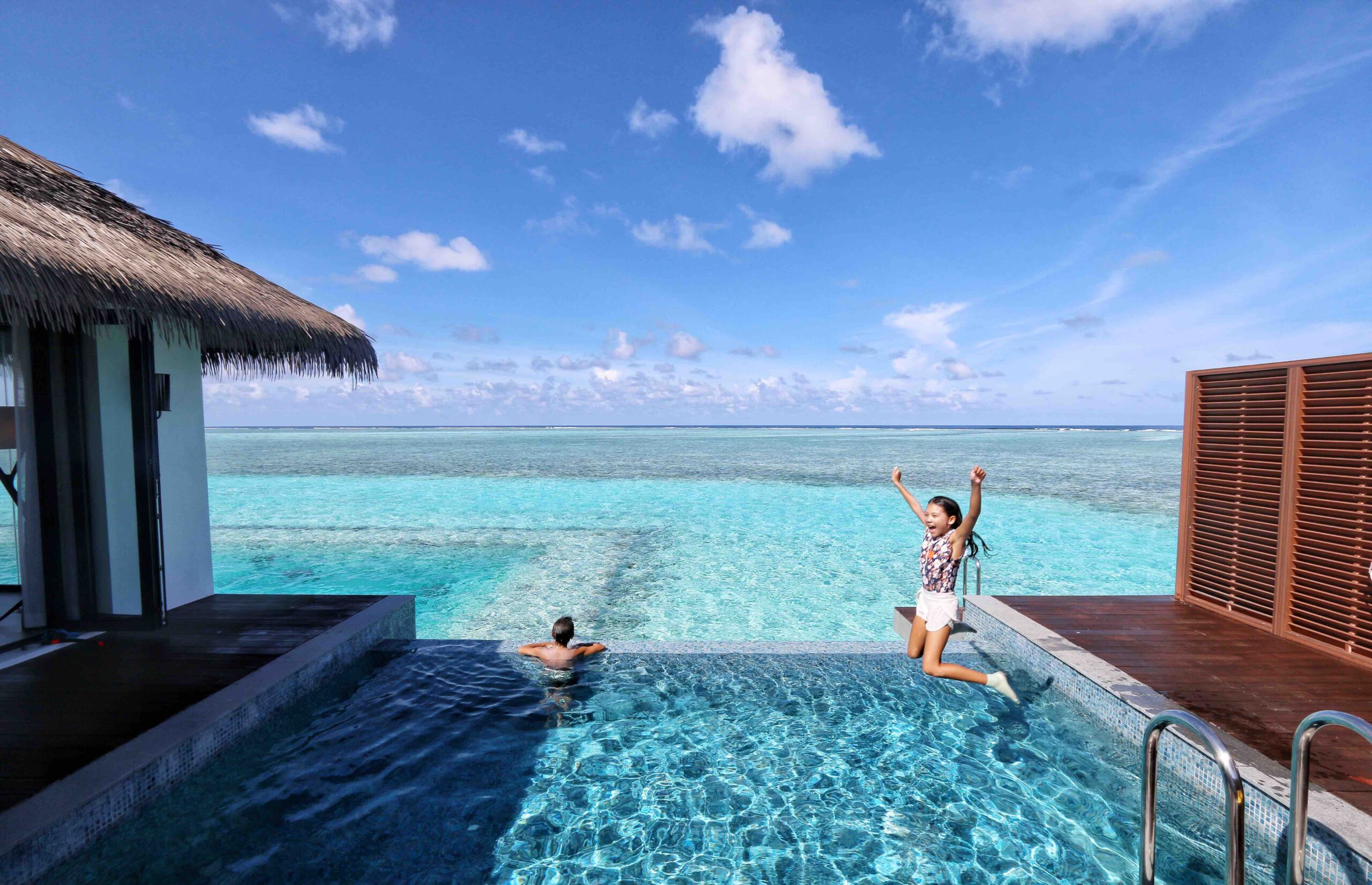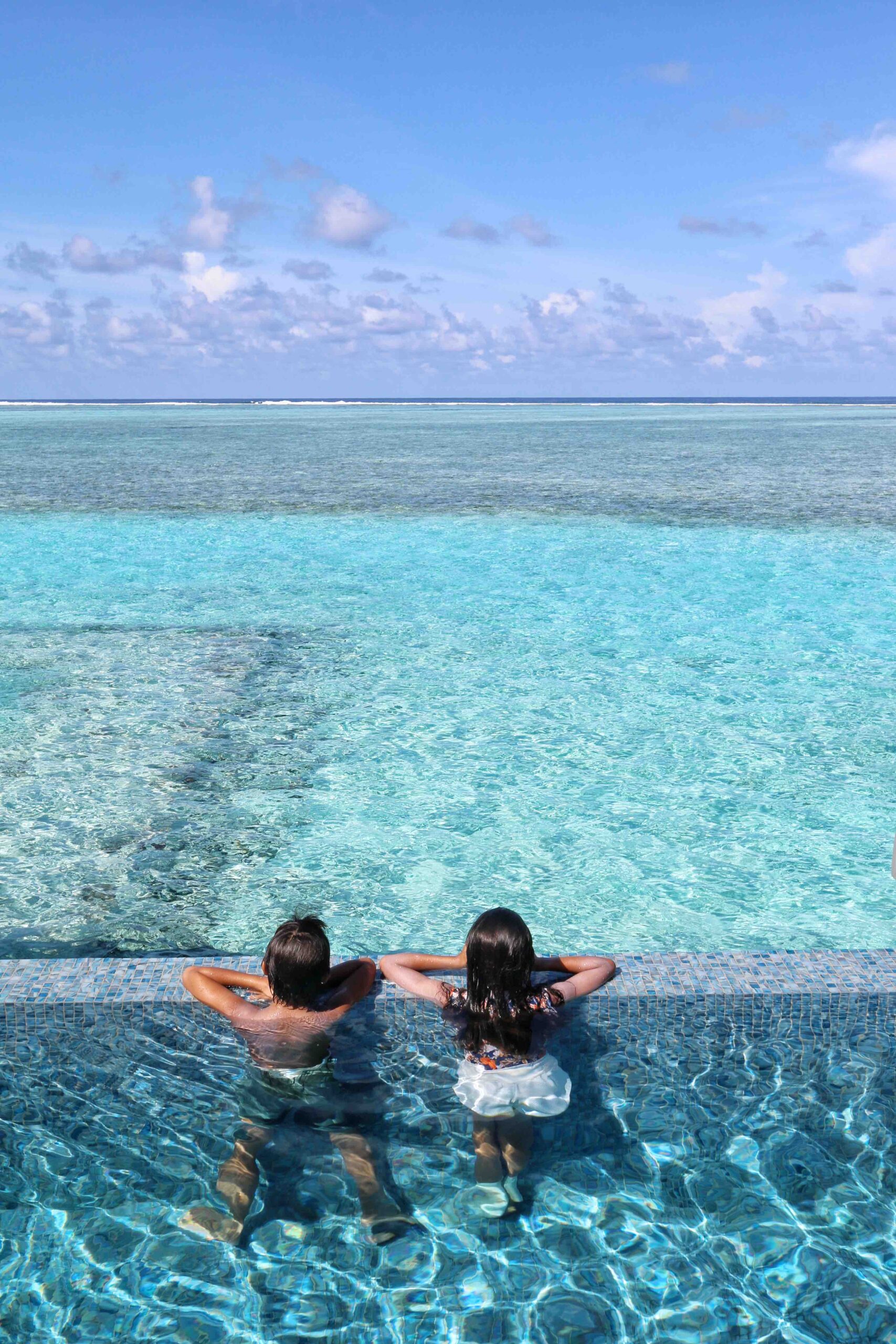 Ocean Views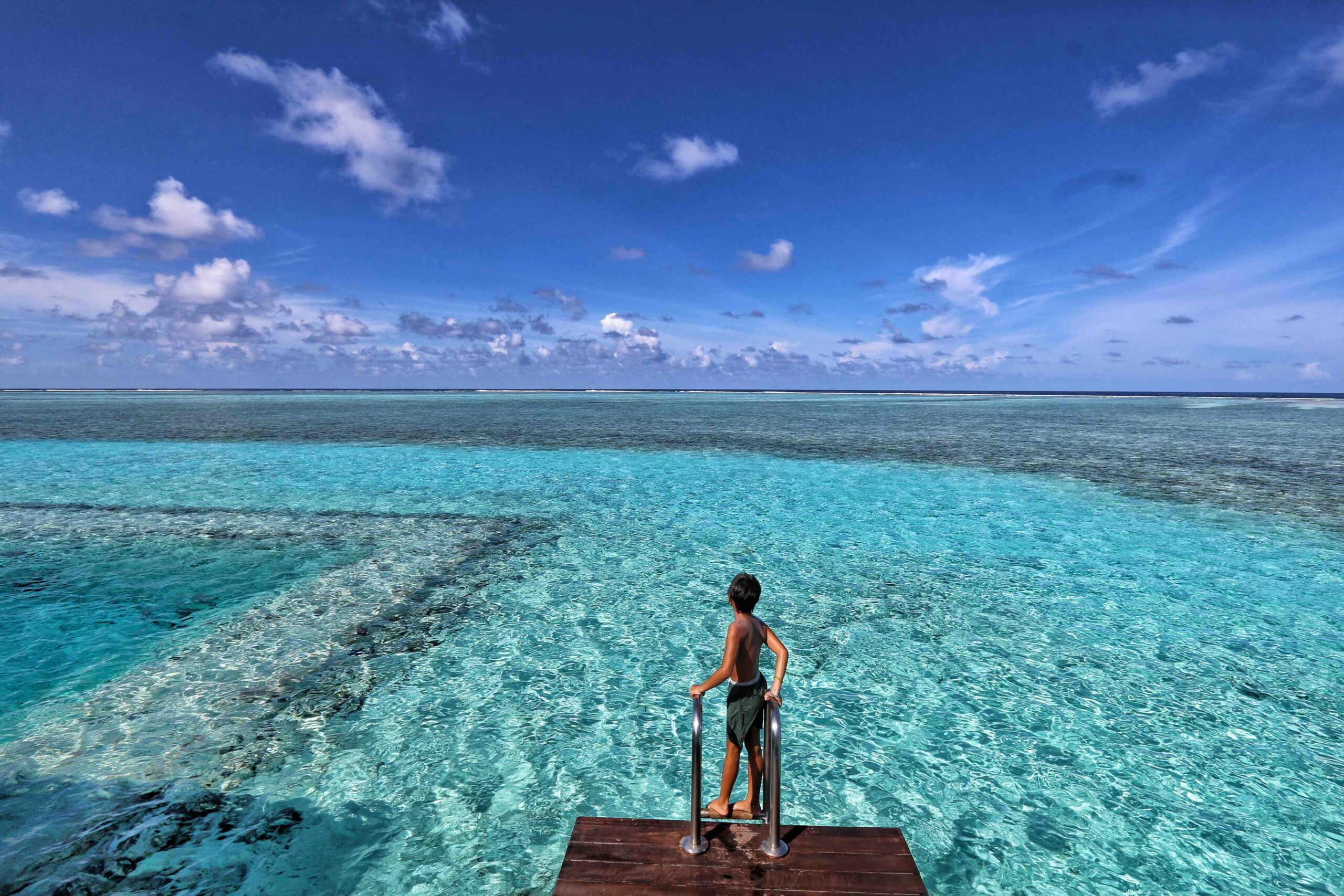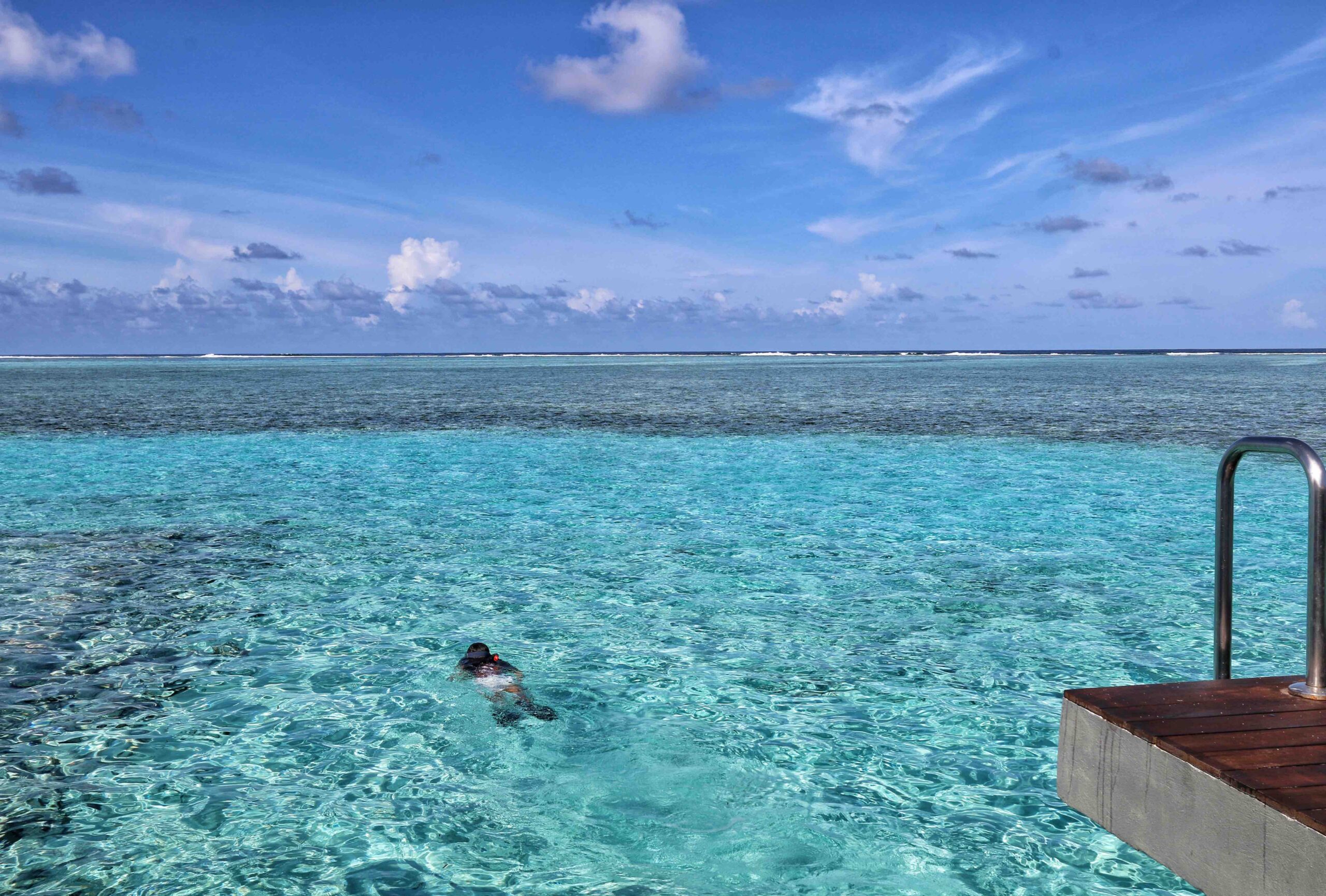 Snorkelling from the Villa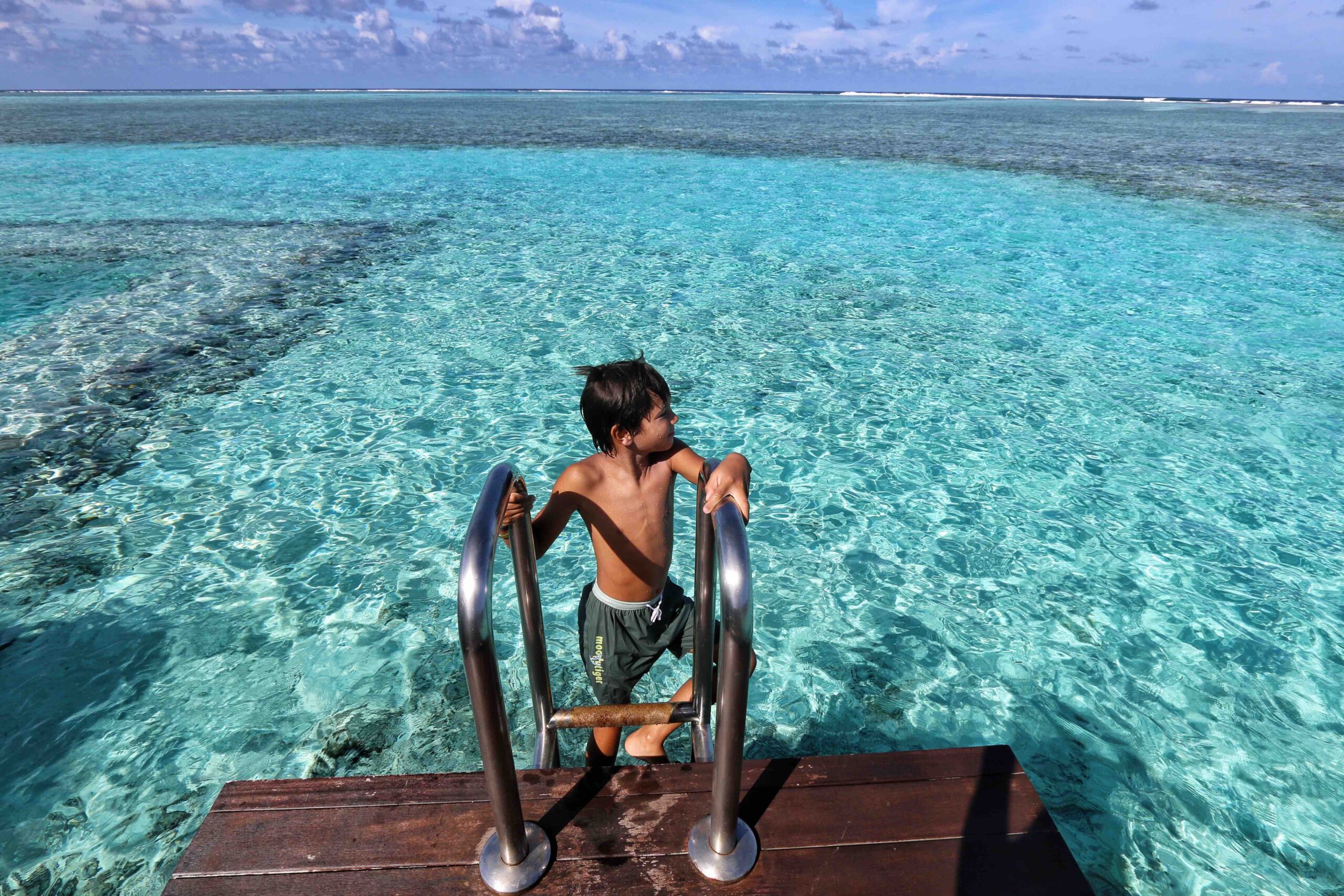 Champagne and Canapes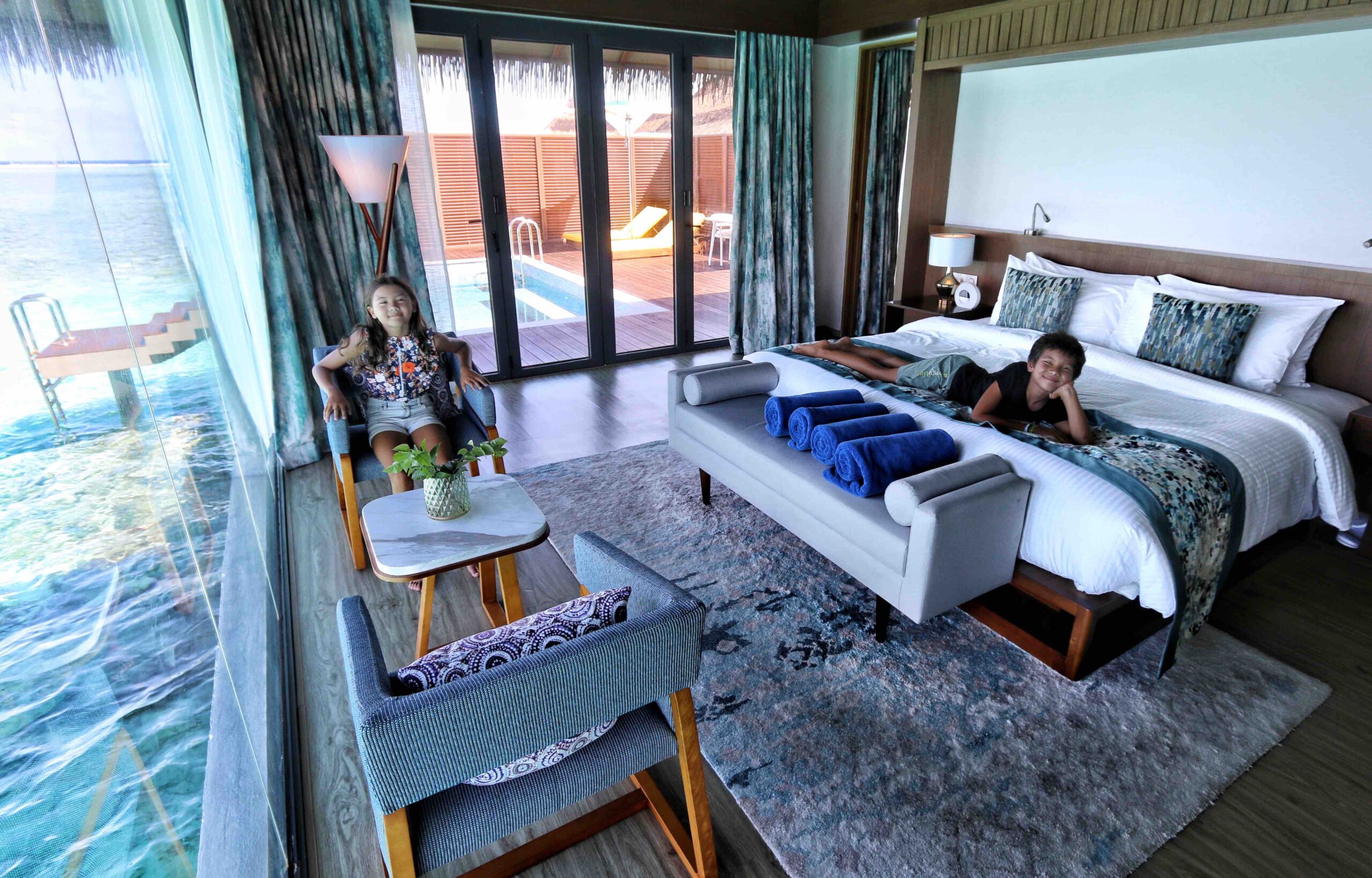 Upstairs Bedroom of the Aqua Villa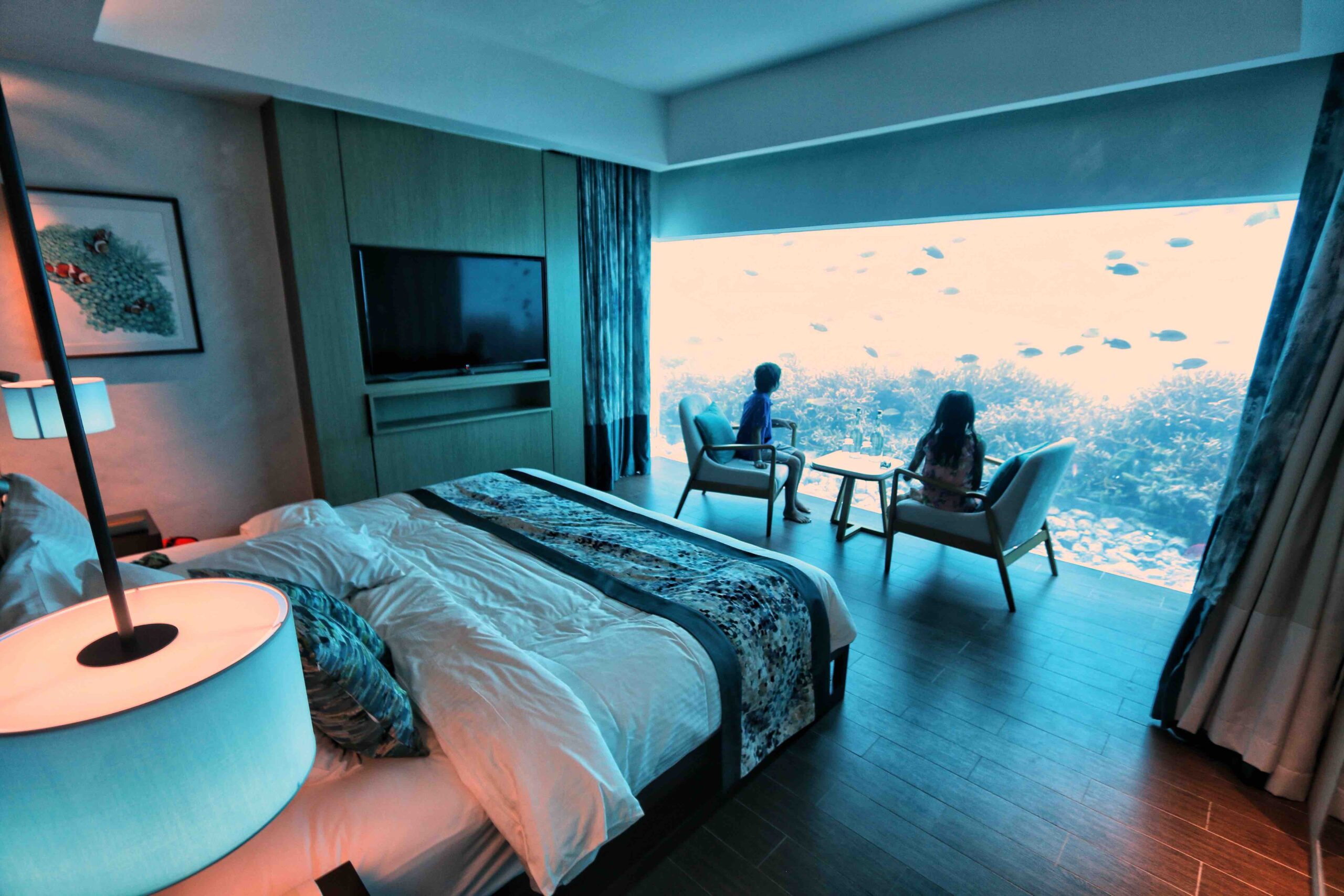 Downstairs Underwater Bedroom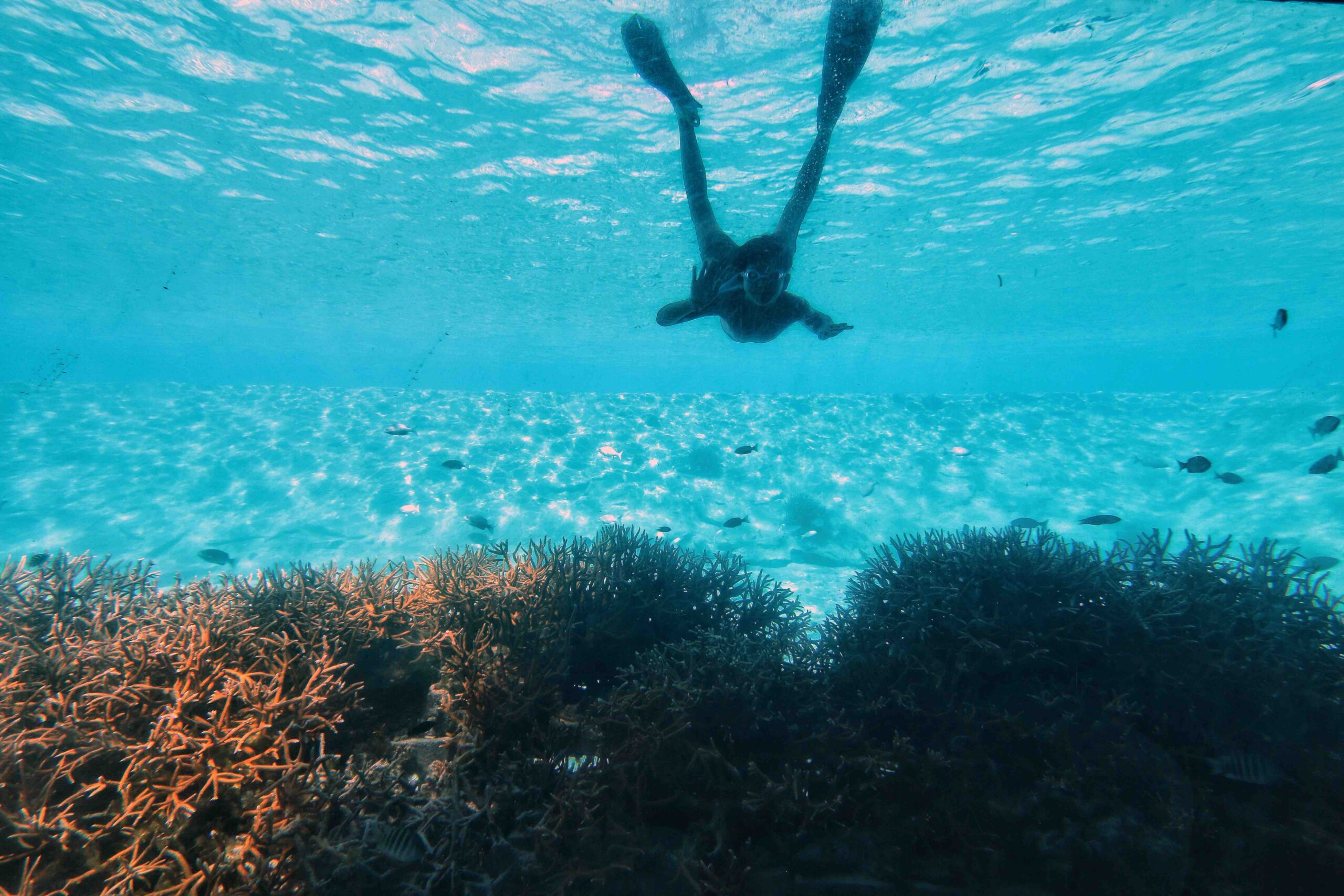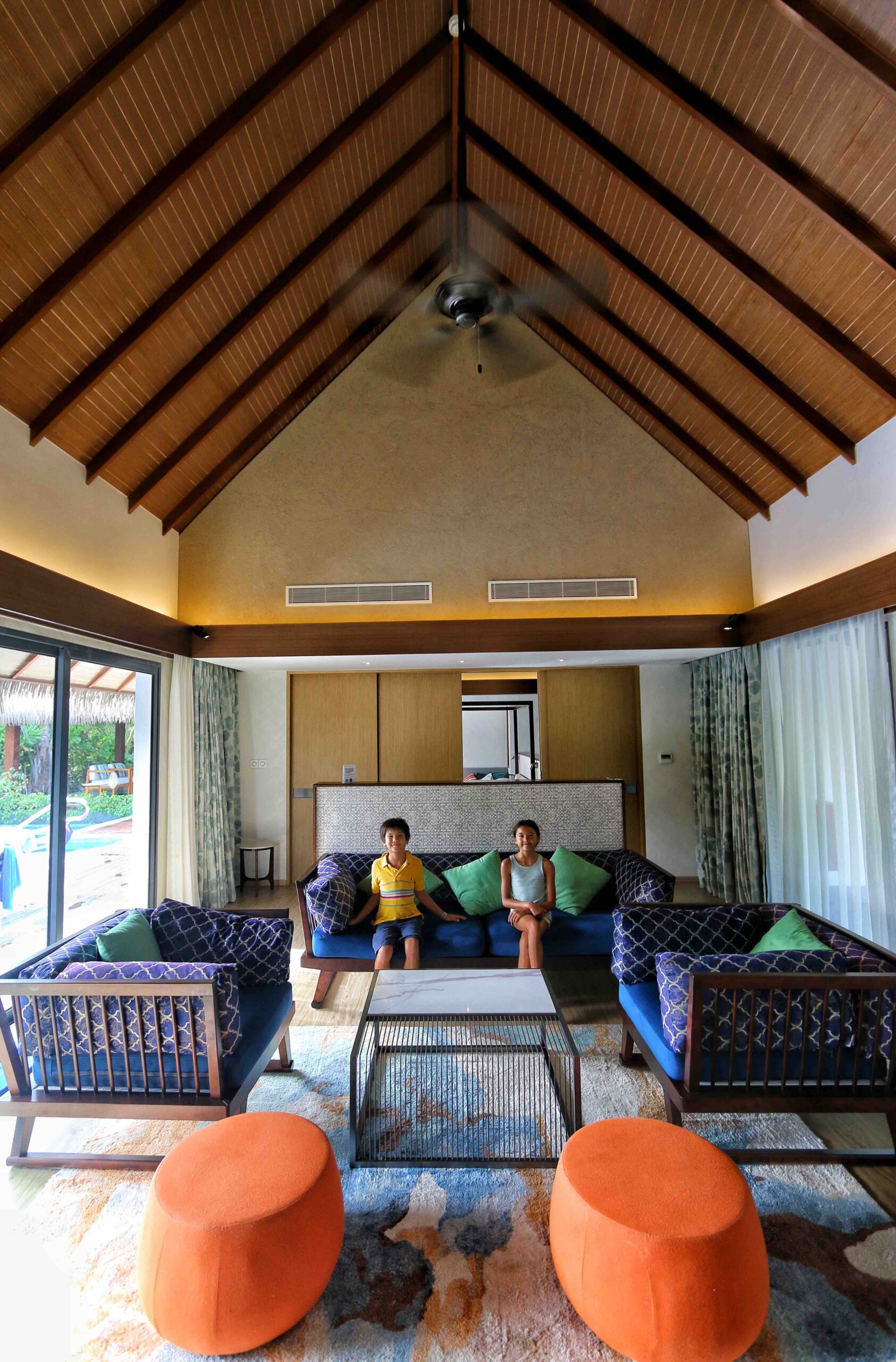 Living Room of the Two Bedroom Beach Villa with Pool
Bedroom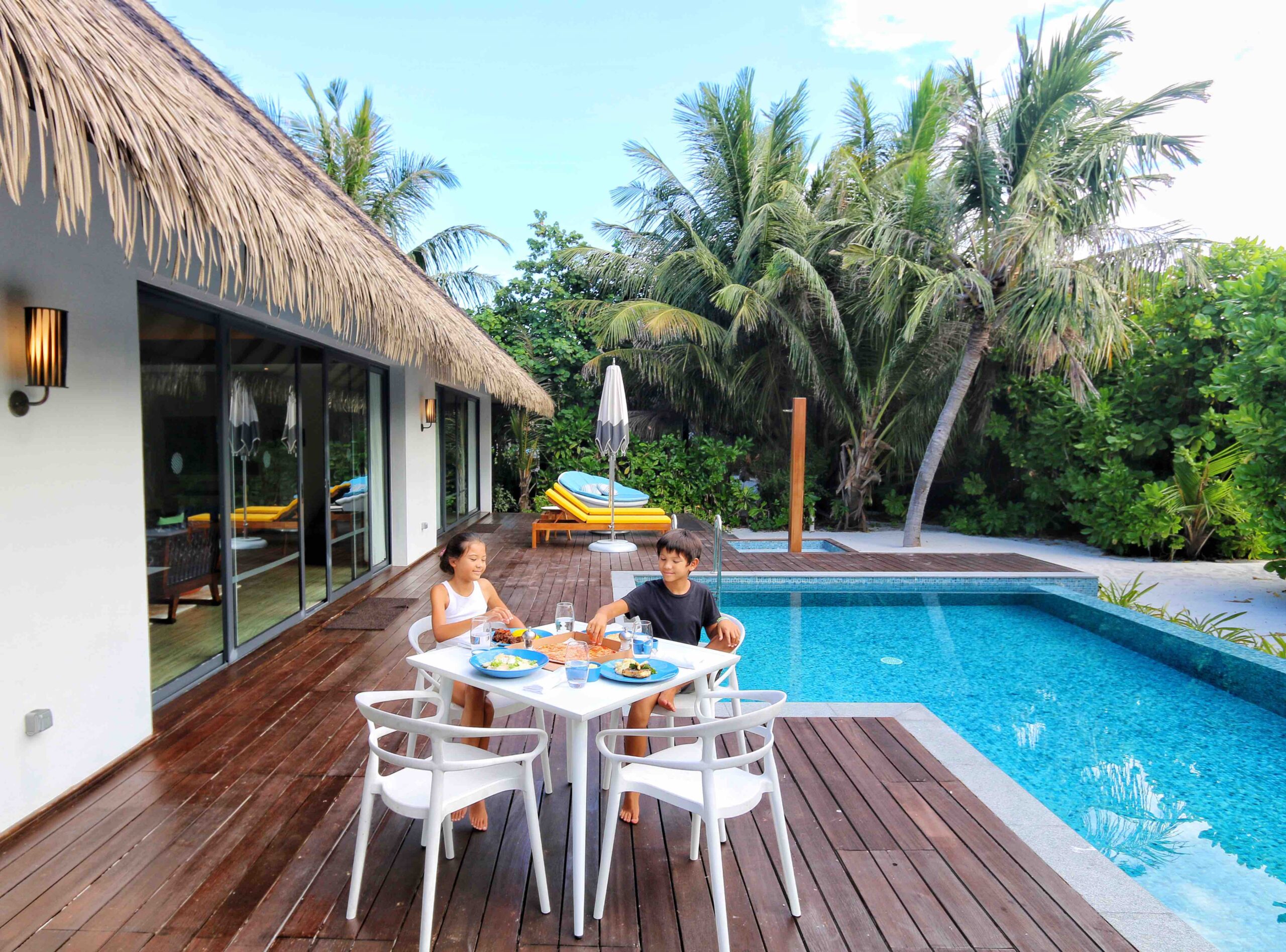 Dining by the Private Pool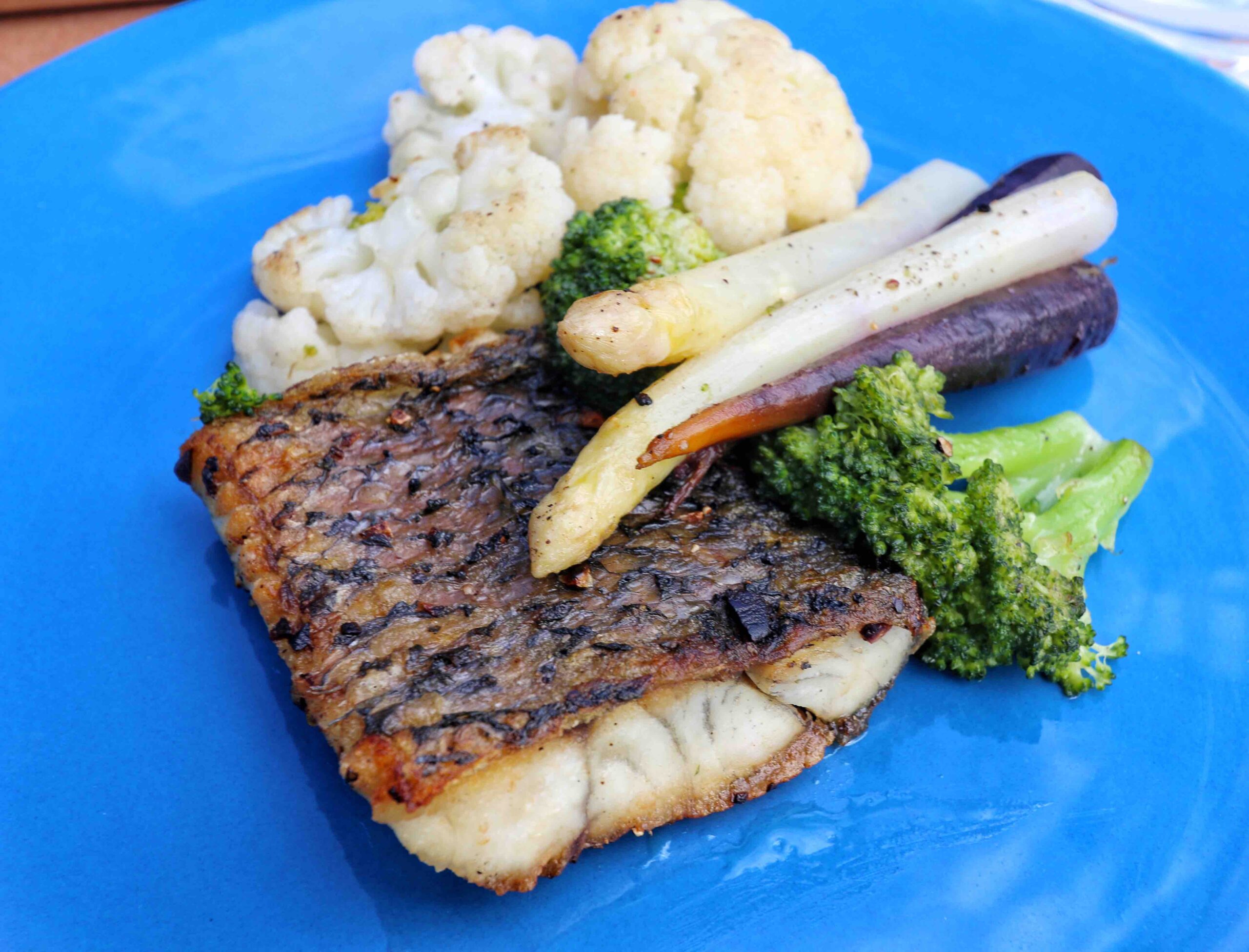 Grilled Reef Fish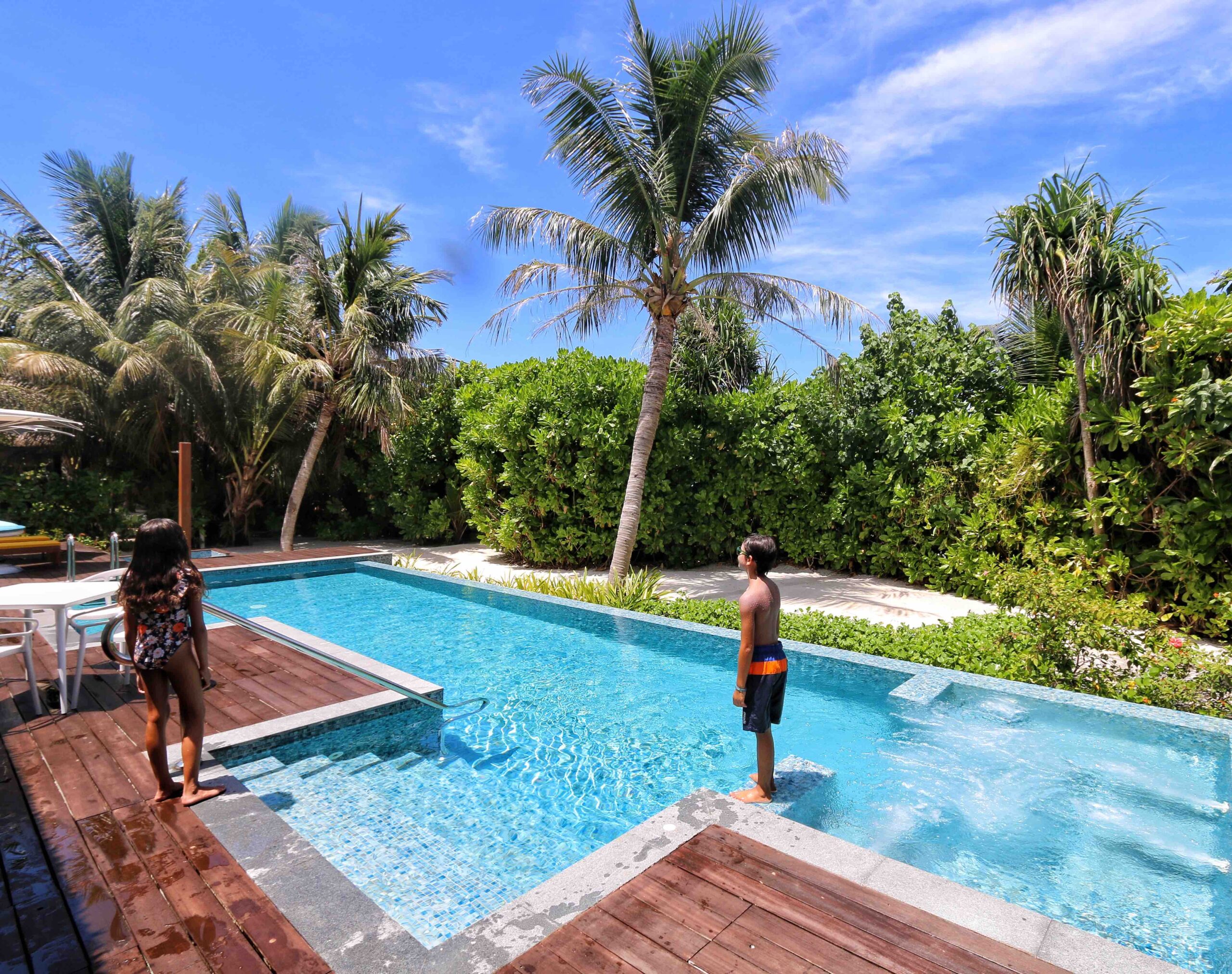 Large Private Pool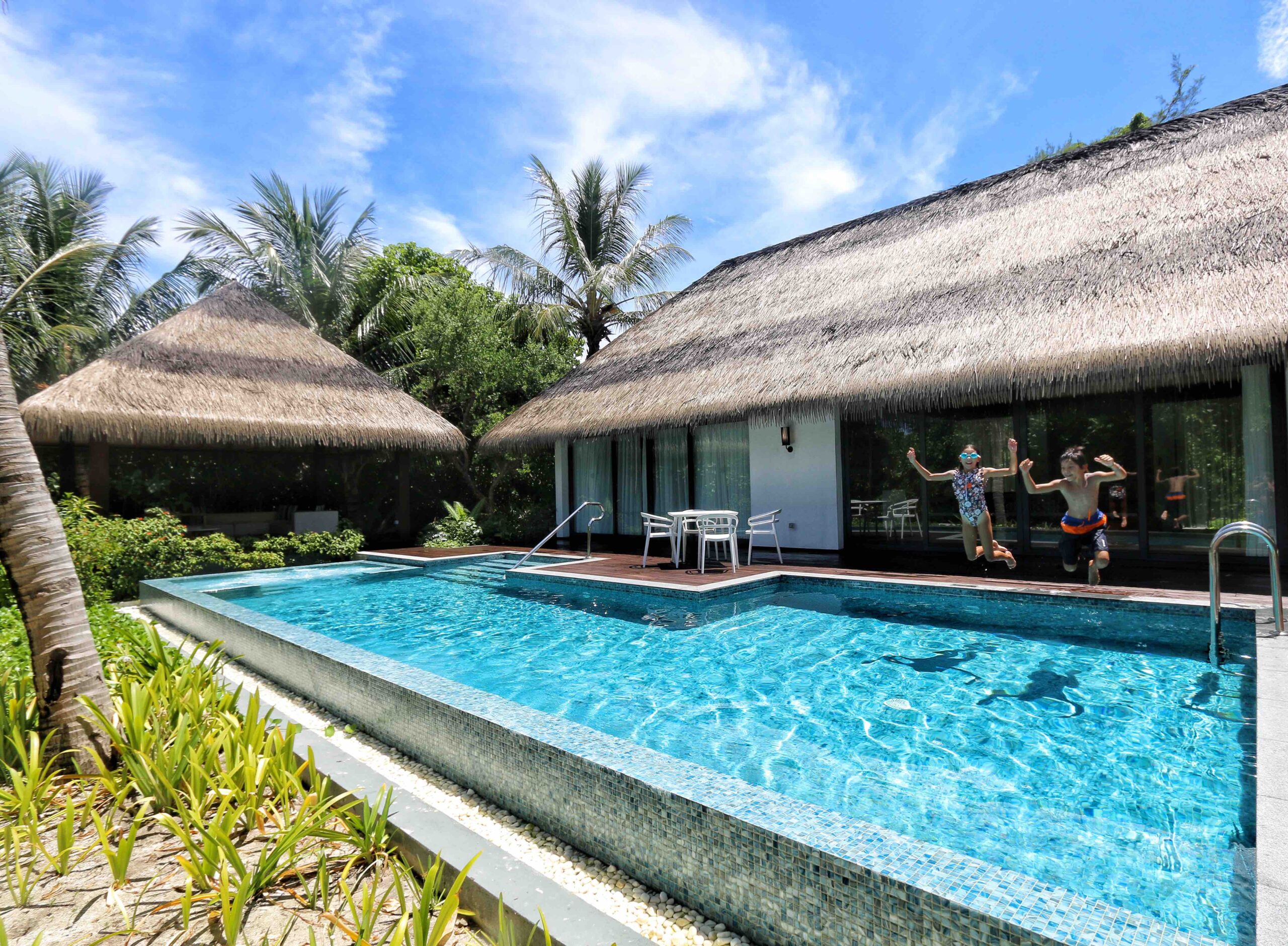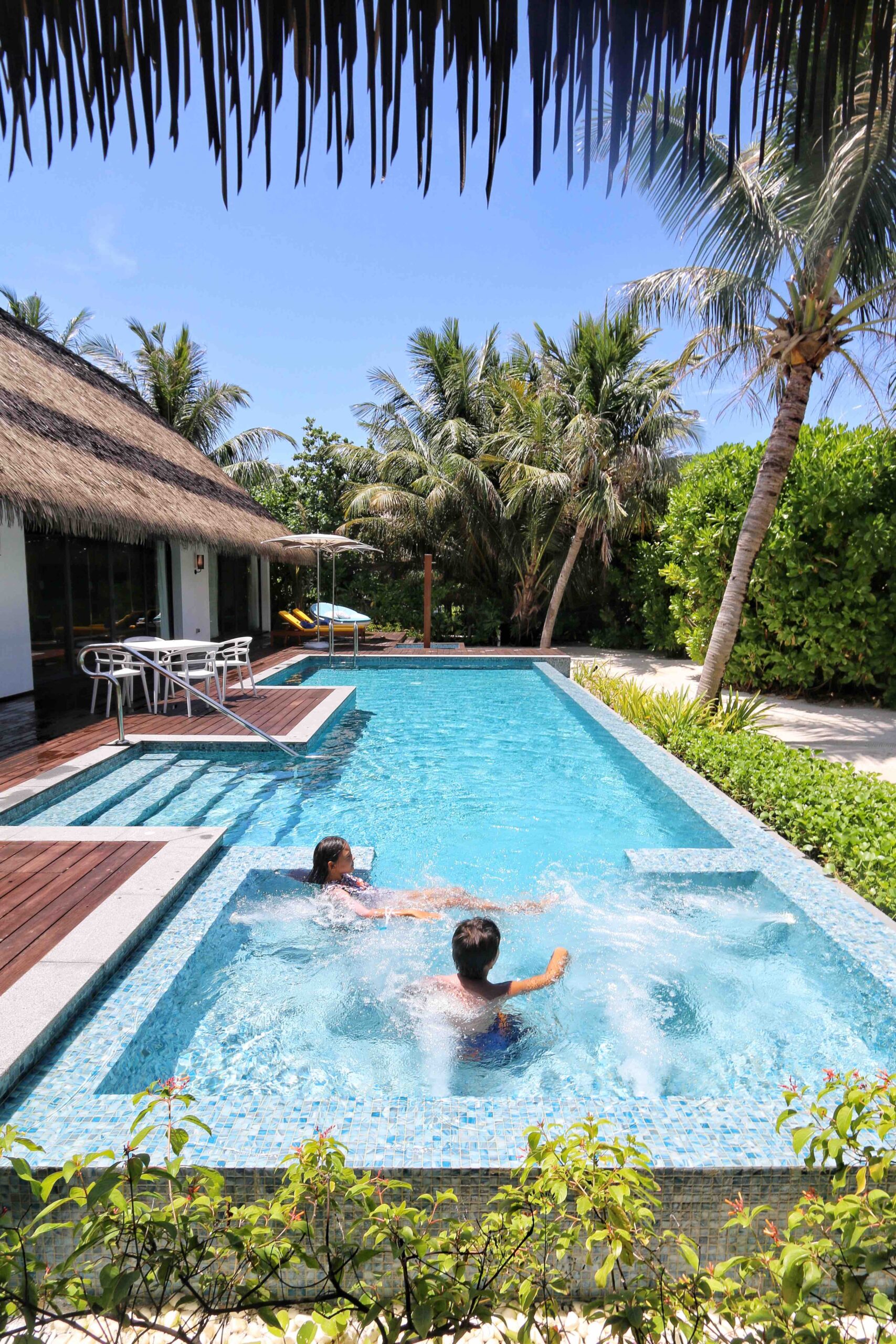 Jacuzzi Area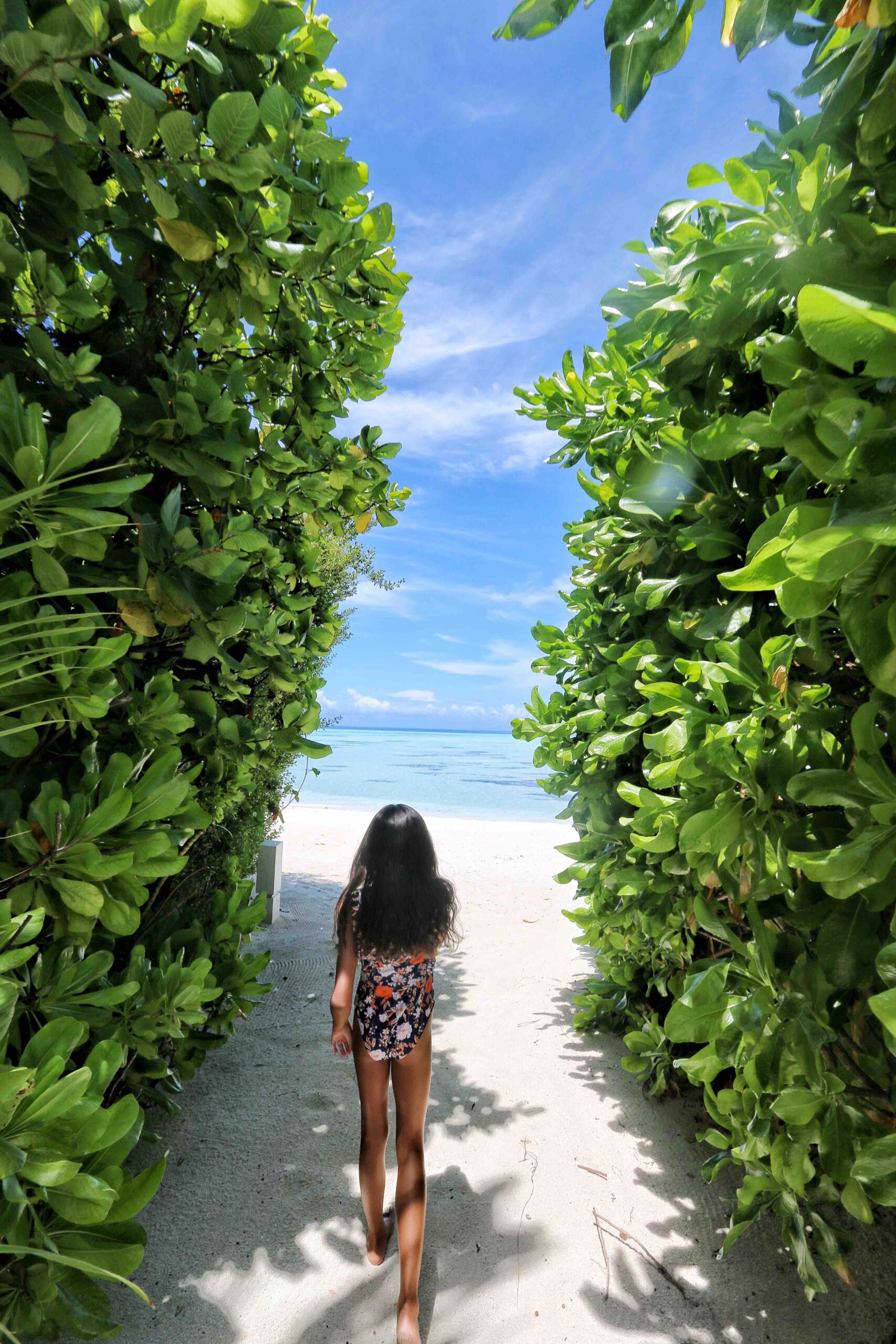 the Villa leads straight to the Beach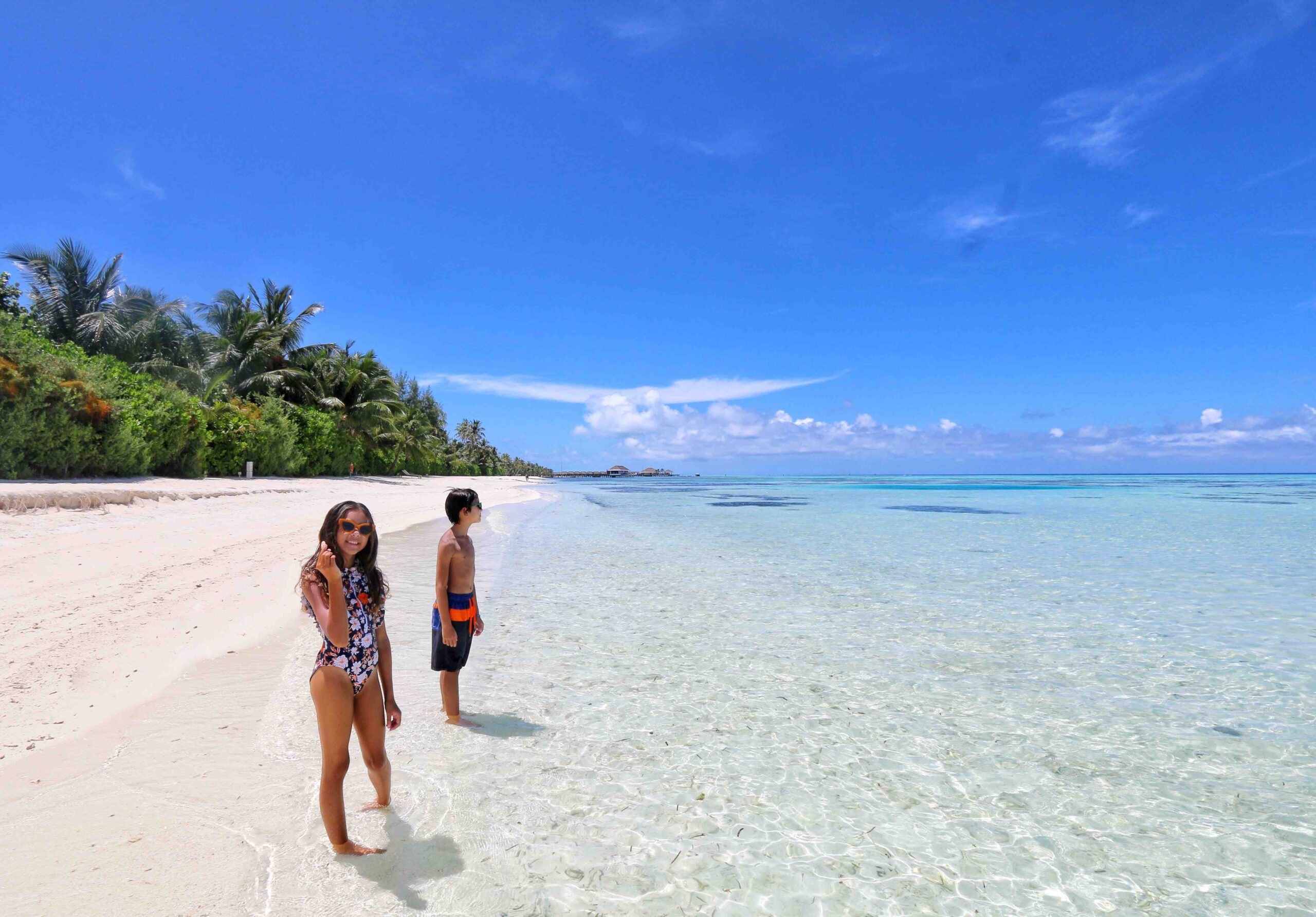 Beach in front of the Villa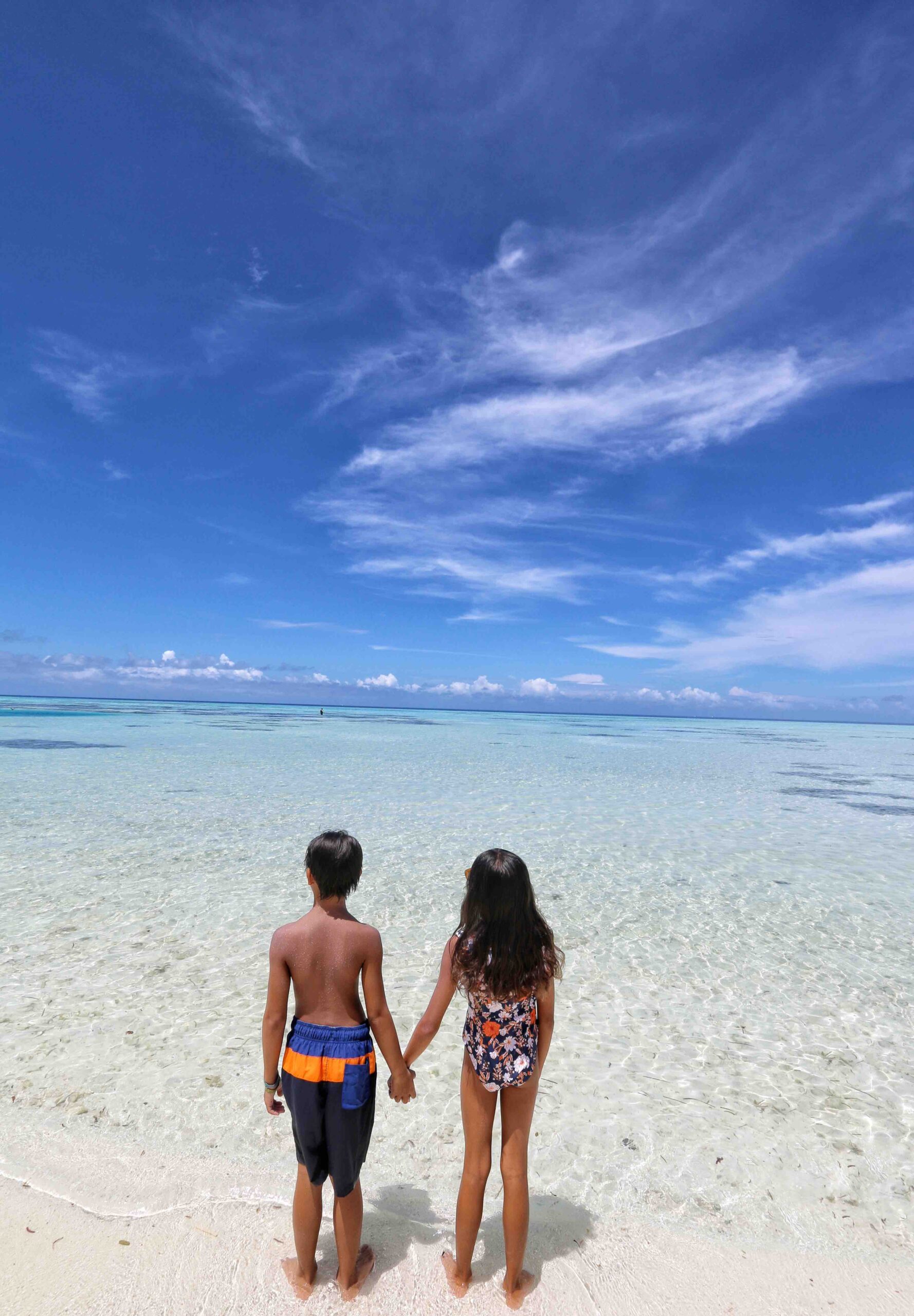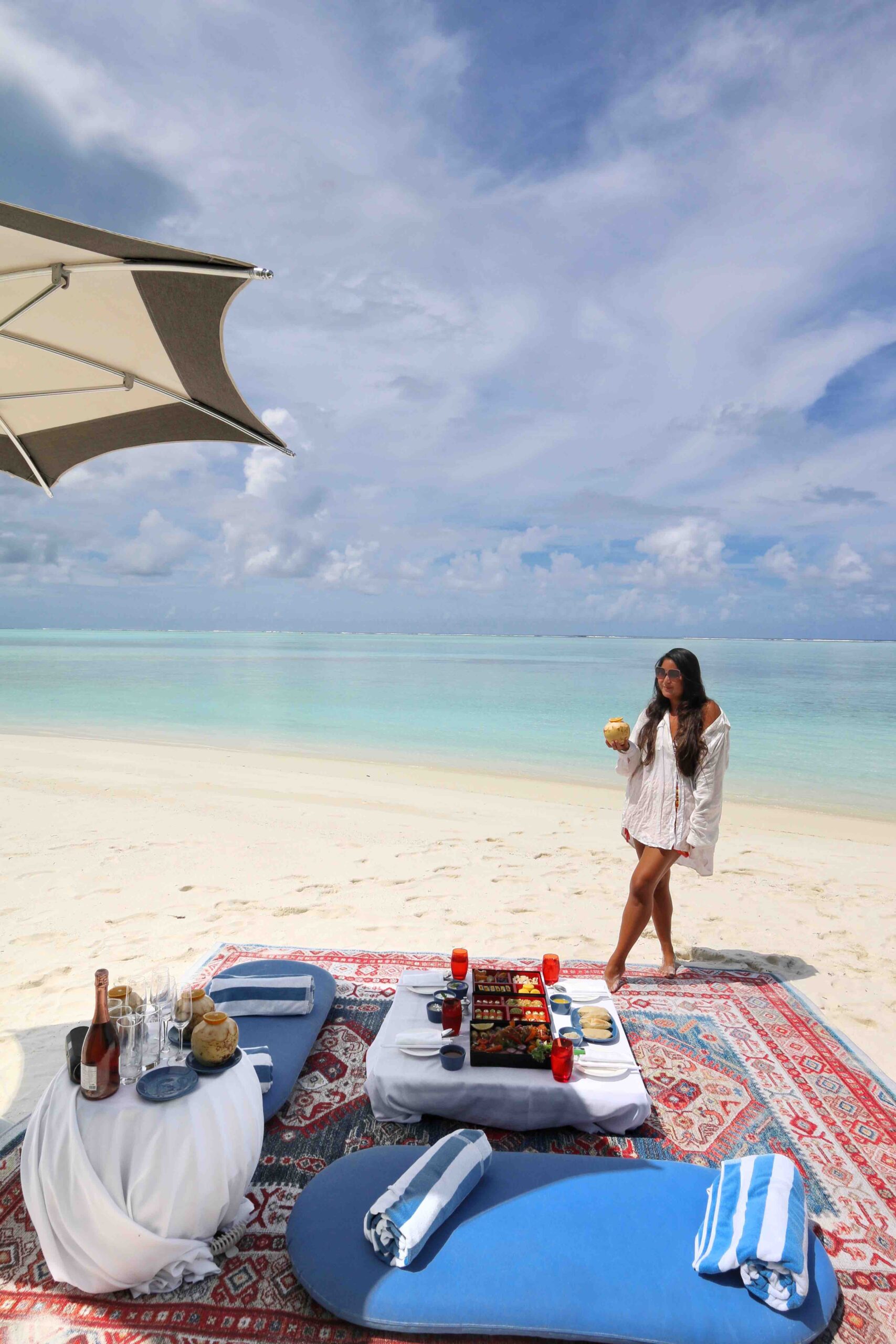 Beach Picnic at Panorama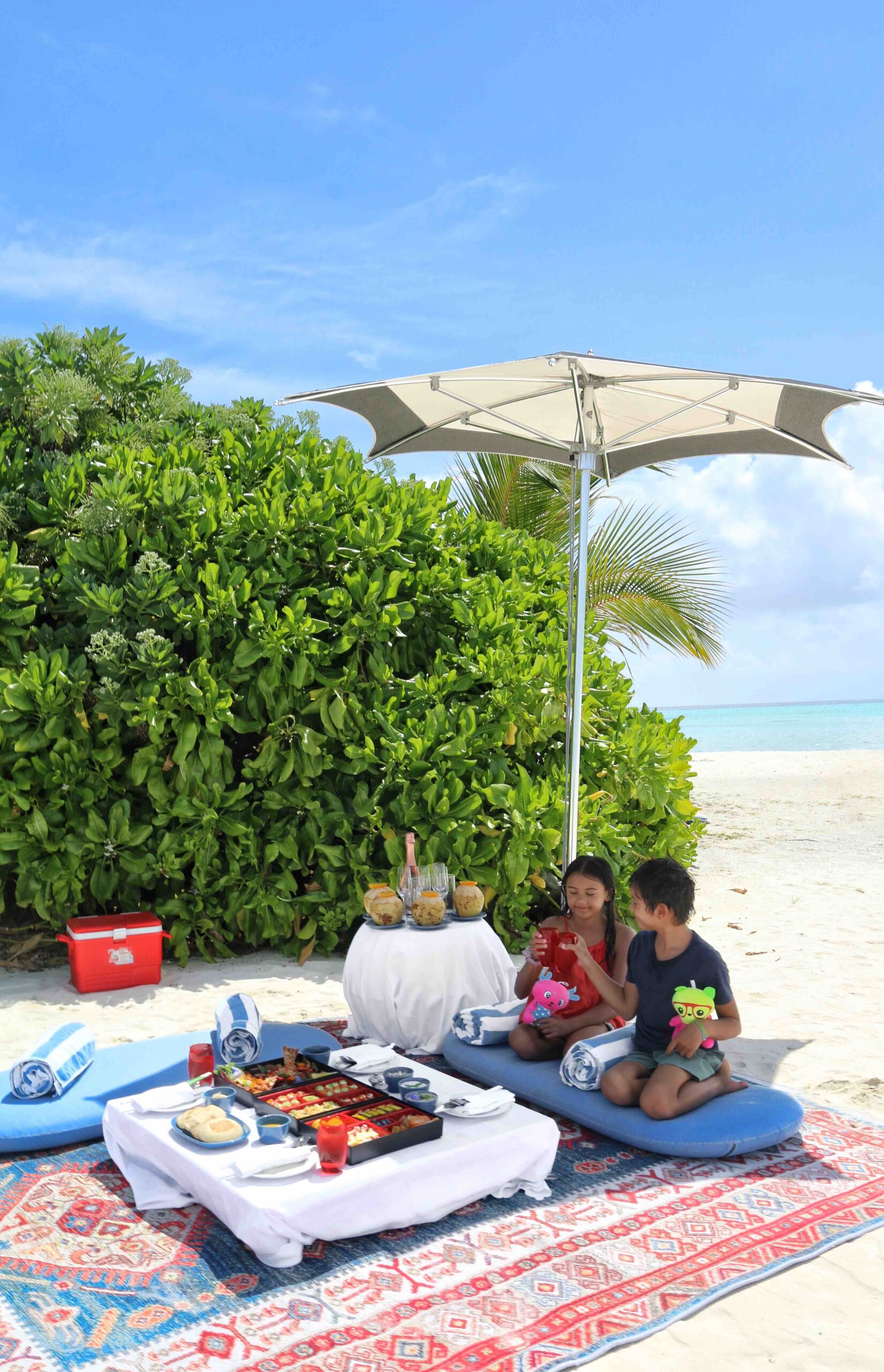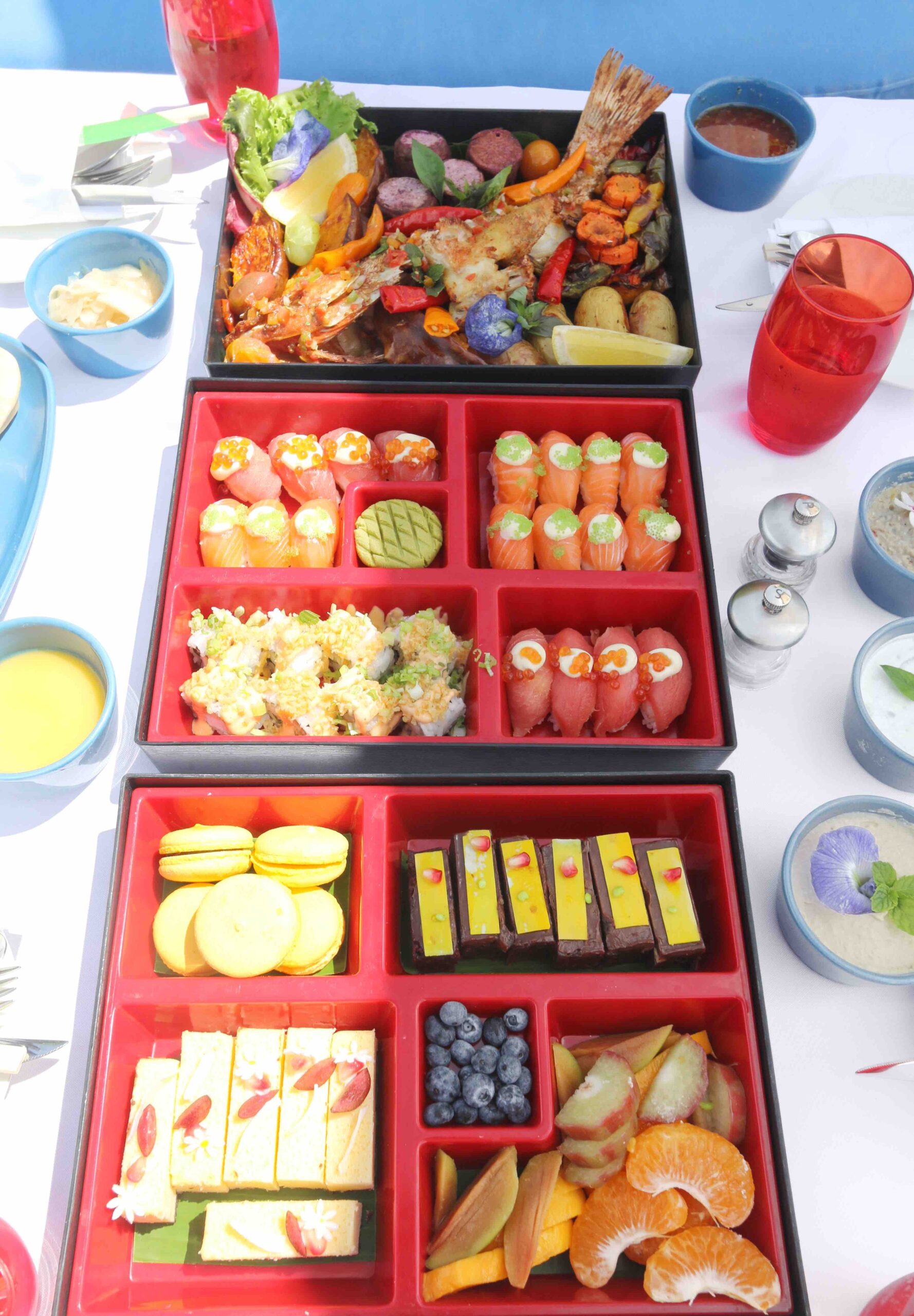 with Assorted Sushi, Whole Fish and Dessert Platter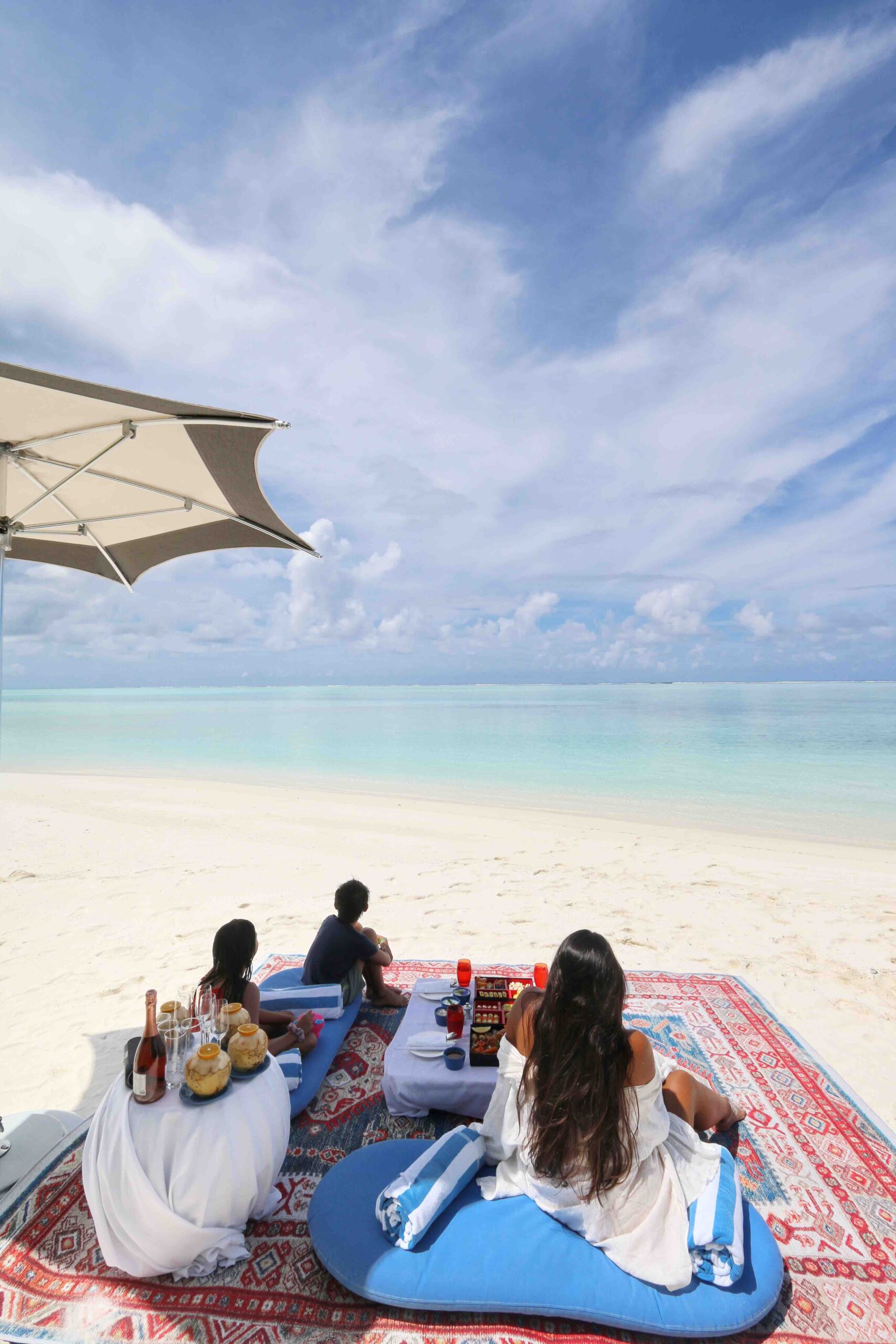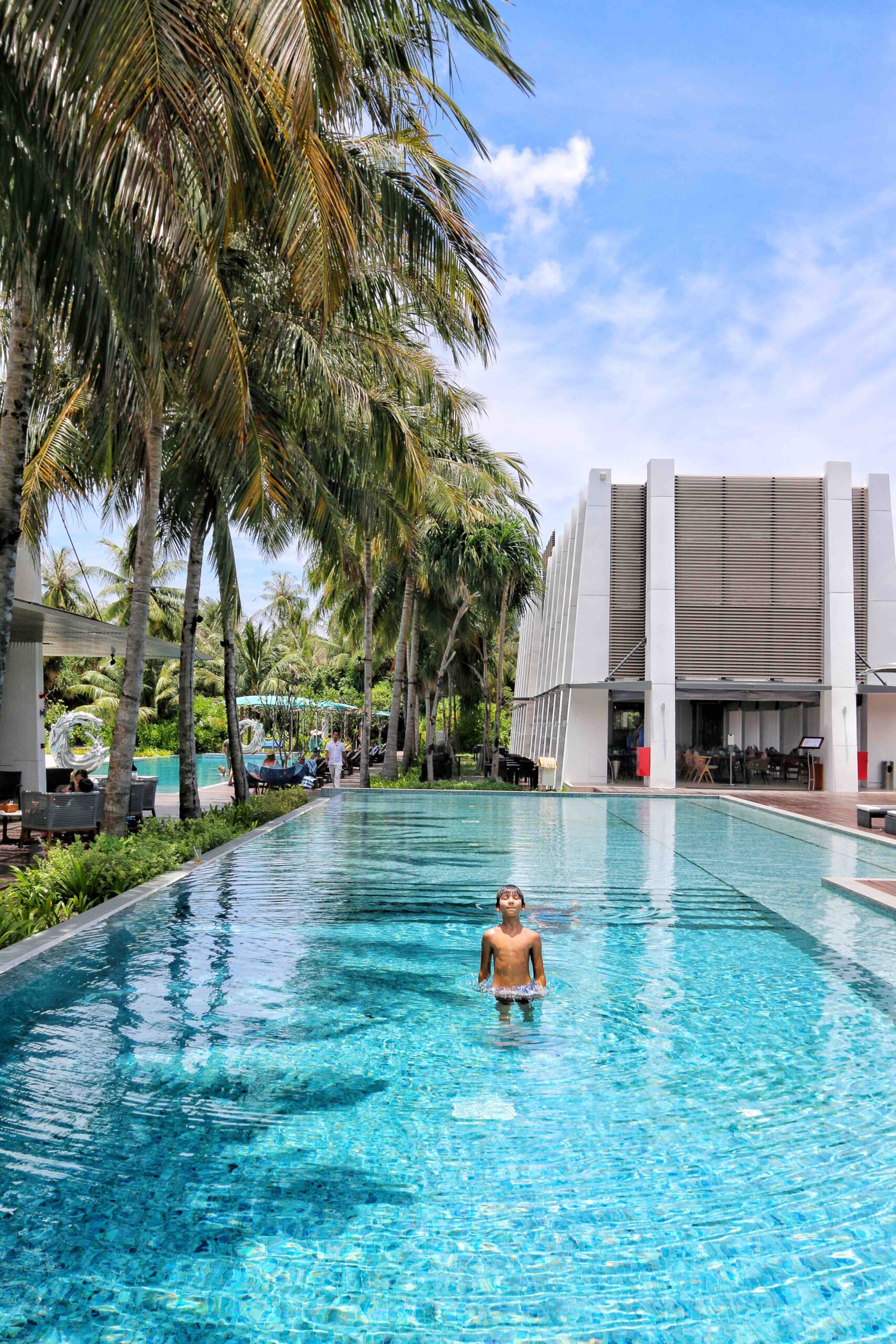 Pool at The Hub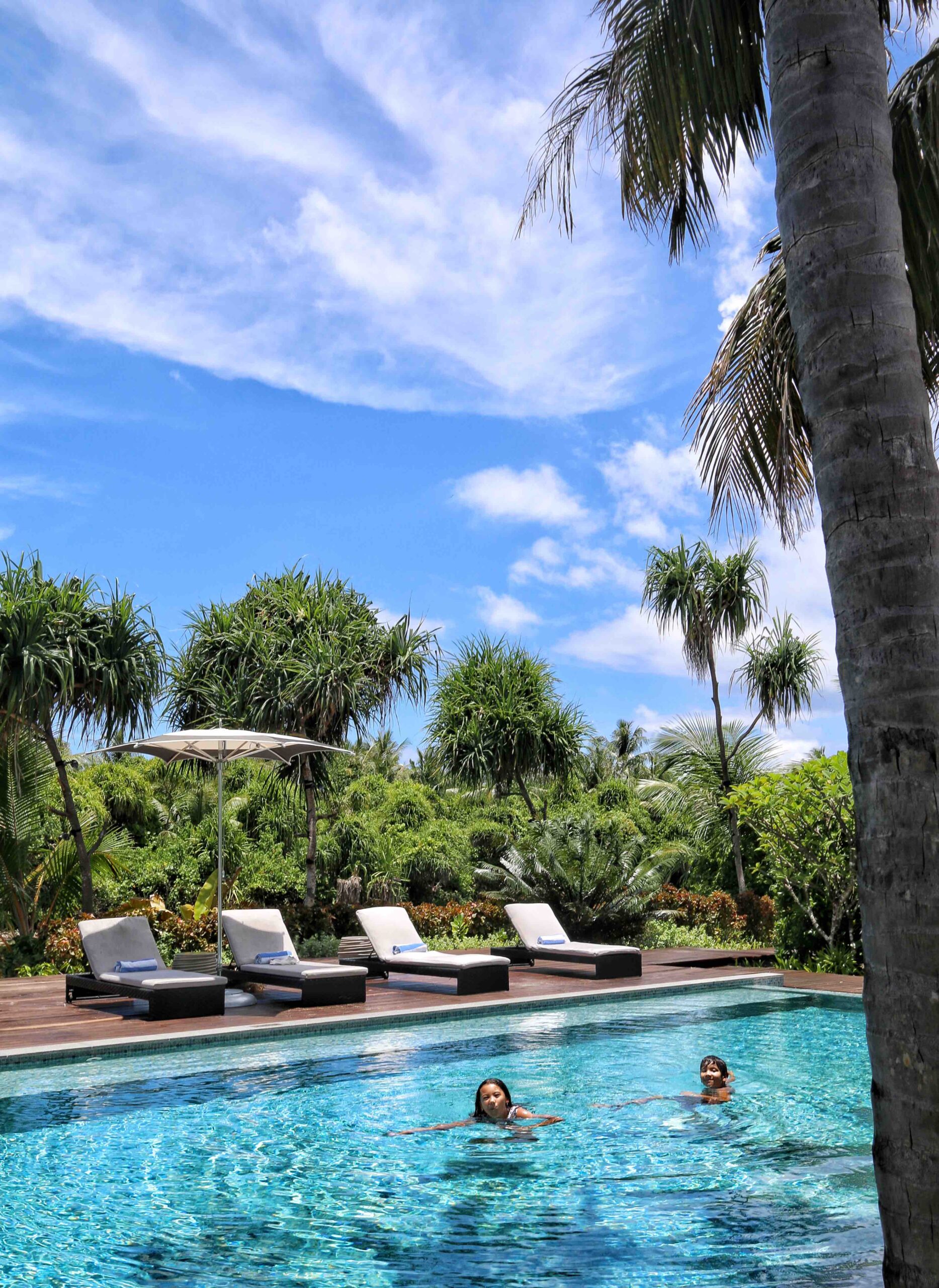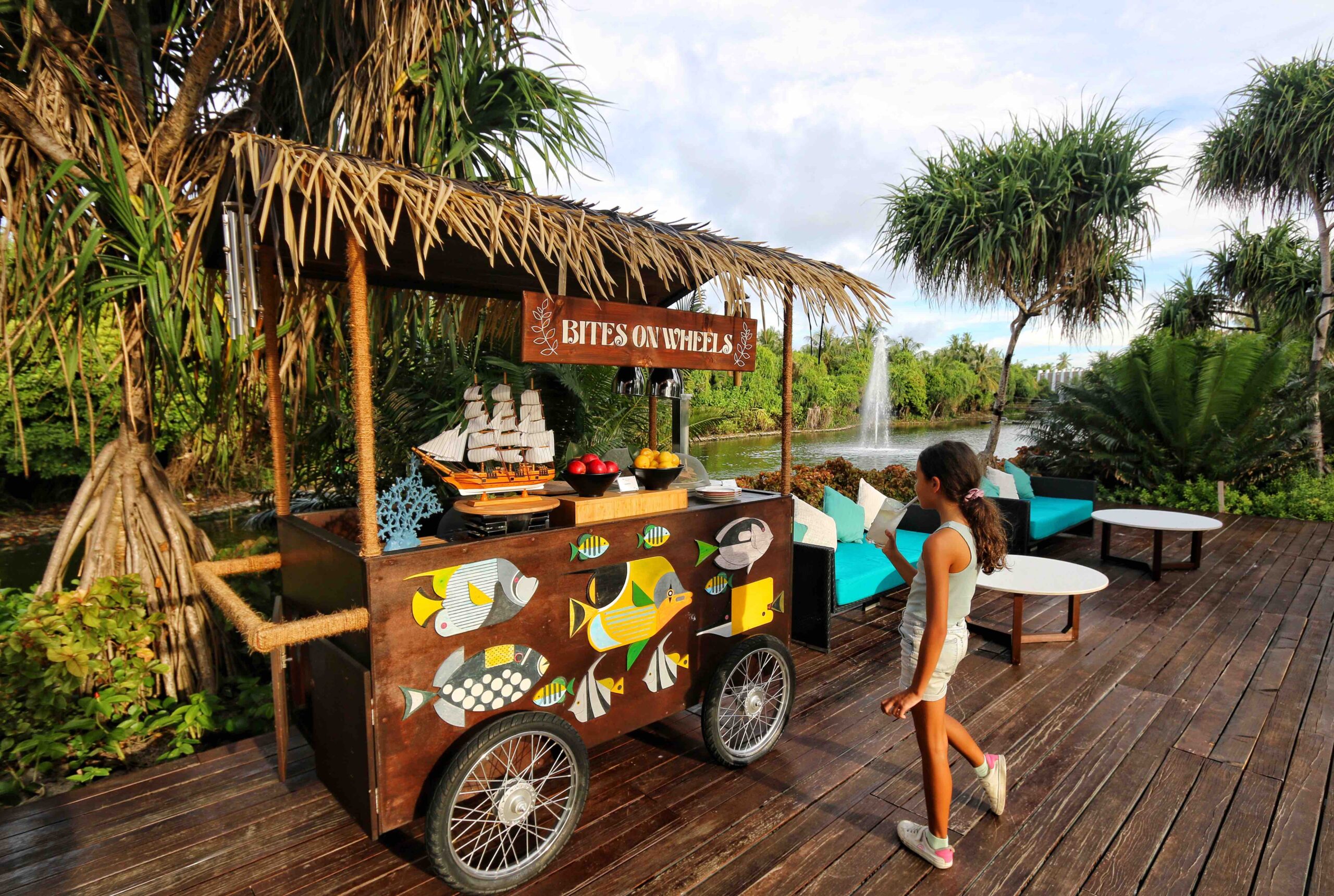 Bites on Wheels at The Hub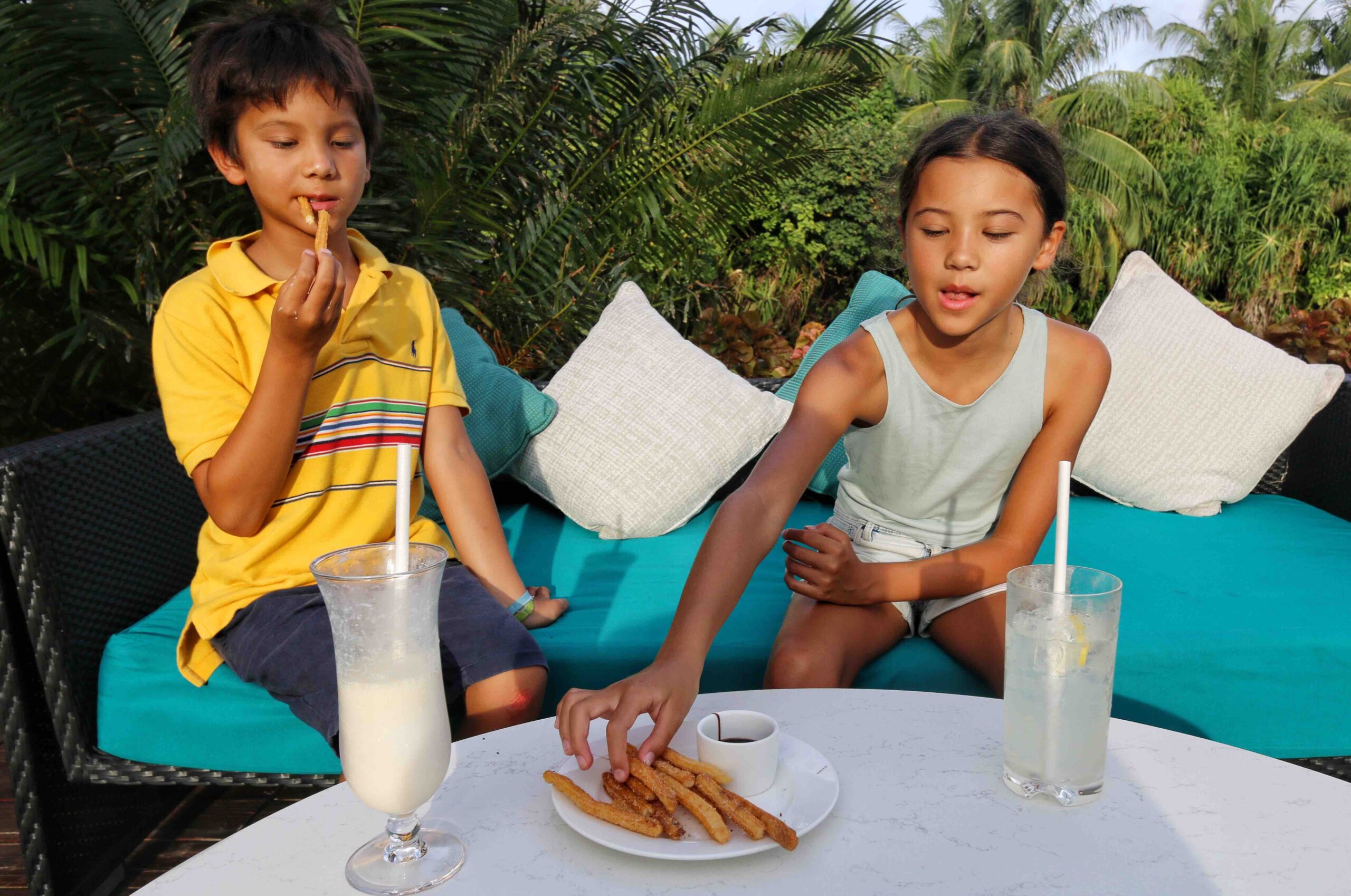 Churros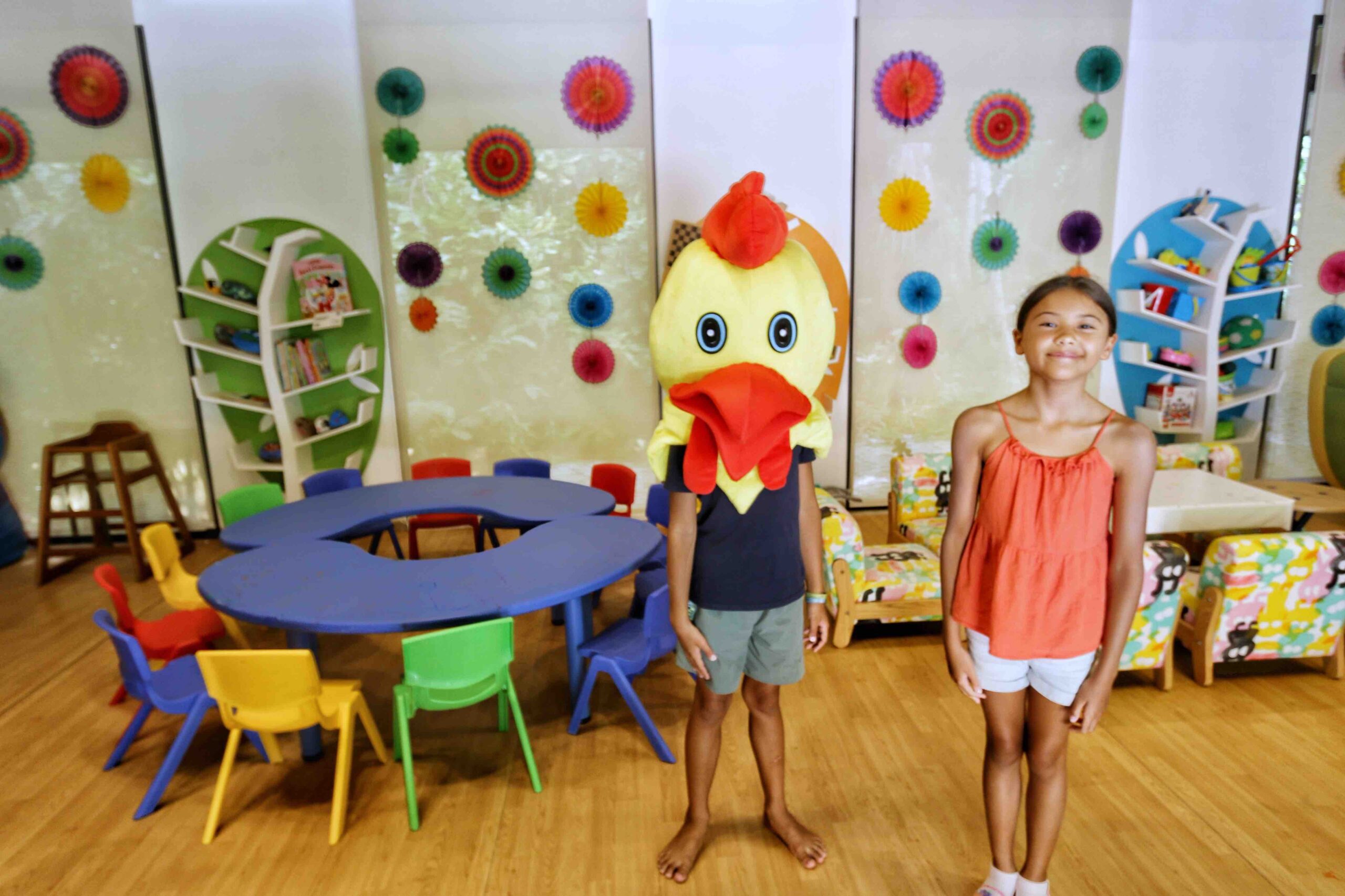 Kids Club
Outdoor Playground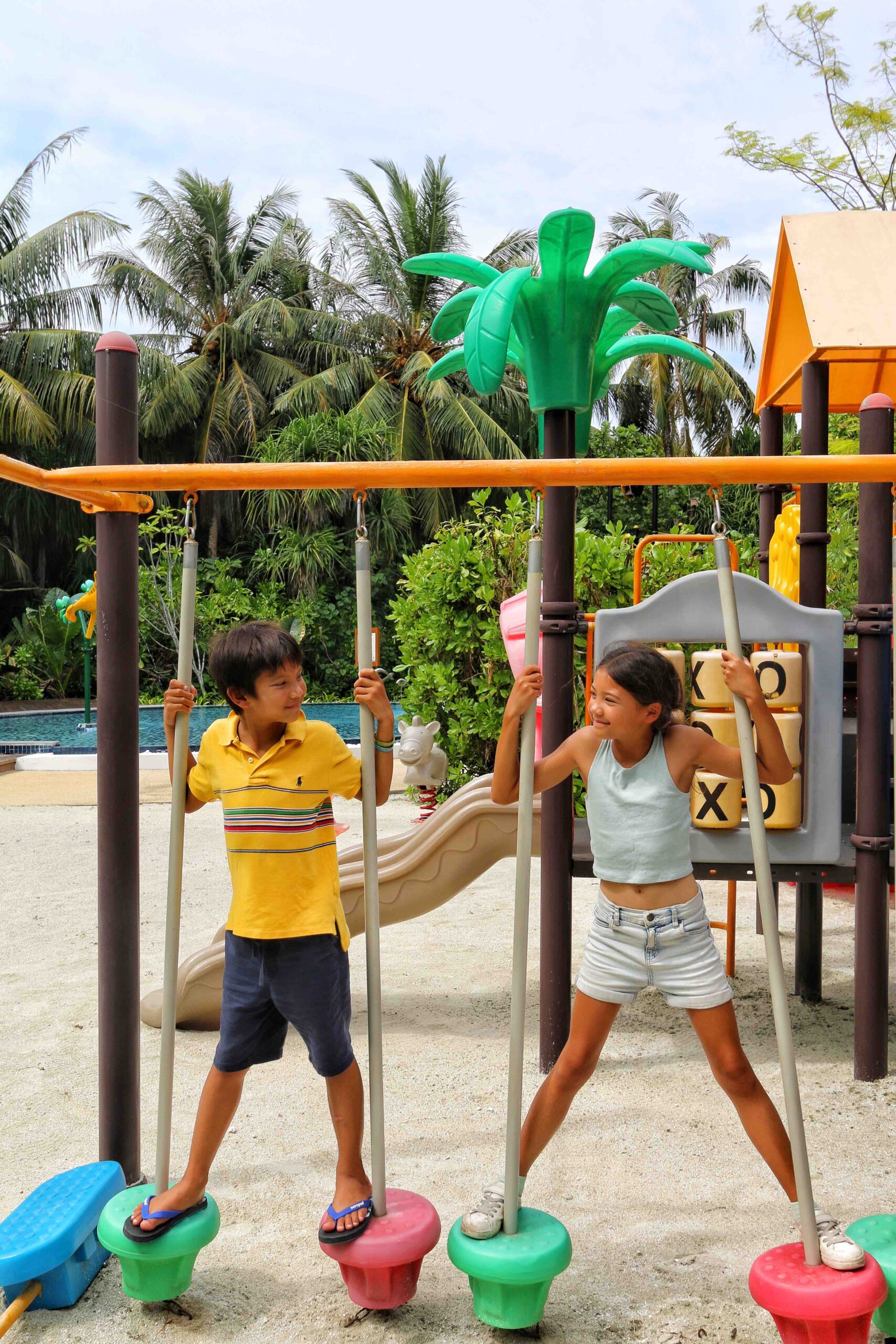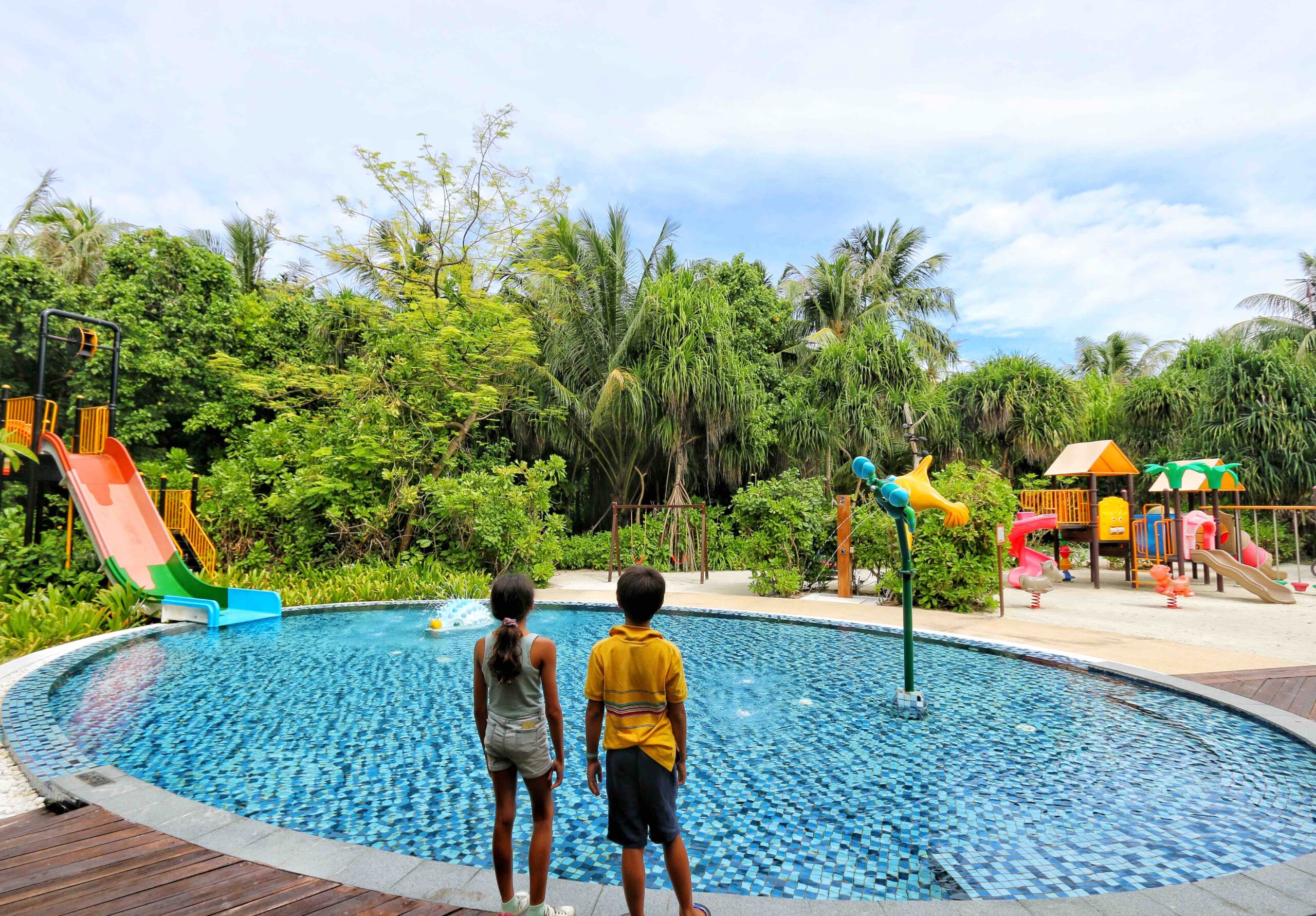 Kids Club Pool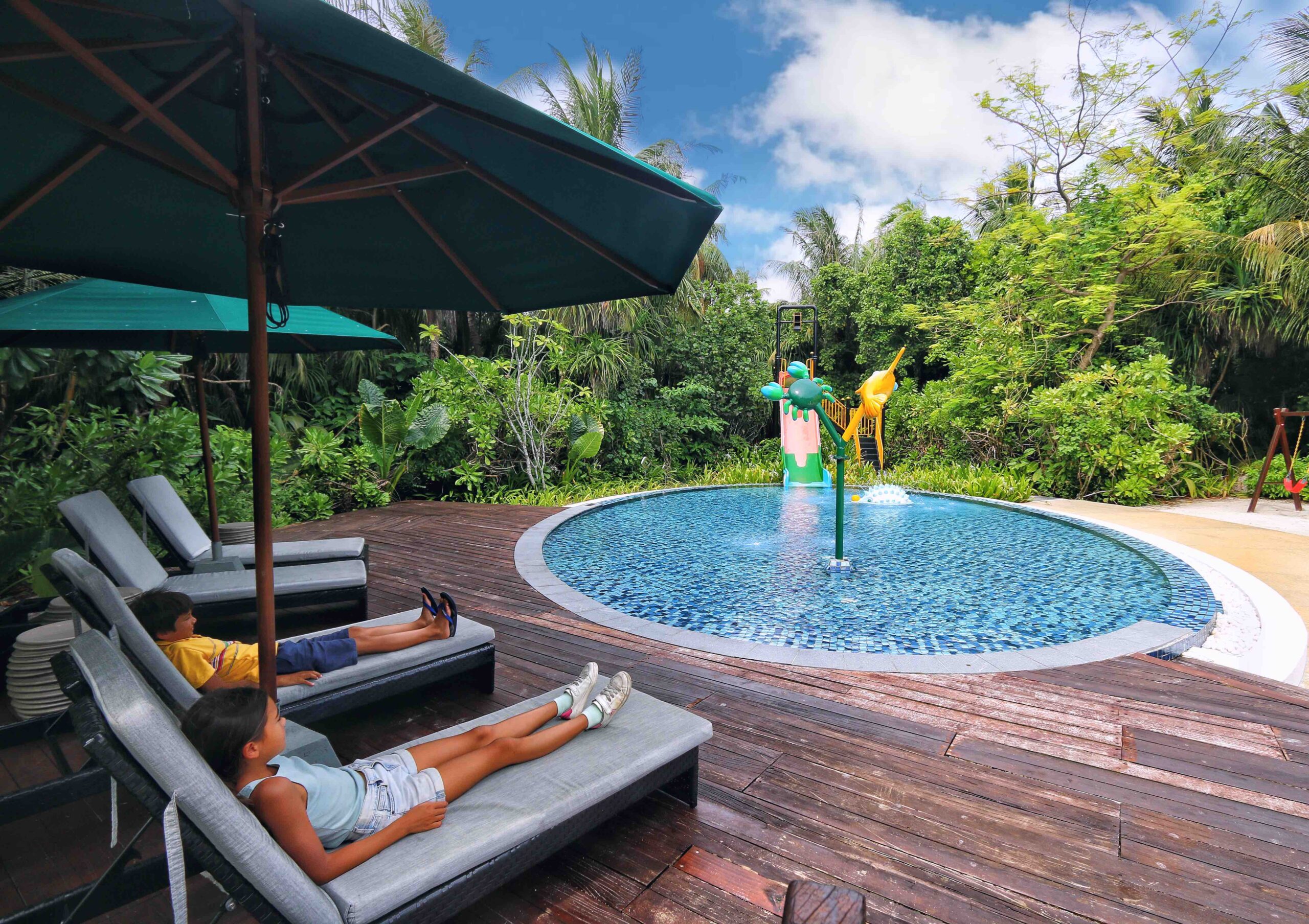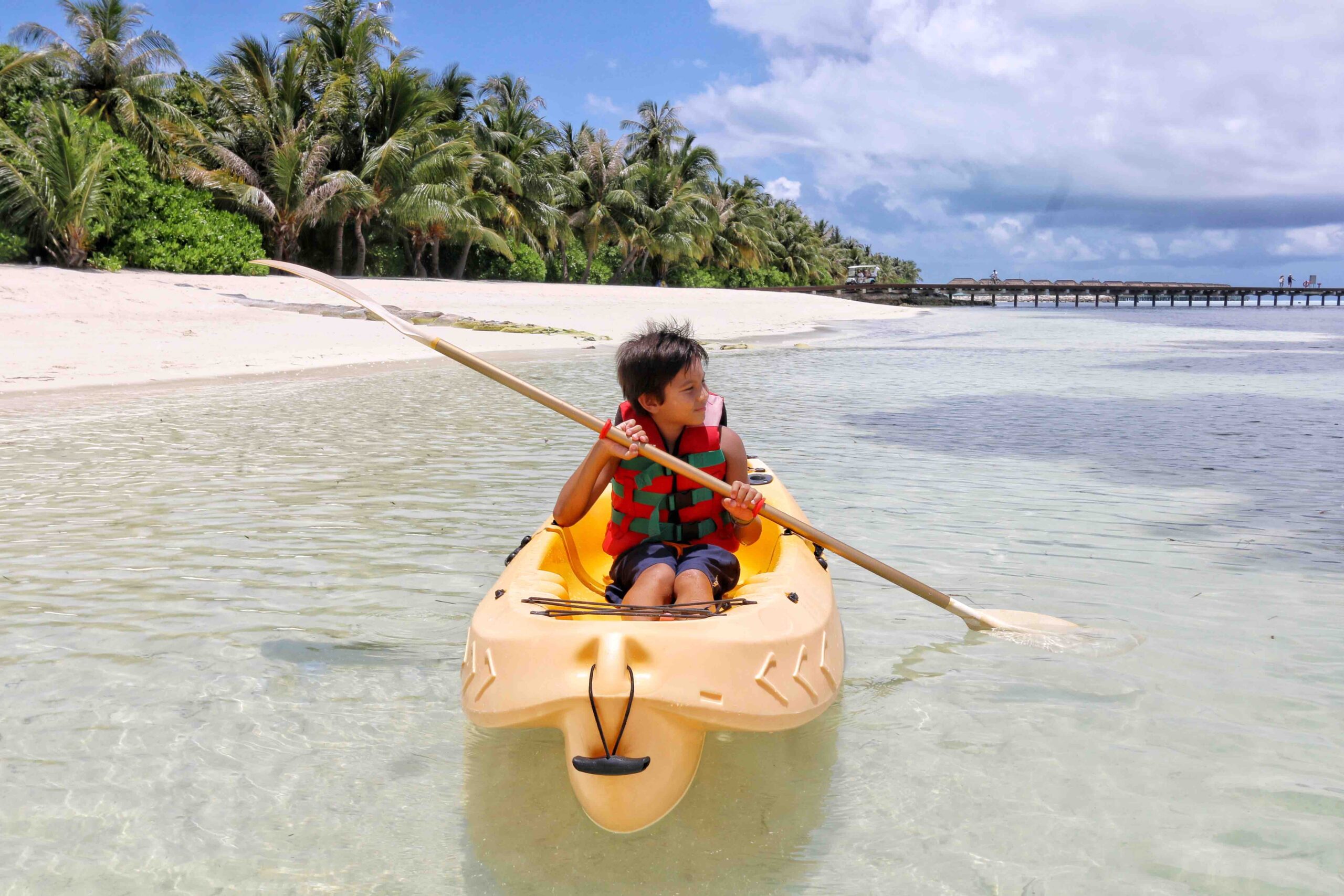 Kayaking at Water Sports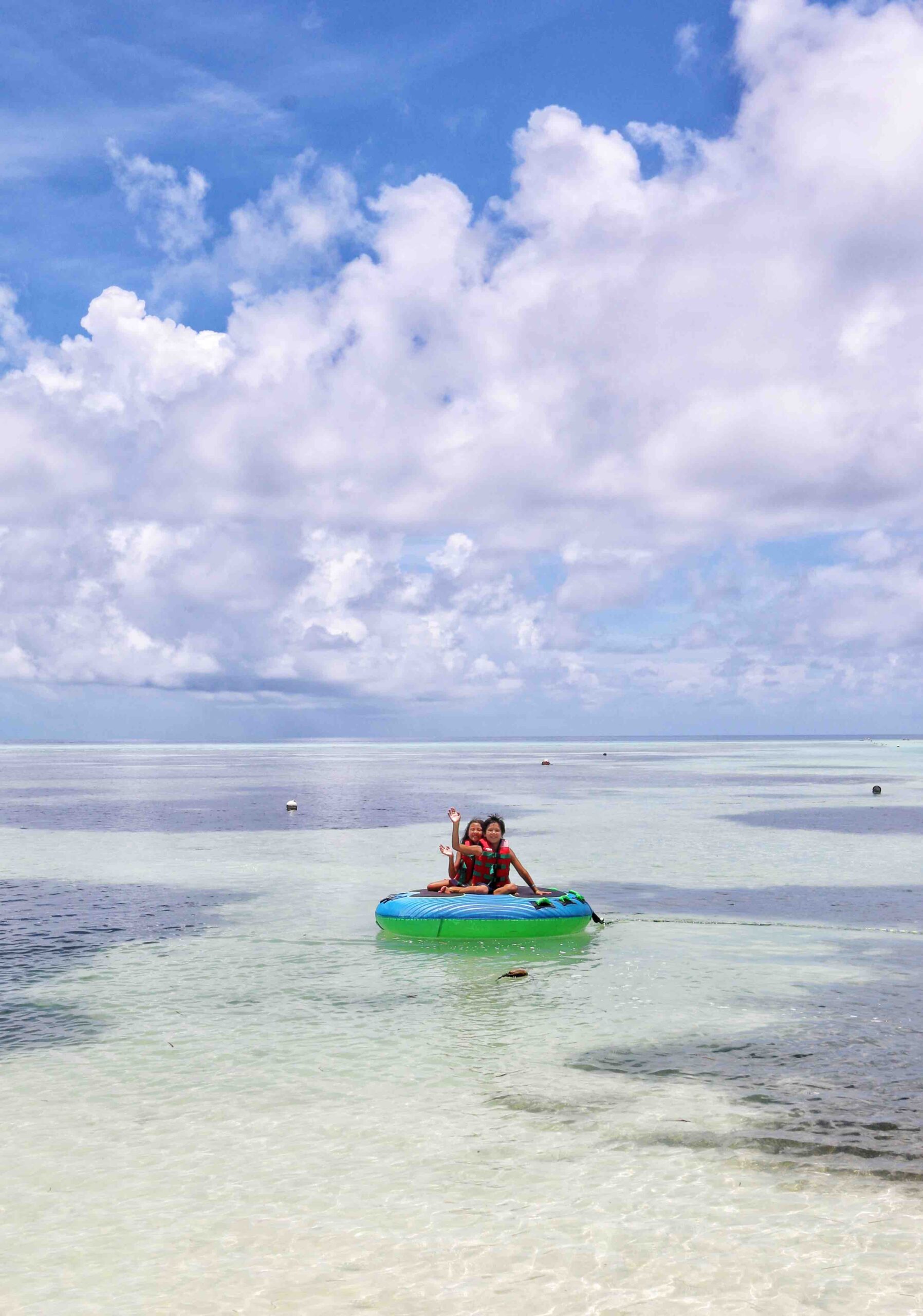 Water Tubing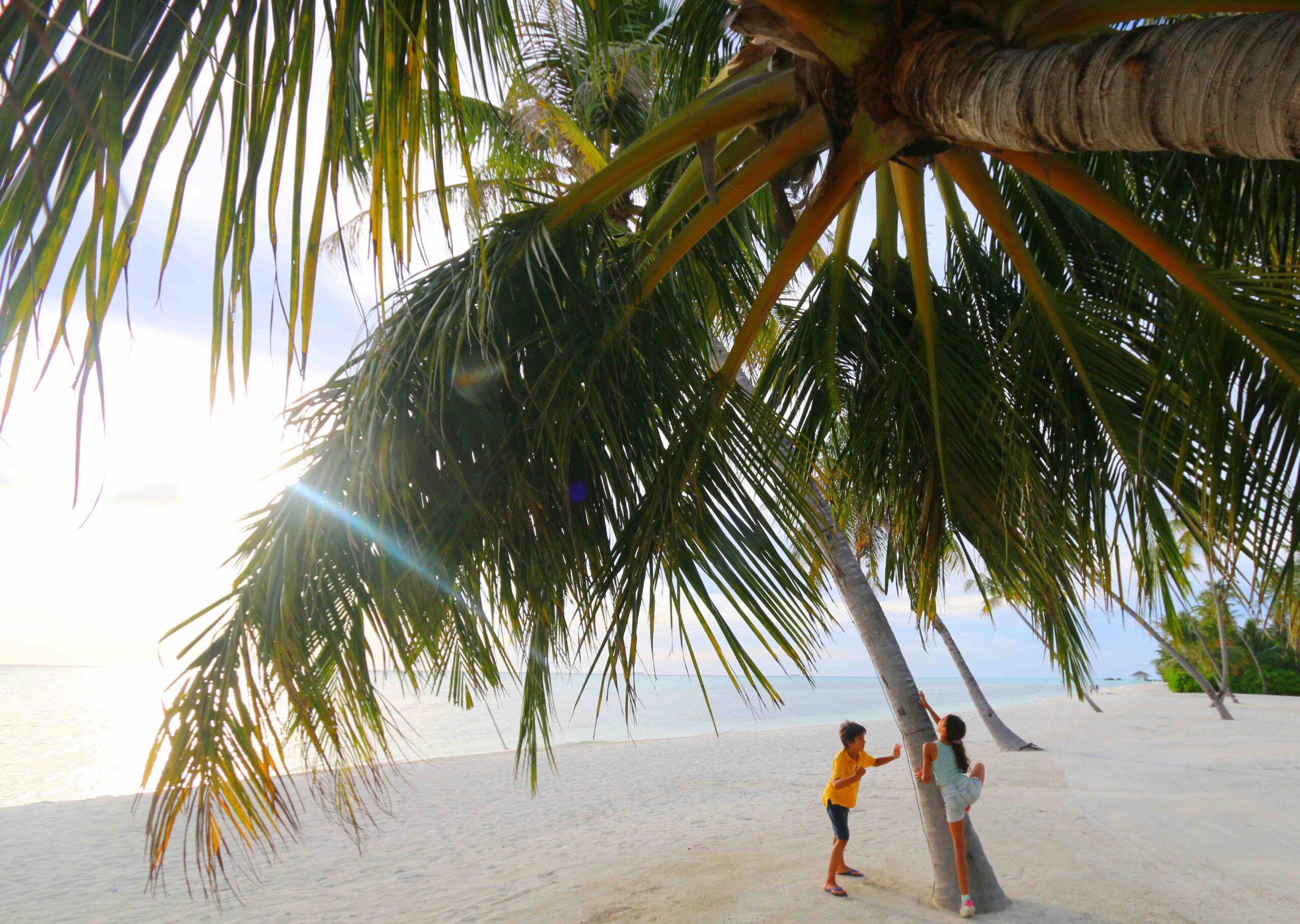 Walks along the Beach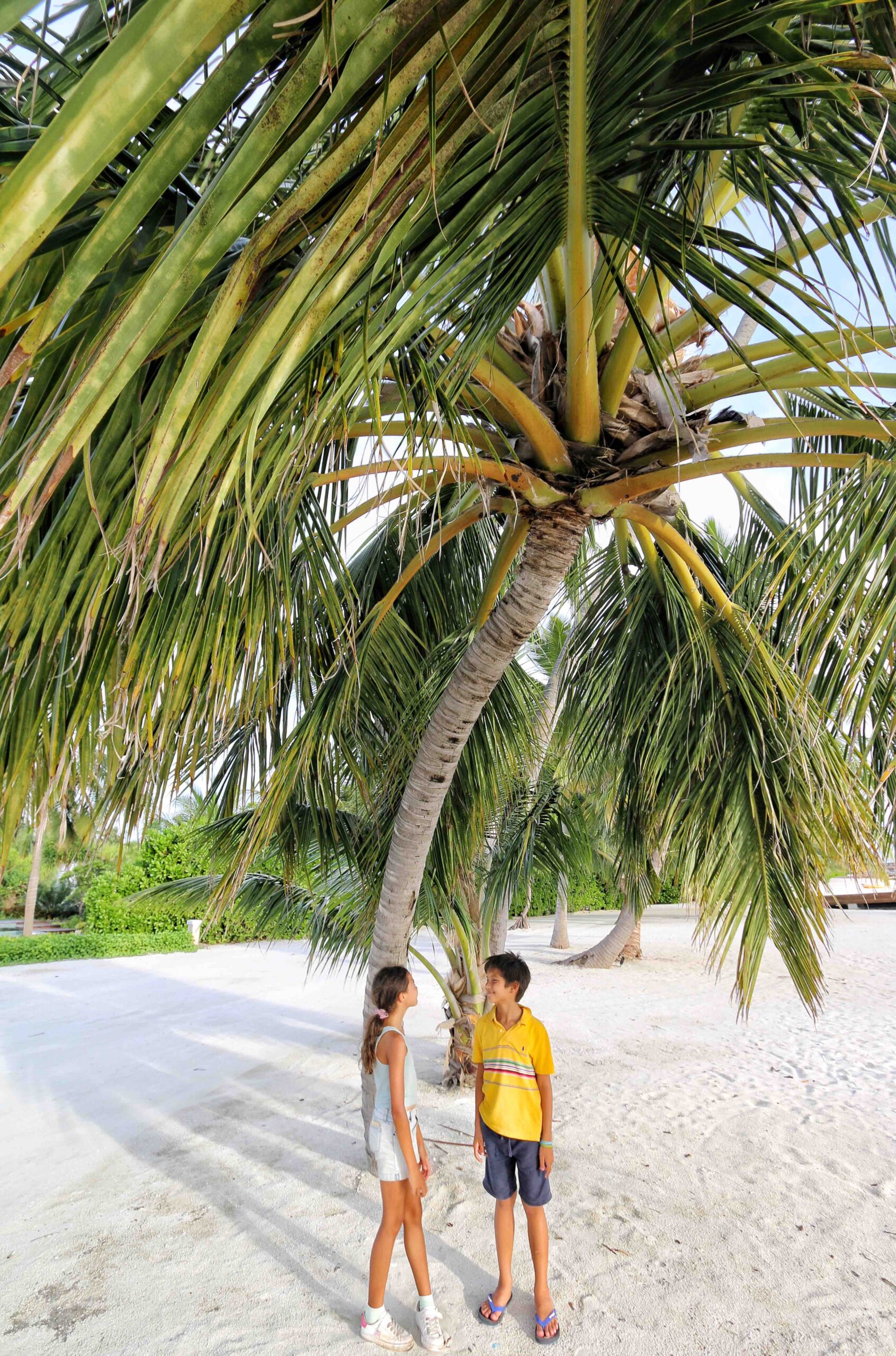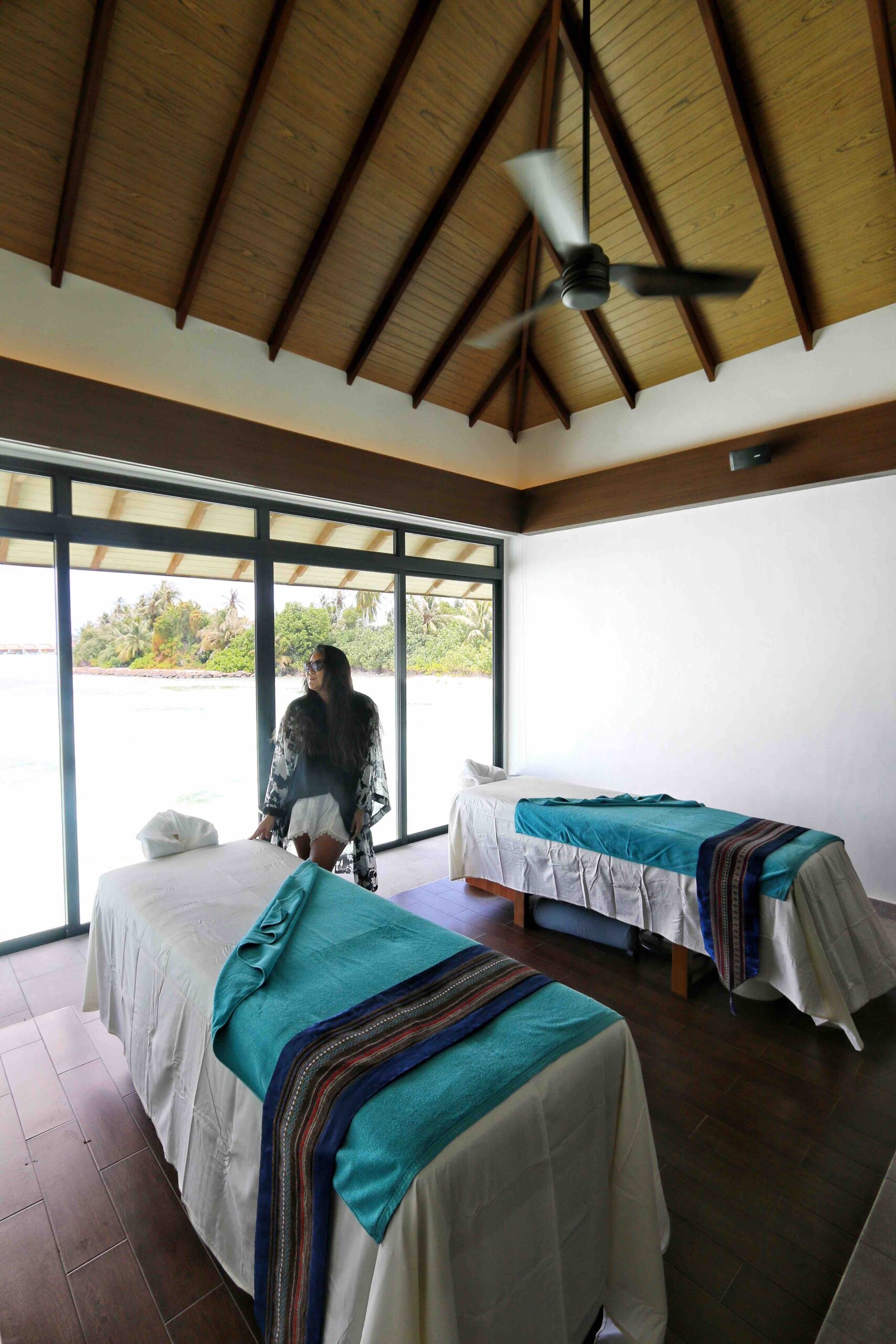 Spa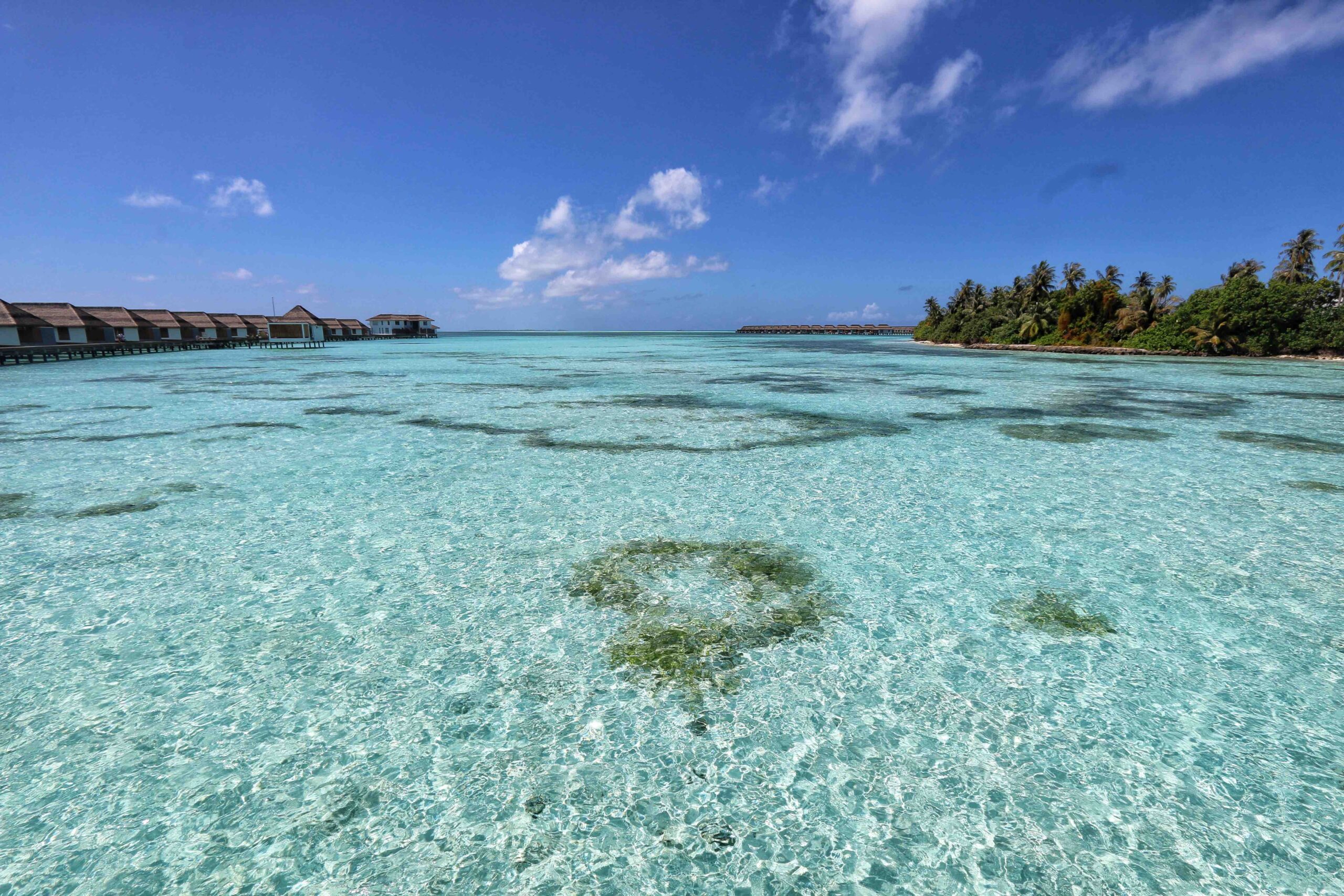 Views from the Spa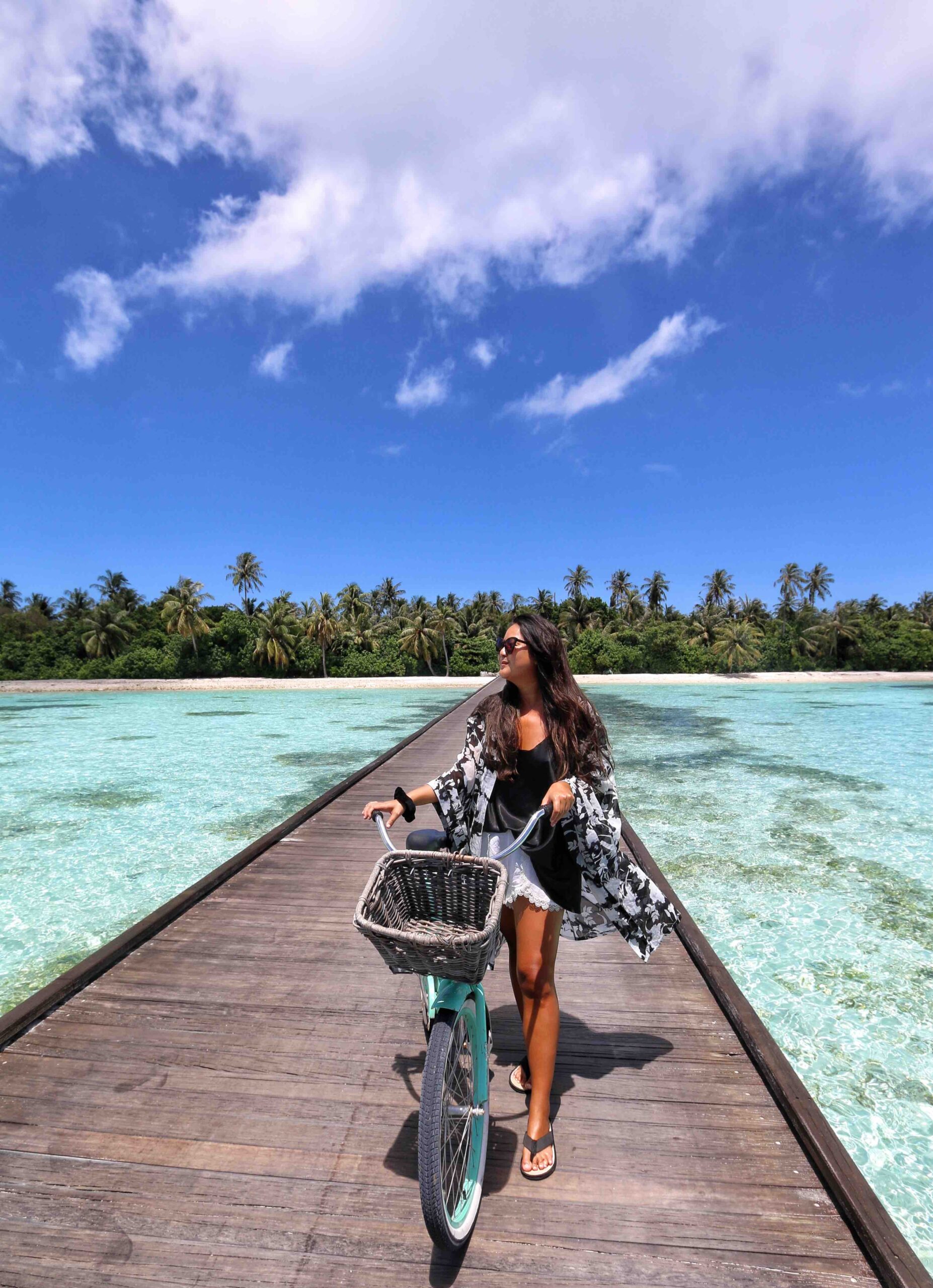 Bikes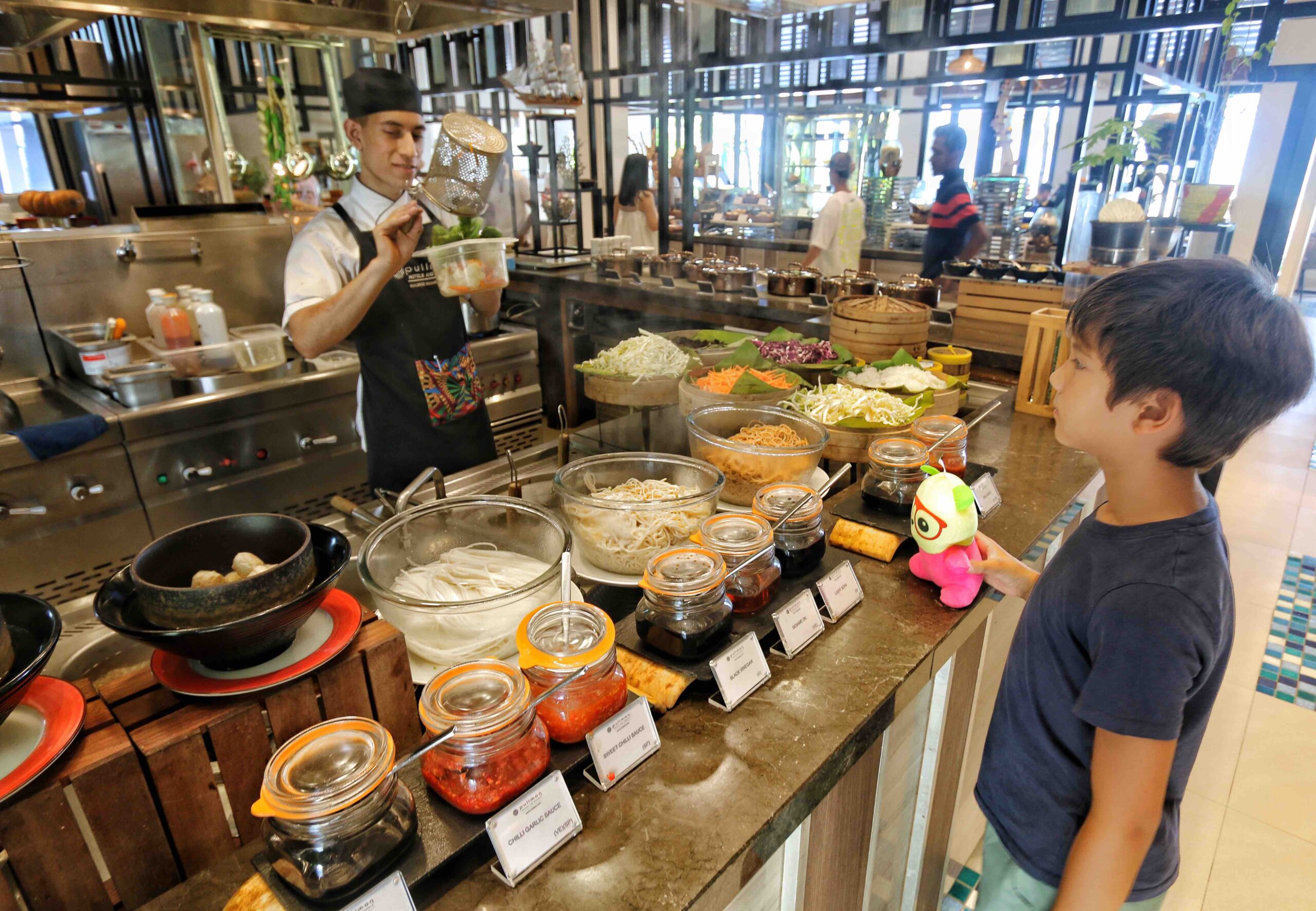 Noodle Station at Melange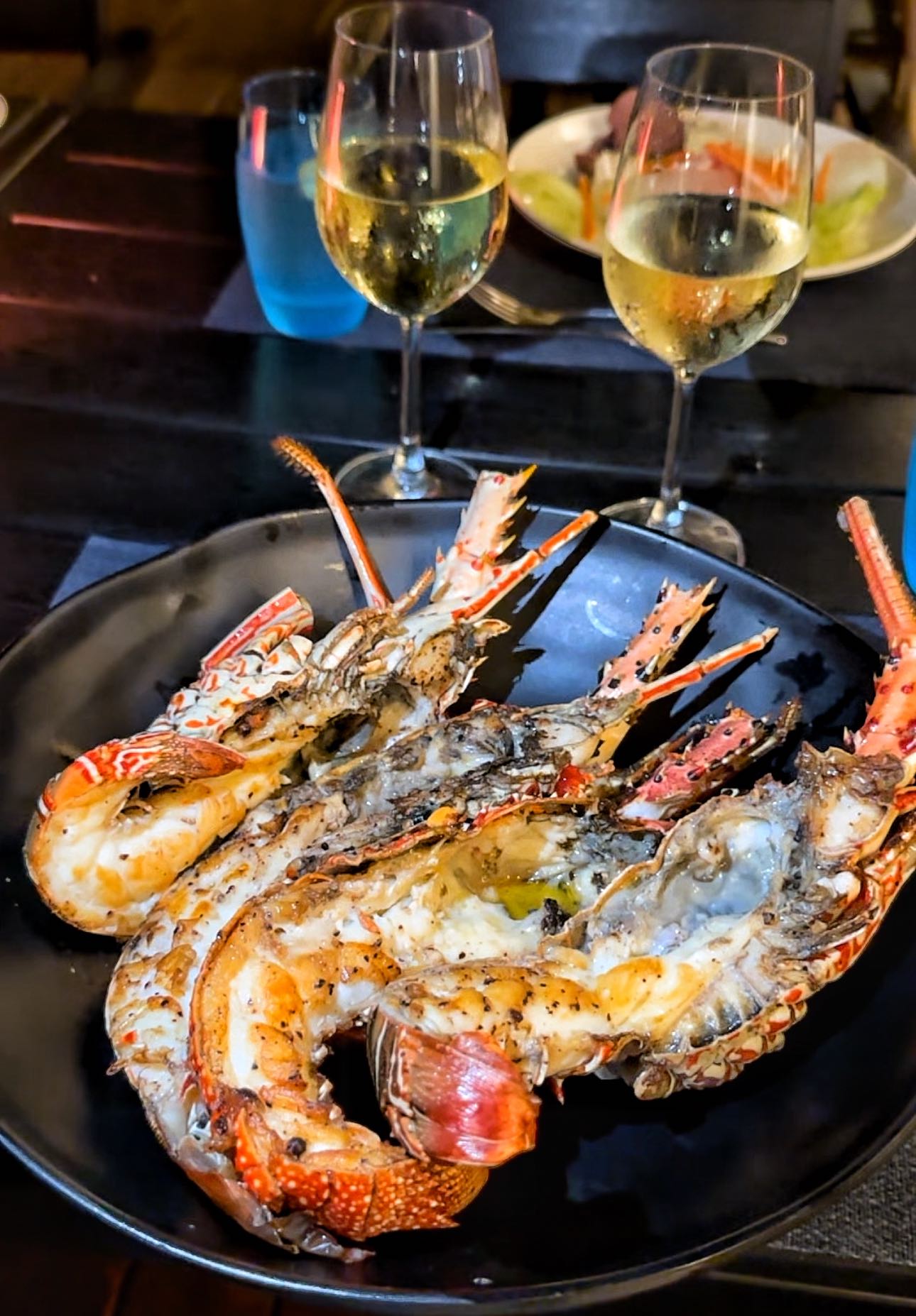 See our full feature on Melange HERE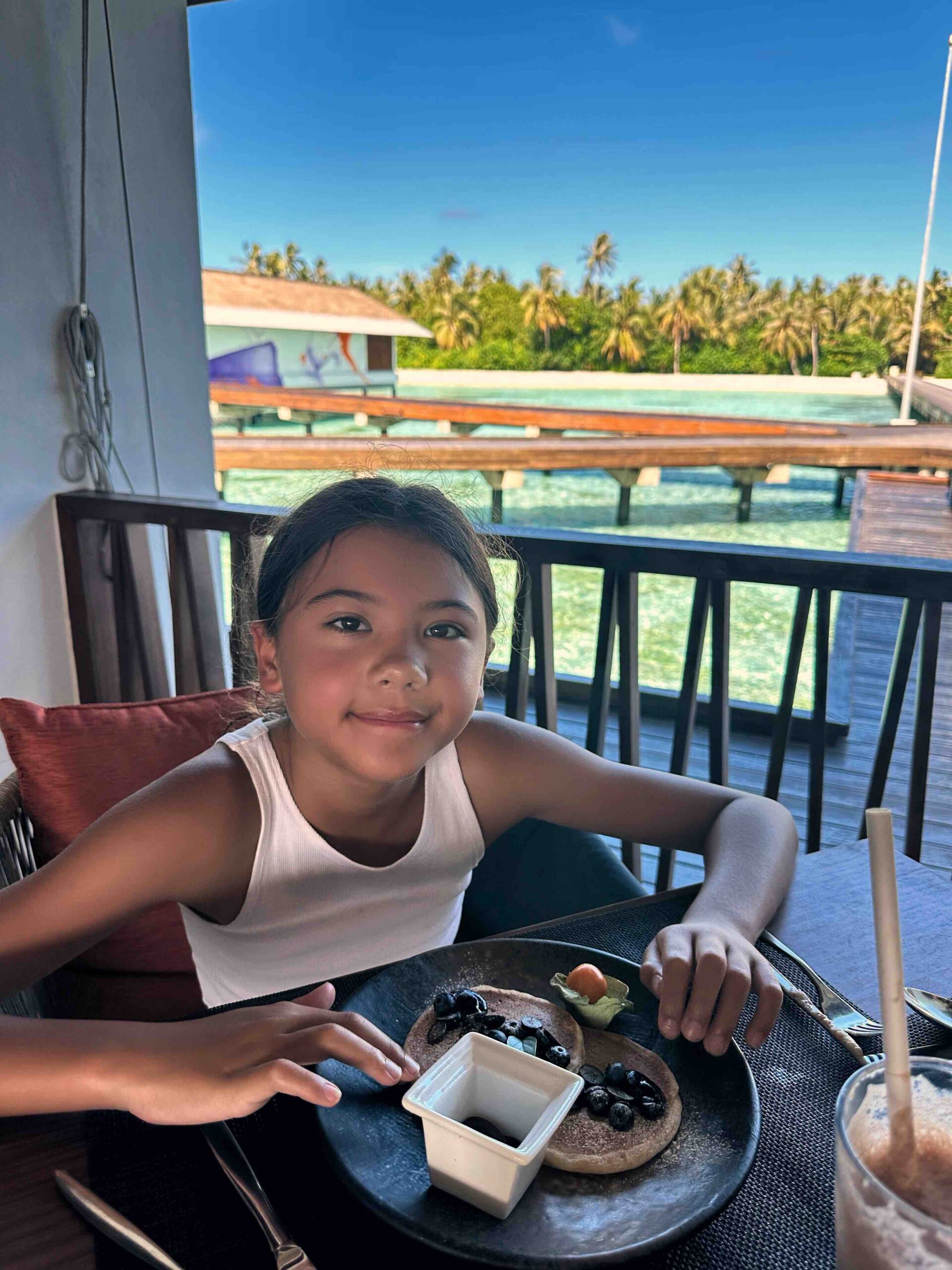 Breakfast at Sol Rising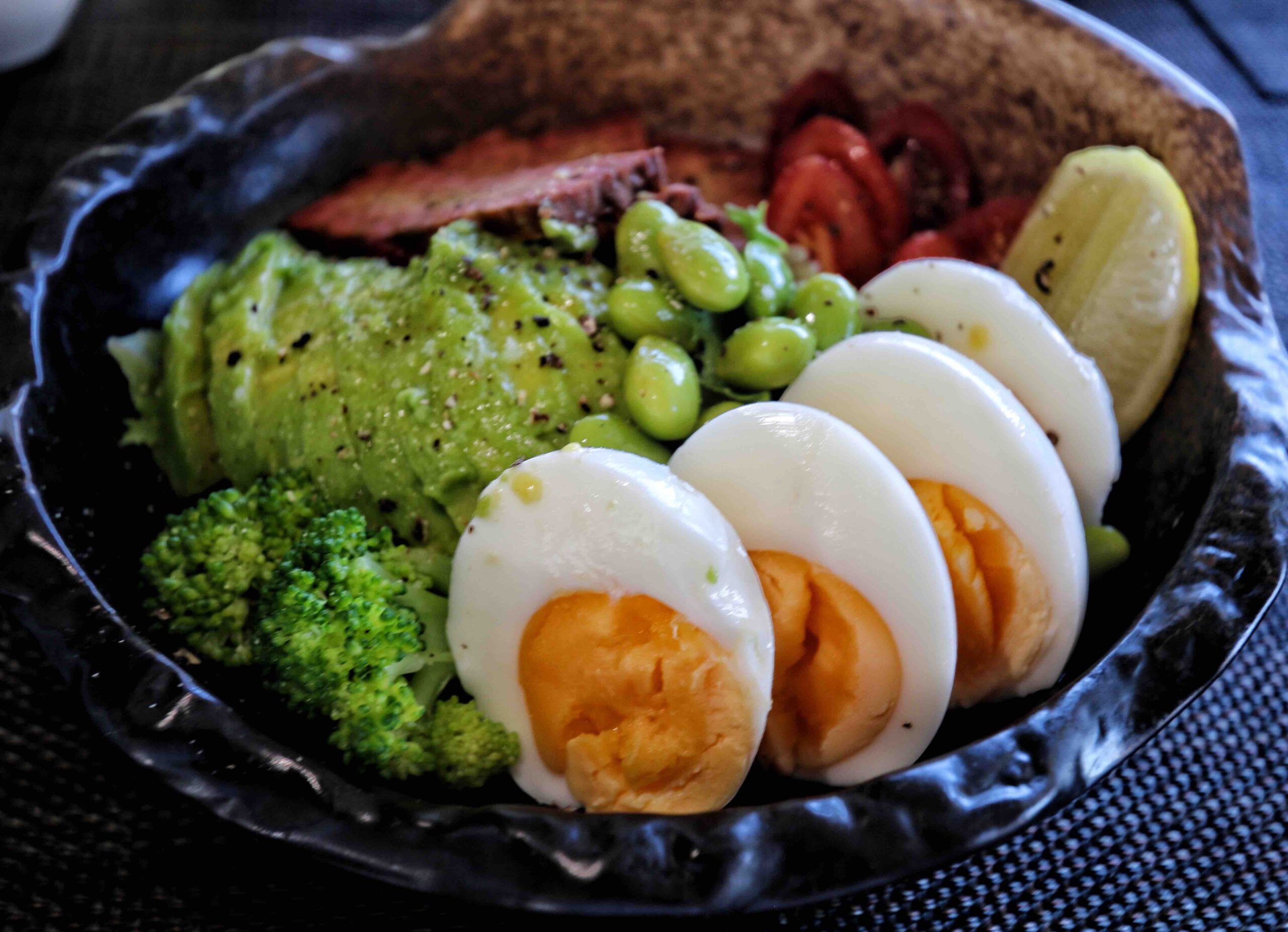 with a range of Healthy Breakfast Options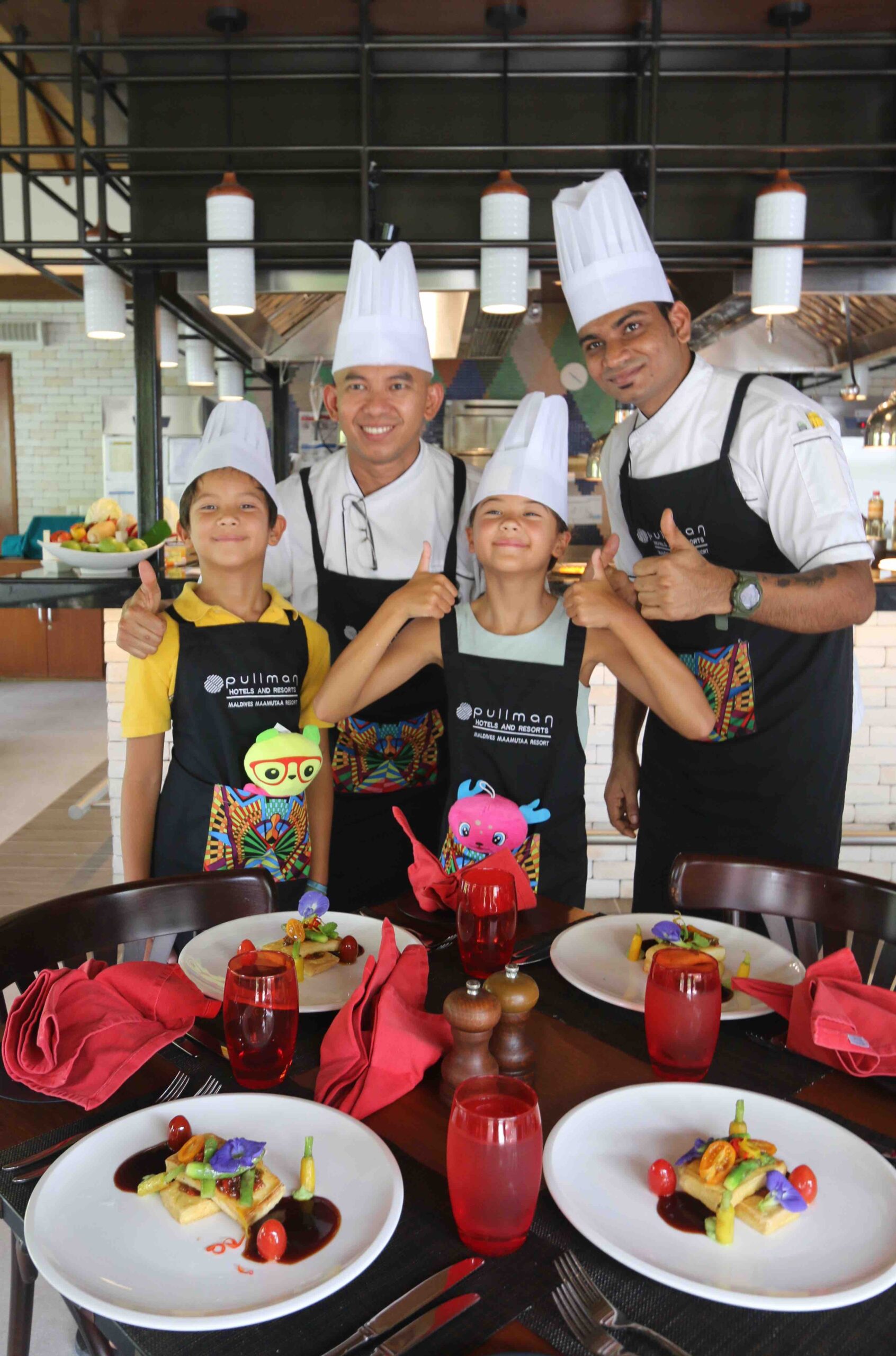 Cooking Class at Phat Chameleon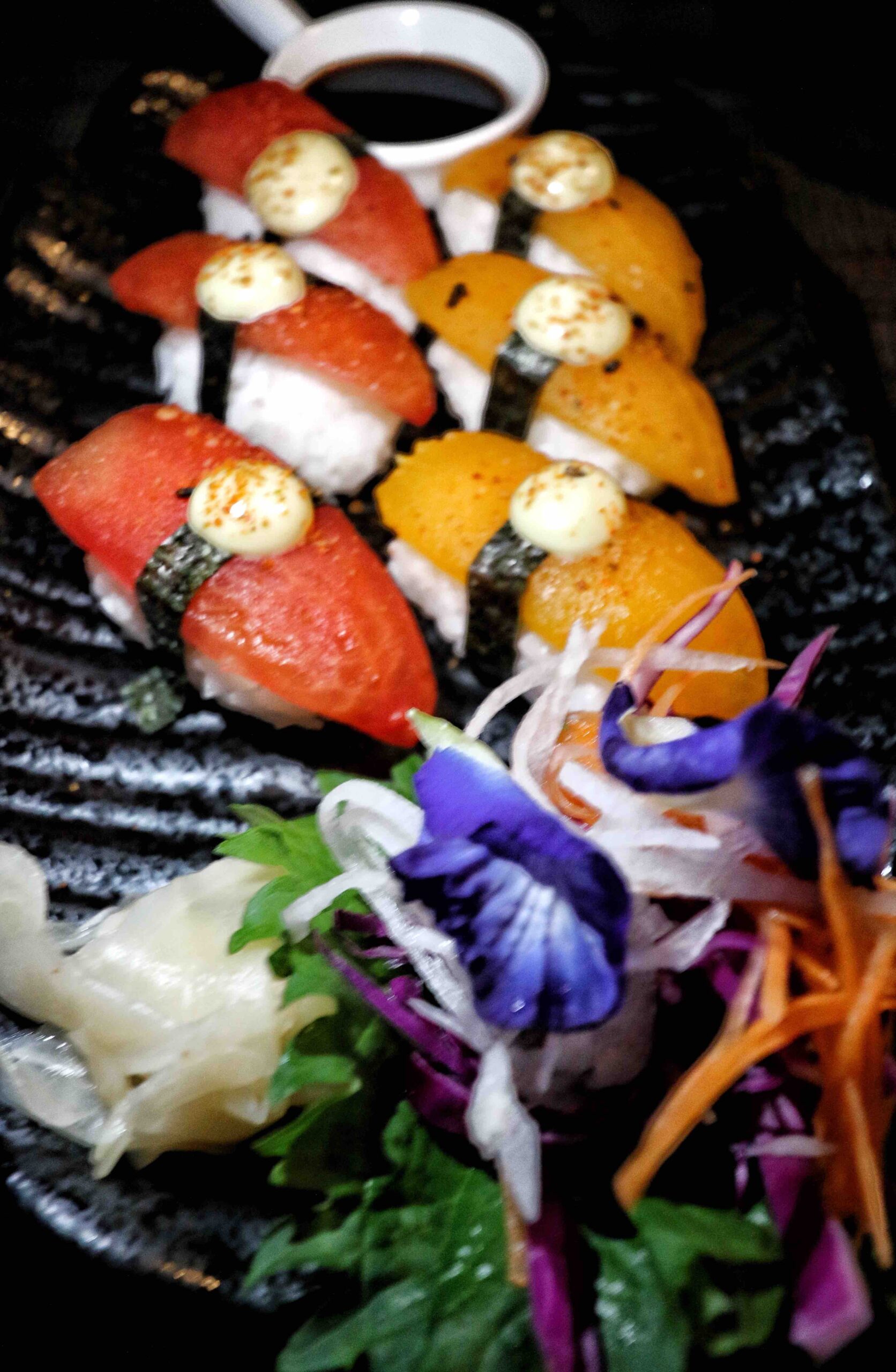 See our full feature on Phat Chameleon HERE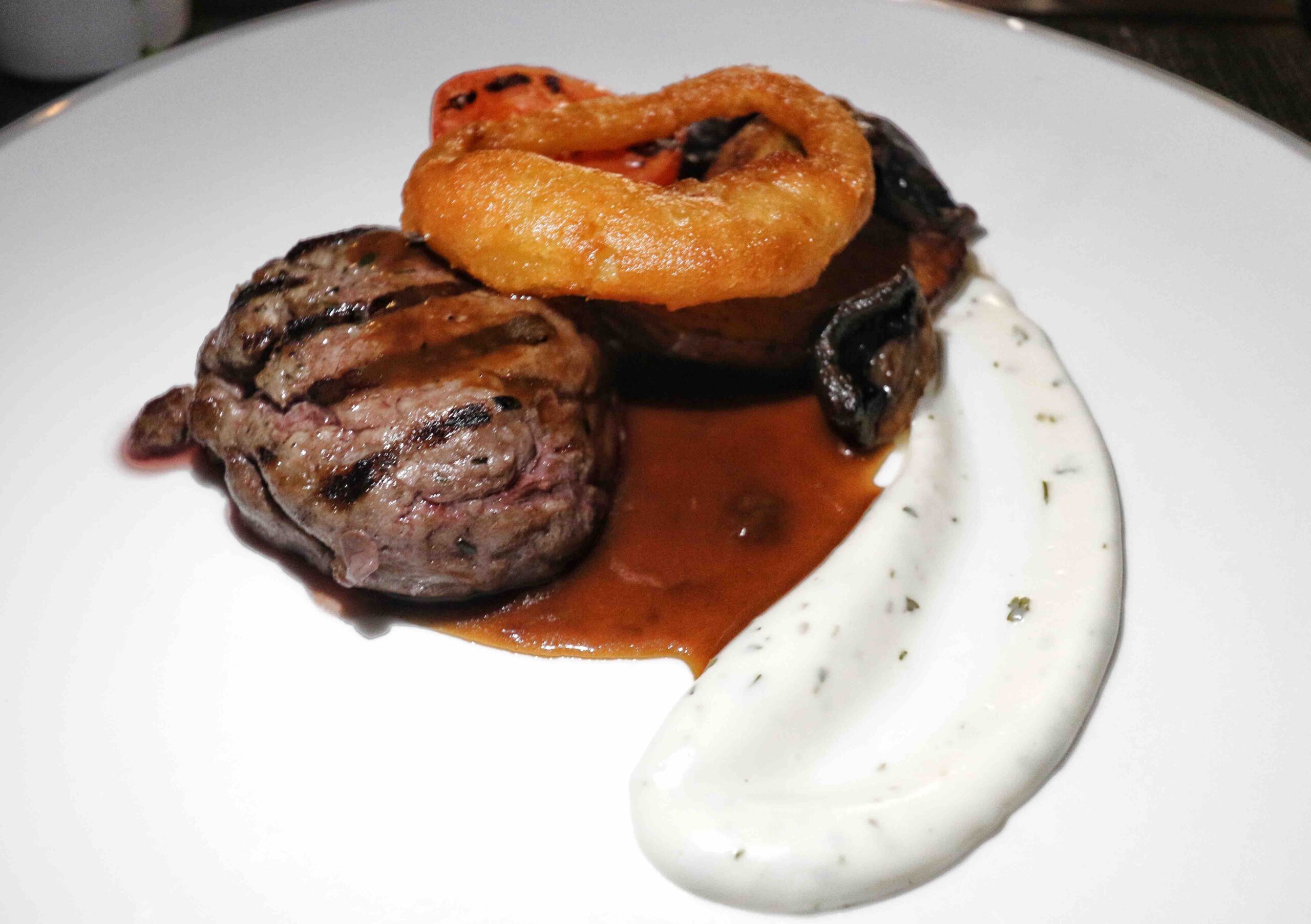 See our full feature on Souq Oven HERE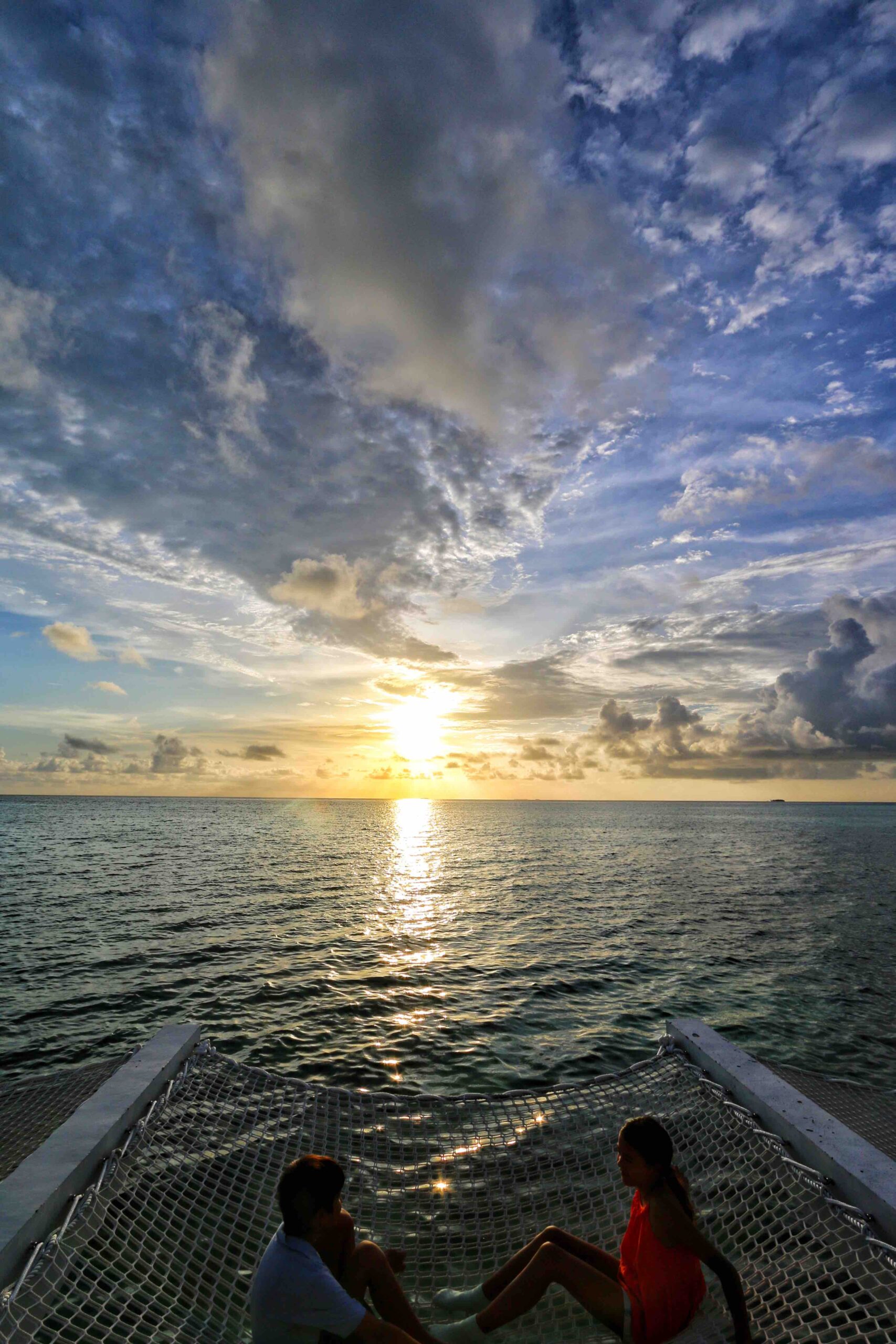 Sunset at Saffron Affair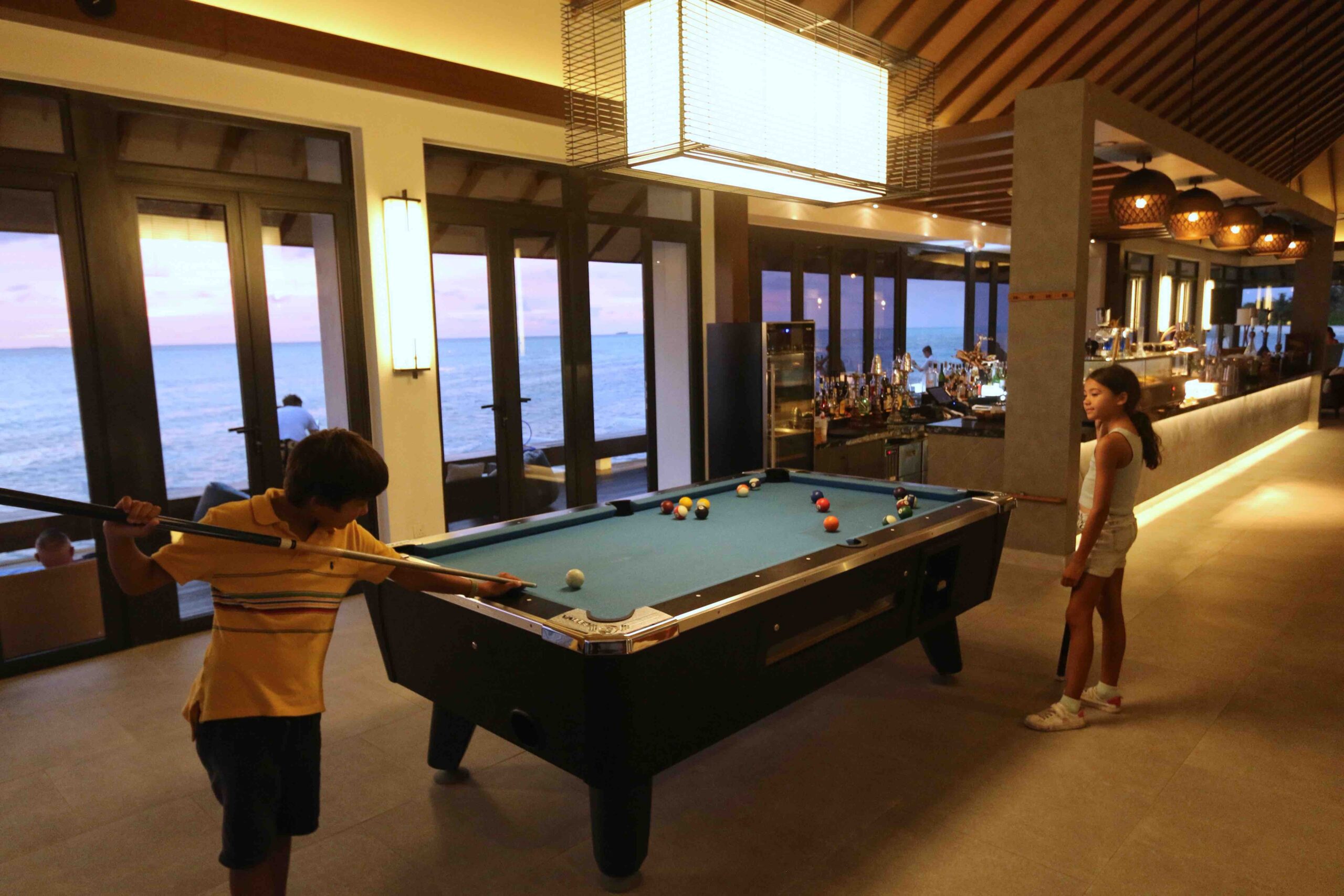 Pool Table at Saffron Affair
Pullman Maldives is located on a stunning private island surrounded by crystal clear turquoise waters and pristine white sand beaches and offers a plethora of luxurious villas and facilities.
Boasting 122 villas guests can choose from private and tranquil beach villas, romantic overwater suites and unforgettable aqua villas complete with an underwater bedrooms. We had the opportunity to experience a couple of the room categories and highly recommend their stunning two bedroom villas for families. Those wanting direct beach access will love the large villas which feature two ensuite bedrooms, a spacious lounge, a large private outdoor space complete with a giant refreshing pool and being just steps from the white sand beach. The Aqua Villa is a unique Maldives villa incorporating a beautiful and luxurious overwater suite with private pool and downstairs underwater bedroom with a window to the ocean and reef. The exciting experience of sleeping while a plethora of marine life including reef sharks swimming past is not one we will forget. Groups will be delighted to discover the grand Four Bedroom Ocean Pool Retreat incorporating stunning ocean views and a gigantic private deck, gym and swimming pool.
The large island offers a huge variety of activities for families so we grabbed our bikes and were quick to set off and explore. Highlights included snorkelling in the beautiful house reef, partaking in water sports including kayaking and a water tubing session for our kids, and a memorable vegetarian cooking class with the talented chefs. Our children had fun in the interactive kids club which included indoor and outdoor play areas and a refreshing kids pool suitable for young swimmers. Skillz is an ideal stop for teens who interested in games and a lounge where they can relax and meet new friends, and the state of the art fitness centre is a great spot to work off all the delicious fare included in the all-inclusive package. The beautiful overwater spa is a must for couples who can indulge in a tranquil massage in romantic and scenic overwater treatment room. Sunsets were truly unforgettable each evening and we loved enjoying the views as a family at the stylish overwater bar, Saffron Affair. Tapas were served each evening alongside handcrafted cocktails, fragrant shisha pipes, and we watched the day turn to night while laying on the picturesque overwater nets.
Dining is reason enough to book Pullman Maldives which boasts the most generous all-inclusive package in the Maldives. The resort features three restaurants and three bars with meals available all day. Experience delicious international fare and an unbeatable seafood selection at the buffet restaurant, Melange or indulge in a late breakfast or afternoon snack at the poolside bar, The Hub. Have a romantic Italian dinner at Souq Oven or a unique vegetarian dining experience at Phat Chameleon. You can also choose to have a healthy start to the day and choose from an a la carte menu at overwater restaurant Sol Rising or order a memorable floating breakfast to your private pool villa. The mini bar in each villa is refilled twice daily and includes a variety of liquors, wines, juices, soft drinks, artisanal tea and coffee, and sweet and savoury snacks.
The service is exceptional at Pullman Maldives from your arrival in the Maldives until your departure. Bookings for excursions or restaurants are seamlessly handled and each team member works hard to ensure a smooth stay and five star experience. Not only did we fully enjoy all the resort had to offer but the unique design of the villas and resort made certain we had a one of a kind Maldives experience.
www.pullmanmaldivesmaamutaa.com
Maamutaa Island, 20219 Gaafu Alifu Atoll Maldives
+960 6820909