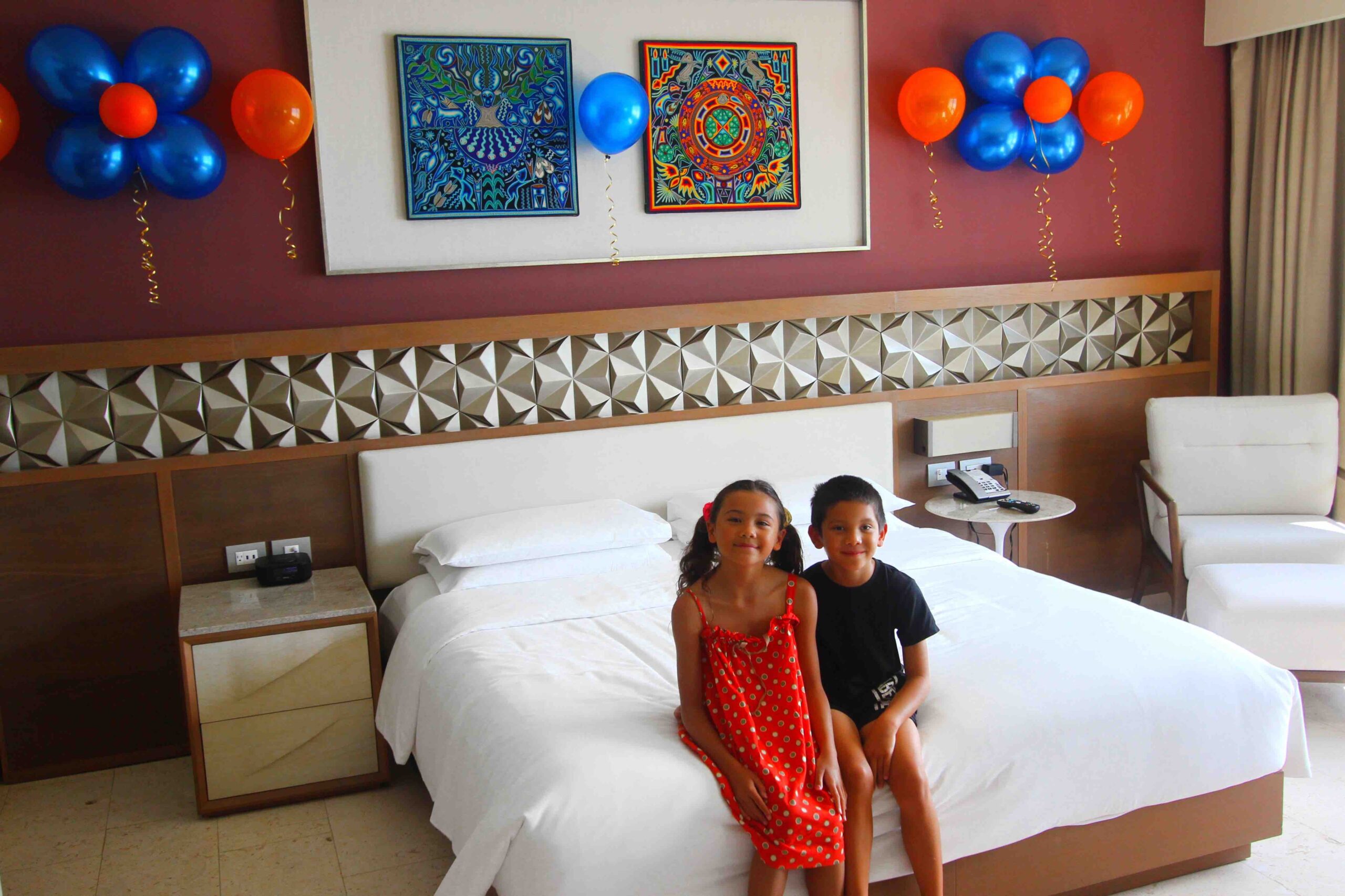 Our Club Ocean Front Corner Suite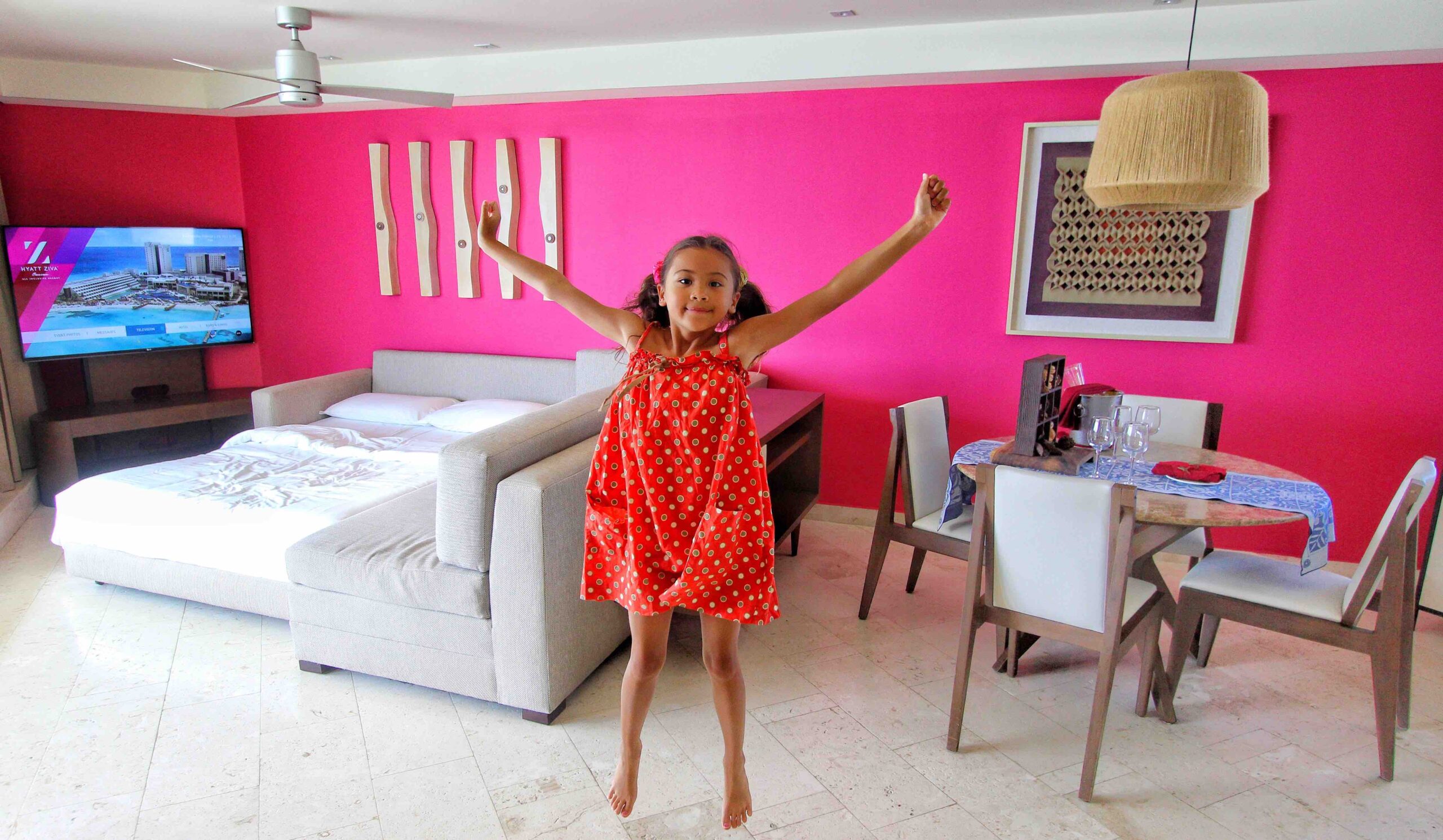 Living Room with Bed Set Up for the Kids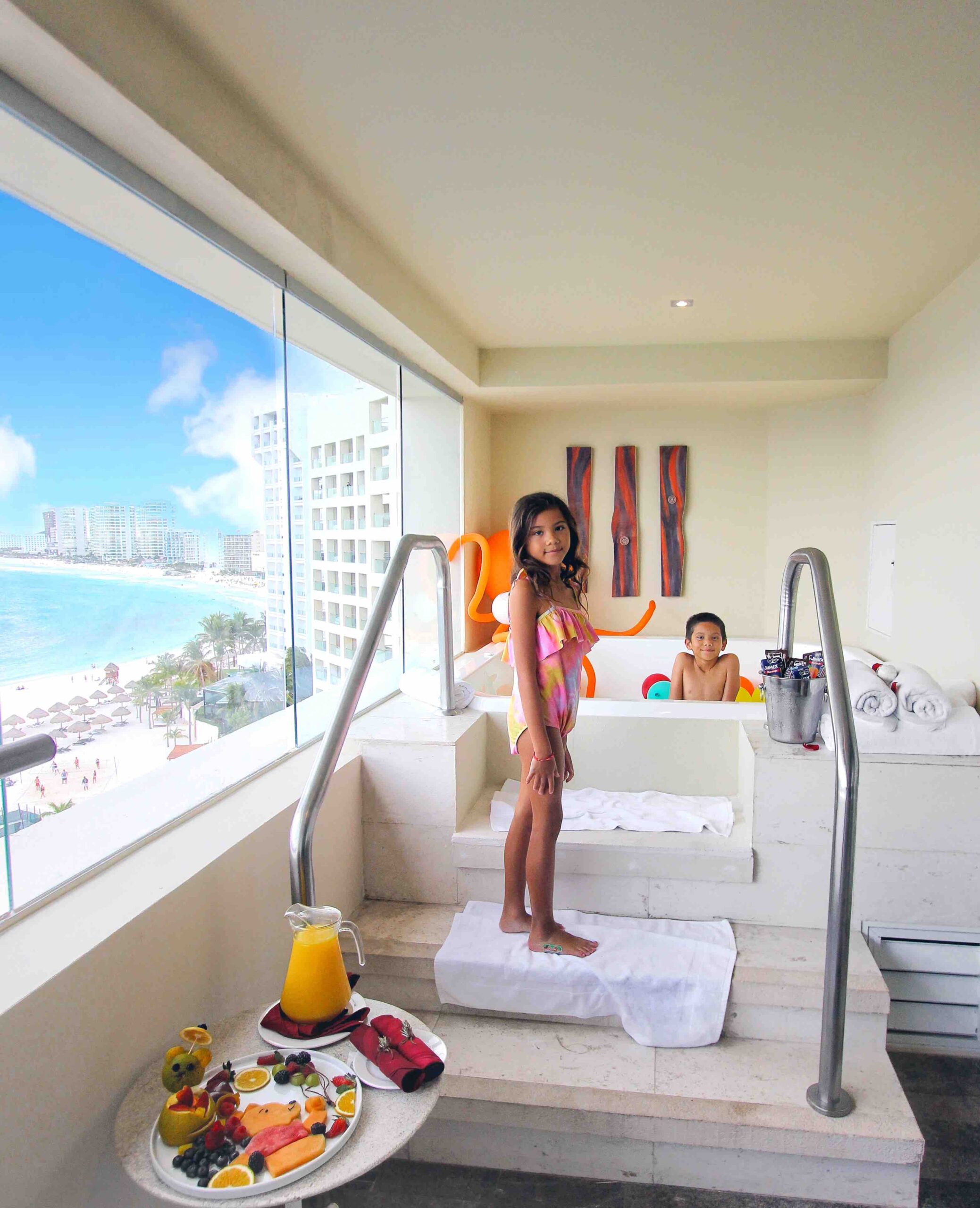 Private Terrace with Jacuzzi Tub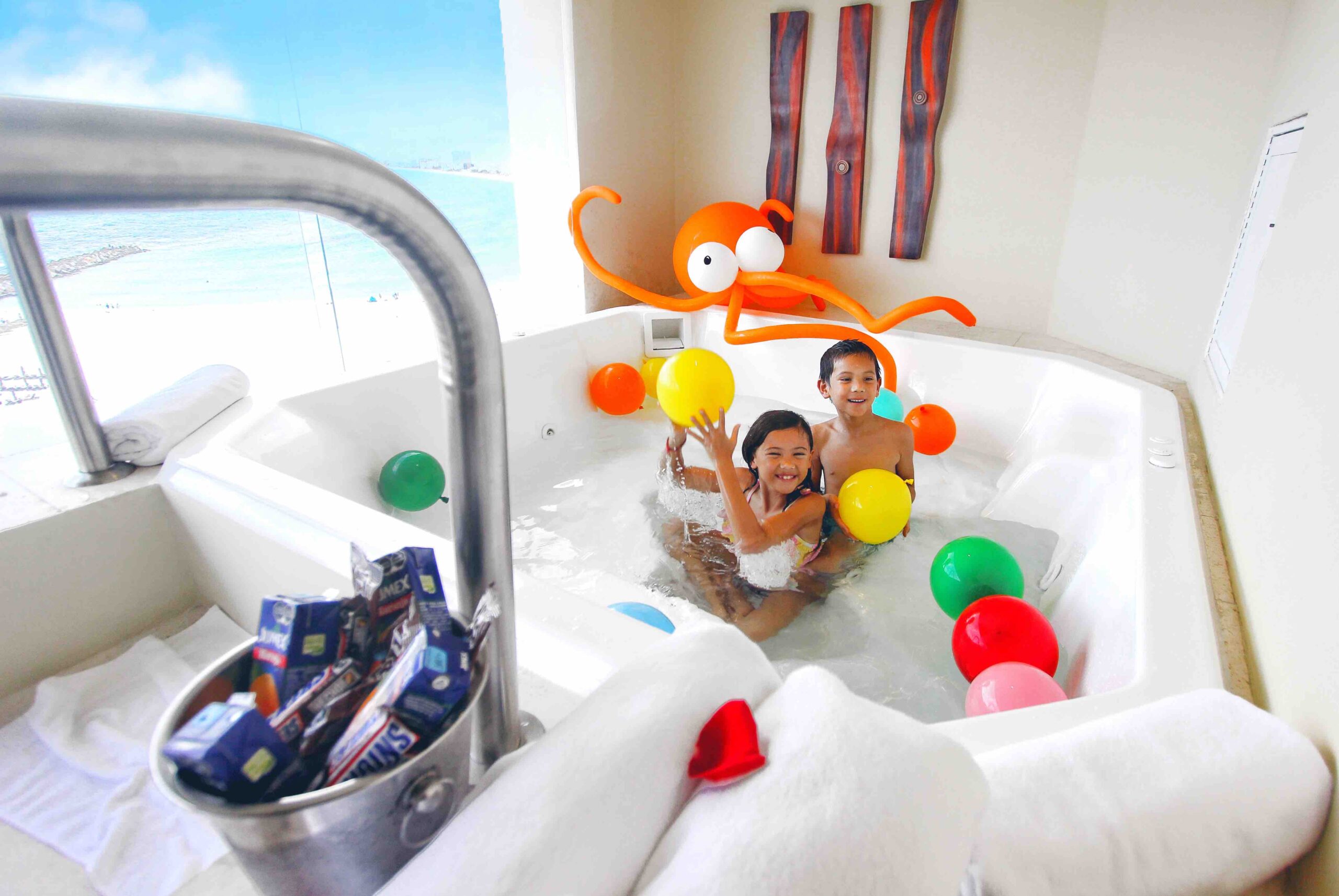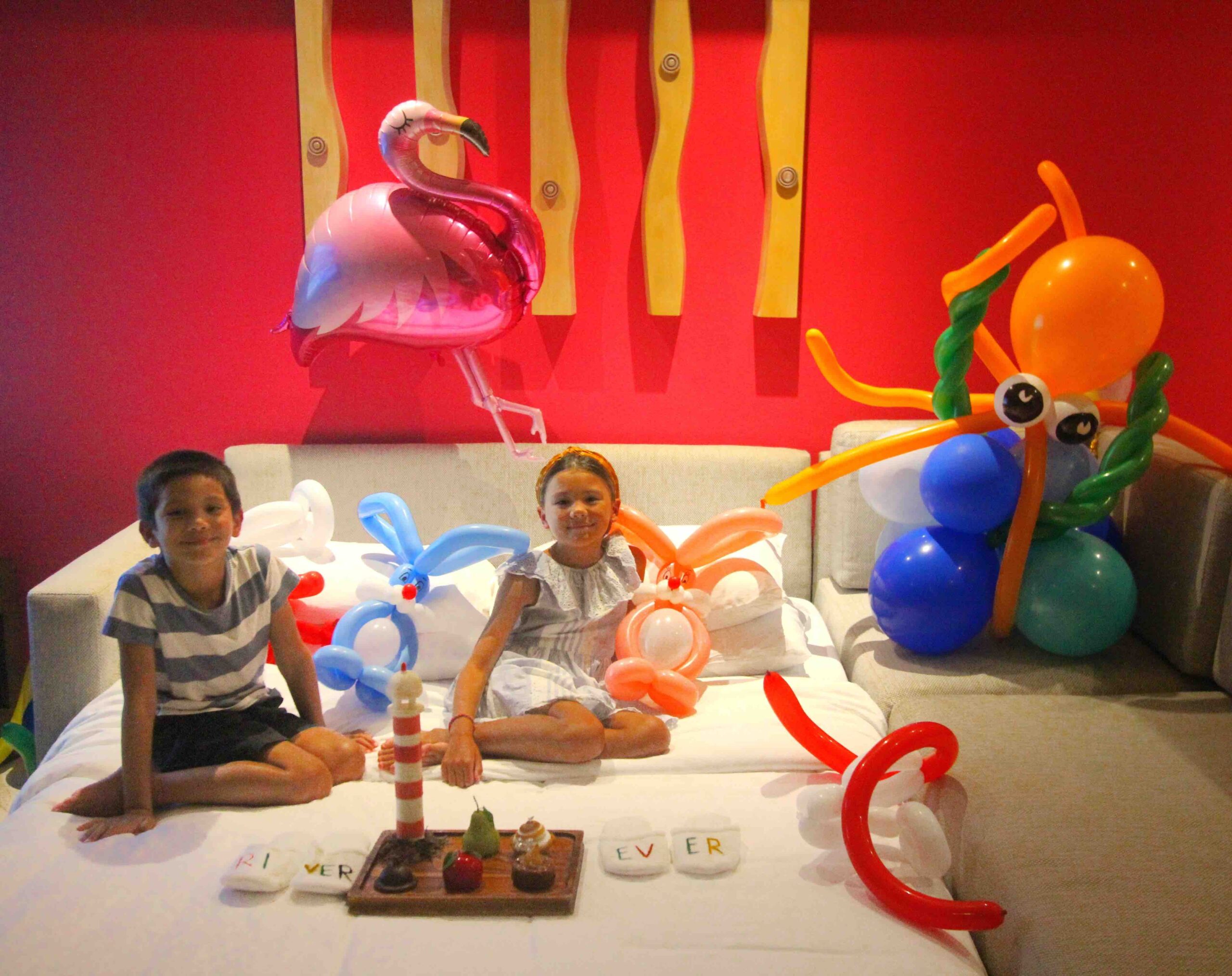 Turndown Service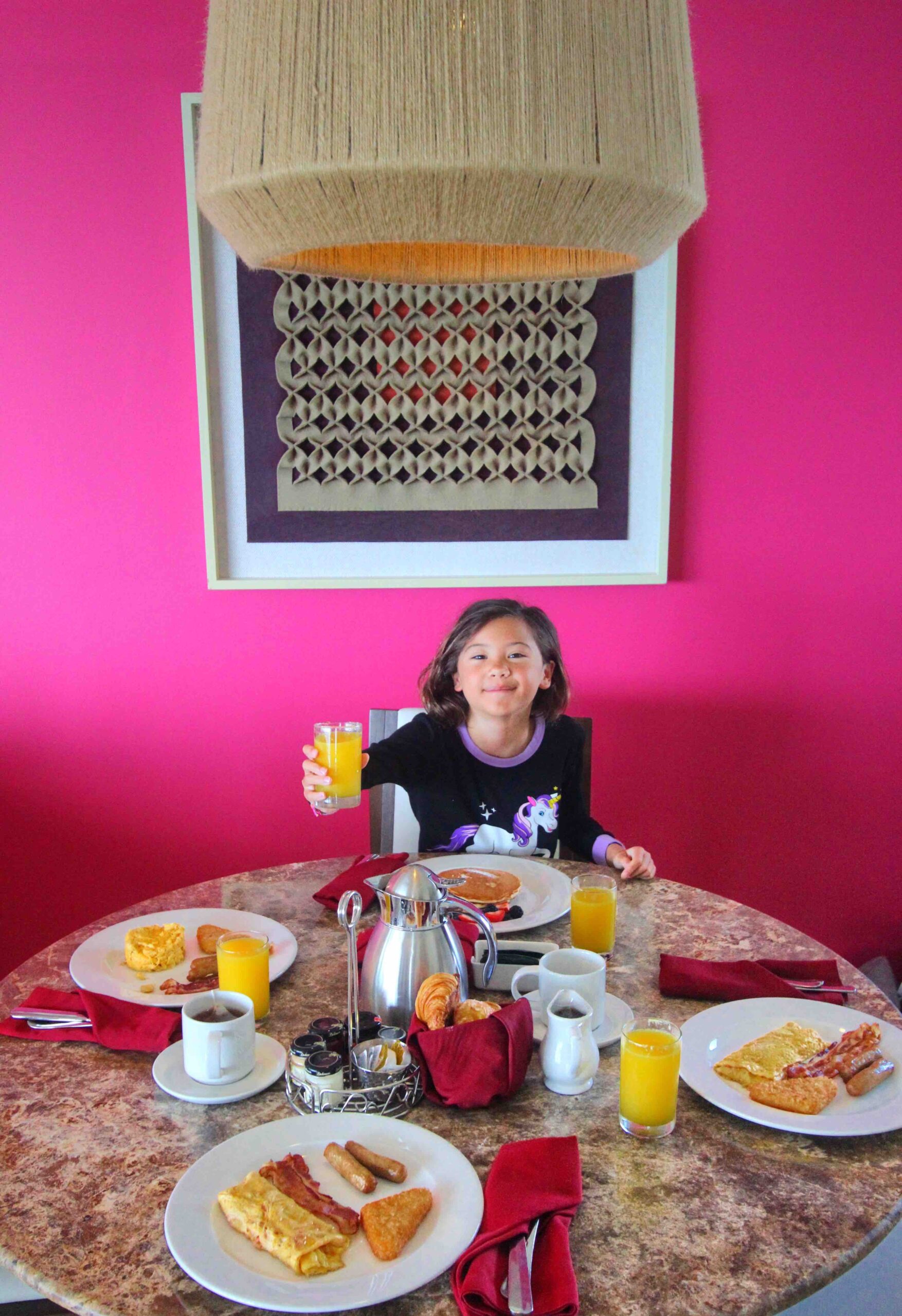 In Room Breakfast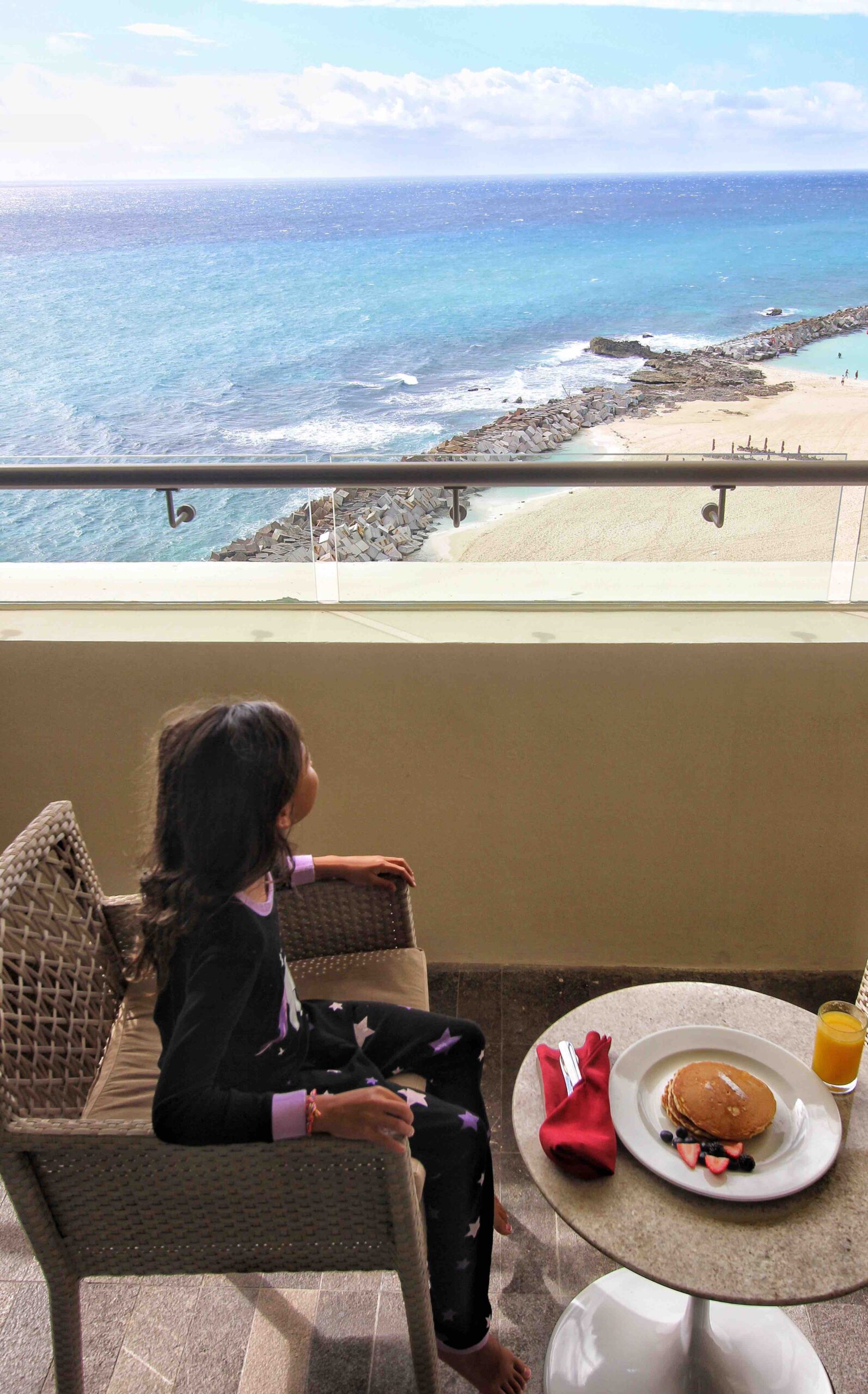 Breakfast on our Terrace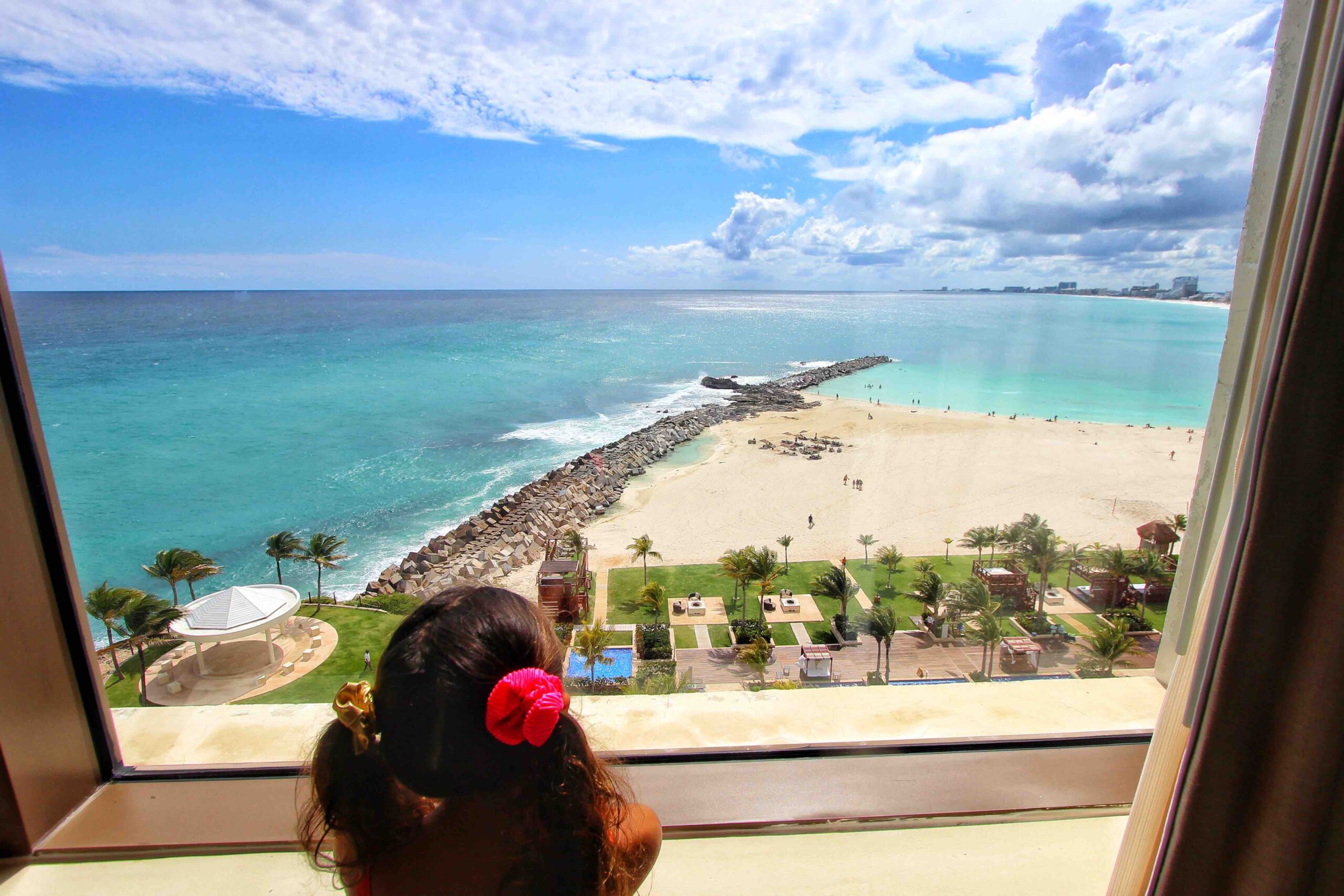 Views from the Bedroom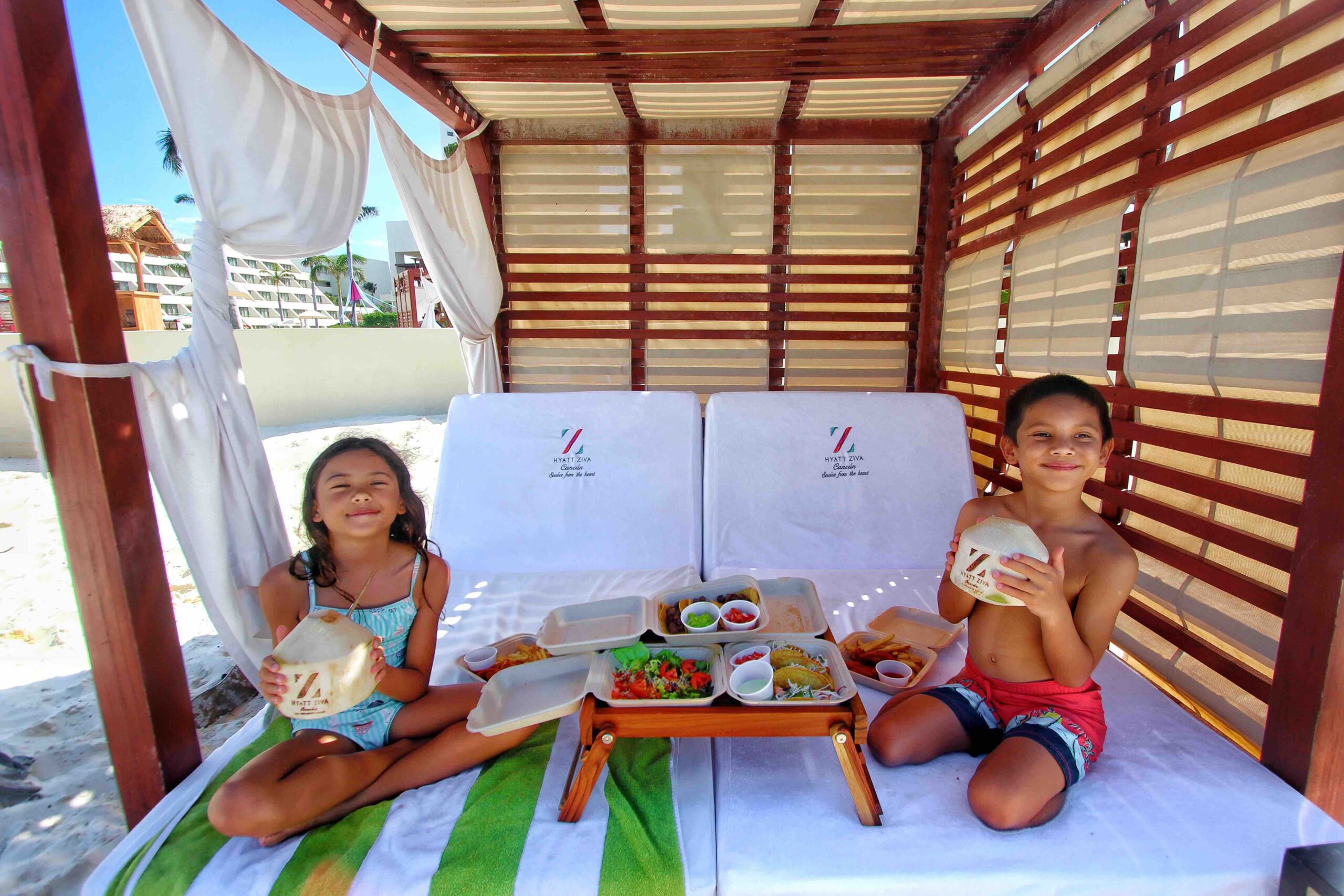 Beach Cabana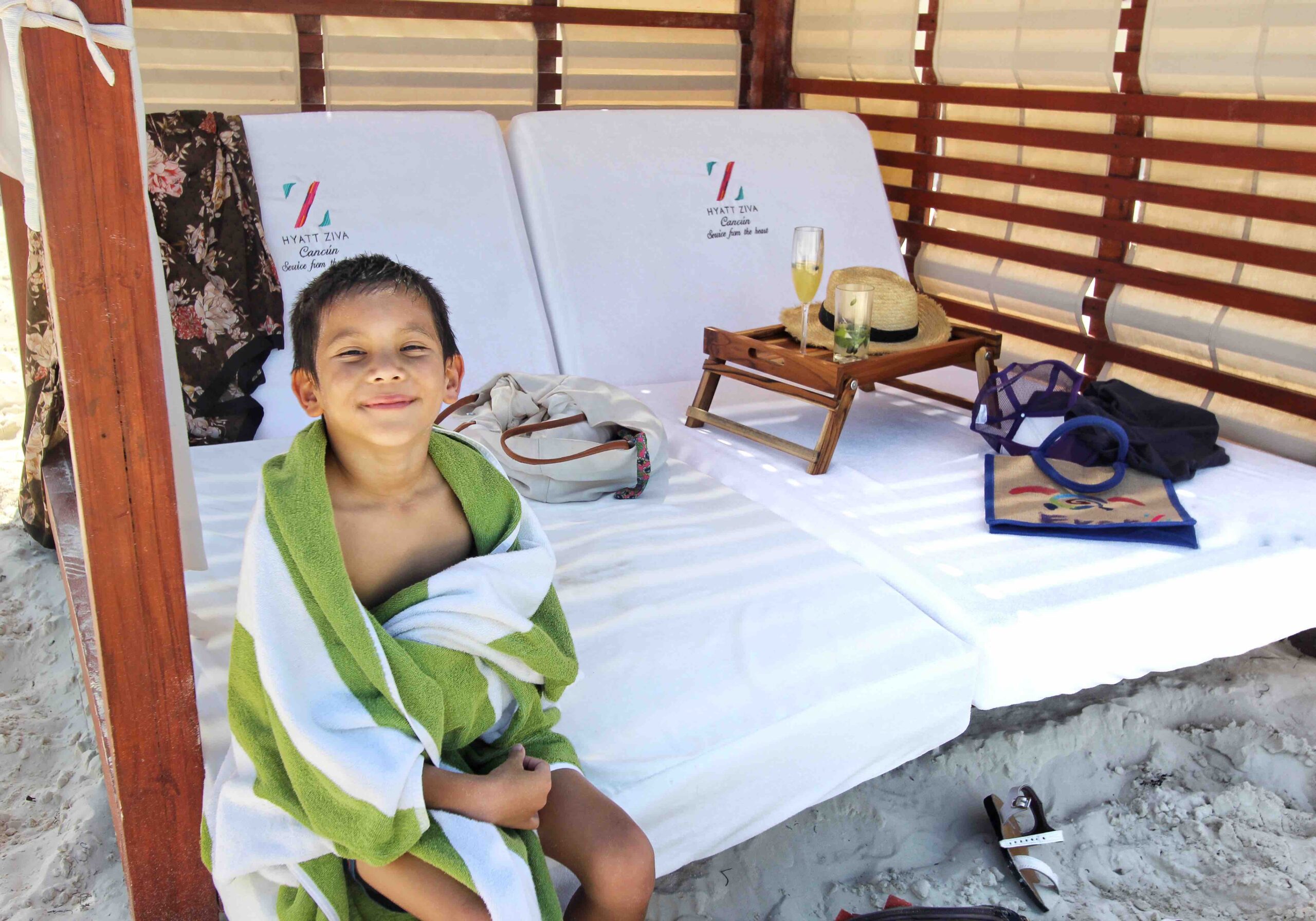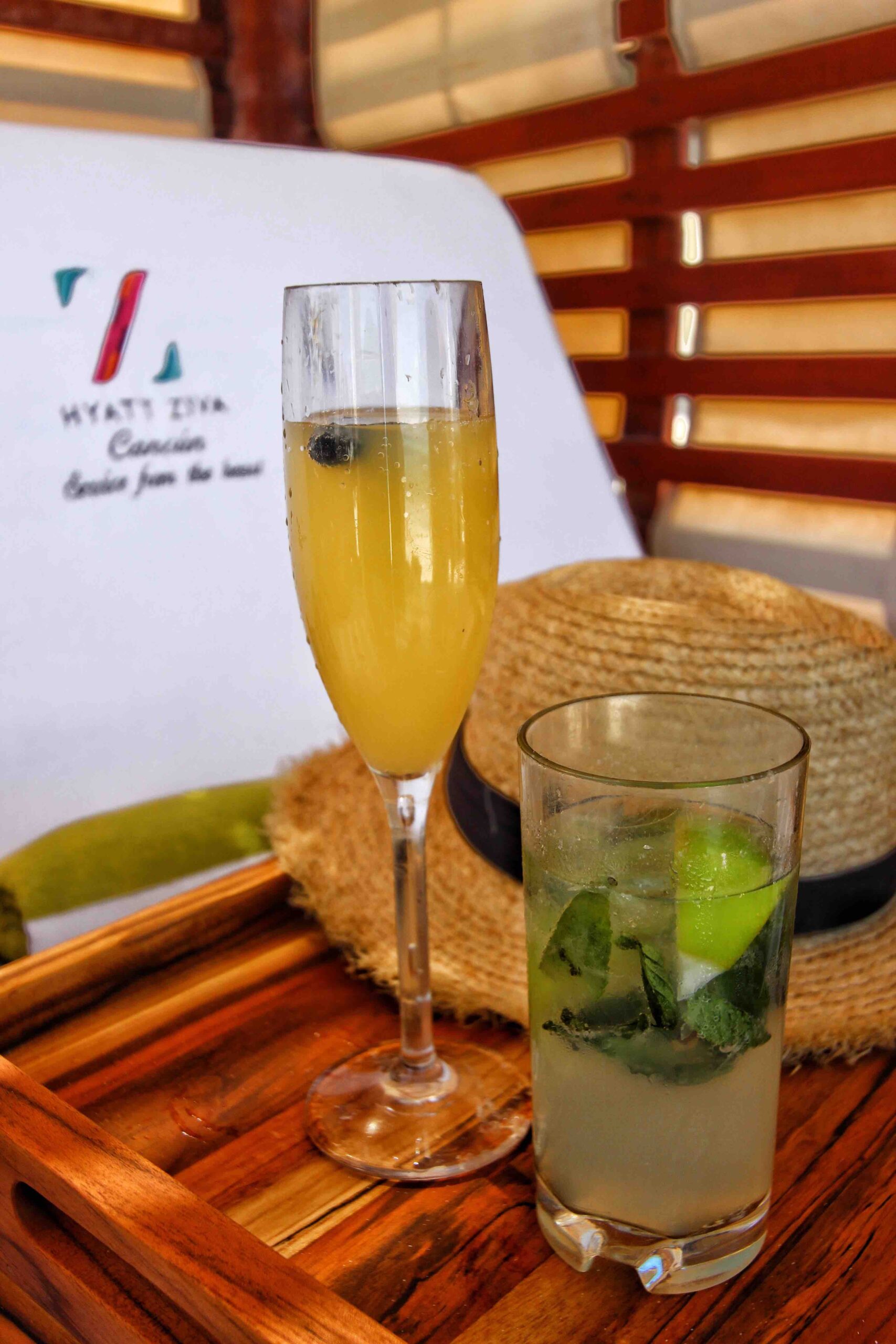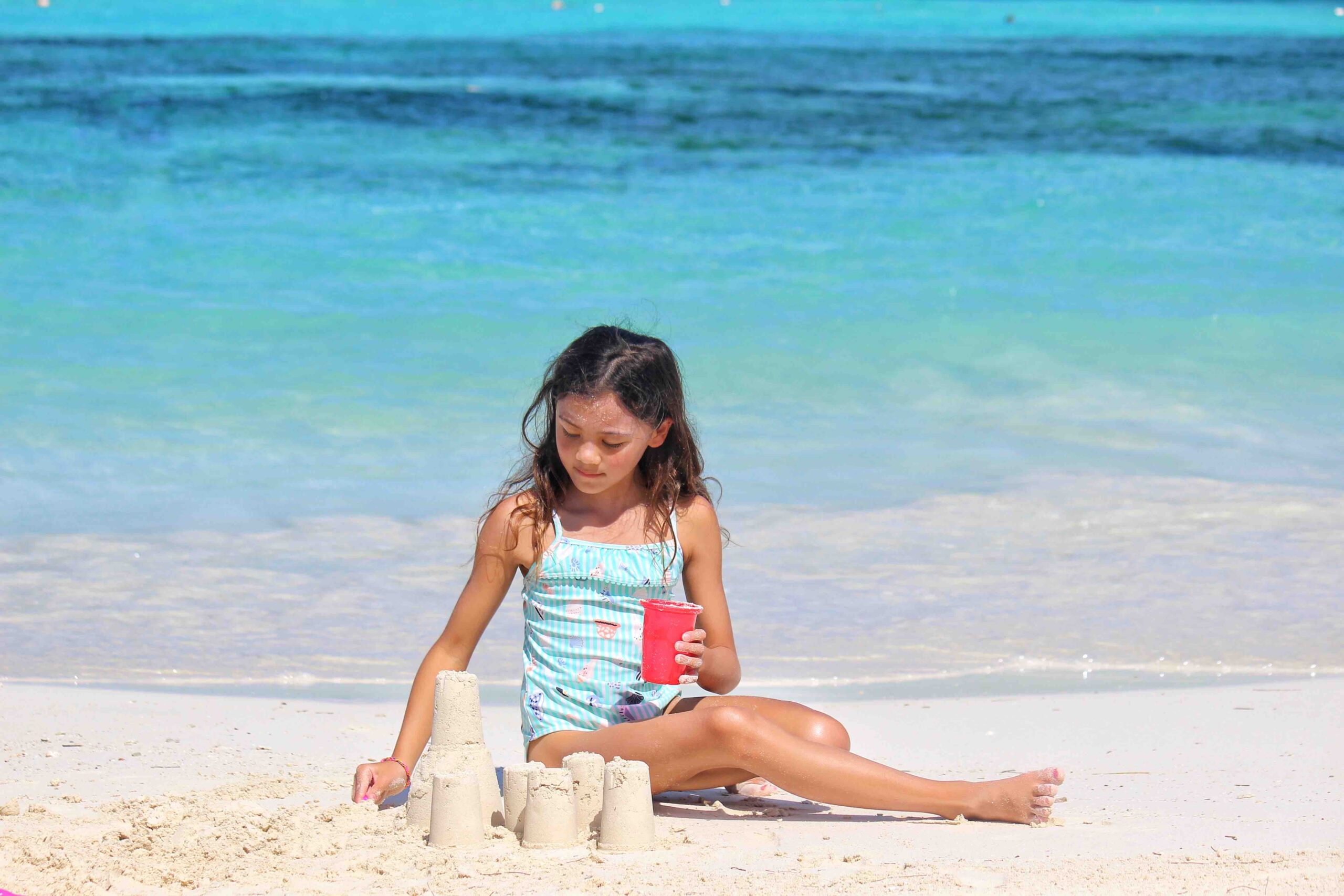 The Beach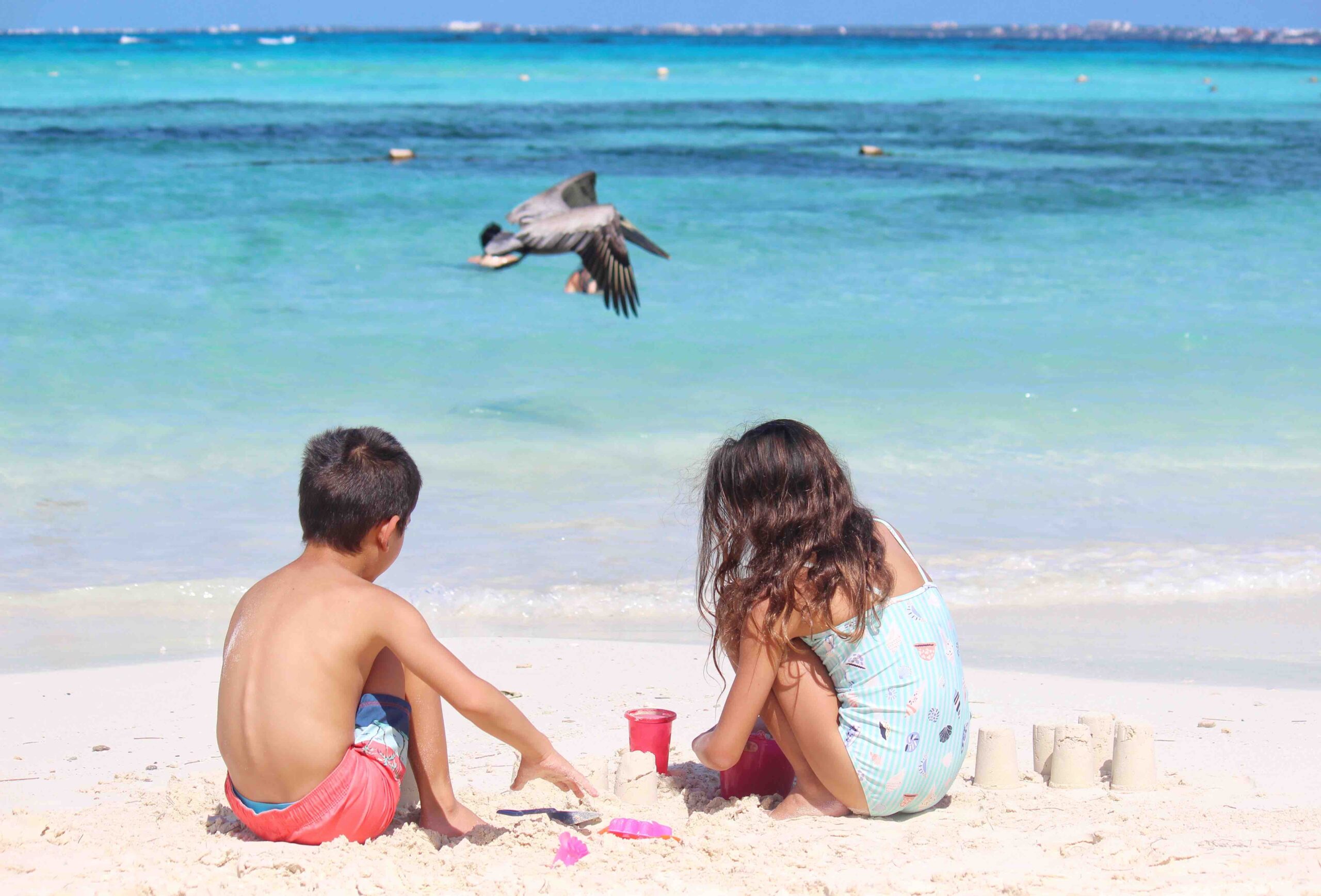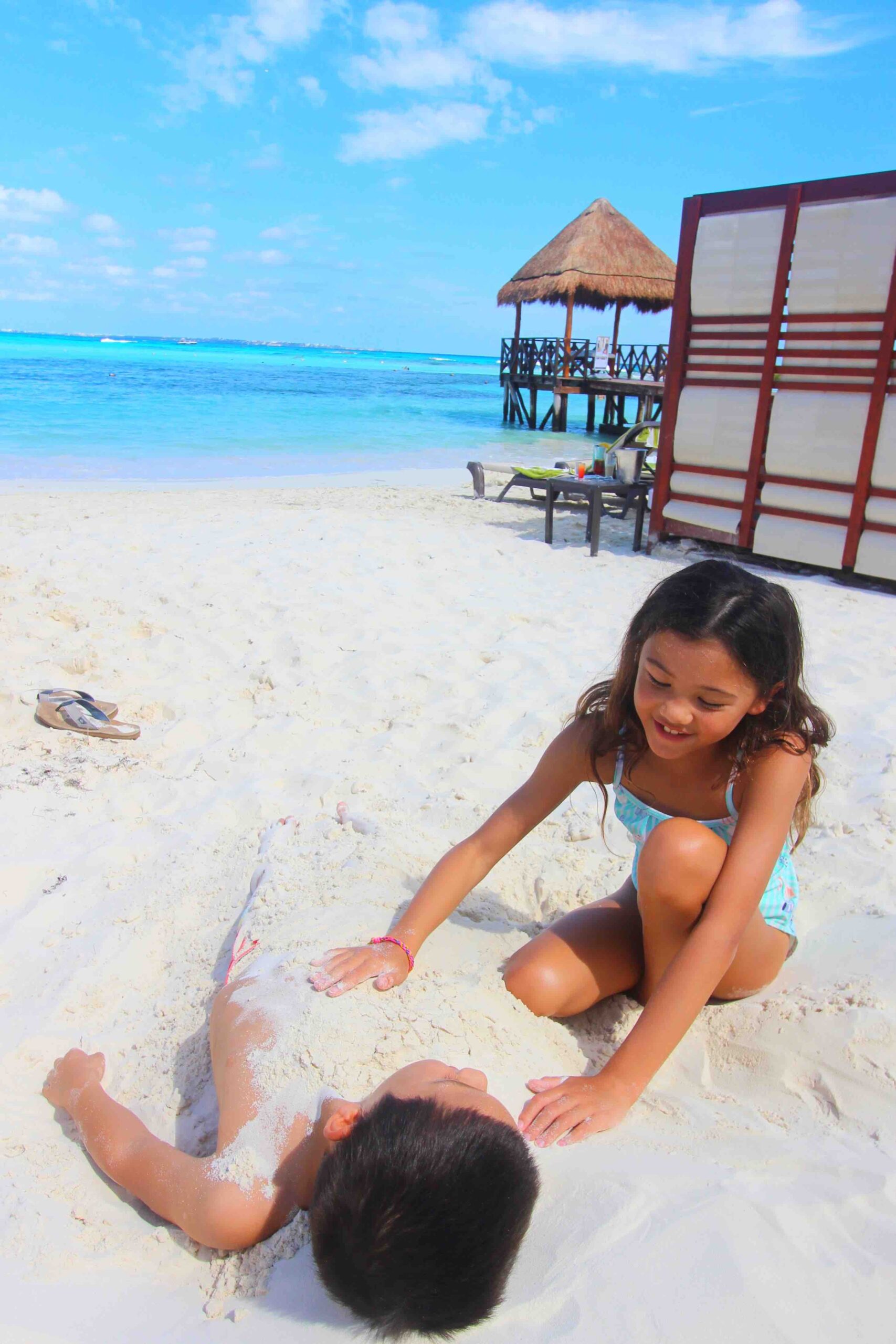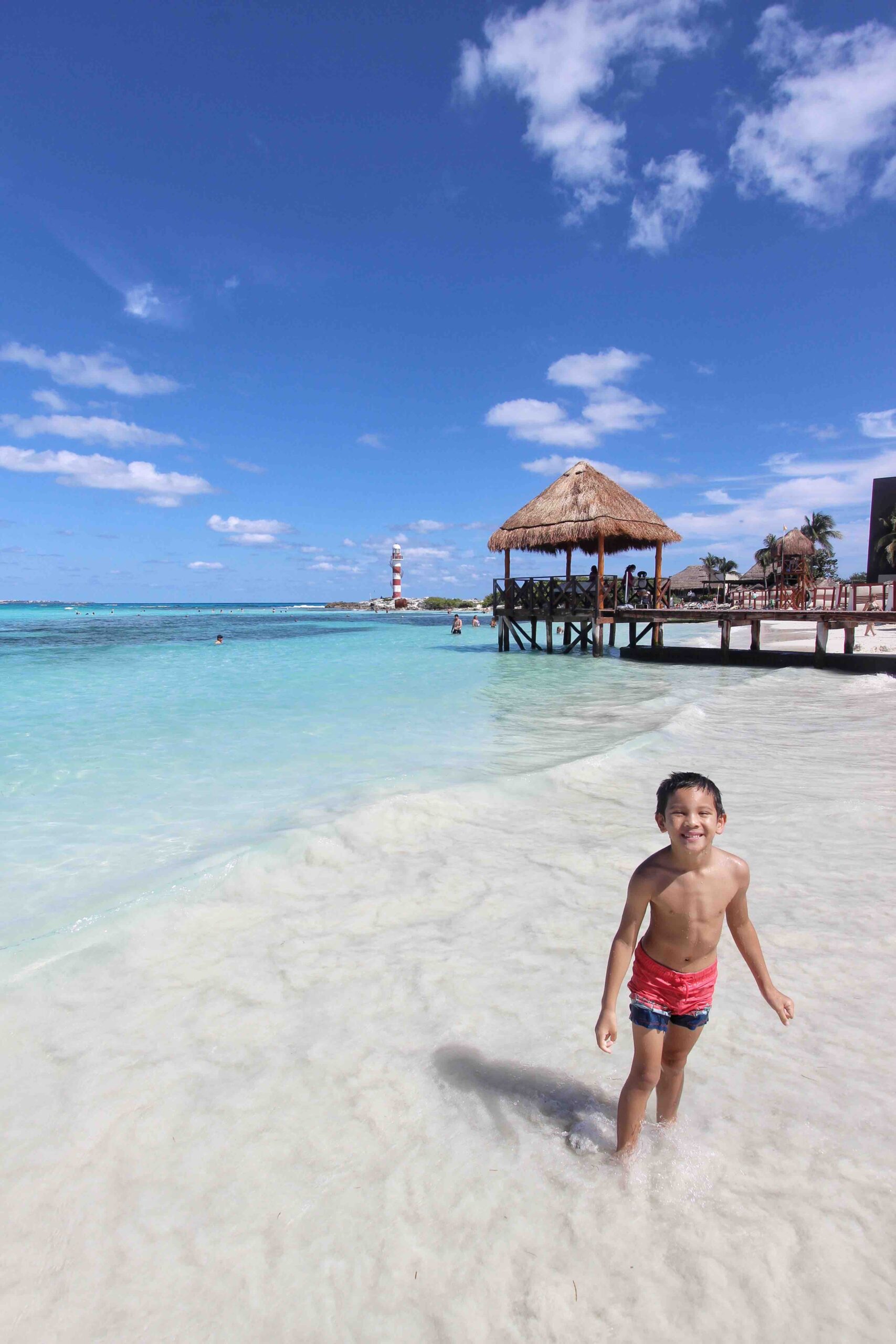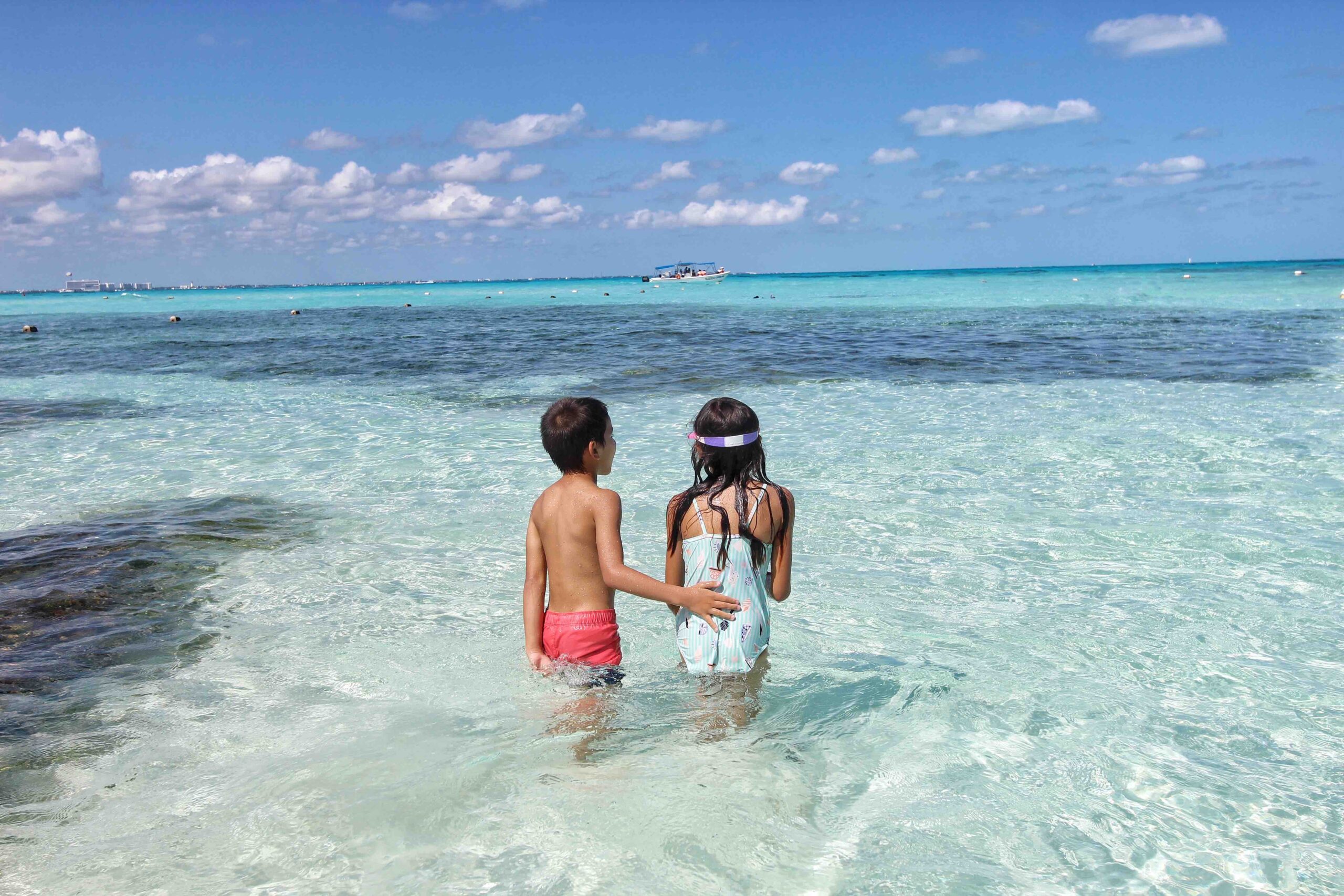 with Crystal Clear Waters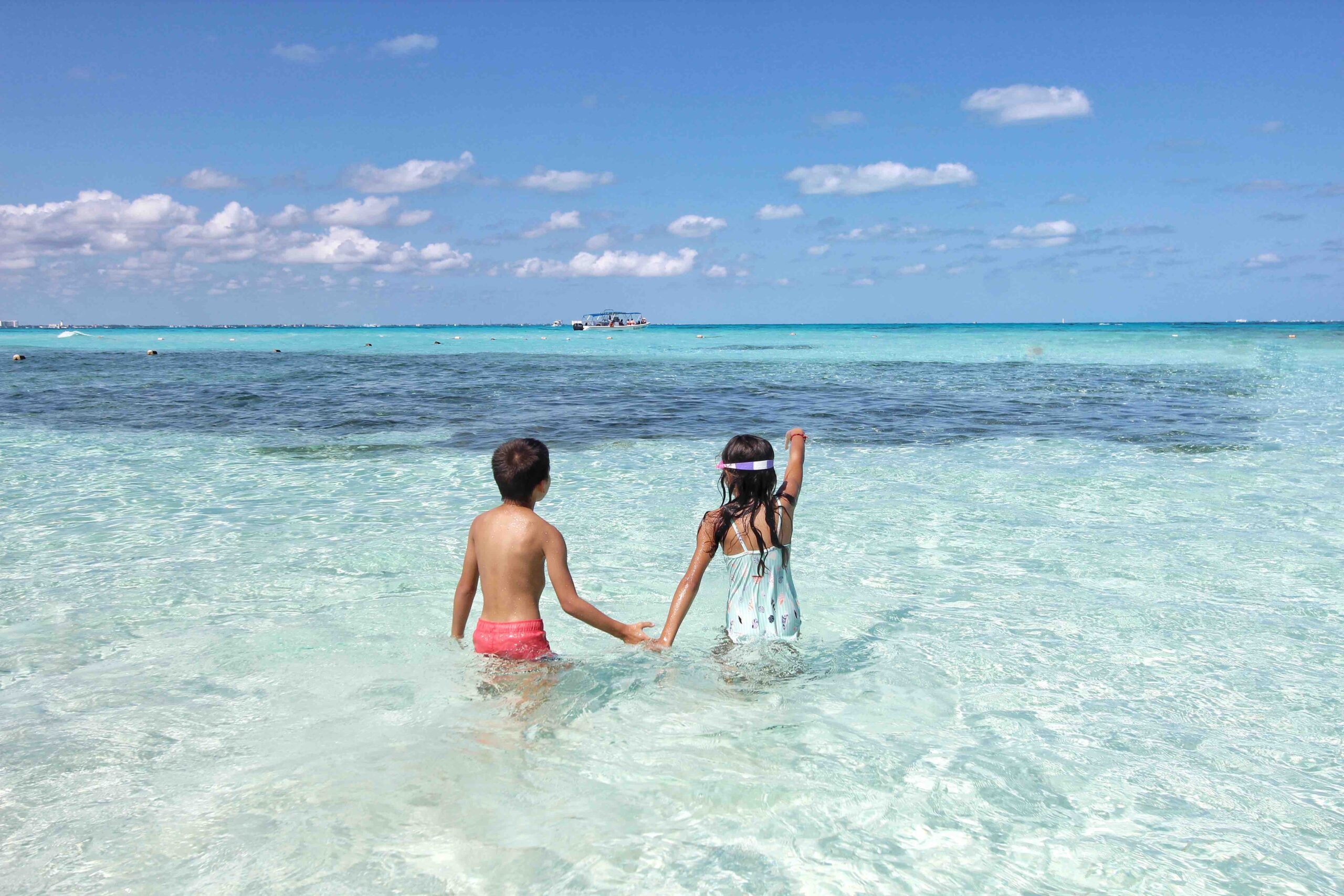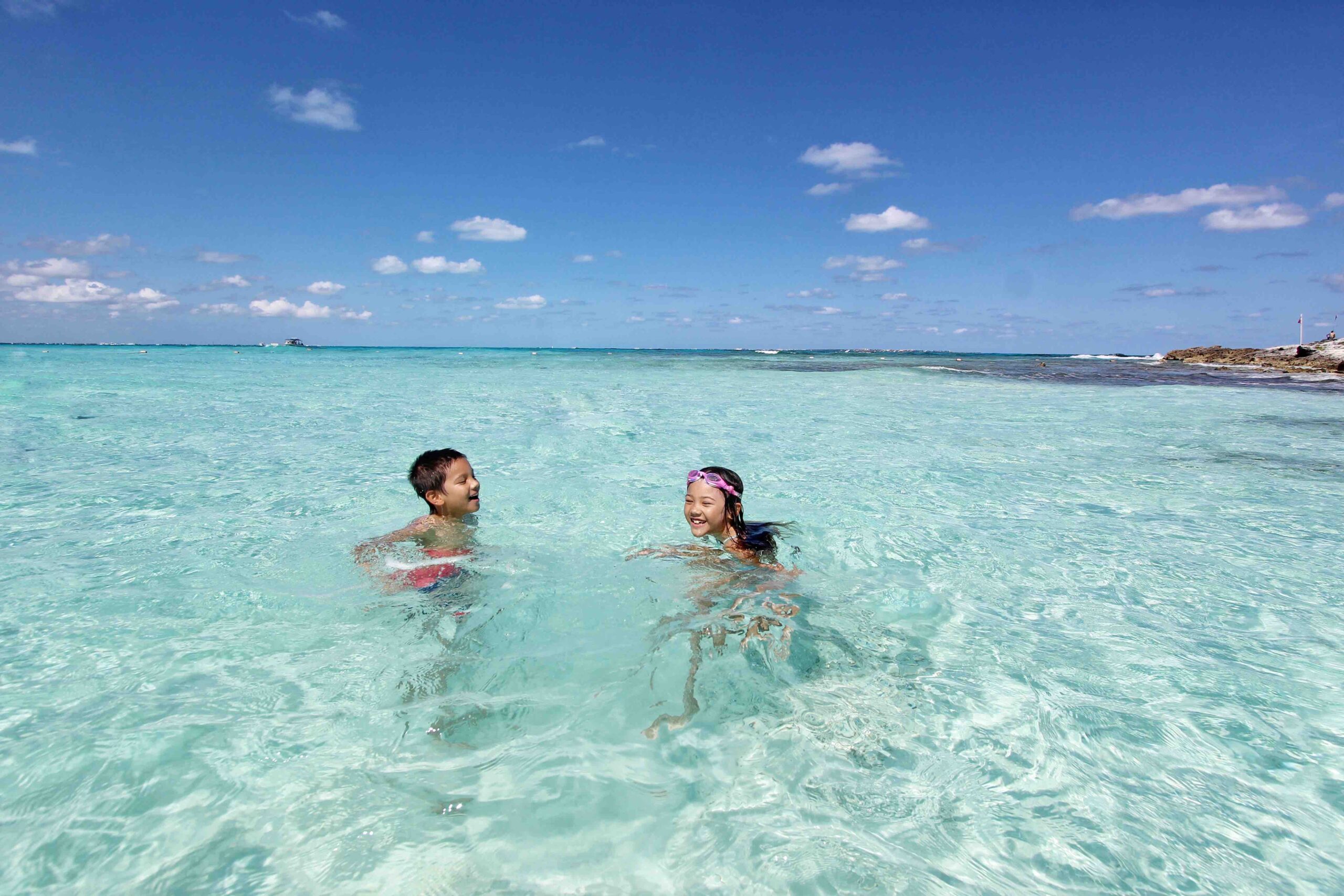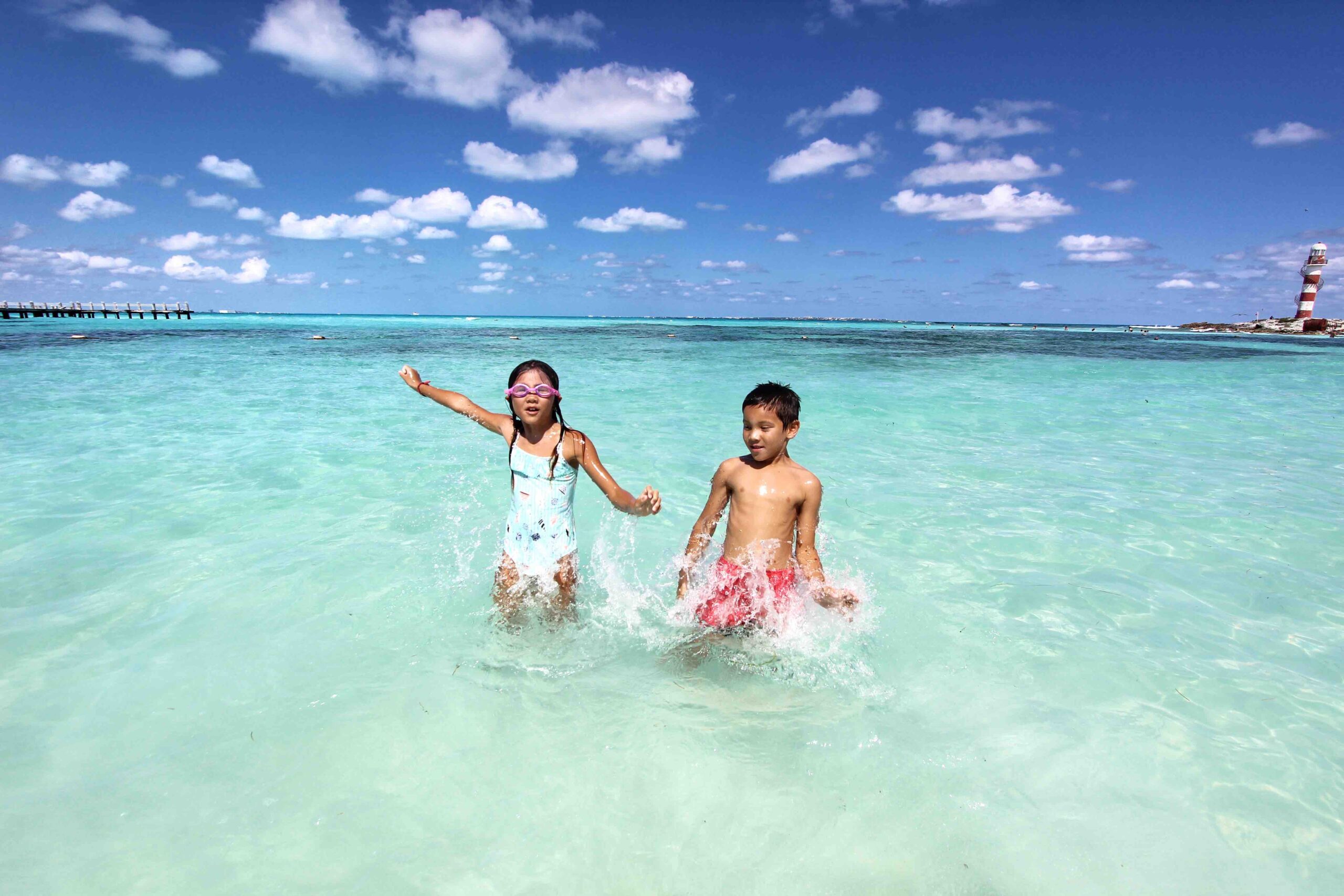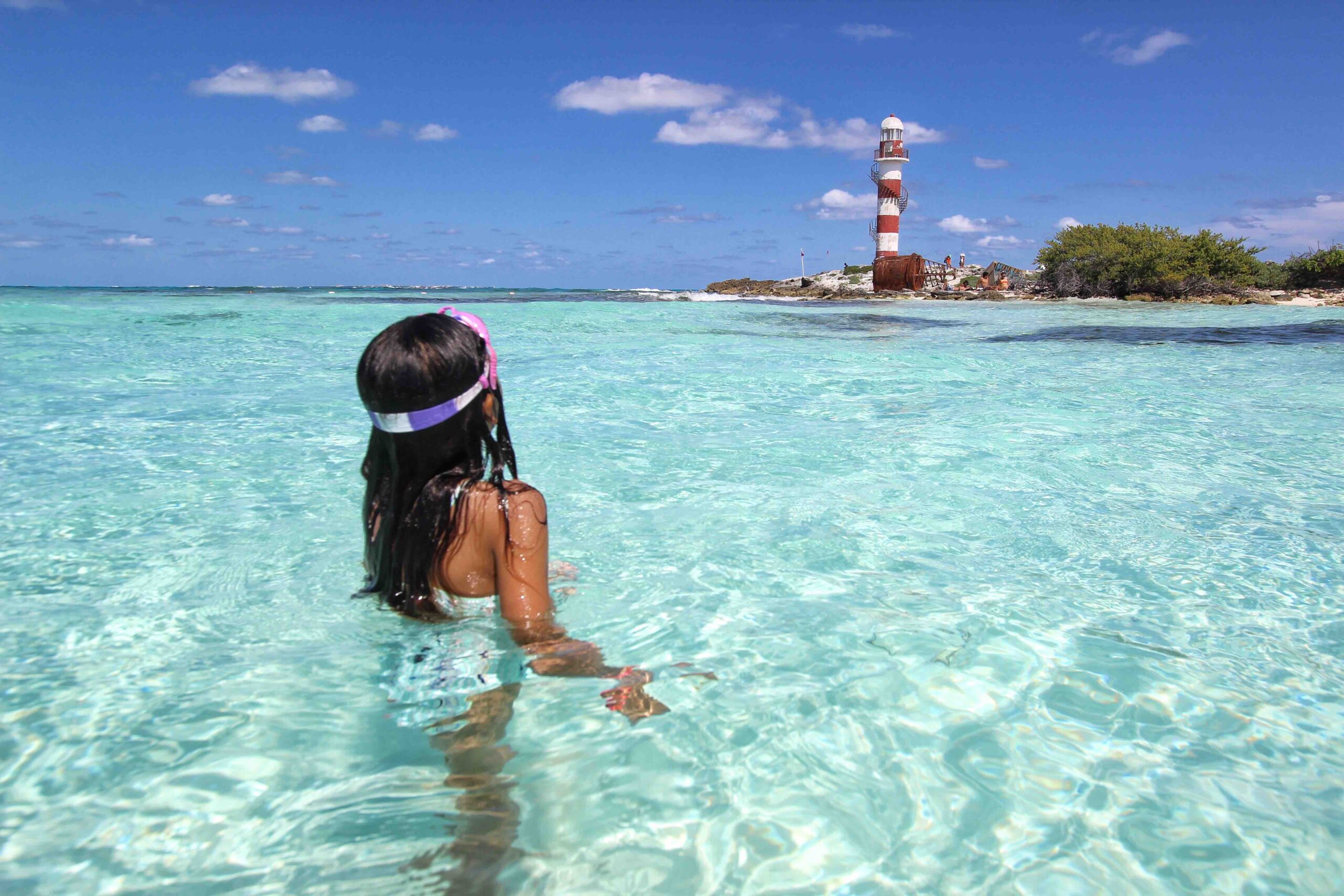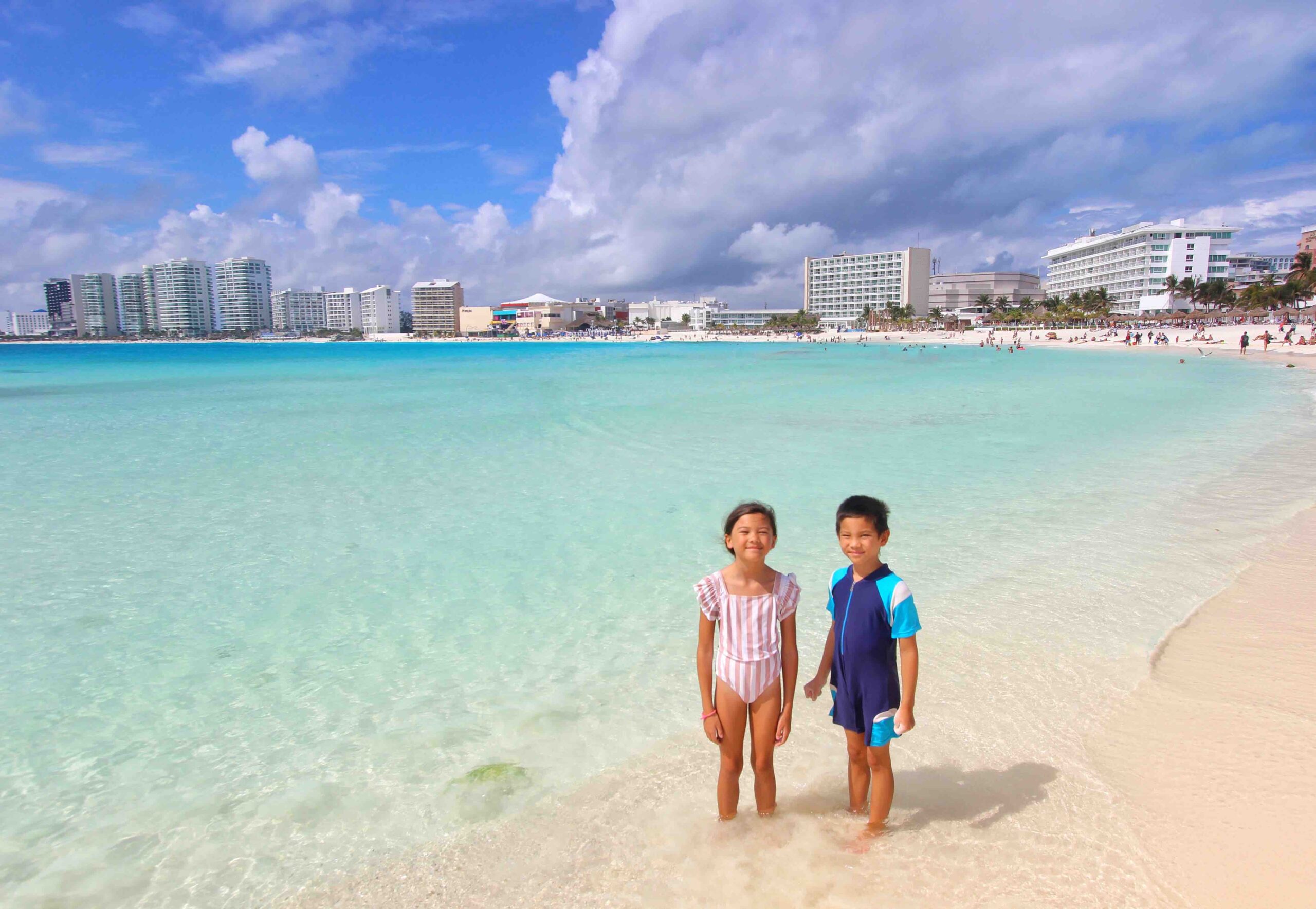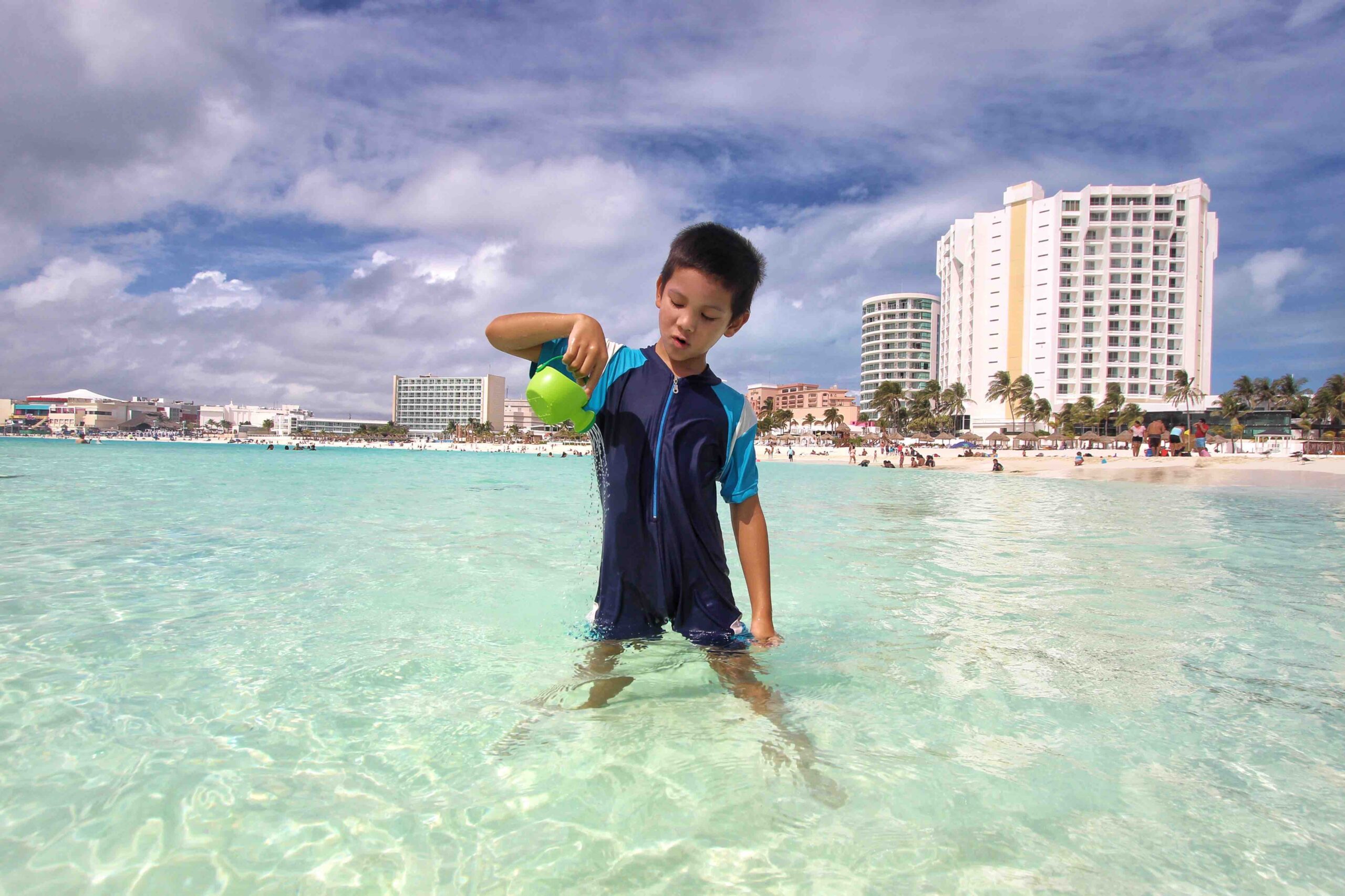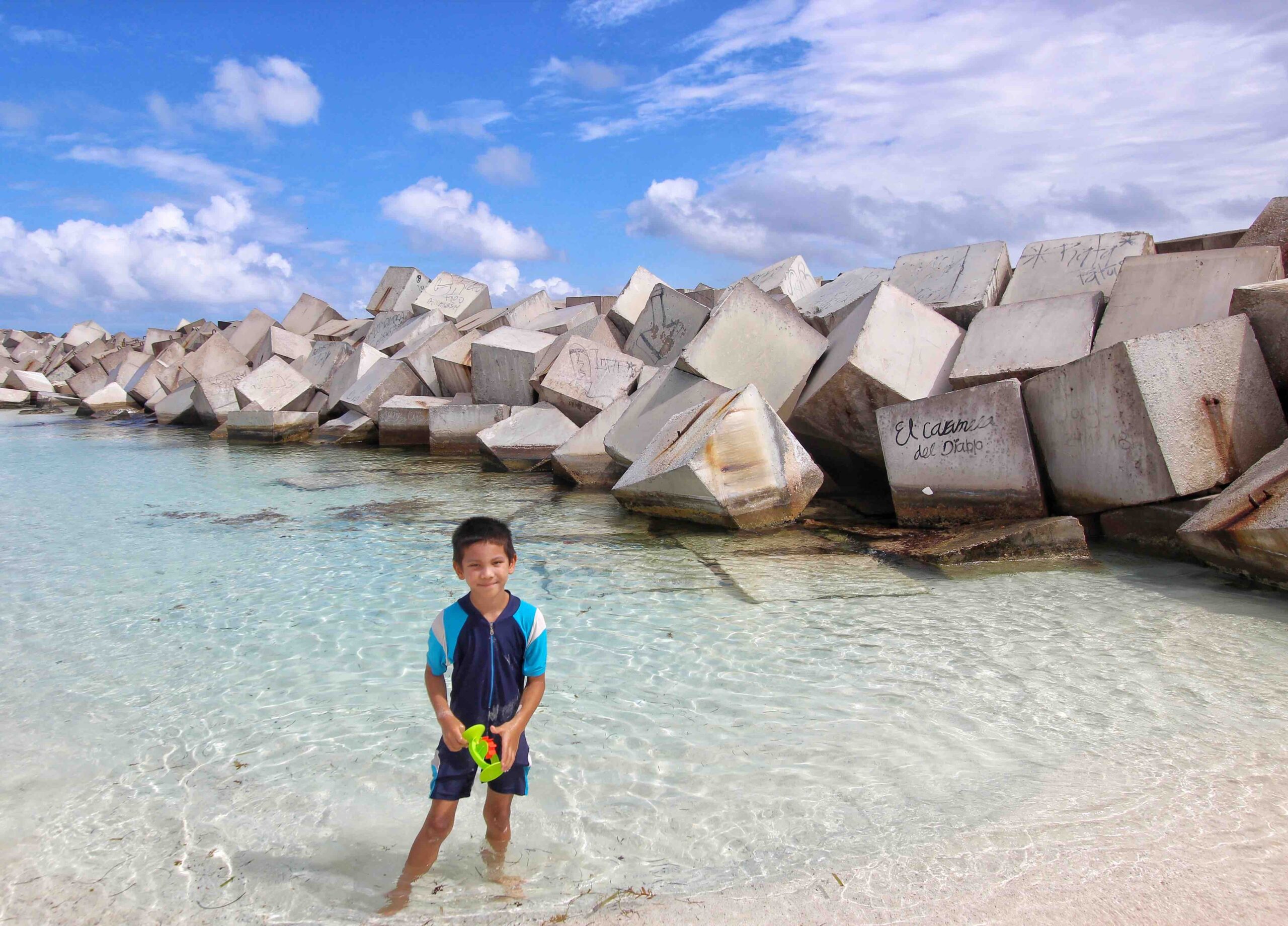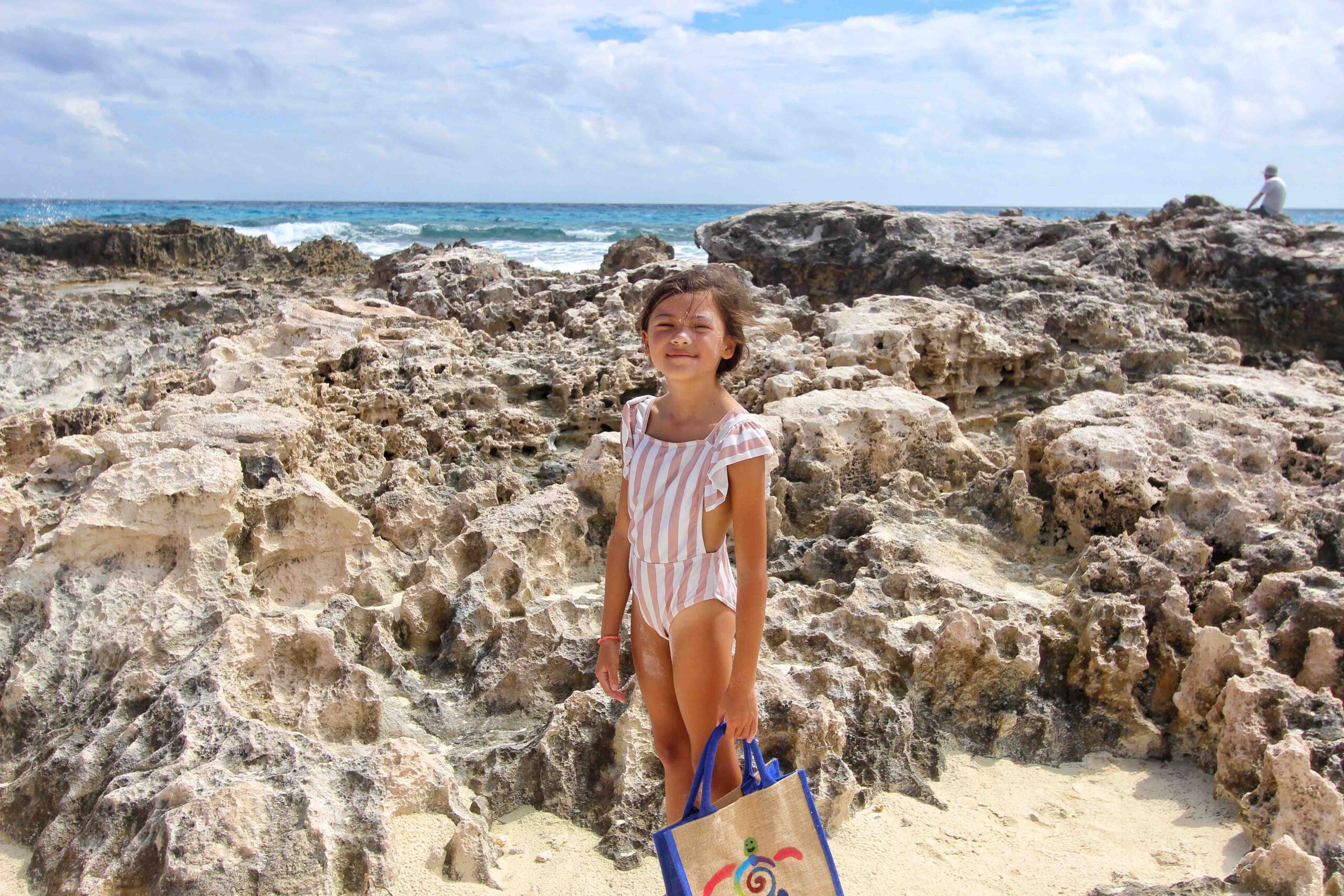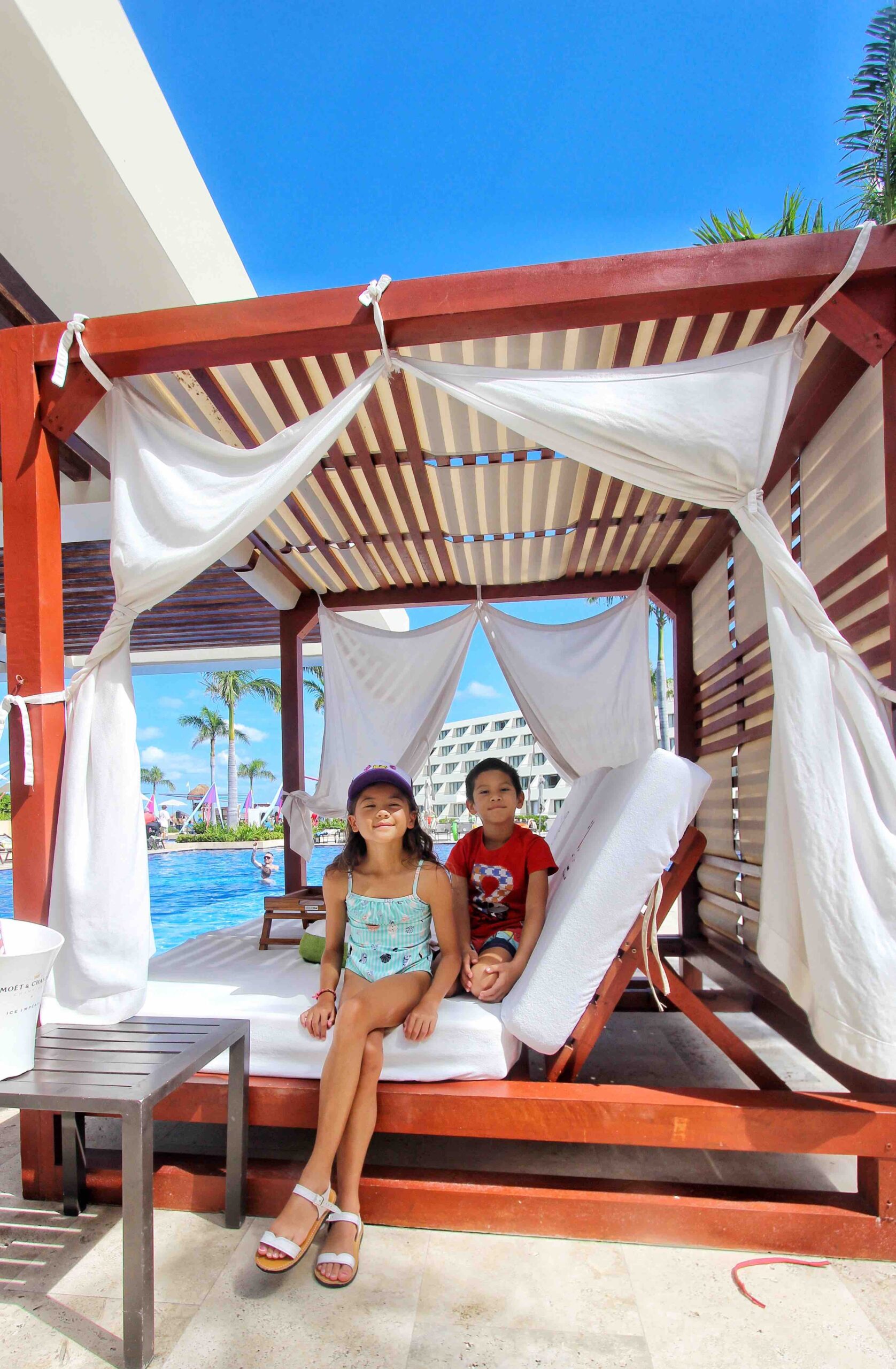 Pool Cabana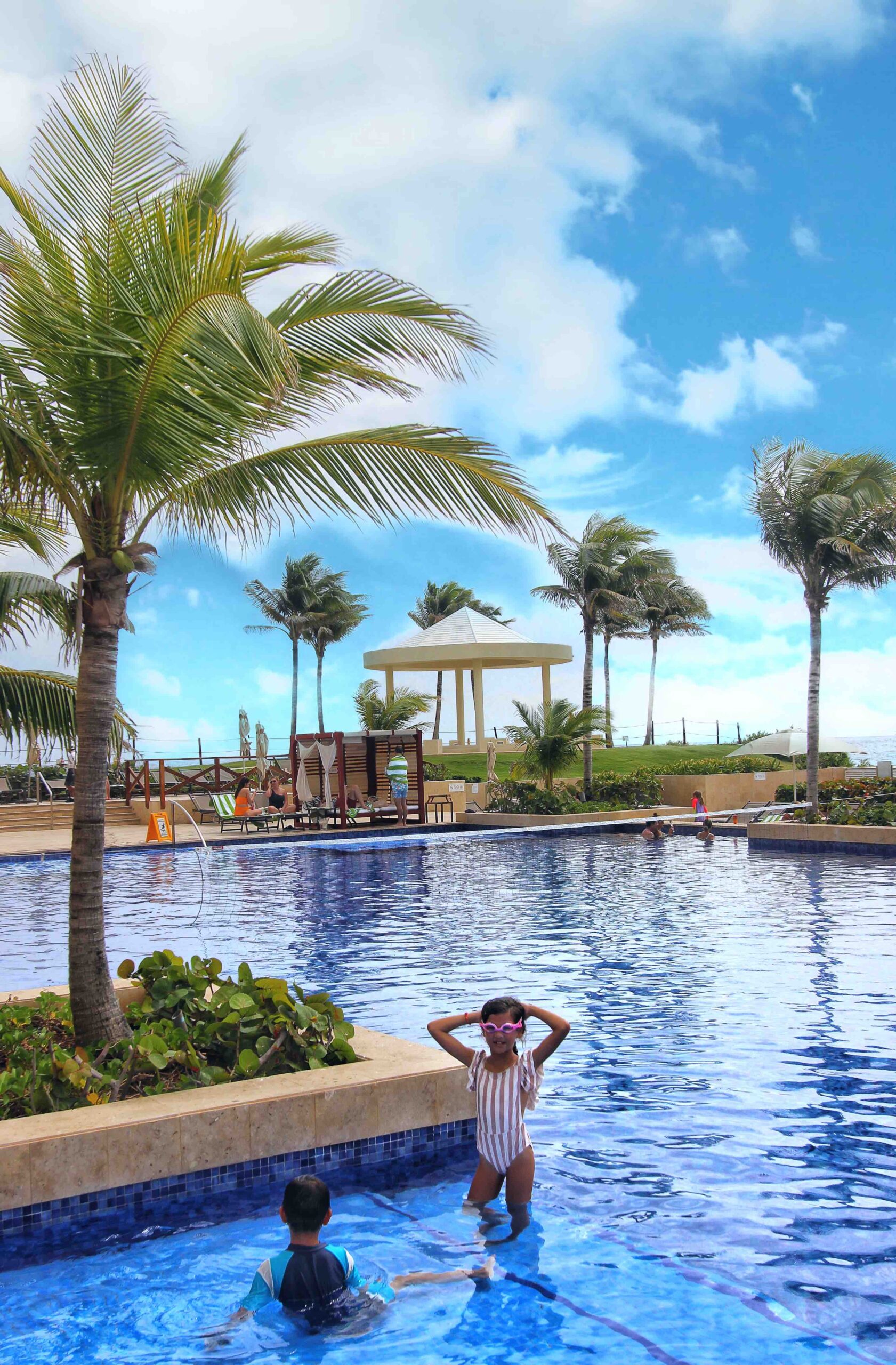 Club Pool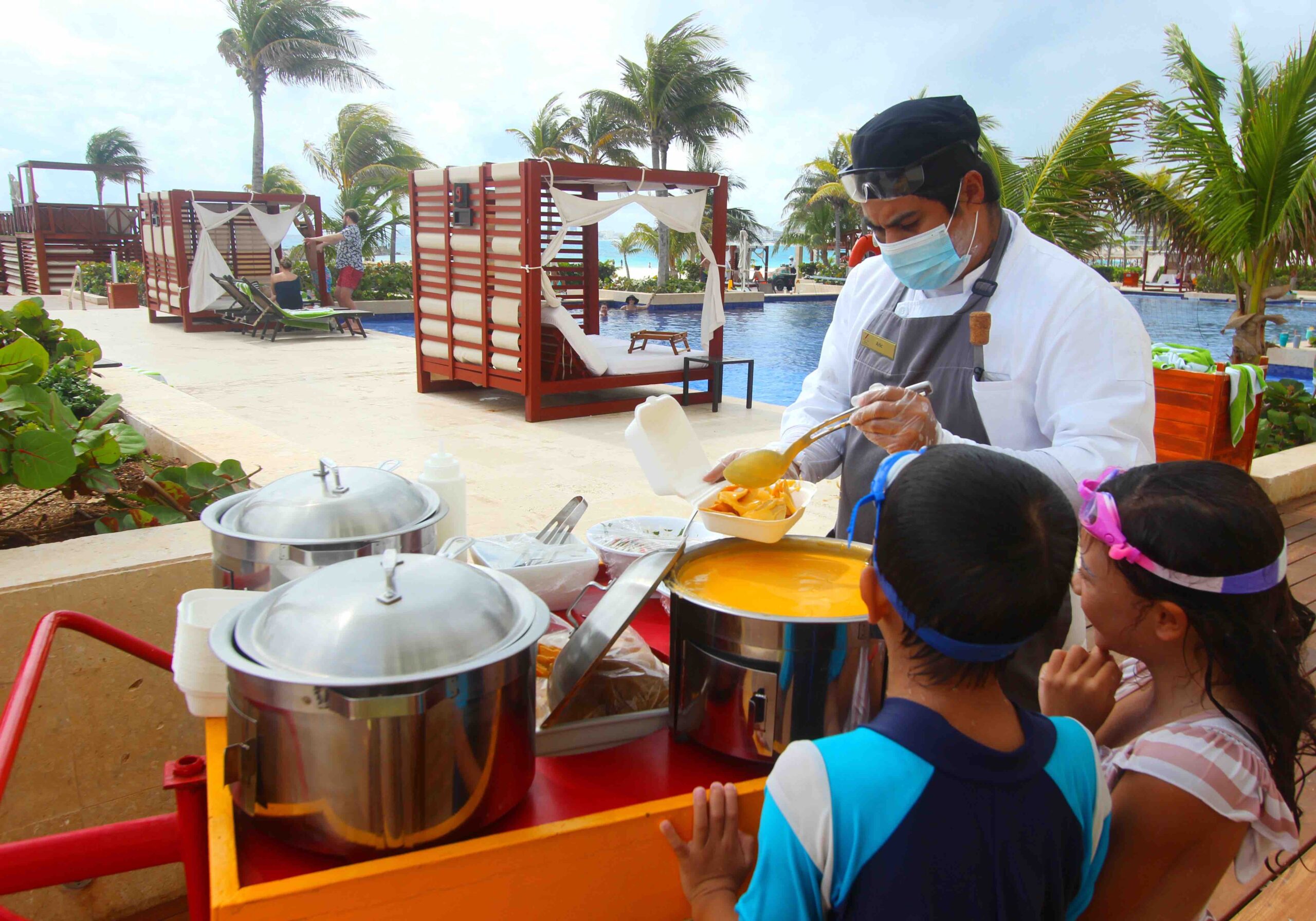 Cheese Nachos Poolside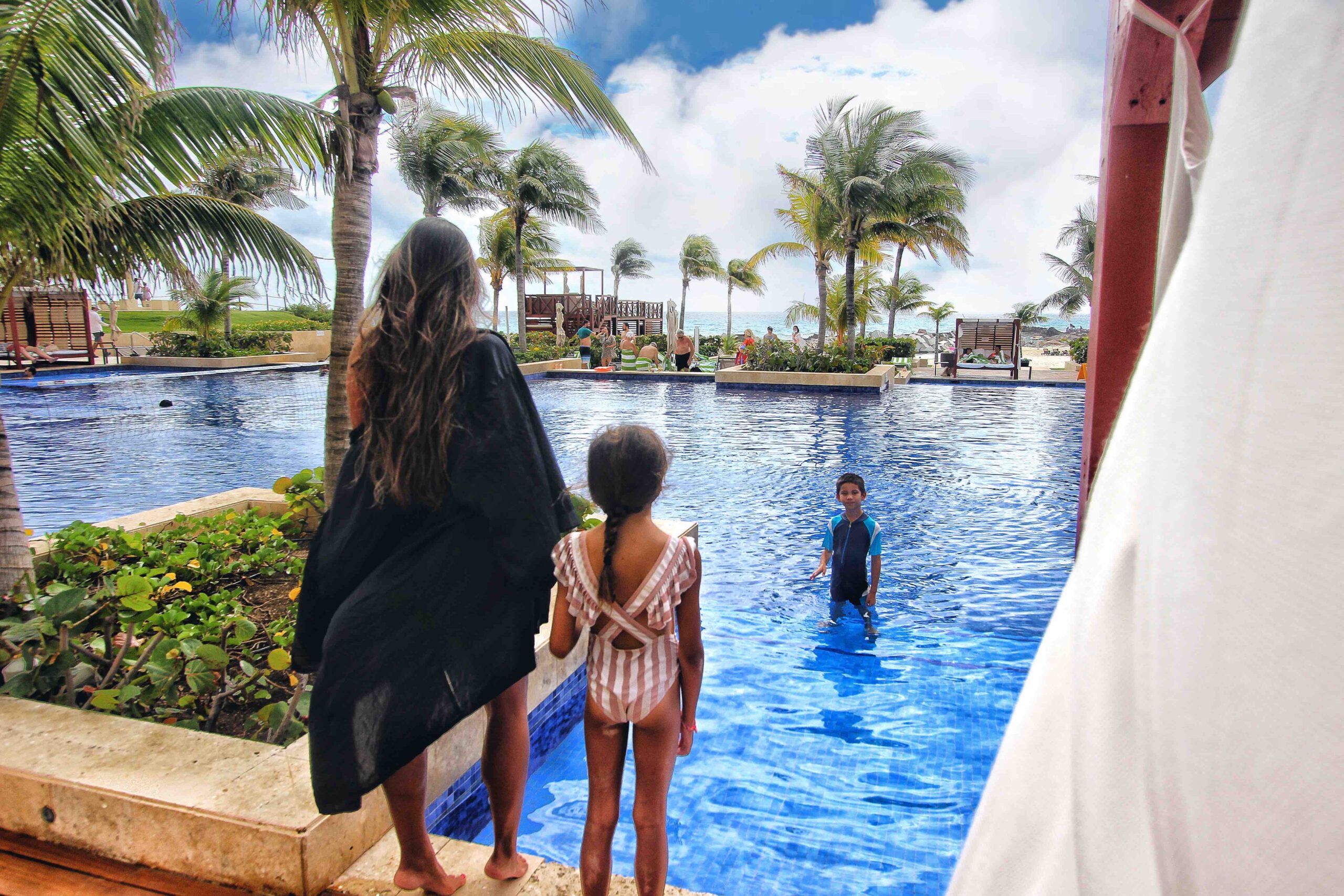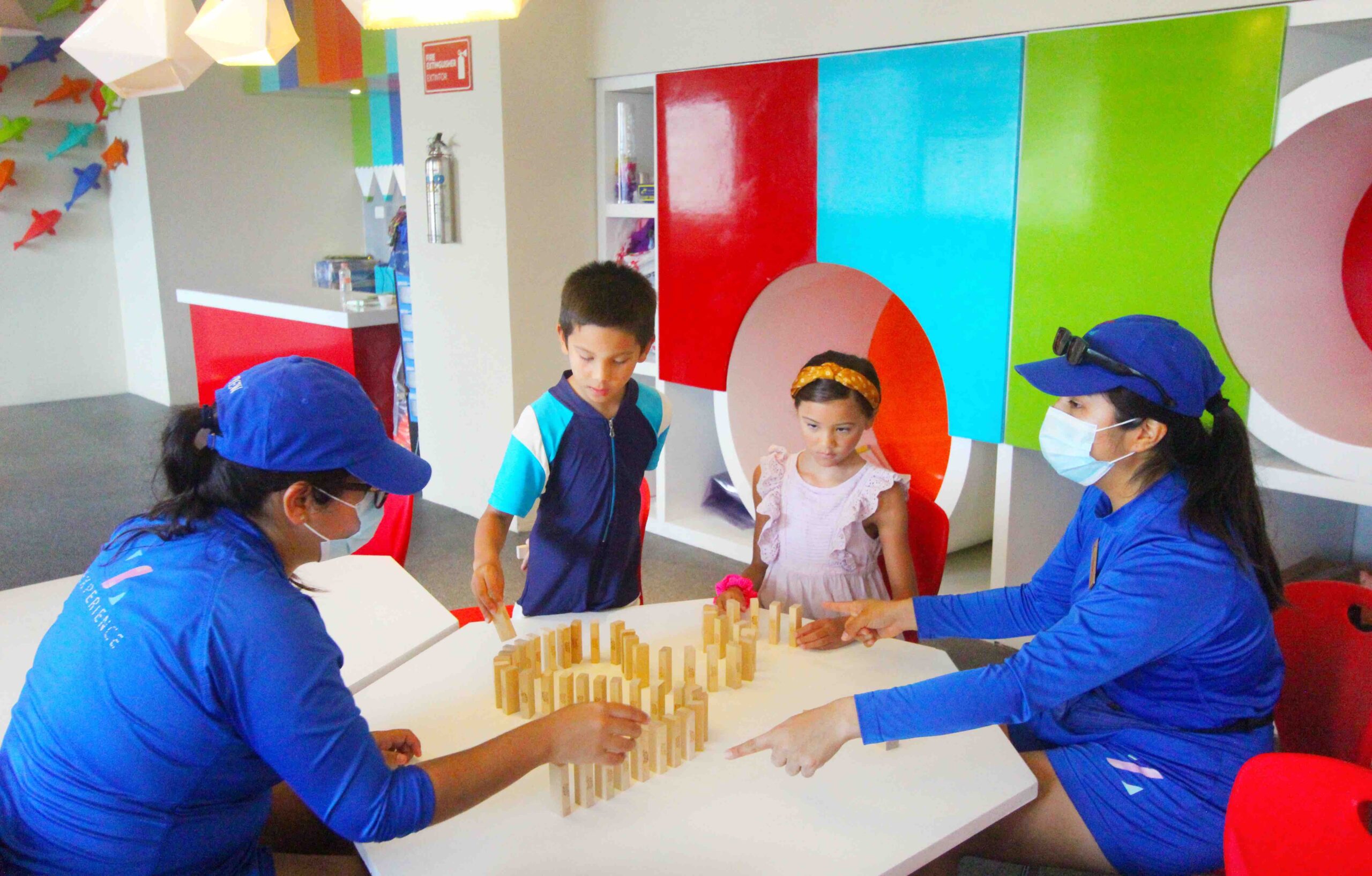 Kids Club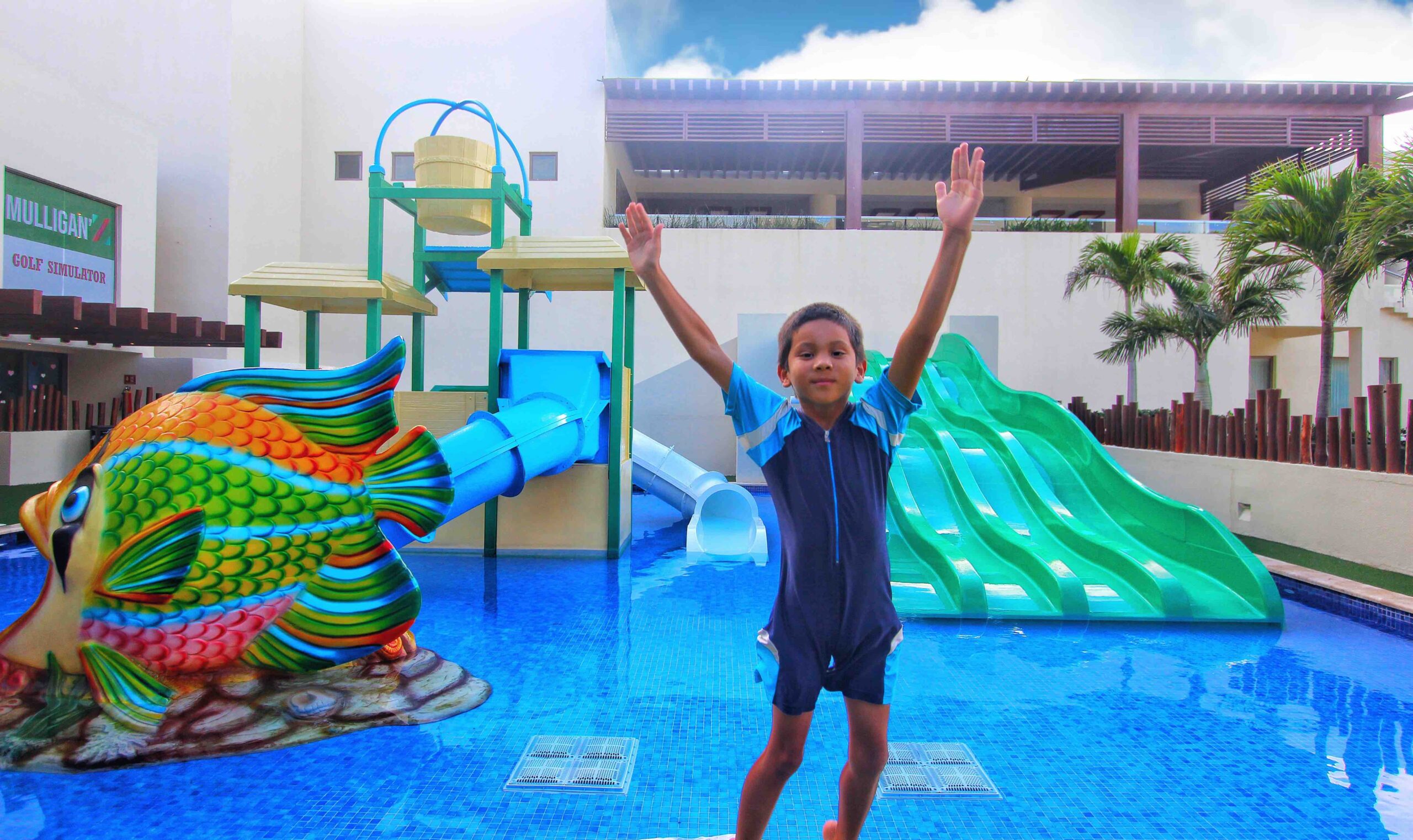 Pool at the Kids Club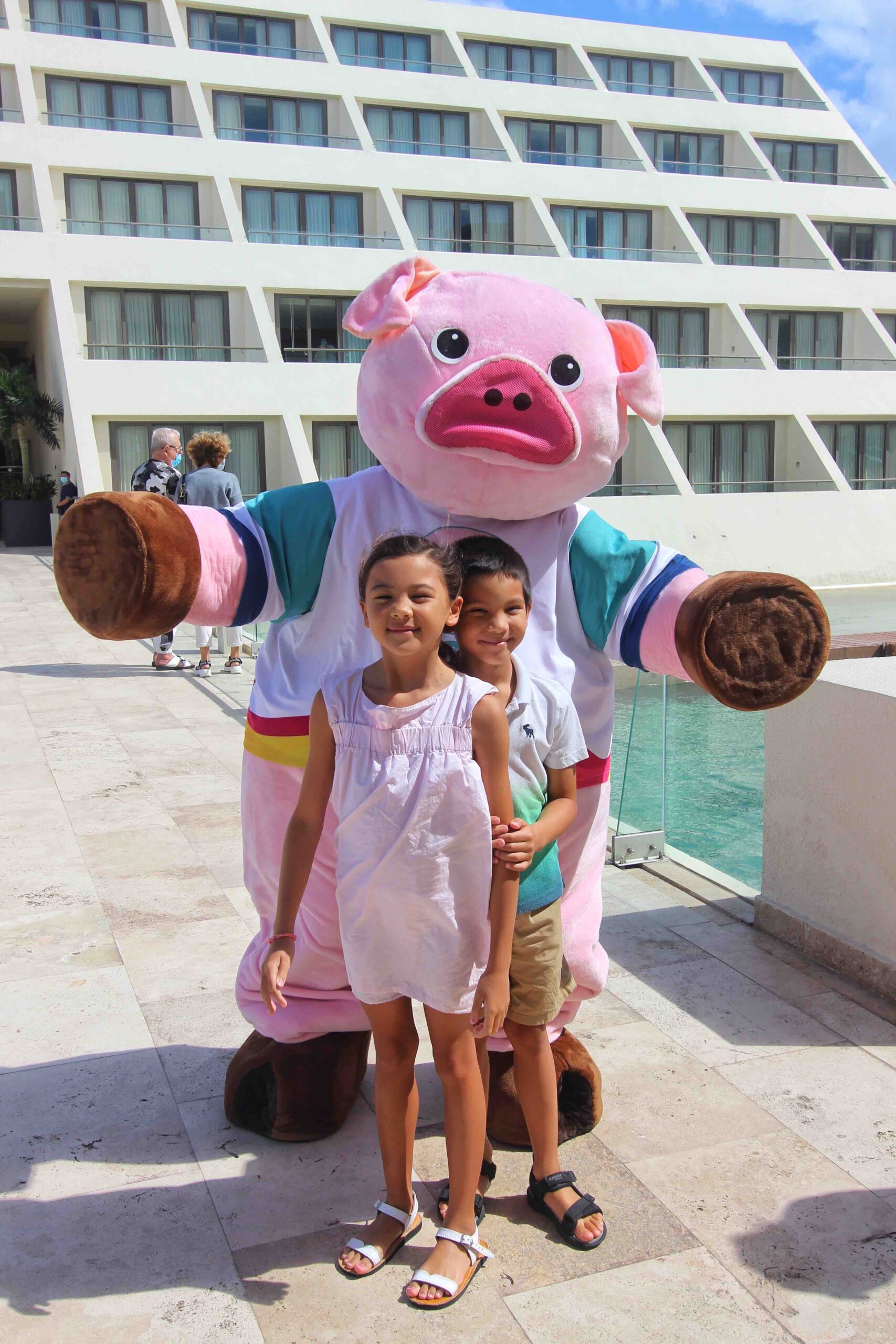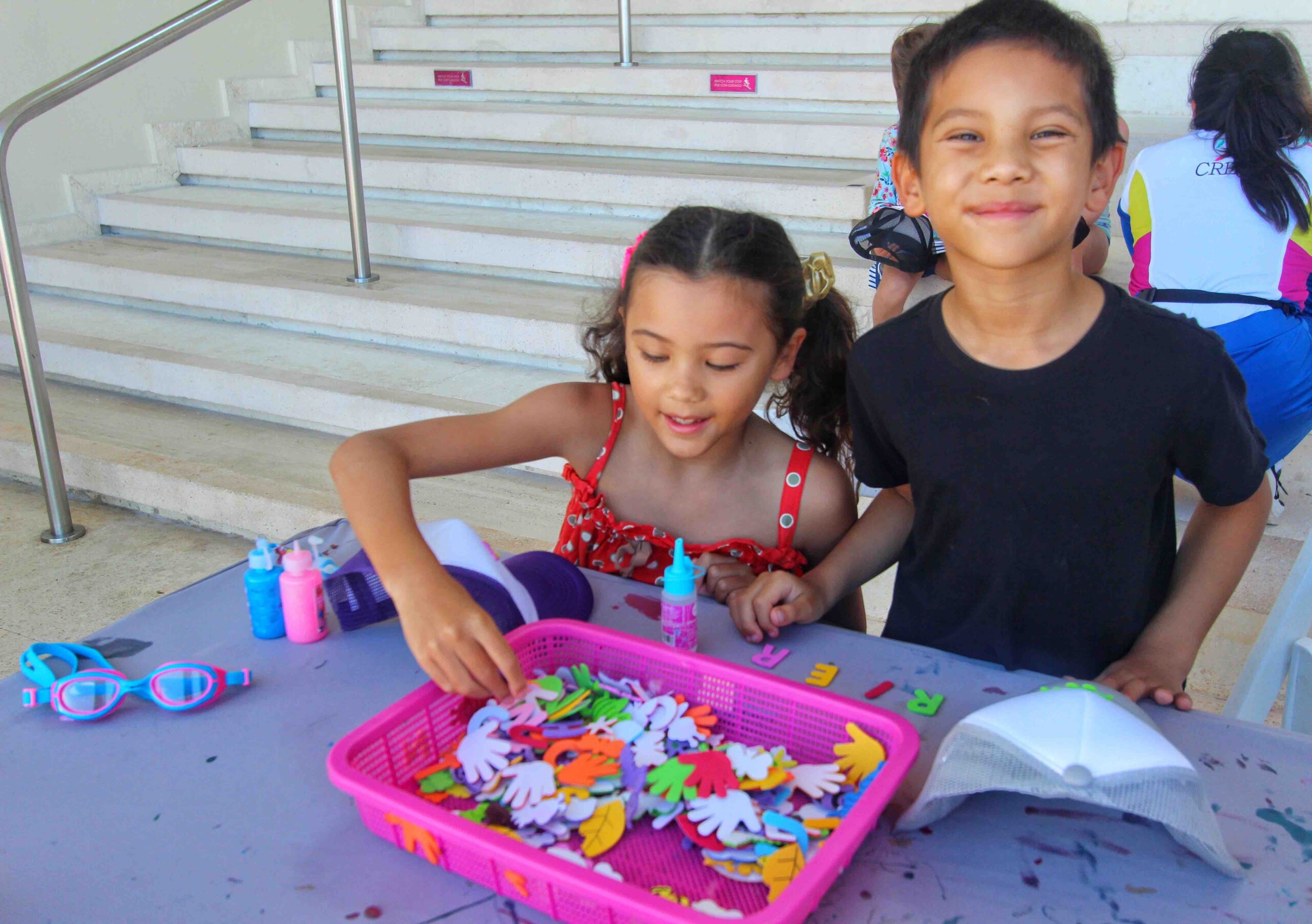 Cap Making Activity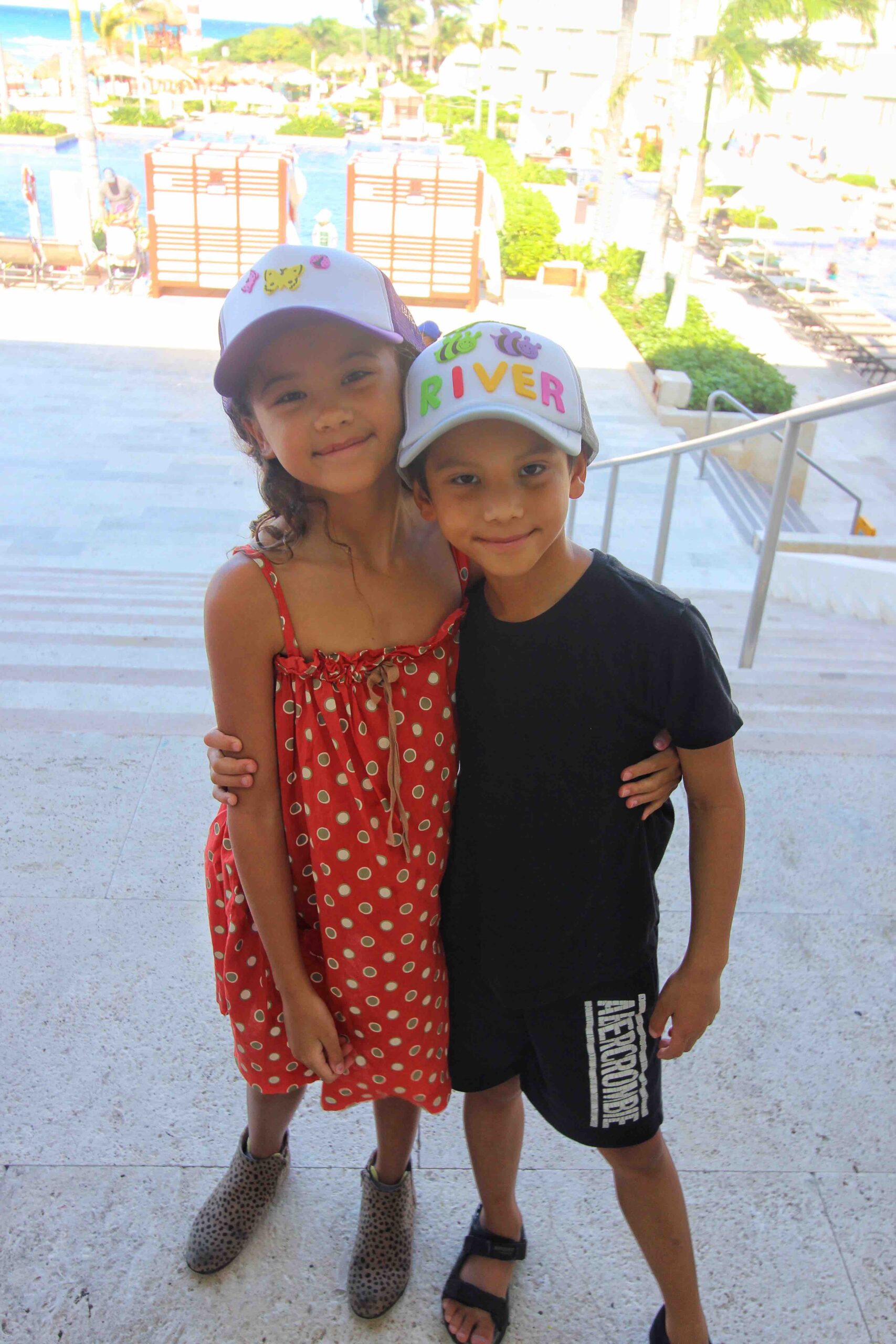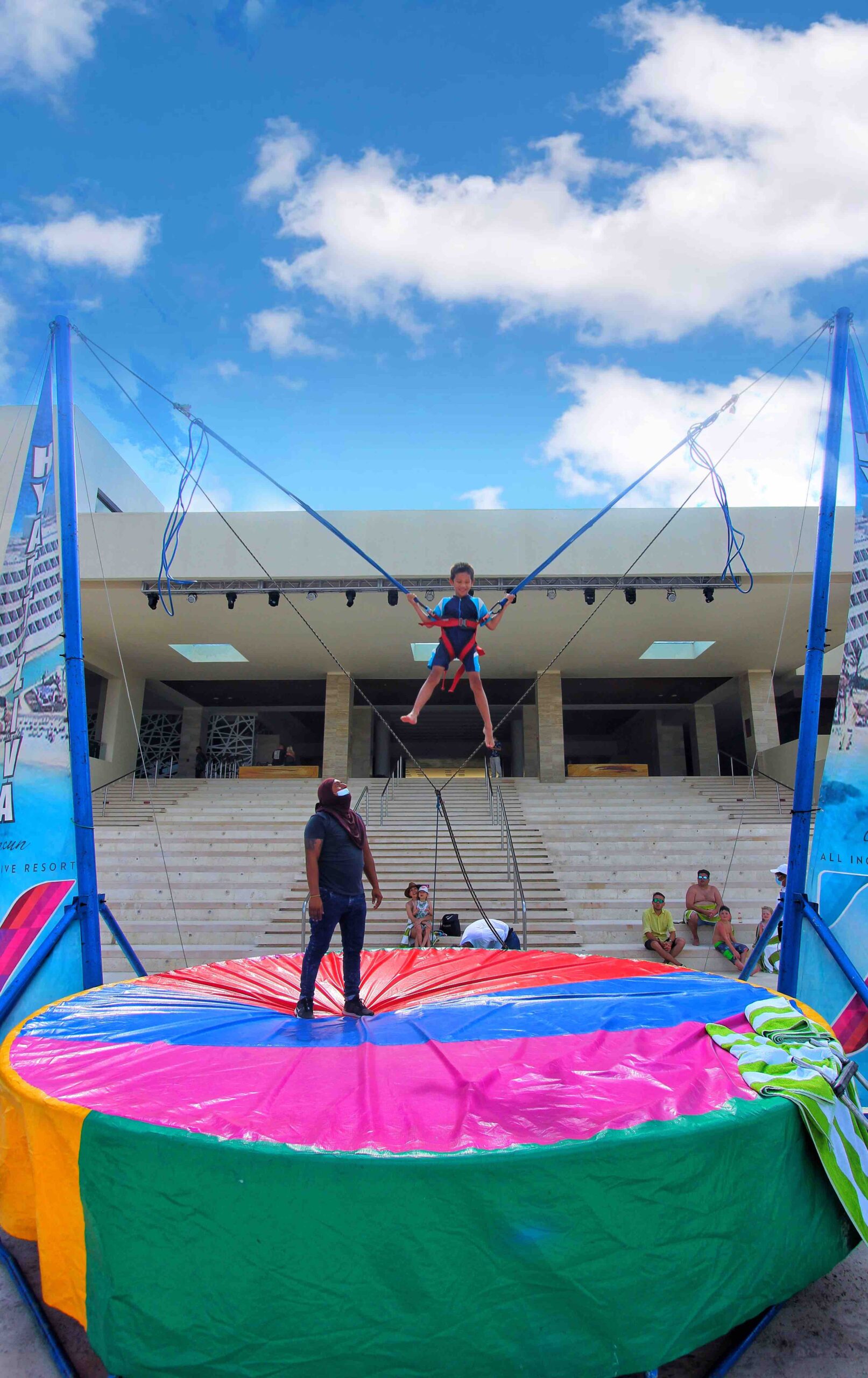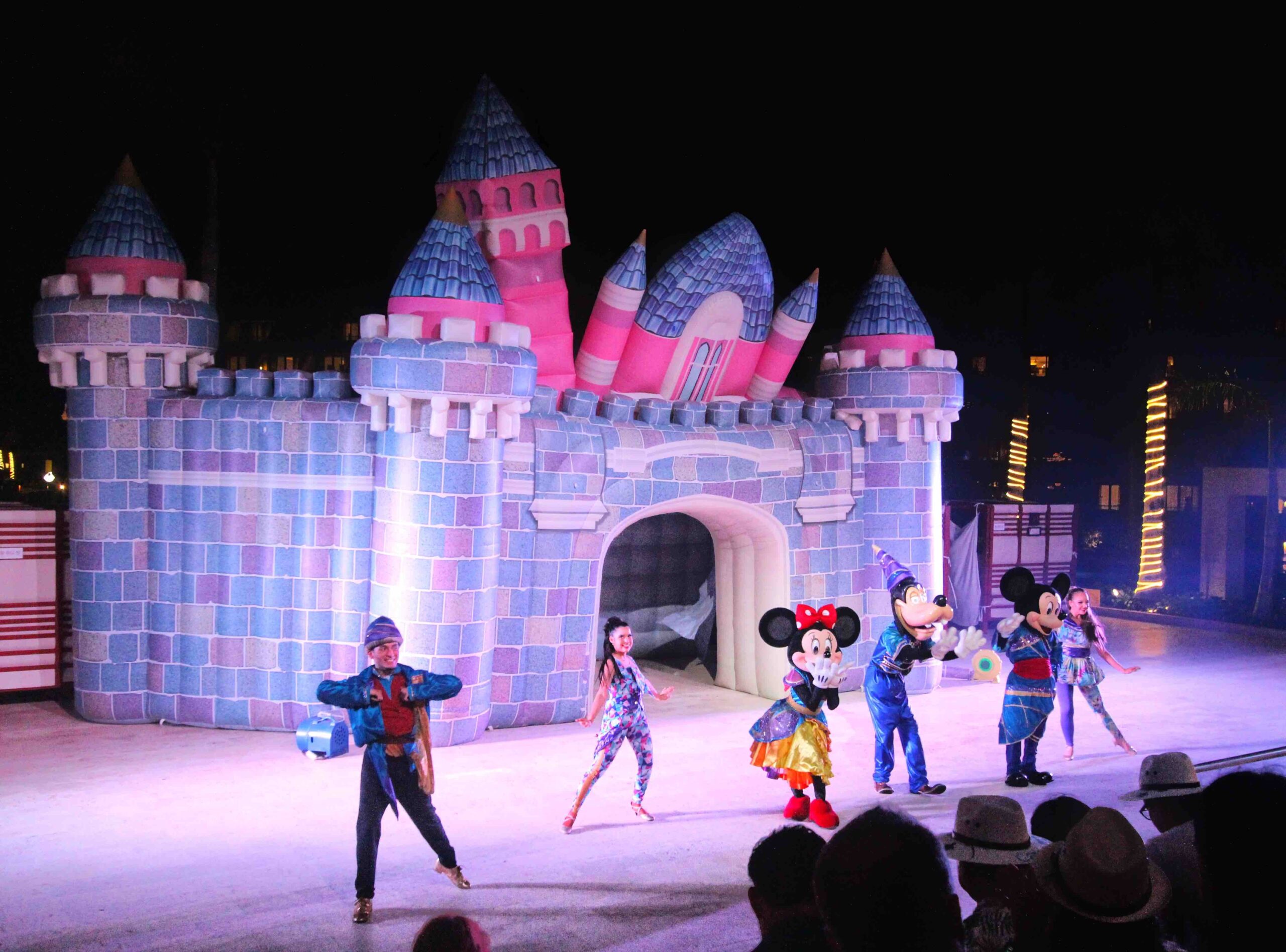 Disney Show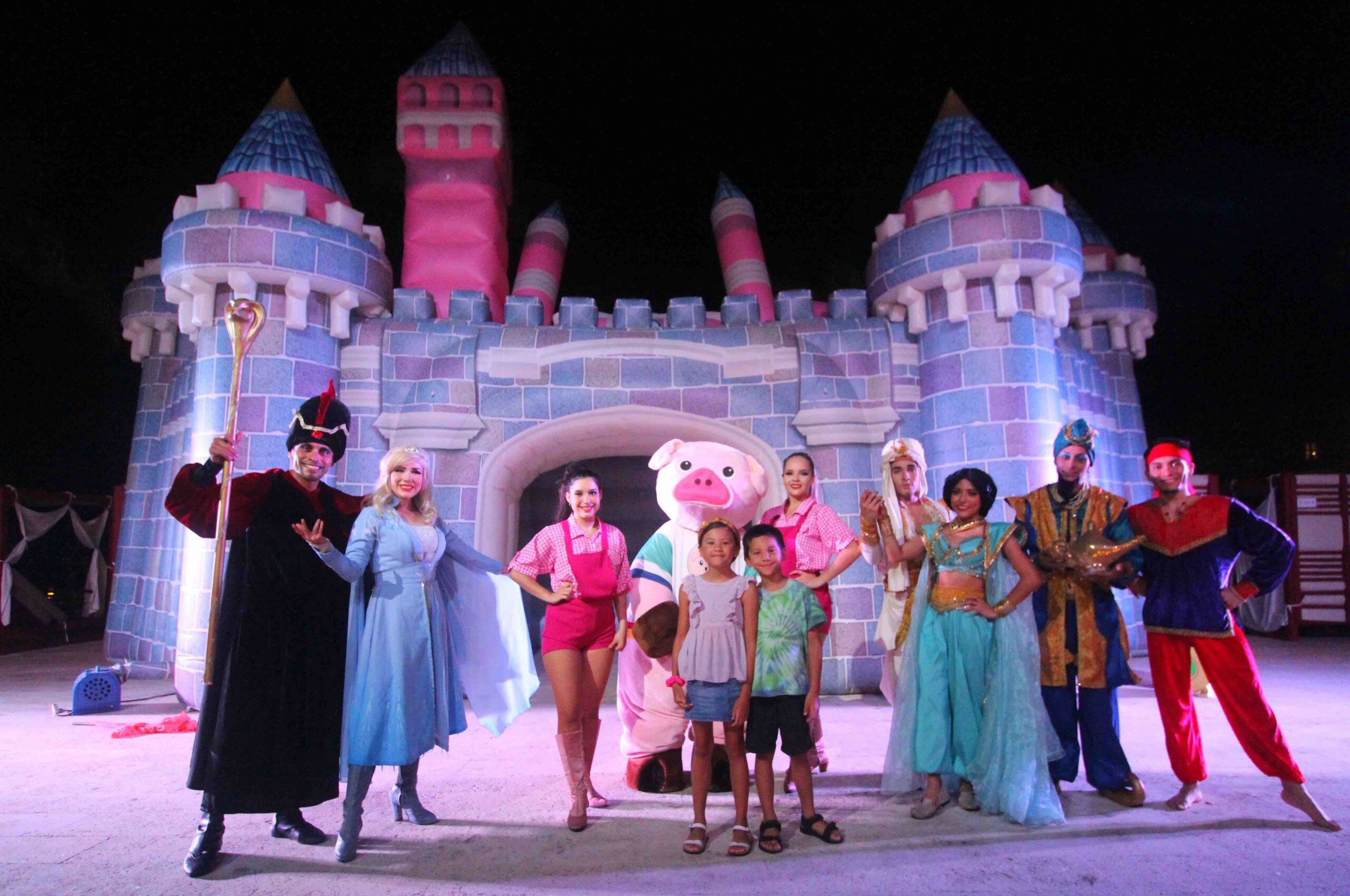 with Photo Opportunity with the characters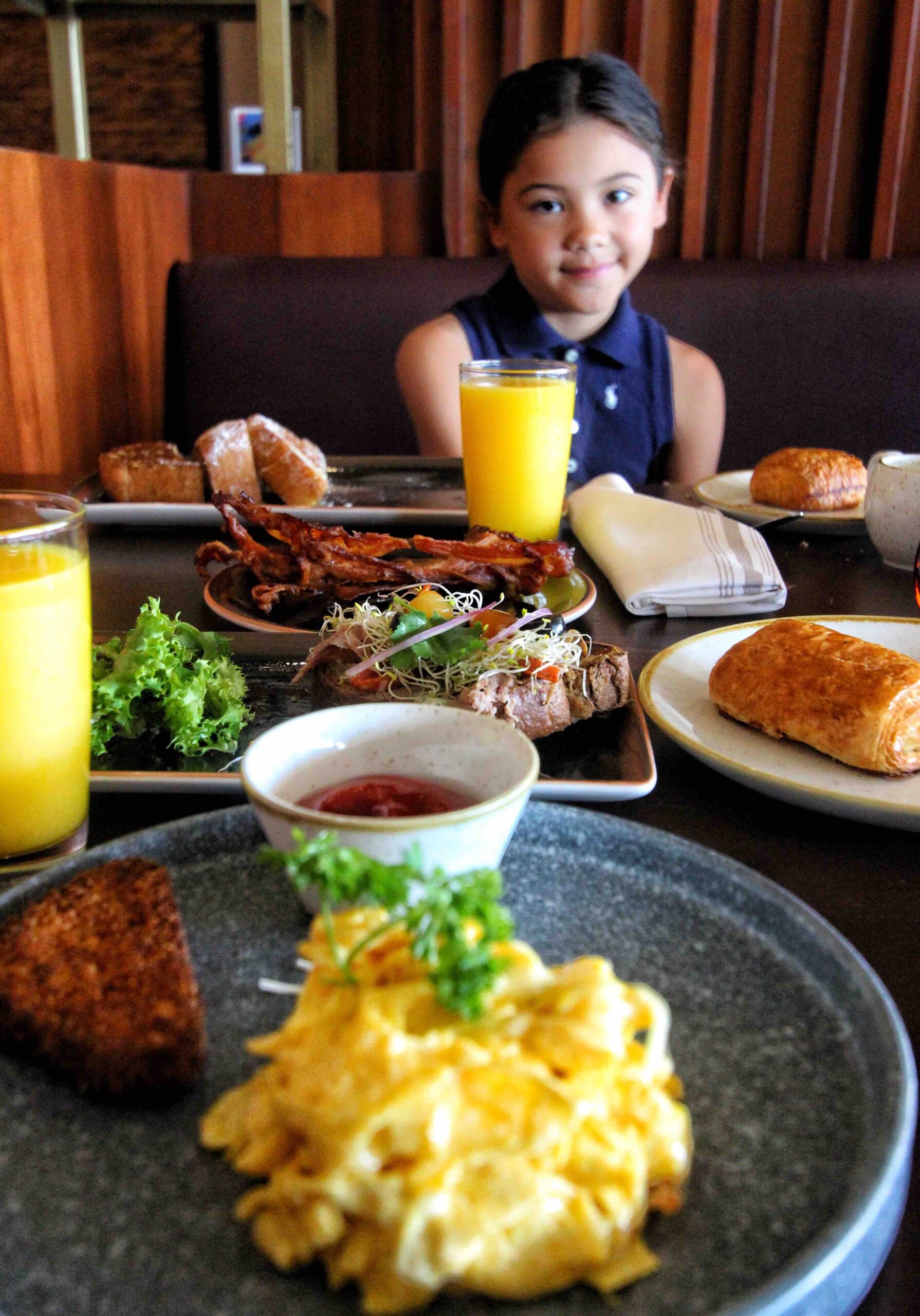 Breakfast at Tradewinds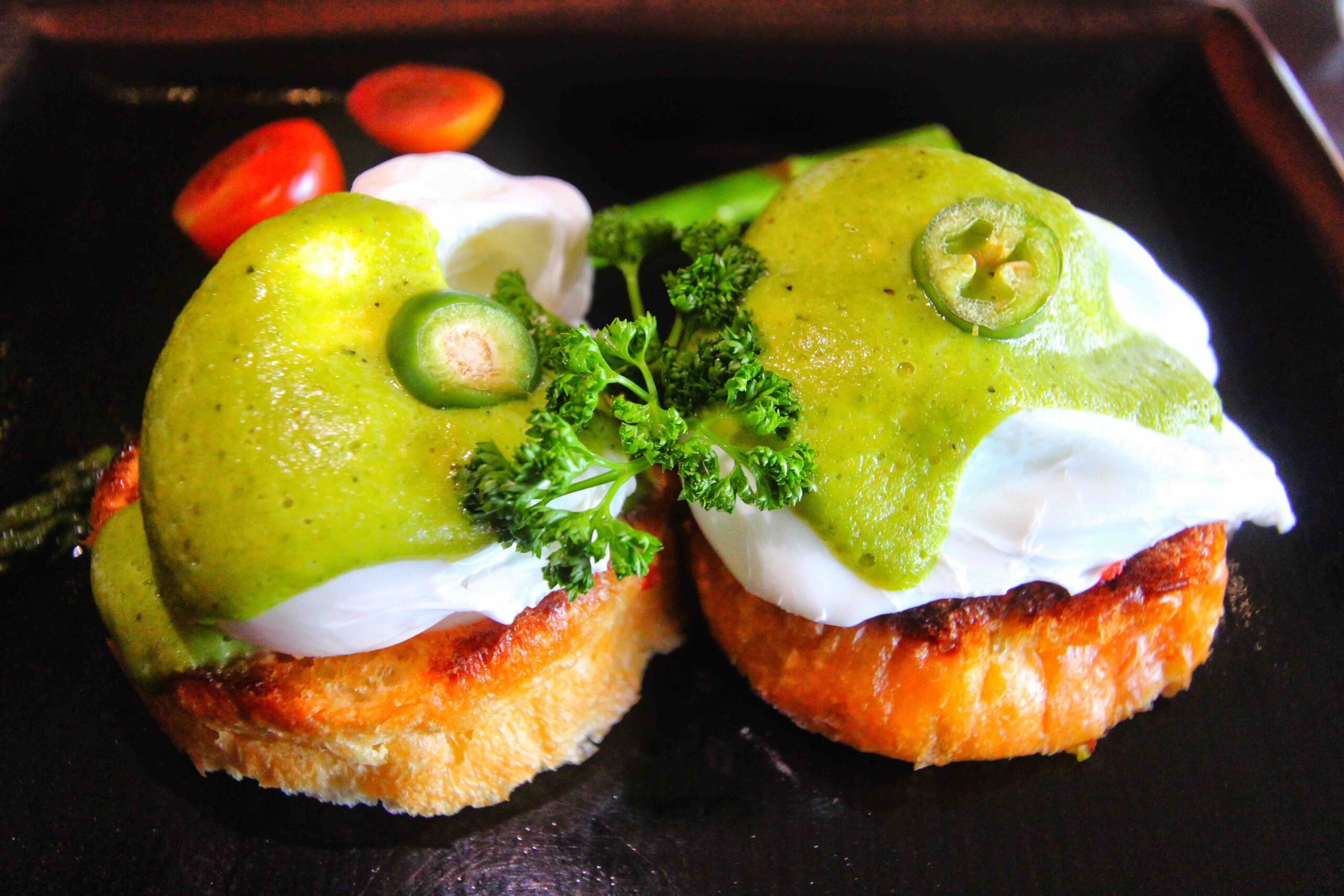 Eggs Benedict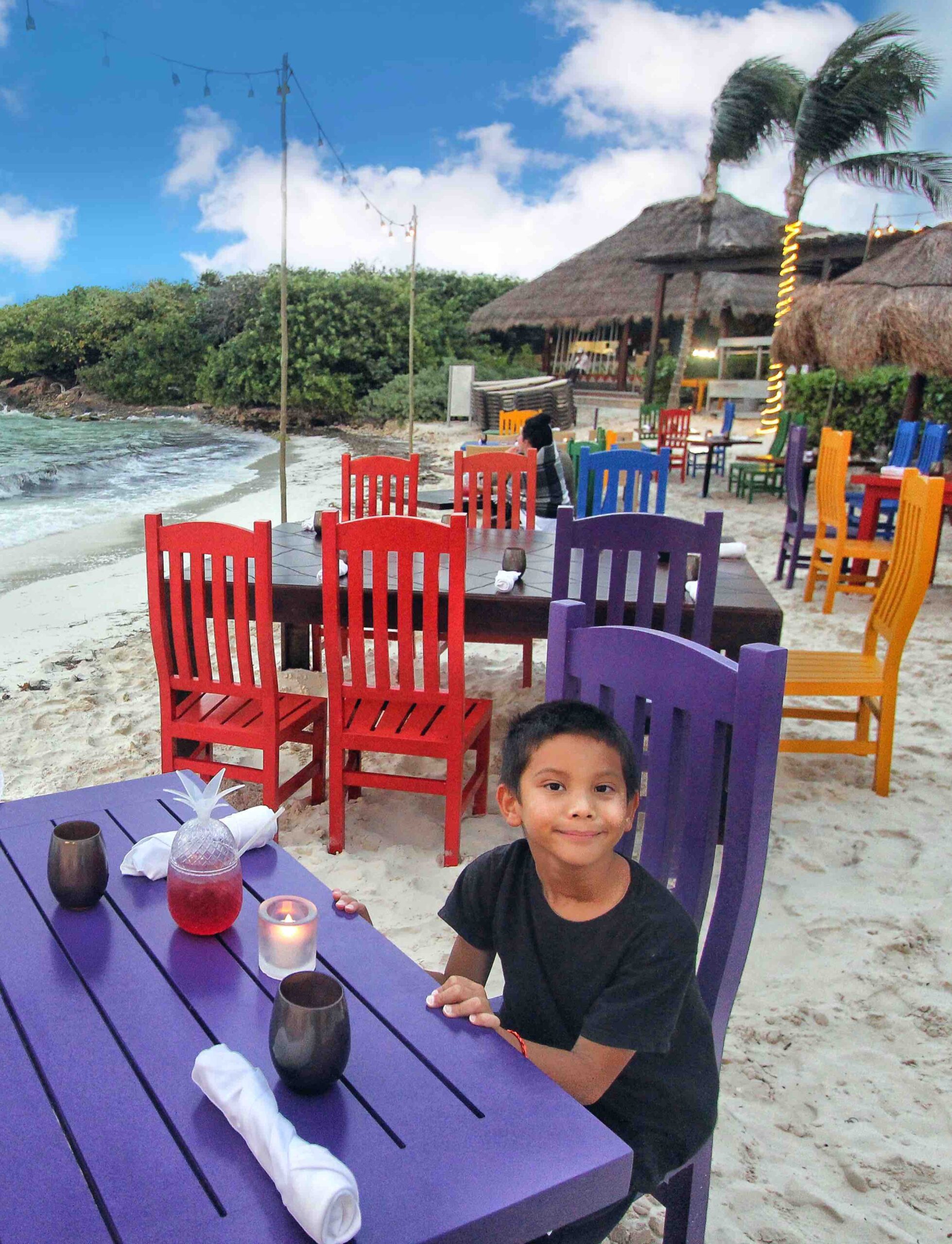 Surf and Turf dinner on the Beach (extra supplement)
with Filet Mignon and Lobster
See our full feature on the Surf and Turf dinner HERE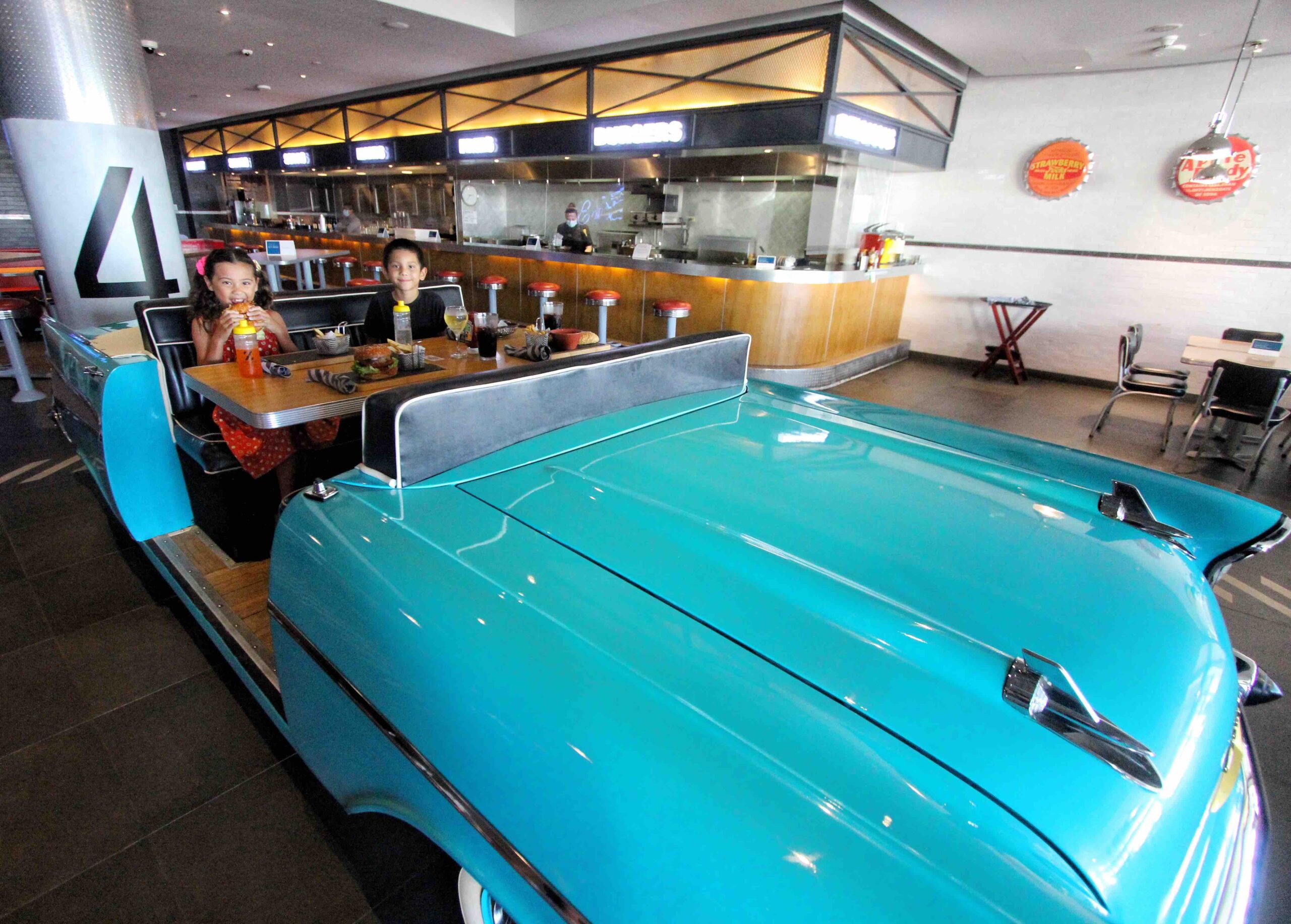 Lunch at Chevy's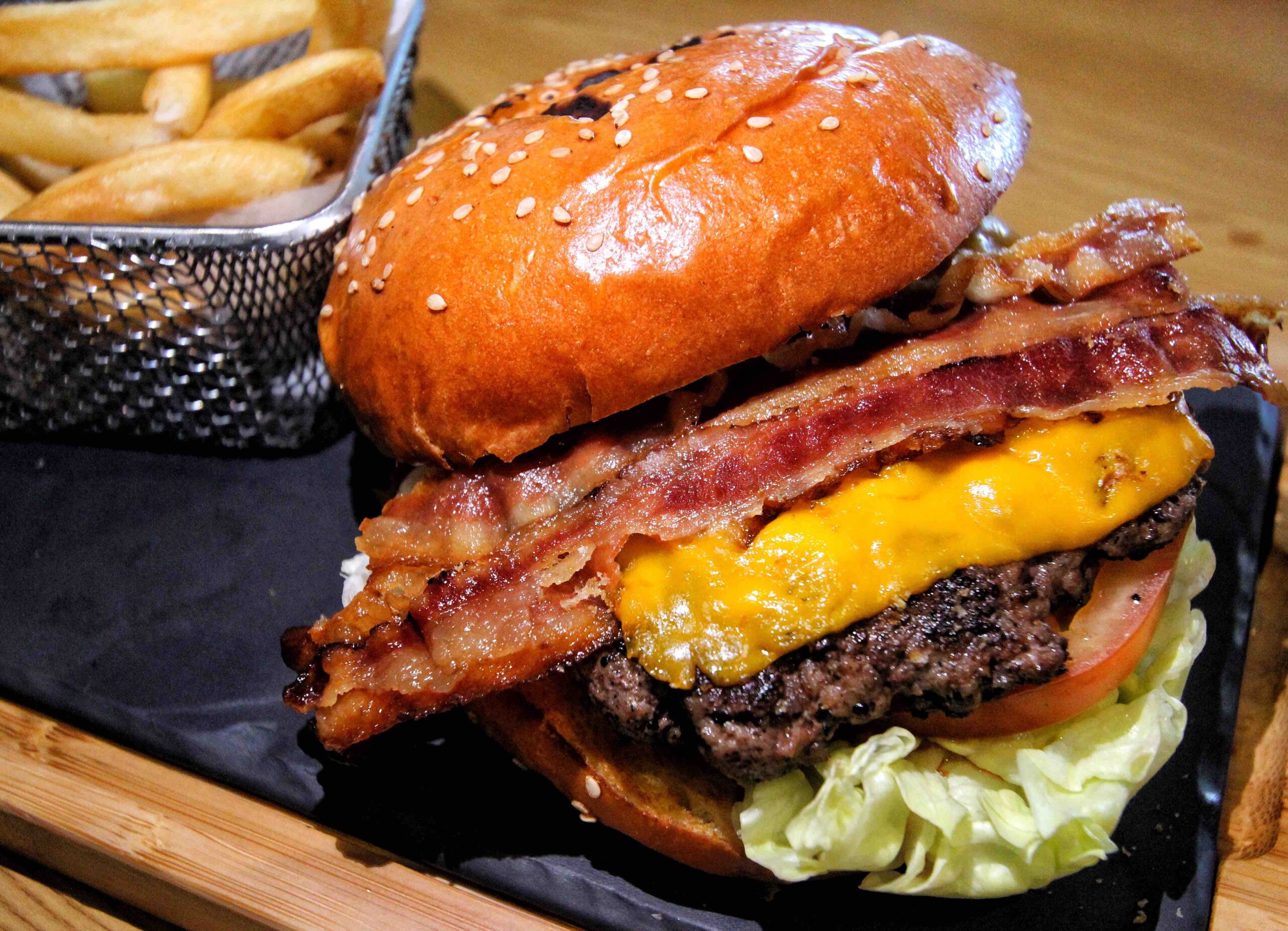 See our full feature on Chevy's HERE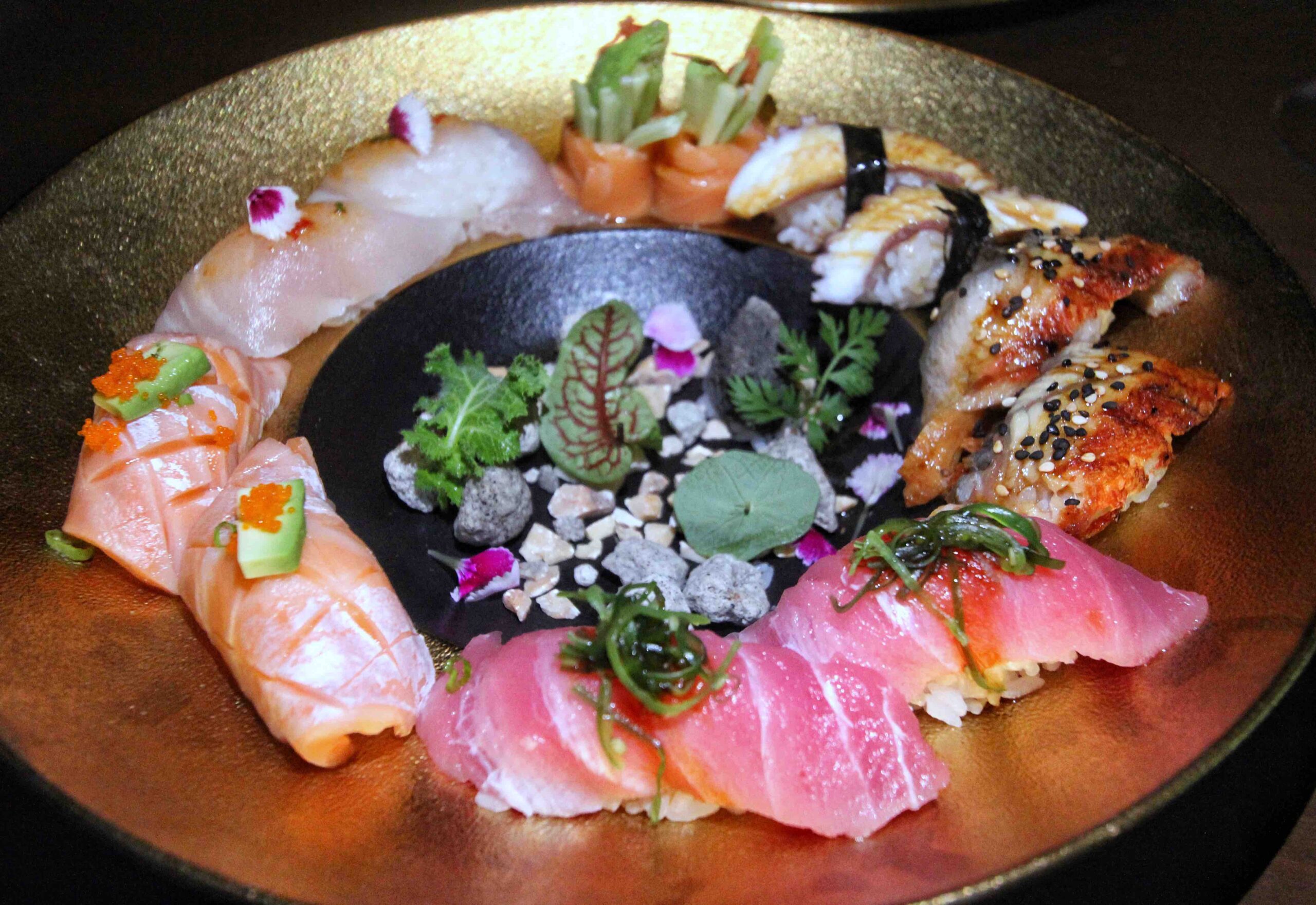 Sushi Platter at The Moongate
See our full feature on The Moongate HERE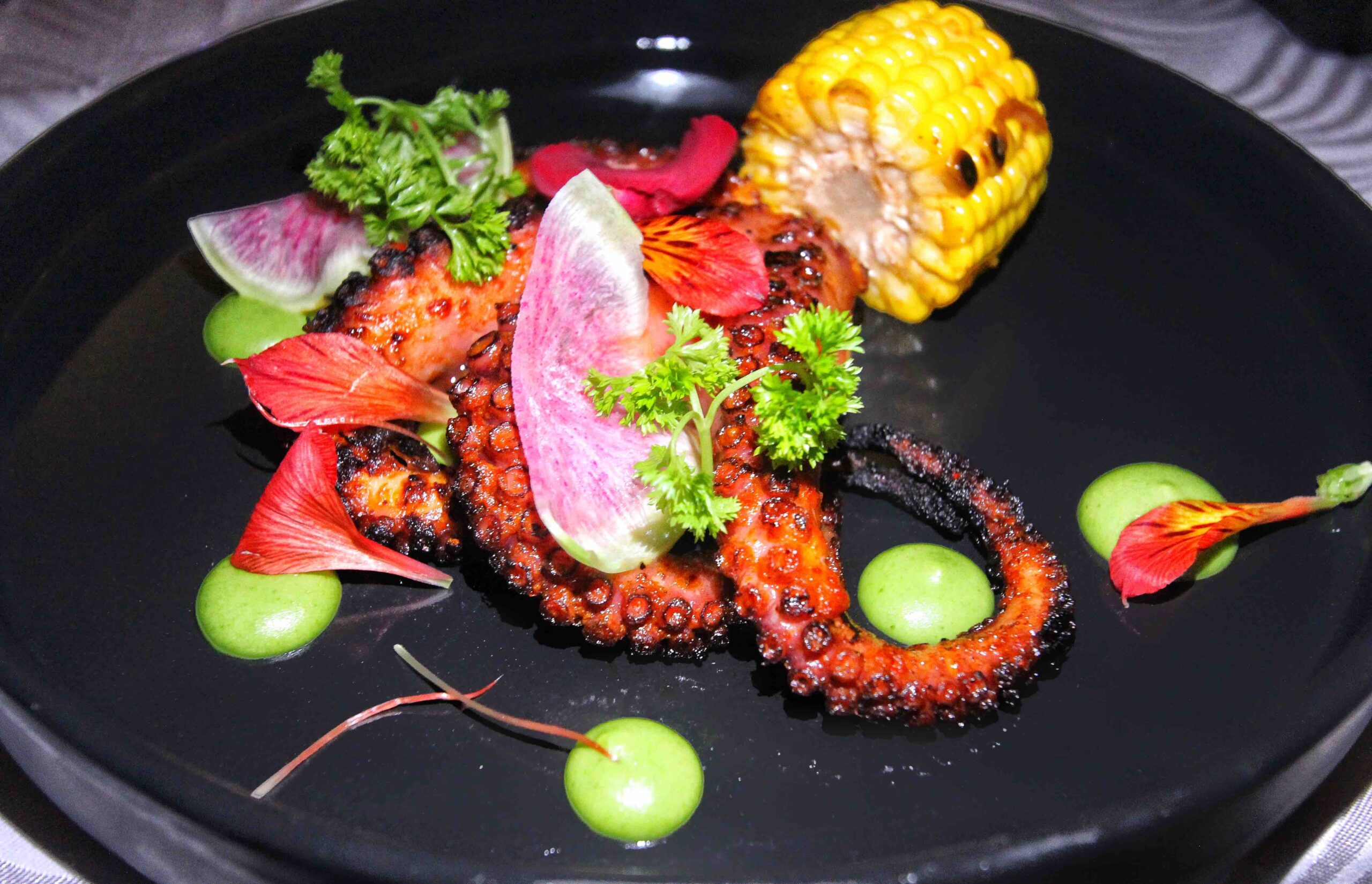 Octopus at Tradewinds
See our full feature on Tradewinds HERE
Seabass at La Bastille
See our full feature on La Bastille HERE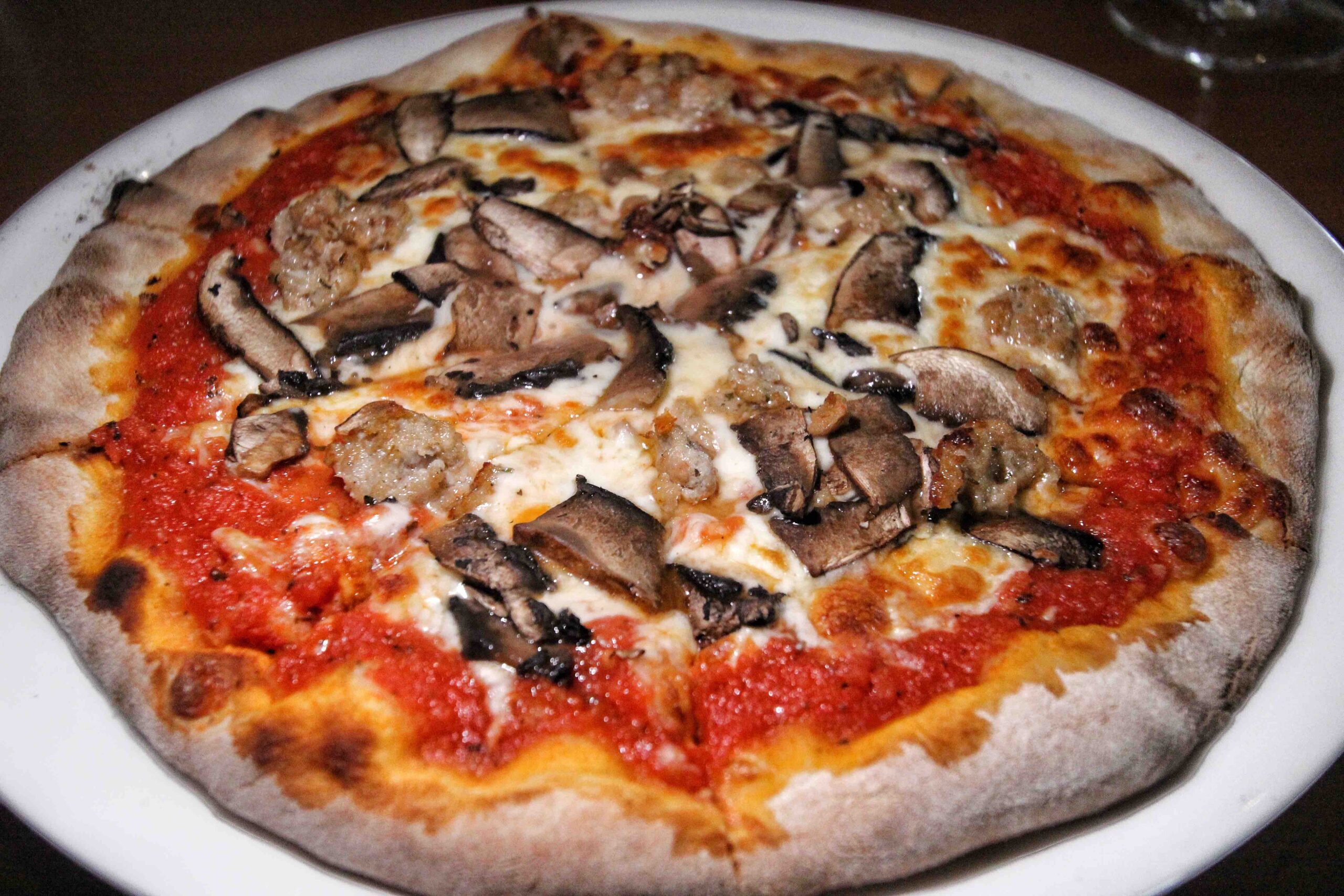 Pizza at Lorenzo's
See our full feature on Lorenzo's HERE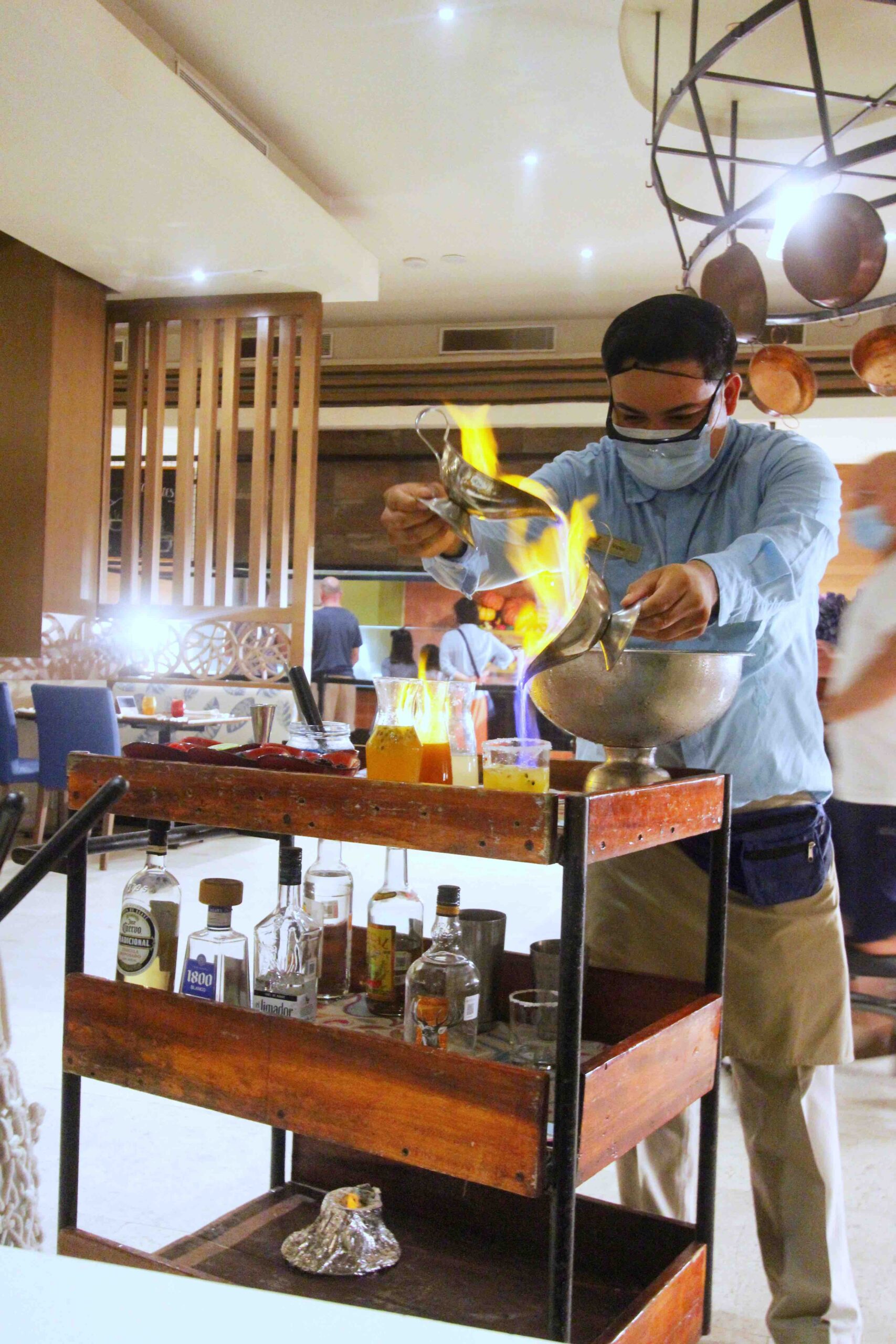 Table Side Cocktails at El Mercado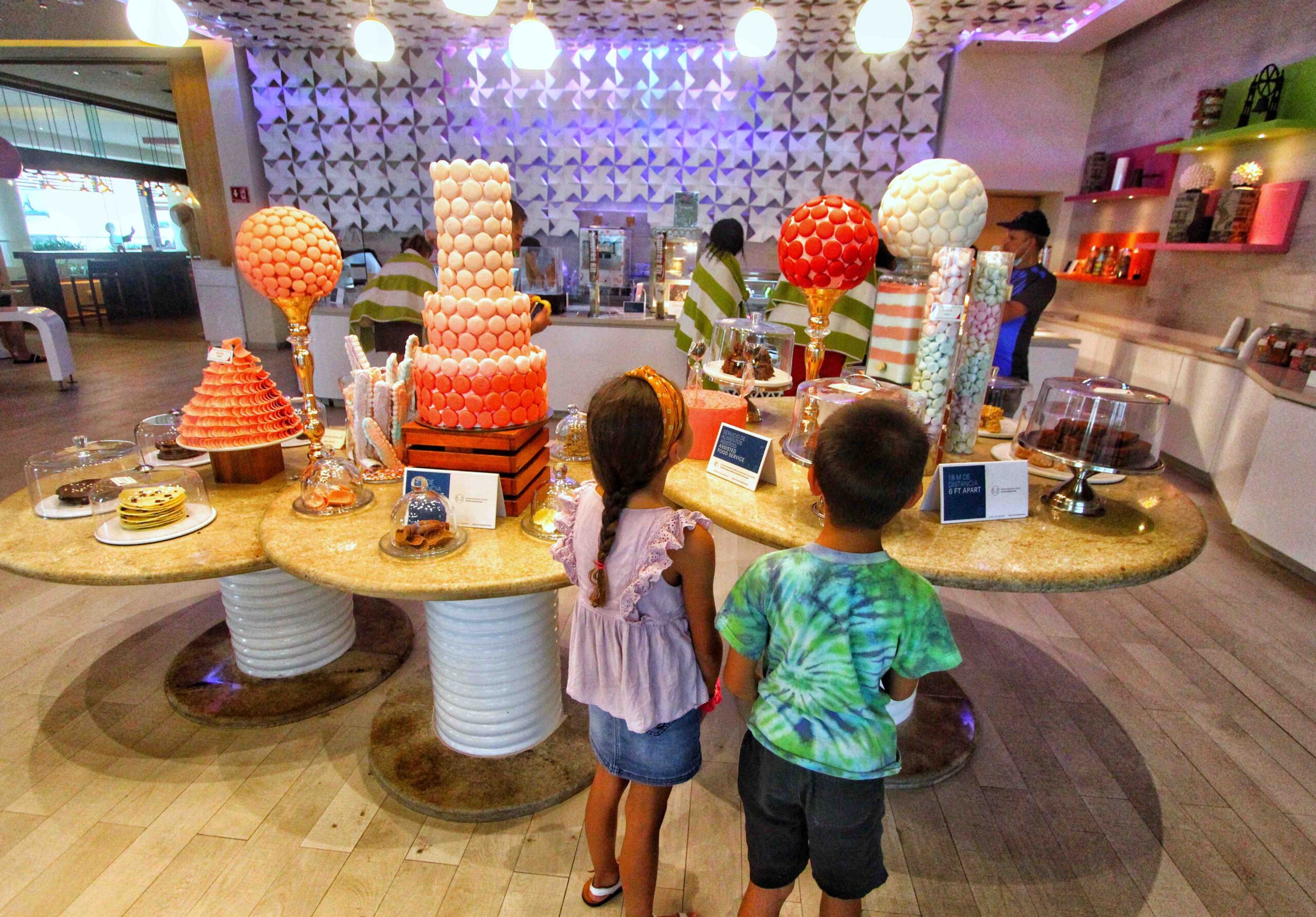 Candy at Pastales
Hyatt Ziva Cancun is a one of a kind luxury all inclusive resort that offers guests a five star experience. The world class property boasts picture perfect beaches and sits in prime location in Cancun's Hotel Zone. Gone are the wristbands and mediocre buffets. Instead we were treated to impeccable service, state of the art facilities, amazing a la carte dining options, and an impressive, luxurious suite. For the ultimate family holiday Hyatt Ziva met all our needs and ensured our family had a vacation to remember.
Guestrooms:
There is a huge variety of guest rooms at Hyatt Ziva and they even offer an Adults Only Tower. We highly recommend booking a suite in the Premium Club Tower where we were treated to a dedicated club lounge, all day snacks and full bar, and our own personal butler who helped assist us at the touch of a button. Our Club Ocean Front Corner Suite was ideal for our family of four and included a large separate lounge and dining area where we could enjoy room service or lazy breakfasts each morning. The sofa converted to a cozy double bed for our children and the highlight was the picturesque terrace which included a stunning jacuzzi bath and sea views. Our butlers went out of their way to make our family feel special from surprise treats to a special bath set up for the kids at the end of a fun filled day. Every personalised detail ensured we felt right at home throughout our stay.
Dining:
It's hard to beat the dining options at Hyatt Ziva Cancun and the choices are sure to please any traveling foodie. Their main buffet had impressive themed nights each evening and served a plethora of mouthwatering fare at breakfast each morning. Whether you are looking for authentic Mexican dishes, fresh seafood, or a large selection of healthy juices, fruit, and salad you won't be disappointed at El Mercado. Guests can also forgo buffet fare and dine a la carte their entire stay. Start with a leisurely breakfast at Tradewinds while enjoying the sea views and have a variety of elevated eggs and freshly baked bread brought straight to your table. Choose from burgers at Chevy's or authentic Italian fare at Lorenzo's for lunch or you can stop at their beach adjacent Habaneros for a refreshing ceviche. If you're looking for a quick snack there are burgers and hotdogs poolside and be sure to check out the cafe for your coffee of choice. We were spoilt for choice at dinner each evening from irresistible sushi platters at The Moongate, delectable steaks at Tradewinds, and impressive French cuisine at their fine dining destination, La Bastille. Look out for themed evenings such as the Surf & Turf Night where you can enjoy an amazing menu on the beach and live entertainment. Staff are always on hand to ensure any dietary requirements are met and they always had child friendly options in every menu to please even the pickiest eaters.
Things to do:
A true highlight of staying at Hyatt Ziva Cancun is their variety of activities and areas in the resort ensuring each guest has an unforgettable vacation. Relax by one of the tranquil pools while waiters bring you your favourite cocktail and take the kids to enjoy daily games and entertainment. Book a luxurious cabana on the beach and dip into the crystal clear Caribbean waters. Snorkel along their lively reef or take a walk to the picturesque lighthouse. Kids will love the interactive Kids Club where daily schedules include a plethora of indoor and outdoor fun. The staff constantly go out of their way to entertain the children and there was even a party at the weekend with the resort's mascot as the main attraction.  Our children created their own hats and beach bags, splashed in the kids pool with friends, and even got a rush bungee jumping on a huge trampoline. Nightly shows were a huge attraction each evening and the Disney Show captivated our children from start to finish.
Hyatt Ziva Cancun sets themselves apart by going above and beyond in the all inclusive department. They bring five star hospitality to every corner of the resort. Staff always greeted us with a smile and there was never a long wait or huge crowds. Live music in the bars, expertly made cocktails and fine wine, exceptional service and decadent facials in a luxury cabana, and a Willy Wonka style candy store, it's the details that set them apart. Not only was the location beautiful and the views stunning, but we always found something new and exciting each day of our stay. If you're looking for a trip to remember for you and your family at one of Cancun's we highly recommend Hyatt Ziva.
www.hyatt.com/en-US/hotel/mexico/hyatt-ziva-cancun
Blvd. Kukulcan Mz 51-Lt 7, Punta Cancun, Zona Hotelera, 77500 Cancún, Q.R.
+52 998 848 7000